There's nothing worse than being bored of our mind without anything to do. Luckily, with just a few materials and a little bit of energy, there are so many crafts you can make any time you get bored. No matter what kind of project you're wanting to make – easy or difficult – we have a craft for you.
---
1. Wine Cork Vase
If you're like me, you might have some excess wine corks lying around and you don't know what to do with them. Wine corks are actually very versatile materials, making them great for so many different crafts when you're bored. This one, though, is all about flower vases.
Supplies:
From there, I'm sure you can guess what to do! Simply glue your corks all the way up your vase and, suddenly, you have a creative-looking holder for your flowers that also rid you of your extra wine corks. It's a win-win!
---
2. Ribbon Vase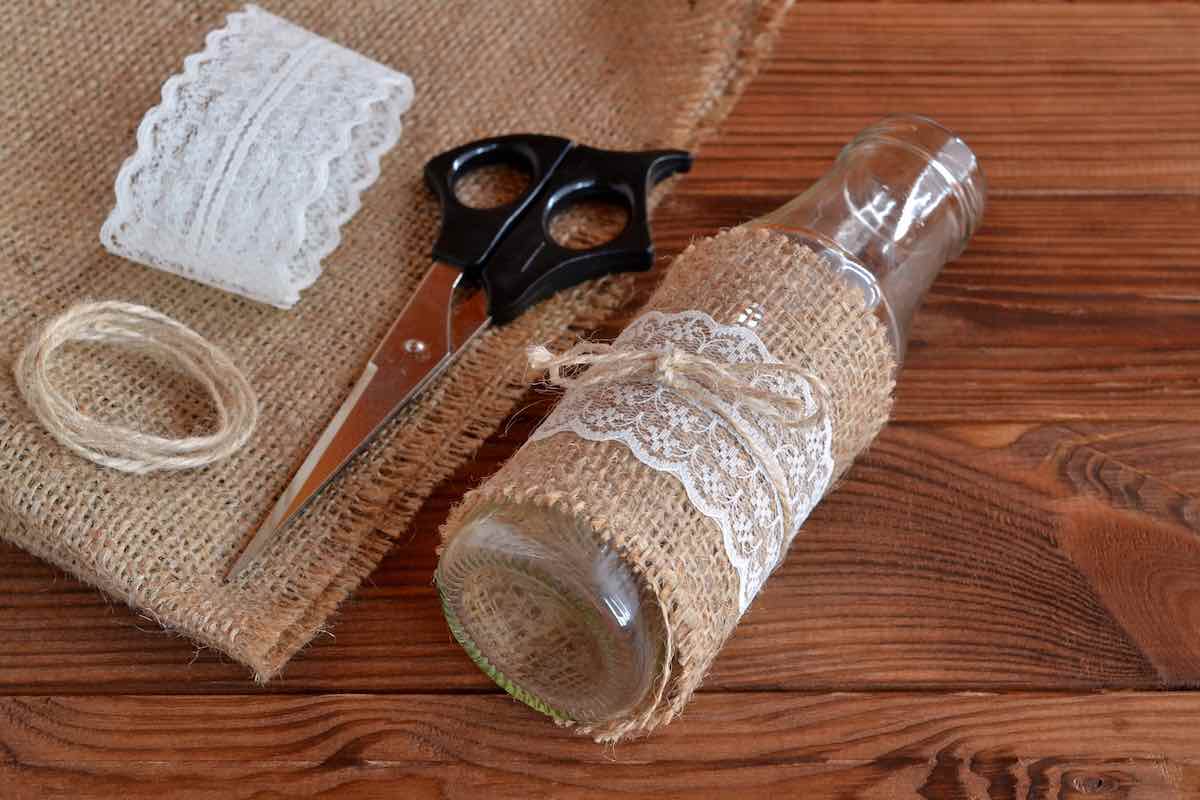 Very similar to the wine cork vase, all you'll need for this craft when you're bored is a vase, glue, and whatever ribbon most appeals to you.
No matter what design, color, or shape your ribbon is, it'll cover your vase perfectly. Just wrap it carefully around the vase, gluing as you go. Let it all dry before adding any flowers. Once you're done, you have a one-of-a-kind vase that will be the talking point of any conversation in your home.
---
3. Painted Glass Vase
If you want to be a bit more hands-on with your DIY projects, a painted glass vase is a great one. This craft only requires paint and a vase.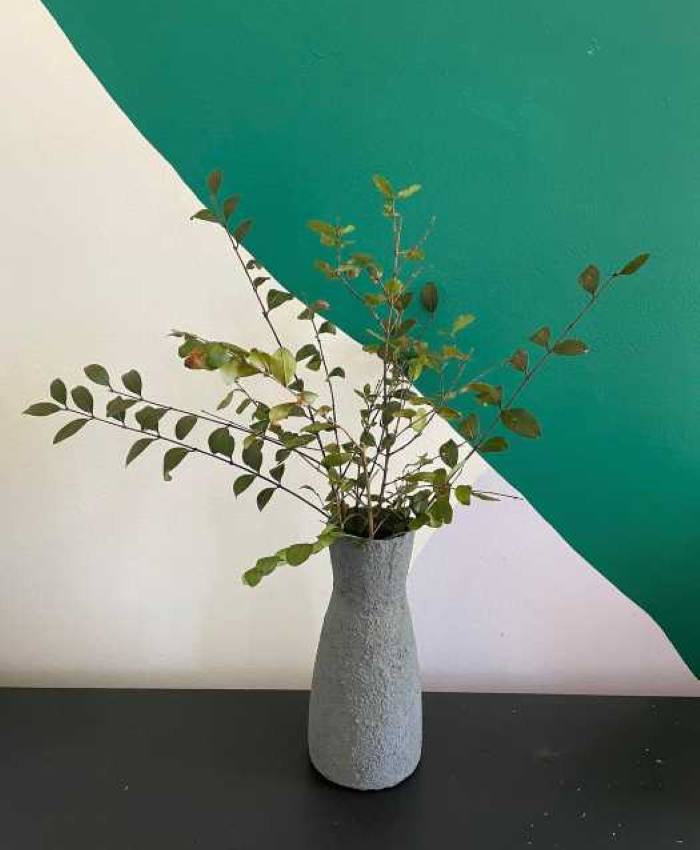 Obviously, with this, all you have to do is paint your flower vase in whatever way you want to. This is a great project to do with friends or with your children, as it keeps everybody entertained and is super easy to do.
Make sure you let these vases dry and cure for a few weeks before adding water. You don't want anything to happen to your precious paint jobs!
---
4. Finger Painting
It may sound a bit juvenile, but we promise, finger painting when you're bored can release a lot of stress. Drawing and coloring, in general, are known to help reduce stress levels, and painting with your hands only makes it all the more fun.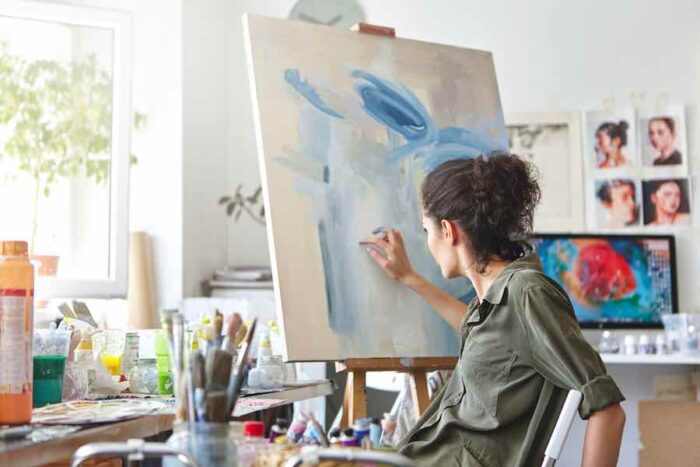 No matter what you're making, as long as you're using your fingers, you'll have a super enjoyable, creative time. You can choose to paint on a canvas or a piece of paper, though we definitely suggest canvas for the best results and less mess.
---
5. DIY Coasters
Nothing makes your house feel more like a home than fun DIY projects that create family memories. DIY coasters, though small, can make quite a big impression in the home, especially when a guest goes to reach one.
When they're homemade, it adds creativity and style to your home, while also eliminating a lot of boredom. You can make coasters from practically anything, but many choose to paint mini wood pallets. These mini wood pallets are the perfect size for your mug, and the wood absorbs any color paint perfectly.
---
6. DIY Spice Containers
When you're bored, try organizing your spices in your spice cabinet. But, instead of keeping them in the packages they're in, design something better with our DIY Spice Storage Ideas!
Small mason jars make perfect containers for spices, fruits, and even other smaller foods. You can even decorate the mason jars with stickers, ribbons, or paint to make them look pretty in your kitchen.
---
7. DIY Serving Tray
Have an old serving tray that you just don't know what to do with? Give it a makeover the next time you're bored! To do this, you can either choose to paint over the base of your tray. Or for something more cohesive, you can add a layer of wallpaper! It's totally up to you.
We highly suggest just adding the splash of color to the base of the serving tray, and not decorating the handles or sides. This gives it an even more modern, DIY look that'll stand out during any party. Or, you can just set this tray on the table as a centerpiece. No matter what, it'll look gorgeous.
---
8. Paper Flowers
Tissue paper crafts make some of the best decorations, as well as great crafts to do whenever you're home and bored. There are various ways you can create flowers, especially depending on what kind of flower you want to make.
You can choose to connect these tissue paper flowers to pipe cleaners to give them bendable stems that can decorate any inch of your home with delicacy and beauty.
---
9. Tin Can Utensil Holder
The next time you're super bored, try crafting a tin can utensil holder for your kitchen utensils or office supplies. To make this, all you'll need are some old tin cans; soup cans or anything bigger will do just fine.
Simply clean off these cans as much as you can, removing any labels. Then, take your regular ol' acrylic paint and start decorating! Decorate your utensil bin in any way that matches your home the best. If you need a splash of color in your kitchen, this is the perfect way of doing so!
---
10. Frame a Family Recipe
If your family has handmade recipes that you want to save, framing them is a great way to tackle boredom and celebrate your family. To do this, all you need to do is pick out a favorite family recipe and find a frame that fits the recipe perfectly. It really is as simple as that!
---
11. Clothespin Wreath
A clothespin wreath is a great craft to turn to when you're bored. They're fun and easy to make and require relatively few materials. As long as you have a bare wire wreath, some clothespins, and paint, you're all set.
You can paint your wreath any color or design your heart desires. After you finish painting, simply pin your clothespins all around your wreath in whatever pattern you'd like. In the middle of your wreath, you can choose to hang letters to make words, place fake flowers, or hang some gems. Whatever floats your boat!
---
12. Pencil Pinwheel
For easing some boredom from your little ones, pencil pinwheels are a great craft to make for the whole family. With these, all you need are your basic number 2 pencils, colorful cardstock, and some scissors.
It may take a little bit of practice to get the shape of the pinwheel right, but once you've perfected it, you're left with the cutest DIY pinwheel. These go perfectly on your desk in your pencil holder, giving it just a pop of color and creativity that your desk at home might be missing.
---
13. Tie-Dye
Tie-dye is a great craft to do when you're bored, especially on a beautiful day. Setting up a station outside to tie-dye some shirts, shorts, or even shoes is a perfect way of dealing with your boredom while also spicing up your wardrobe a bit.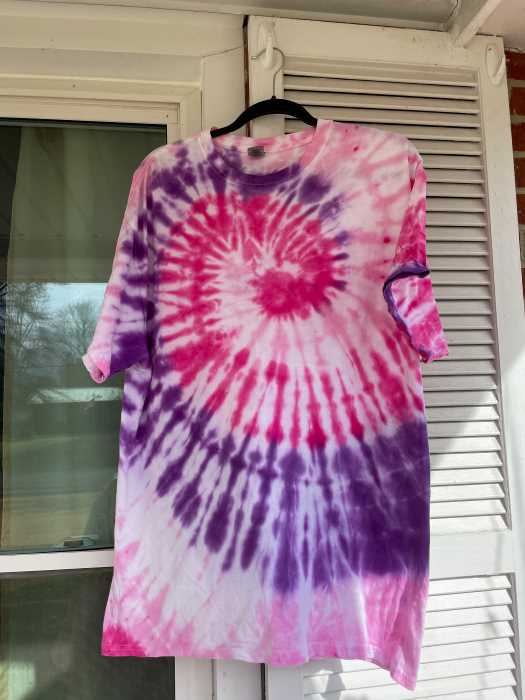 You can purchase entire tie-dye kits to make it easier, with these including all of the tie-dye paint and materials you could need, as well as instructions on making different patterns.
---
14. Framed Paint Swatches
Surprisingly enough, old paint swatches can make some pretty cool wall art. You can organize these paint swatches in any way possible, creating beautiful designs and unique styles.
All you need to do is glue these paint swatches onto a piece of construction paper. Once you're satisfied with the paint swatch design you've created, you can place the piece of paper into a frame and then hang it on the wall. It'll easily be one of the most unique pieces on your wall.
---
15. String Art
If you have some old string lying around, use it to make some string art! When you're bored, making string-based crafts is a great route. They require a good amount of attention to detail, so you're able to completely forget about your boredom.
You have the option of doing string art on any surface, but we suggest getting a small piece of wood, nailing in some nails in a specific pattern, and then stretching your string across the nails to make the design you're going for. You can create letters, pictures, or any image you want. Again, this will take a bit more effort than others, but the result is beautiful.
---
16. Wine Cork Board
Still have some wine corks leftover from your other vase project? Perfect! Try making a wine corkboard. With these, you can hang up pictures, drawings, and whatever else you want.
They're fun to create and make for more than just a piece of decoration. These wine cork boards are useful in any bedroom or office, and it's even cooler when you can say that you made it yourself.
---
17. Tin Can Lanterns
Another great use of your old tin cans, you can turn them into homemade lanterns. To do this, all you need is a small knife to create little holes throughout the tin can. Make the holes in whatever pattern you want the light to shine through.
Then, place a small tealight candle in the middle of your tin can, light it, and watch the light shine in various patterns. You can place your lanterns outside for added decoration, or even inside as an accent piece.
---
18. Flower-Covered Baskets
Baskets make great decorations in or outside the home, no matter what you use them for. Wicker baskets also make for great craft items when you're bored! One way to use them while keeping you busy is by decorating them with fake flowers.
Wicker baskets have many openings that make for easy threading of fake stems. Carefully, you can thread flowers of all types throughout these openings on both the basket and the handle, making it look like Mother Nature has taken hold. When placed outside as decoration or inside to hold your remote controls, this is a gorgeous DIY craft to tackle when you're bored.
---
19. Recycled T-Shirt Rug
Instead of throwing away your old t-shirts, try turning them into an old rug! This is a project that takes a lot of time and dedication, so make sure you have enough free time to dedicate to this craft.
To make this, you're going to want at least 5-8 t-shirts, a doormat, and hot glue. Simply, you're going to cut up your t-shirts into strips and then organize them onto the doormat. You can choose to do this in various ways, though here is our favorite process.
---
20. Ombre Artwork
Ombre artwork is an artwork with color gradients that go from light to dark. This can be a super fun project when you're bored, as it requires attention to detail, proper organization, and clever brushstrokes.
Going up and down using quick brush strokes makes for a more rustic look, and when the colors of your paint start to fade from light to dark, you see something that's even more eye-catching. Plus, you made it yourself! The next time you find yourself dying of boredom, break out the paint, and try creating an ombre gradient. It might be more difficult than you think!
---
21. Fabric Art
Fabric art is a wonderful craft to do when you're bored. It's easy, fun, and can create some of the most gorgeous pieces for your walls. To make these, all you have to do is find some of your favorite fabric.
Then, take a wooden frame and either nail it in, staple it, or glue it. From there, you can paint words on your fabric, certain scenes, or whatever else you feel like! Once you're done, you have a framed piece of fabric that makes a beautiful pop of color on any wall. This is a craft that you can do anytime you're bored, especially with how many different types of fabric there are!
---
Tackling Your Boredom With Crafts
So, the next time you find yourself sitting around with nothing to do, get crafting! Not only will these crafts keep you busy, you're creating decorations and pieces for your home that show your creative side. After all, no one else will have projects that look quite like yours.