The warmer months are finally approaching, and it's time to do a home refresh! Are you searching for ways to update your home on a budget? Do you enjoy crafting or transforming older items? If so, stay and learn how to make your own serving trays!
Sometimes, the tiniest changes make the biggest impact in interior decorating! For example, a serving tray is not only functional but adds gorgeous design elements to areas such as your home countertops, tables, shelves, coffee tables, and ottomans. Keep reading as we share a detailed list of creative DIY serving tray ideas, ways to upgrade your current serving tray, and how to make a perfect homemade gift for family and friends!
The Basics: What is a Serving Tray?
A DIY serving tray is an essential yet versatile home decor tool. First, DIY serving trays allow you to carry all your meal's components while providing an attractive presentation to your family or guests. Use trays as a fancy way also to serve cocktails and beverages.
DIY serving trays also double as simple, easy home decor statement pieces. Use plants, candles, and trinkets to enhance kitchen and bathroom countertops, dining tables, shelves, coffee tables, ottomans, dresser tops, and more! It's an aesthetically pleasing way to create order while organizing and tidying up your spaces!
Here are a few ways to craft your very own DIY serving trays!
1. Farmhouse Picture Frame Serving Tray
Did you know you can make a DIY serving tray from an old picture frame?
First, find a nice sturdy picture frame, take it apart, and put the glass cover aside. Next, clean the frame, add a coat of quality chalk paint, and then seal the tray with a coat of water-based polyacrylic.
Next, take burlap, cut it to size, and fit it inside the frame under the glass. Then take a piece of plywood, cut it to size, and screw the plywood into the corners of your frame. Lastly, turn your tray over and screw on a few simple metal handles!
2. Coastal Serving Tray with Rope Handles
To make a coastal DIY serving tray with rope handles, you'll first need to gather a few materials.
First, you'll need six 1×3 pine boards cut to eighteen inches, two 1×3 pine boards cut to fourteen inches, two yards of one-inch nautical rope, a milter saw, drill, a Forstner bit set, basic nails, and one-fourth inch brad nails.
Next, sand down the pine boards and make a mark four and a half inches from the end and halfway in from the side for handles. Use a one-inch bit and drill your handle holes. Then, assemble the two longest sides of your tray with brad nails and wood glue. Next, line up the bottom boards and attach.
Finally, add your rope handles, and use hot glue to fuse the ends to keep your rope from fraying!
3. DIY Serving Tray Made with Scrap Wood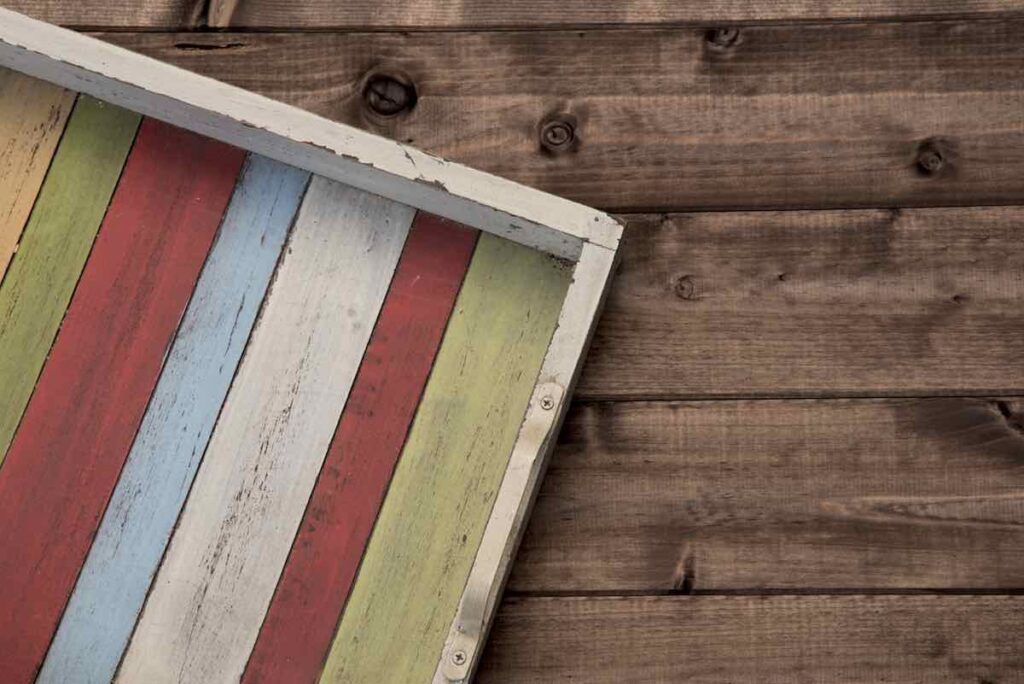 Try making a DIY serving tray with things you already have on hand!
First, you need a twelve-inch by twenty-inch piece of glass and boards a bit larger; this way, the glass nestles down into the bottom of your tray and is still removable.
Next, use wood glue and a nail gun to complete the three sides of your tray, lay the glass inside, then nail together the fourth side. Lastly, add a pattern to the bottom of your tray by using a point driver and some fabric glue. Next, use chalk paint to give the wooden sides a pop of color and add metal handles to the sides.
4. Etched Glass Serving Tray
We think you'll love this next DIY serving tray! First, you'll need a good-sized wooden picture frame, adhesive stencils, and glass etching creme. Take your wooden photo frame completely apart and focus on the frame first.
Paint your frame with chalk paint in any color you desire, then set it aside to dry. Make sure to add a coat of polyacrylic. First, clean the glass with rubbing alcohol and use a stick-on adhesive stencil to create an etched glass effect. Then, apply glass etching creme to the stencil according to the directions.
Lastly, wash the glass carefully in cold water. Finally, apply metal handles to the shorter sides of your wooden frame, reassemble, and enjoy!
5. Farmhouse Rustic Serving Tray
If you love trendy rustic farmhouse styles, this DIY serving tray is for you!
First, you'll need two twenty-four-inch pieces and two sixteen and three-fourths-inch lengths of poplar wood. To have the bottom board sit flush, we recommend using a rabbeting bit to help you create grooves in the side and end boards.
Next, use a drill press to make handle holes, then mark lines to cut out the rest with a jigsaw. Use a one-eighth thick two-by-two-foot sheet of birch plywood for the bottom. Always sand all your wood pieces down before beginning.
Now, let's construct the sides! Use wood glue to create seamless sides and clamp them together while they dry. Finally, attach the plywood bottom with brad nails and wood glue.
Use wood stain to finish your tray and decorative brackets for the corners if you'd like! These steps will give your serving tray a rustic look while providing extra support!
6. DIY Serving Tray Made Out of Peel and Stick Tiles
For this DIY serving tray, first take four two-inch wood pieces, about two inches each, and a handful of peel and stick tiles.
Next, cut forty-five-degree mitered corners on each piece of wood to create a corner. Then use a thin piece of plywood, cut it to size, and fit it in the bottom. It's always good to make side grooves to provide a resting place for your tray bottom.
Always test the fit as you go, especially when grouping several pieces. First, use wood glue to secure the sides and bottom board. Next, use a clamp and let the ends dry entirely. Then stain your tray, allow that to dry, and finally apply your peel and stick tiles to the bottom!
7. Chalkboard DIY Serving Tray
Here's an easy way to re-purpose an old serving tray using chalkboard paint!
First, find a serving tray you like at a thrift store or dust off a current one, sand it down, and add a coat or two of chalkboard paint to the sides and even the bottom if you'd like.
Chalkboard paint will give off a trendy chalkboard matte color but practical use to write on the sides and bottom for a fancy cheese tray or charcuterie board for your next event!
8. Hexagon-Shaped Serving Tray
Here's another easy tray idea using a hexagon shape!
You'll need six one-by-two-inch wood pieces precut at thirty degrees opposite angles. Both ends will make a trapezoid shape. For the bottom piece, trace a hexagon shape after putting together your frame, and cut it out using a jigsaw. Always test your pieces before securing them together and recut them when necessary.
Leave a kerf in the sides to create a groove for the wooden bottom piece. Then, assemble your side pieces using the tracks and caulk, especially if the fit is slightly off.
Lastly, paint all the areas black except the top edges. For the top edges, use complementary gold paint.
9. Coastal DIY Serving Tray
To make a serving tray with beachy vibes, take two twelve-inch boards and two eighteen-inch boards for the sides. Then, use a nail gun to secure the sides at the ends.
Next, use one-by-two-inch boards to create slats; you'll need about twelve total. Always make sure to paint your sides and slats before assembly. Alternate colors to create a fun coastal pattern, such as using white, natural oak, navy, and duck egg blue. Let everything dry, then attach your pieces with a nail gun.
To create handles, drill holes in the side of your tray and string through jute rope. Use hot glue to fuse the ends to prevent fraying.
10. Adding Stencils To A Serving Tray
If you want to give a little more life to an already painted tray, here's an easy idea!
Use peel and stick stencils to carefully paint images or patterns on the bottom of your tray and sides. Let your paint dry completely before peeling off the stencils, and finish by applying a polyacrylic seal to waterproof the areas.
11. Sea Glass Mosaic Tray
Here's how to create a sea glass mosaic at the bottom of your DIY serving tray!
First, put a thin coat of spray-on adhesive evenly on the bottom. Then, press on pieces of sea glass into the adhesive, and create any pattern you'd like! Next, add grout and remove the thicker top layer from the top of your sea glass. Finally, clean the glass pieces off, and enjoy the beauty!
12. Woven Cork Board Tray
Another unique DIY serving tray idea is using cork strips!
Take about thirty corkboard strips and divide them in half. First, use fifteen strips and lay them out vertically in front of you. Then, take the remaining strips and create a woven pattern by weaving them through the center of the first set.
Once finished, trace the shape of your tray, cut the form with a utility knife, and finally, use a hot glue gun to secure your corkboard together and to the bottom of your tray.
13. Transforming a Thrift Store Tray
Taking something gently used and bringing it back to life is one of our favorite things. So go hunting at your local Goodwill, thrift store, or antique mall and collect a wooden serving tray or two.
Then, take your favorite chalk paint and give it a facelift! Always apply a polyacrylic coating to give your serving tray lasting results!
14. Scrabble Serving Tray
Do you enjoy playing Scrabble or need a cute idea for a DIY serving tray for your game room?
First, take a metal or sterling silver serving tray. Then, fill the bottom of the tray with scrabble pieces. You could even throw together family names or inspiring woods in the pattern.
Finally, seal the bottom by pouring resin over the scrabble tiles and the entire bottom of your serving tray, allow it to dry, and enjoy!
15. Decorative Peel and Stick Wallpaper on Serving Trays
Give an old, tired serving tray an update or unfinished tray some life!
First, paint your tray the color of your choice, preferably one that compliments your wallpaper choice. Next, apply a protective coating of polyacrylic to give it waterproof capabilities.
Finally, cut to size by laying your tray on a piece of peel and stick wallpaper, trace, and slowly apply to the bottom of your serving tray. Always test the wallpaper section by laying it on the bottom of the tray before securing it.
16. DIY Wine Cork Serving Tray
Are you a wine lover or want to give a wine lover in your life a homemade gift?
Take a simple wooden serving tray and a large handful of used wine corks. Create a pattern or line them strategically at the bottom of your tray using wood glue. Let it try, and you're good to go!
17. Adding Stripes to Wooden Serving Trays
Want to decorate a DIY serving tray with ticking or French stripes?
First, make a tray using a good-sized piece of wood. Next, attach four bun feet to the bottom of your board. Then use painting tape to apply stripes.
Use a craft or chalk-based paint to paint on stripes using the tape as a guide, and always let it properly dry. Finally, seal your new tray and add a few rustic metal handles. So cute!
18. Flat DIY Serving Tray with Handles
You'll need an old picture frame and some metal handles for this tray.
First, secure the metal handles to the sides of the frame with screws. Then, if you'd like, add an actual photo in the frame or use decorative paper. Another idea is to paint the glass only with chalkboard paint to create a chalkboard middle.
Lastly, paint the frame eggshell white and use finely grated sandpaper to distress your painted wooden frame.
19. Wine-Barrel Inspired Trays
Here's a cute way to dress up a round piece of stained wood or old circular tabletop!
First, create a stencil using contact paper or apply a stick-on stencil. Then use chalk paint or craft paint with a soft brush or sponge. Let your design dry properly, and apply polyacrylic for extra protection. Attach some rustic metal handles to the sides, and lastly, decorate with a bottle of wine and classic wine glasses!
20. Herringbone Pattern DIY Serving Tray
One last idea, and then it's time to pick your favorite and get crafting!
To create a DIY serving tray with a herringbone pattern, use an old tray and add handles if it doesn't have them already. Use white contact paper, and apply it to the bottom of the tray. On top of the white contact paper, use metallic gold tape and arrange the strips in an angled position.
Lastly, clean up and trim any edges where it's needed! This method also works with other patterns such as zig-zag, grid, striped, or even holiday plaids.
Wrapping Up Aesthetically Pleasing DIY Serving Trays
Now that we've shared our secrets on how to DIY unique serving trays to display in your home, we're dying to know which is your favorite. When it comes to serving trays, the uses are endless, and we hope this post has inspired you to organize, tidy, and give your home the perfect touches this season!
For more DIY projects to try your hand at, take a look at our DIY section!