20 Easy Christmas Crafts To Make and Sell
Before you know it, the holiday season will be upon us once again. I don't know about you, but one of my favorite holiday activities is to create fun and unique Christmas crafts to make and sell online.
Not only does this let me do what I love and get in the holiday spirit, but it's a great way to make some extra money, given how high the demand is for items like these during the season. To help spark your imagination, I've created a list of 20 easy Christmas crafts to make and sell below. But, first, let's take a look at the type of crafts you can sell online.
What Type of Crafts Should You Sell Online?
Since there are so many crafts that are sold online, it can be difficult to know which ones sell well. In order to inspire and provide direction, we've compiled some simply made crafts that you can both make and sell that look great still!
Since these crafts are made pretty cheaply, you'll be able to start selling what you make pretty quickly and you'll also be able to make some profit without shelling out a large amount of initial cash.
Whether you're looking for a good side hustle opportunity or looking to turn your hobby into a full time craft business, these are quick and easy DIY projects that are a good way to get you started swelling your creations online.
These ideas are concepts that will sell really well online, while not requiring a huge amount of technical talent to create successfully. Some of these ideas include jewelry, home decor accessories, beauty products, coasters, DIY gifts, and more.
1. Handmade Ornaments
Handmade ornaments are an important part of any Christmas tree. One way to make your own is to begin by combining 4 cups of all-purpose flour, 1 cup salt, and 1 ½ cups of water into a mixing bowl. The dough should be kneaded until it is both firm and smooth.
Roll the dough and cut them into whatever shape you desire, using a straw to poke a hole in order to hang it. These should be baked at 300°F until they are dry which will take around an hour. Make sure to let them cool completely.
2. Holiday Salt & Pepper Shakers
A fun way to create your own micro winter wonderland is to turn your salt and pepper shakers into snowy scenes. Fill them with toy evergreens, deer, and snowdrifts, and then you can place them out on display.
3. Road-Map Christmas Gift Wrap
Instead of regular wrapping paper, road maps or atlas pages can be a great alternative and attractive gift wrapping options. Rather than tying a bow, you can just thread a thin cord through a vintage button and knot it so that it is secure.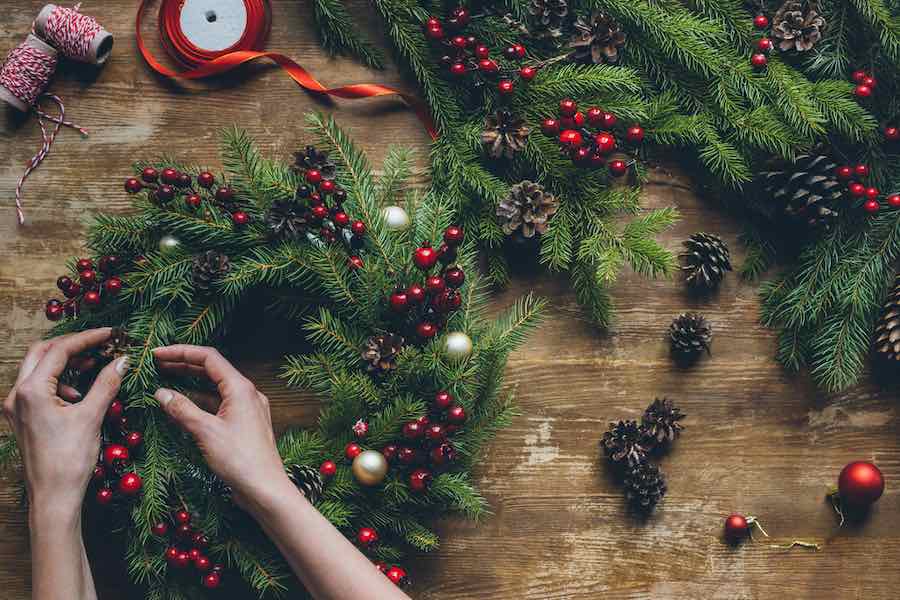 4. Dog Bone Christmas Wreaths
A fun way to make a christmas craft for your dog is to simply add dog bone "bows" to a wreath you already have with some form of adhesive such as a hot glue gun.
5. Handkerchief Tree
For this craft, you can secure a number of green handkerchiefs with a brown hankie "˜stump' to a bulletin board or wall with pushpins for an eye-catching festive Christmas display.
6. Holiday Wreaths Made of Wooden Spools
As a wonderful way to make use of lovely-looking vintage wooden spools, they can be created into a wreath. Start by wrapping them with an assortment of threads, baker's twine, ribbon, and string to give different pops of color. They can then be attached to a wreath form.
7. DIY Old Sheet Music Wreath
Begin with a basic Styrofoam wreath, that you then cover with old Christmas carol sheet music. A finishing touch on this piece can be a DIY paperboy or flower that can be made from the sheet music as well.
8. Handmade Citrus Garland
Citrus garland is a wonderful way to spruce up a tree of any shape or size. All that it involves is threading dried citrus onto thin pieces of wire, twine, or nylon thread.
9. DIY Holiday Table Decorations
This particular piece is two DIY christmas crafts in one. Wooden Bead Stars can be made by first drawing a five-point star on a piece of paper.
Next, make a loop on one end of a piece of silver craft wire. After this, you can thread the beads onto the wire, and bend the wire per the drawing as you go. Finally, feed the loose end of the wire through the loop, crimp the wire, and cut out.
An acorn tree can be made by first painting the nuts with white craft paint, however the caps should be left natural. A loop of twine can be attached with adhesive such as hot glue. Finally, you can hang these from a spray-painted branch set inside a spool of twine.
10. Make Your Own Stocking
You can make your very own stockings using old sweaters around the house. You can find a stocking template, and then cut and sew it inside out, with the foldover sewn the opposite way.
With scraps from your cut out, sew on a loop to your stocking, and monograms can be added using metal house lettering.
11. Handmade Holiday Table Runner
This DIY craft is begun by cutting holly leaves out from dark and light green cardstock paper. A bone folder or wooden skewer can be used to indent veins into the "˜leaves' which you should then trace with green color pencil to accentuate. These can be laid down the center of the table and sprinkled with red jingle bells throughout.
12. DIY Holiday Garland
This DIY garland is constructed with fresh cedar and grapevine twigs which can provide a wonderful aroma for guests in your home. This craft is equally refreshing to sell as it is to see.
The garland is constructed by bundlin 12-inch lengths of fresh cedar and grapevine twigs. They can be held together using a green metal wire. This should be repeated until you have enough to run the length of your doorframe.
An overlapping pattern can be used to affix the bundles together. Finally it is ready to hang from your doorway where you can also add berries or pine cones for your desired effect. Affix by nails or hooks to the doorway.
13. DIY Ribbons
Start by taking and cutting old plaid shirts with patterns on the inside and out, into strips. You can pull on the loose ends of the cut outs to make fringe.
If you'd like, you can also sew strips together to make a longer strip as you need. You can then tie them around gifts, where you might also feel inclined to add an additional candy cane or ornament for a finishing touch.
14. Holiday Candles
Dollar store candles can be transformed into a variety of festive holiday characters including a cute snowman or a reindeer.
They can be transformed by a variety of common craft supplies including buttons, ribbons, and pom poms. These candle pieces are a great touch to line your mantel, add to the kitchen table as a centerpiece, or pass out as christmas gifts.
15. DIY Christmas Gift Package
This simple craft will allow you to be proud of your packaging, and all it requires is a thread and some scrap paper. Two pieces of kraft paper can be layered together, and a shape can be drawn at your choosing on the top of the piece.
You should cut through both layers of the paper, and then sandwich your gift between the two layers of paper. The gift can then be stitched between the two shapes along the edge using contrasting colored threads.
16. Rustic Tobacco Basket Wreath
A DIY Basket Wreath can be made using a rustic tobacco basket accompanied by bright berries that work to complement each other very well. These look wonderful in addition to the oversized checked bow.
A floral wire can be used to attach greenery to the bunch, which can also be accompanied by pine cones to add accents.
17. Christmas Tree Using Tomato Cage
This craft is conducted by taking the common Tomato Cage upside down and placing it in a galvanized bucket. Next, you can liberally sprinkle this craft with Shiny Brites or as you might expect: tomato-red ornaments.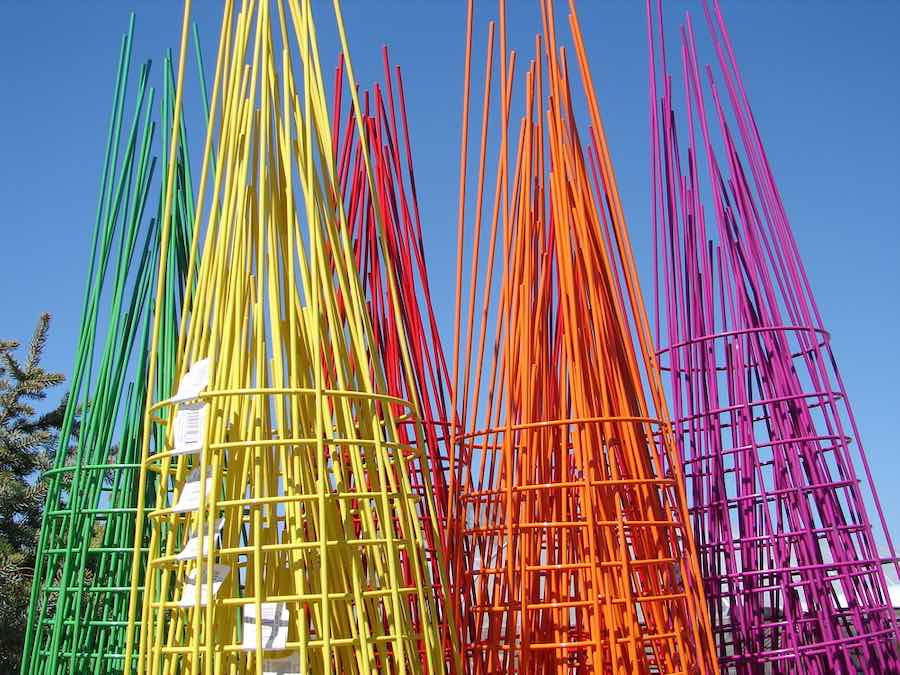 18. Vibrant Christmas Wreath Made of Bulbs
You can bring your wreaths to the next level this year with fun trinkets found at flea markets. This colorful bulb wreath can be made by adhering two lines of vintage lights with hot glue to a craft ring of about 12-inches. The base can be purchased, or DIY with some cardboard.
19. Christmas Napkin Rings
This DIY is a colorful and happy looking take on napkin rings using Old Christmas bulbs. These are made by attaching a loop of red-and-white baker's twine to the base of a bulb by adhesive material such as hot glue. The base should be wrapped completely with twine, and then tied around the rolled napkins.
20. Advent Calendar
Paper envelopes in varying shapes and sizes can be used to countdown the days until Christmas while providing a variety of fun goodies and surprises along the way: candy, tickets, and tiny toys.
You can ink the dates that the envelopes are to be opened with rubber stamps. By adding tags, string, washi tape, and clip art you can further embellish them into the exact creation that you'd like. After the envelopes are complete, you can finish by simply fixing them to a pretty corkboard.