Are you crafty, and want to use that to make a little extra money? With online shops like Etsy, it's easy to set up your own shop.
A downside of trying to sell your crafts online is the number of people who also want to do it. With thousands of shops, it can be hard to attract the right kind of attention.
That's why selling your crafts at fairs is a great place to start. If your town has a local fair or festival, contact their chamber of commerce to find out how much a booth will be.
Some towns only charge a cleaning deposit that they give back after the event if your space was cleaned after the event.
Selling at fairs will get your name in your community and will also establish a customer base for you.
Have you thought about it, but aren't certain which crafts would sell well at a fair? I have some ideas that you can take inspiration from.
17 Crafts You Can Make & Sell Online or at Fairs
1. Chalkboard Tray
You can get an inexpensive tray, and paint the center with chalkboard paint to make a cute message board. Just tape the sides and paint the center.
The original tutorial ( Howtohavitall.net) used metal trays, but you could make this work with wood trays as well. You can even add to the rustic look by painting the sides with chalk paint. You can buy wooden trays in bulk to have enough on hand to sell at several fairs.
2. Faux Succulent Wall Planter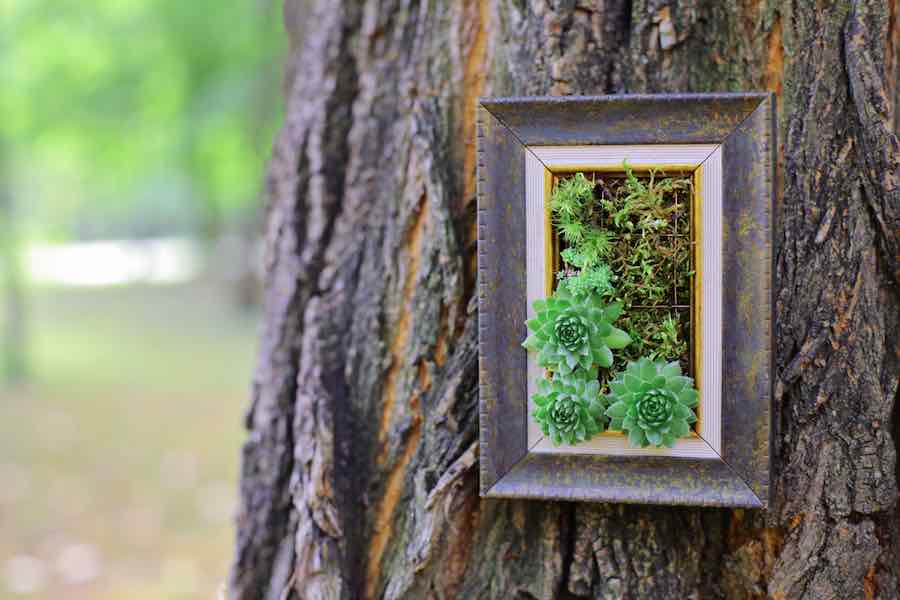 Succulents are popular, and many people love the look but don't have a green thumb, or don't want the responsibility of a live plant.
You can play off this trend by finding decent quality faux succulents and gluing them onto a tray or into the center of a picture frame, to create a wall planter look. Fill in the gaps with Spanish Moss.
You can use unpainted wood picture frames, and paint them or leave them plain for a rustic look. There is a tutorial with a picture of the final result available on My So-Called DIY Blog
3. Wine Bottle Candle Holders
You can find dozens of tutorials on how to make these. You can even use a glass beer or soda bottle. This particular tutorial comes from Hello Nest.
You will need glass bottles, a bottle cutter, and candle making supplies. This craft is time-consuming but very easy and you can make more than one at a time.
4. Glass Stone Magnets
Inexpensive to make and absolutely adorable, glass stone magnets are a cute and easy DIY, that is very popular at craft fairs.
All you need are glass stones like these, a small picture, Modge Podge, and a magnet for the back. Modge Podge has an easy tutorial on how to make these.
5. Burlap Wreaths
Burlap wreaths are a perennial favorite at fairs, and online. They are easy to make, and you can get creative and add accents that make them suitable for any season.
The supply for these can be a little expensive, but they are something you can sell for a profit. Here is an easy wreath tutorial. You will need a wire wreath, pipe cleaners, 6-inch Burlap Jute Ribbon, and decorative accents like flowers.
6. Decorative Wall Letters
These are popular for decorating kids' rooms, as wedding decor, or just to hang on the walls. They are simple and the best part is you can let your imagination take over.
Paint them with chalk paint and add burlap accents for a rustic look, decoupage them and add a matte clear coat for a more bohemian look, decorate them with buttons, wrap them in burlap.
The ideas are endless. Just find some letters and get to work! Here's an example from Crafts By Amanda.
7. Mason Jar Soap Dispenser
Mason jar crafts are a favorite at craft fairs, and online. The current trend in mason jar crafts is soap dispensers.
All you need are some mason jars with lids, a soap pump, glue or epoxy, and spray paint for painting the lid. Check out the tutorial from Love Grows Wild. Make sure the jars you use are authentic Ball or Kerr mason jars or they will not sell as well.
8. Hand Warmers
If you live in an area that gets chilly, then these tiny hand warmers could be a big hit. This craft is simple, but it does take a sewing machine and some pinking shears if you want the triangle hem detail.
You will need two ¾ inch squares of fabric per hand warmer if you have scrap fabric laying around this is the perfect project for it. You can read the full tutorial from Rae Ann Kelly here.
9. Chalk Paint Mason Jar Candle Holder
Another popular item made with a mason jar is this adorable candle holder. The tutorial uses black chalkboard paint, but you can use any shade of paint you like, chalk paint ( which is not the same as chalkboard paint) will still give your jars the rustic matte finish this craft calls for.
A little burlap bow around the neck of the jar finishes off the shabby chic look. View the tutorial from Diy Joy here.
10. Lost Sock Laundry Board
This is a cute craft that people will want to hang in their laundry room. It doesn't get much easier than this.
All you need is a painted wooden square with clothespins glued to it, with a cute phrase ( Single Seeking Mate, or some other variation, Looking For Sole Mate, etc) either stenciled or hand-lettered on. There is a full tutorial at 1000 Things 2 Do.
11. Beaded Bookmarks
This is a very simple craft, that is also very pretty and will do well online or at a fair. This bookmark is made of silk cord with beads on either end, topped off with a charm. For a full tutorial stop by Making It Sweet.
12. Flower Crowns
There is a large market for flower crowns, from boho brides to little girls, there are people on the hunt for a wreath of flowers to wear.
A well made flower crown is easy to make and easy to sell. All you will need are faux flowers, florists tape, greenery, and floral wire. There are dozens of tutorials online, here's one by Lauren Conrad that breaks it down into easy steps.
13. Wine Cork KeyChains
If you saved the corks from project number 3, you can use them to make these fun keychains.
All you need are corks, screw eyes, and keychain rings. You can read about the inspiration for this project at Cleverly Inspired.
14. Etched Glasses
This easy craft only requires glassware, etching cream, painters tape, and a letter sticker, or simple shape. You can find a tutorial at A Few Short Cuts.
15. Headbands
There are many variations of headband you can make, sewn, crocheted, plain, and decorated. Hair accessories are always good sellers, and if you can find a method to make them that you enjoy, they can be a big seller online and at fairs. Here's a tutorial for one method of how to make a headband with a t-shirt from Julie Measures
16. Cat Tents
People love cats, and cat owners really love their cats. Cat tents are an unusual item, but they're something people will buy for the cute factor and novelty.
They are easy to make and require very little expertise. All you need is a glue gun 2 yards of fabric, string, 4 thick wooden sticks, and 1 thin wooden stick. Here's the complete tutorial on Life Family Joy.
17. Resin Jewelry
If you enjoy making jewelry, resin jewelry might be something worth trying. You can pour it over flowers or glitter, use it in molds, and let your creativity flow.
You will need jewelry epoxy, latex gloves, a jewelry mold, and a few other things. For a tutorial on how to work with resin take a moment to watch the tutorial from brit.co