This gray and white painted dresser was such a treat to create! Today I share with you the story and the entire process, including how to dry brush! Dont miss the full review over at What Kind of Paint to use on Wood Furniture.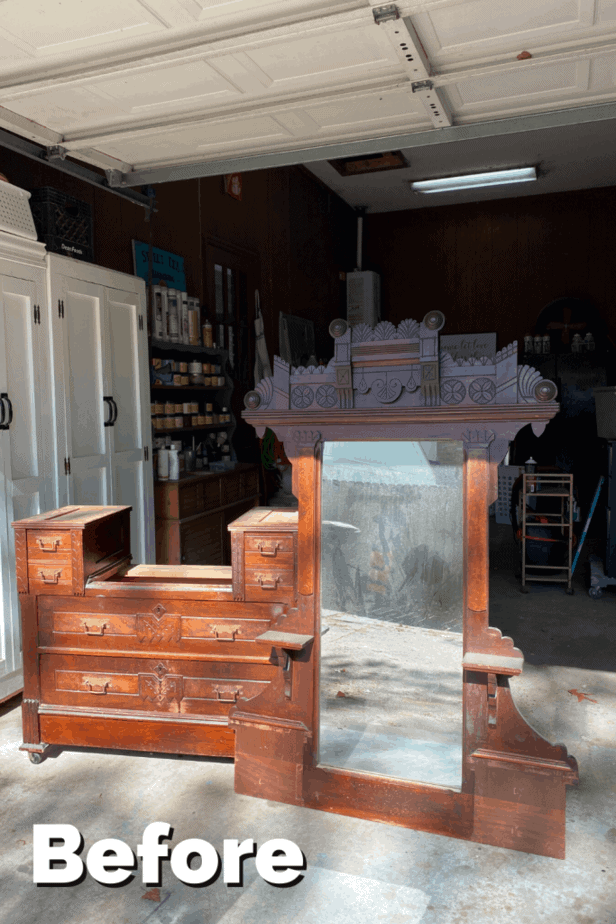 Recently I embarked on a journey to learn about all the different brands of furniture paint that I possibly can for you! This way you can make an informed decision on which one is right for you and your project and your budget! Who wants to waste their hard earned money or even just their time on furniture painting products that we just don't enjoy using?
Getting the dresser ready to paint
So today we are using Autentico Vintage Paint which is Autenticos dedicated furniture paint. I have really enjoyed getting to know about the Autentico brand as well as the USA distributor Jayne. They seriously have everything you can possibly think of for your refinishing projects. From their Venice Lime paint for walls and furniture to their colored finishing waxes and cleaning products. You can find everything HERE (aflink)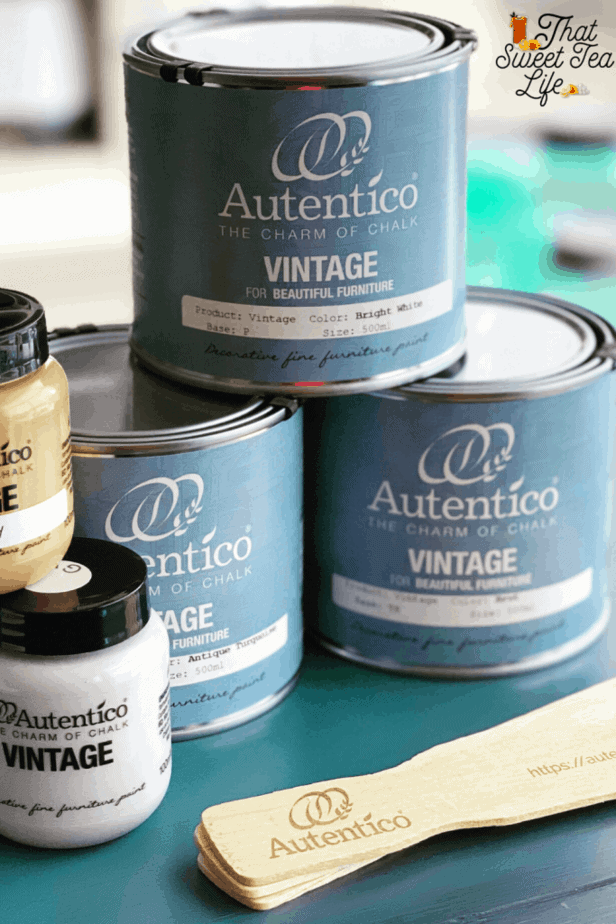 We begin of course by prepping our piece. If you want to know my process for that just check out Prepping Furniture for Paint. This gorgeous eastlake dresser belongs to an incredibly sweet follower that asked me to give it a fresh look for her space. Its in amazing shape and really required very little as far as prep was concerned. I did want to start with a largely smooth finish so my Surprep Sander (aflink) was essential.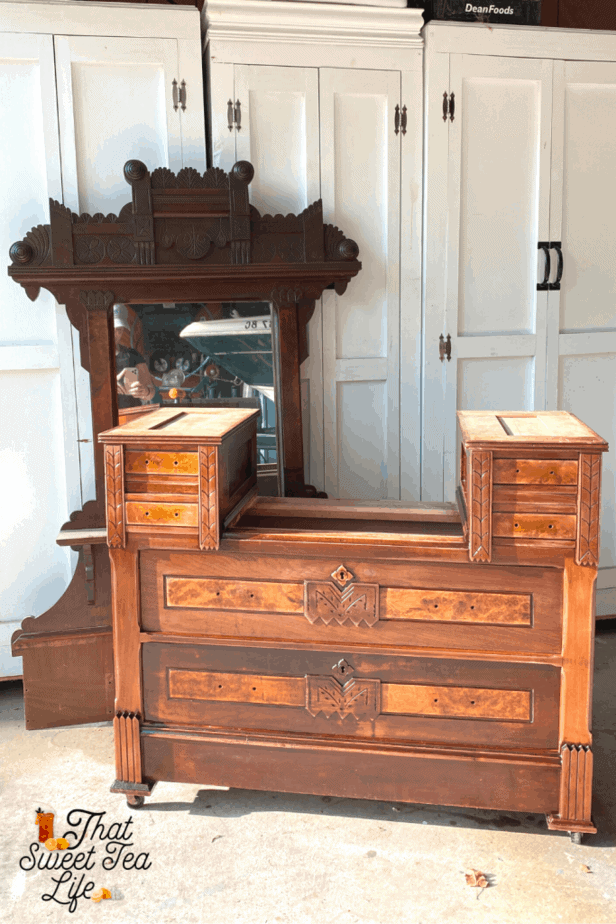 I chose to go ahead and shellac everything to prevent any bleed down the road since I would be working with a few layers of paint including some white. If you remember my article on Painting White Furniture you know it can be tricky! So, Im taking precautions. Though this isn't going to be fully white, gray and white painted furniture can also have bleed problems especially with lighter gray paint.
Painting our dresser gray
Today I am using Autenticos Vintage paint in Brut (which is a medium gray) and Bright White. With mineral paints I tend to feel like its a great idea to begin with a very thin coat of your base color. This introduces the color, dries super fast, and gives the second coat something to grip to providing full coverage!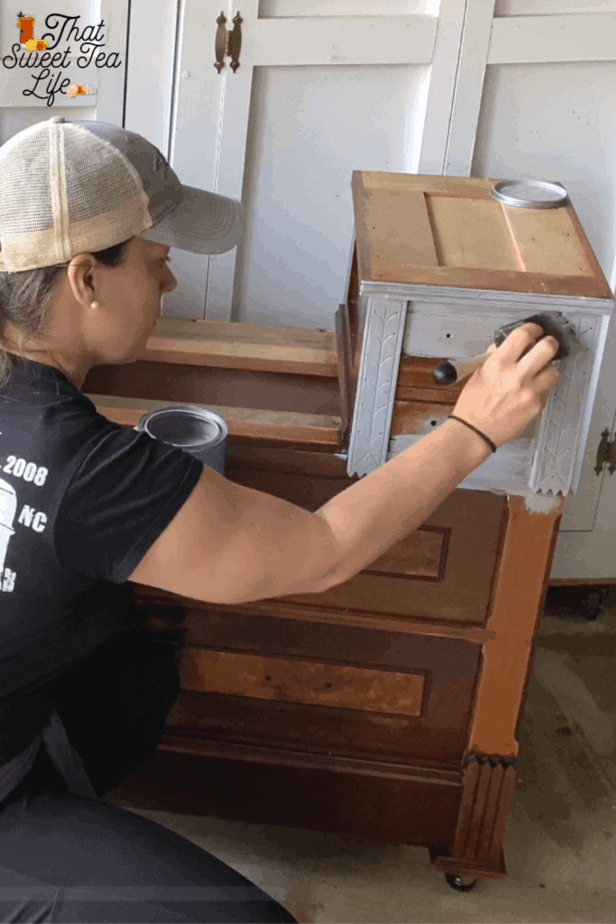 I love the silky smooth feel of Autenticos paint. While its a chalk paint, it's not really gritty or rough. It's also only a semi porous paint with closely knit particles. This makes it not only wax friendly but also varnish friendly.
Dry Brushing our gray dresser with white paint
Once the gray paint dried, I was able to begin dry brushing. I KNEW this would be a challenge for me since I can tend to be a little impatient. So here are a couple dry brushing tips.
Use a thick, large brush (as opposed to a thin, sparse brush)
Remove excess paint from your brush using a paper plate, excess paper or the like.
When you think you have removed enough, remove some more.
Try a test area before attempting on your piece.
Keep some of your base color on hand, in case you add too much of your dry brush color. One the dry brush color dries completely you can simply paint that area the base color and try all over again.
If you want to bring back the dry brushing, once its completely dry use a high grit sanding pad like Rad Pads (aflink) in fine to super fine (200+ grit) and go over the area.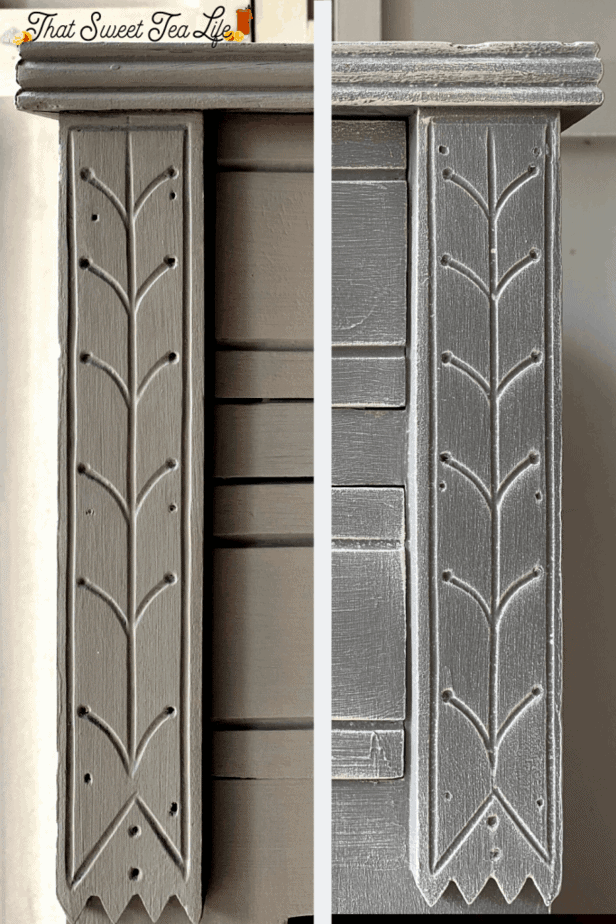 Once all my dry brushing was done I could use my sander to go over the whole thing with my sander and a super fine pad to slightly distress and make everything ultra smooth.
Protecting our gray and white painted dresser
A few things to factor in when protecting our piece is
Will drinks or the like be set down on the paint?

No, our dresser has marble inserts!

Do I need to consider the white retention of my top coat?

Yes! With all this white and light bright feel, I want to choose an ultra clear sealer that will not amber of time.

Is a wax finish even possible?

Yes, this piece is going to home where it is not likely to see high traffic use.
I decided I would use Autenticos Furniture Wax in White! (aflink) While its not like a gilding product and wont make a huge difference in the appearance, it will give an over all lighter feel than the clear wax and the white pigments can also settle in the crevices. Also noteworthy is the fact that their wax has low odor! I can tend to be sensitive to smelly waxes, so I was pleasantly surprised to find this one did not bother me at all!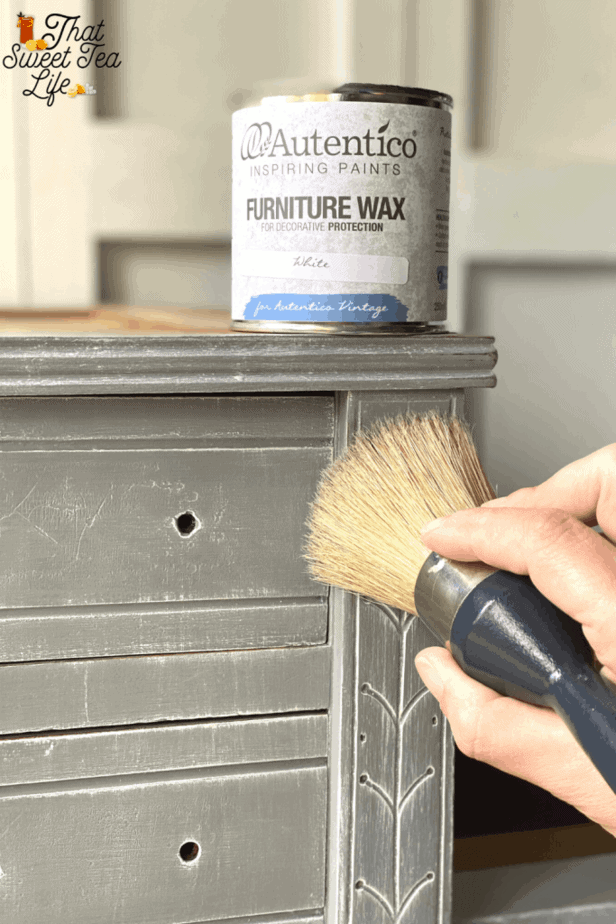 Something you can expect from Autenticos wax is when you apply it to their paint, it perfectly seals it up without gooping or folding over itself! They work together perfectly! I found myself basically applying and buffing as I went. Then to pull off the full buff I used my brush attachment on my drill to bring out the full sheen.
Enhancing the details on my painted dresser
Once the white furniture wax was finished, I decided to really bring out the beautiful light details by using some INCREDIBLE Anthracite wax. (aflink) I have never been a fan of waxing and definitely not antiquing with wax, HOWEVER, this stuff has me hooked! Using an artist brush I basically just shaded in where I wanted to and it defined the details beautifully.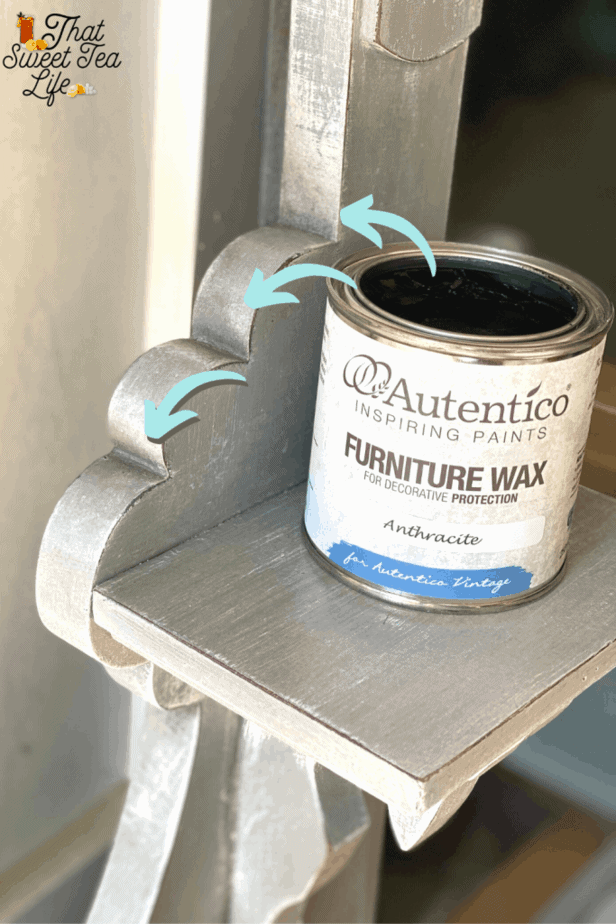 After hitting the hardware with my RAD Pads to bring back the shine I added them back on the dresser and I just couldn't wait to stage and photograph it! …now admittedly my staging needs work BUT It turned out gorgeous and I I loved getting to know the Autentico products a bit better. They are quite possibly my favorite mineral paints to work with..
They adorn the dresser like the perfect piece of jewelry…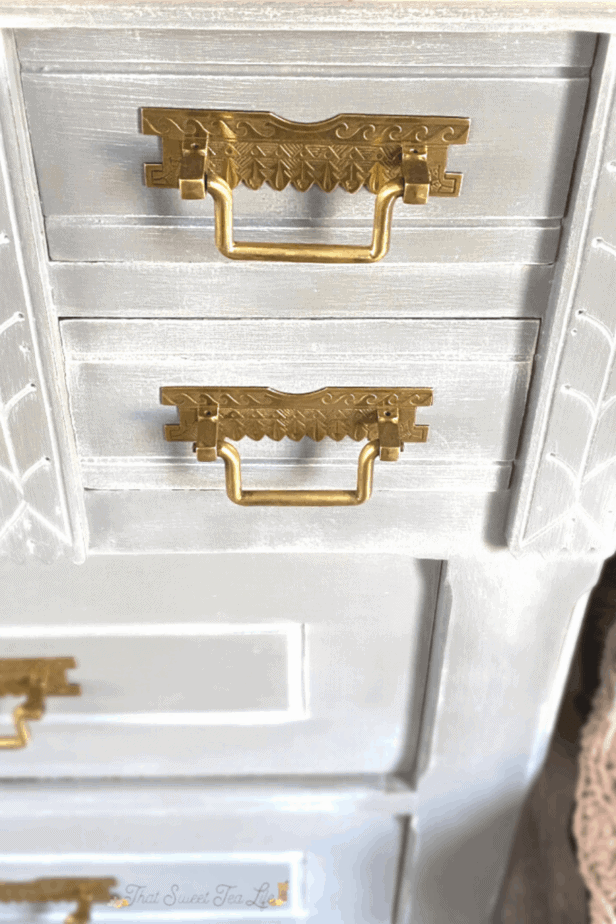 That Anthracite Wax over the Brut and Bright White Autentico Paint are just perfect…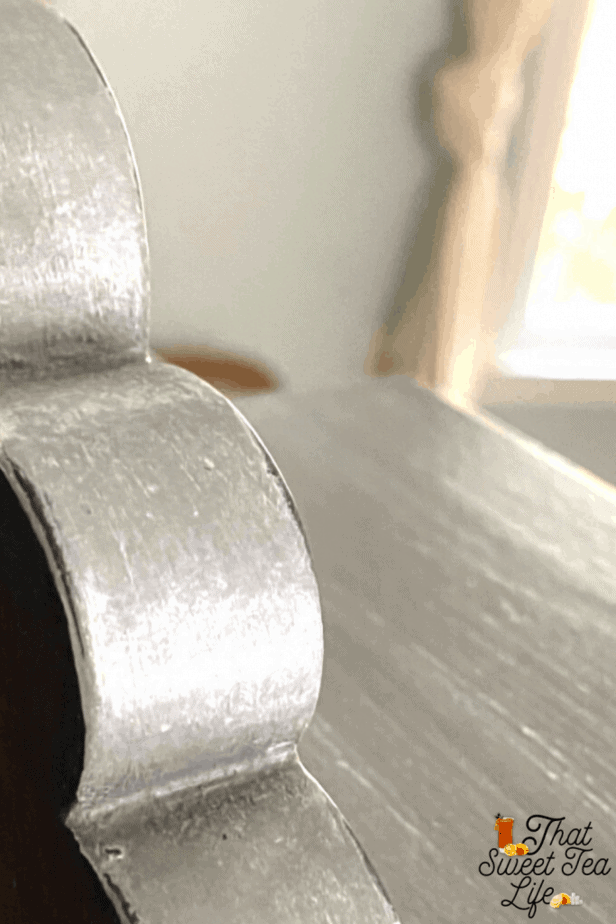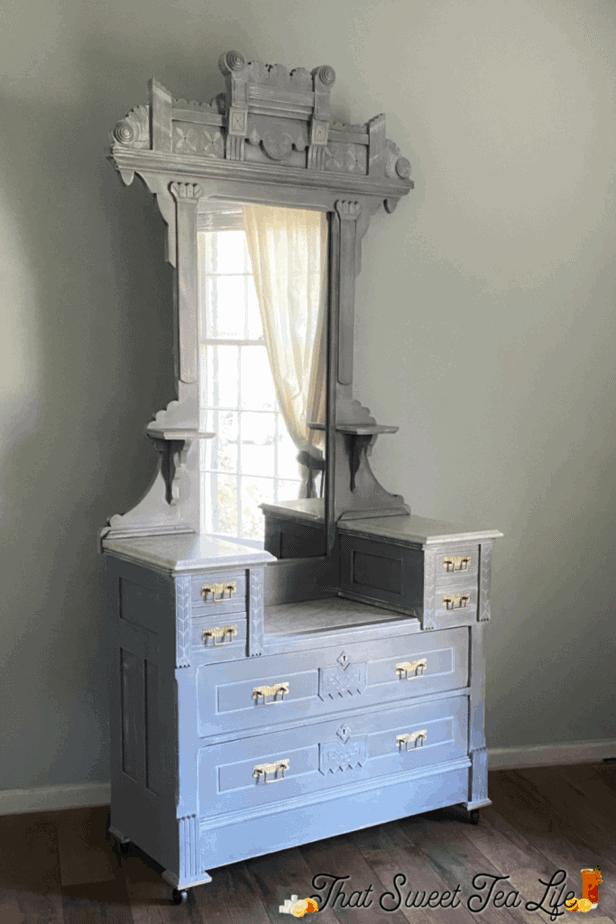 Id love to have this gray and white painted dresser in my home!