**This article contains sponsored content**
**This article contains affiliate links to better share with you exactly what products I use and TRUST!**
Here is a list to show you the products I use and trust.
I also provided the links for you to review and purchase for your convenience!
Supplies
Now lets get to it!
So, rather often I am asked what my favorite furniture pieces are to paint. What do I look for?
Y'all, I think I found it. As an artist of course I prefer a QUALITY canvas! Naturally older furniture that has stood the test of time prove to be amazing canvases. BUT,.. I do die a little inside at the thought of painting gorgeous antiques or vintage beauties… unless it was created with a factory painted finish!! THIS I have decided is the Holy Grail of sought after furniture "canvases".. So when I spied a set of White Furniture Co. Vintage French Provincial Nightstands,.. huge ones at that,.. for $50,.. my heart stopped. You see these are incredibly high quality pieces! And,.. well they've already been painted! No harm. No foul. I can have fun-guilt free!
Just look at those curves! I was so excited to get started and made plans to snatch them up but plans just couldnt come together as the flu wreaked havoc on our home and one after another fell ill.. which wasnt initially awful but the whole thing just seemed to linger for weeks! Well, I recently decided to take on a new adventure selling my pieces at Main Street Antiques! A quaint little HUGE Antique store on Main street in Downtown Summerville, The Birthplace of Sweet Tea. This year Summerville even claimed The Guiness Books World Record for the largest Sweet Tea! (again…)
And my sweet sweet friend who now owns the store was so kind to wrangle up the nightstands for me before they were snatched up by anyone else! …shes kind of amazing like that…
Anyhow its time to get the paint on! Thankfully this set was a relatively easy feat! I lightly sanded with 80 grit and cleaned everything with Simple Green,.. This was great since everyone was home- I literally camped in the living room. I hate going off into the shop to work sometimes when the kids and huzz are home on winter break! So, I grabbed a little spot in the living room and went to work. ALL of the products I used were completely VOC Friendly and I didnt have to worry about causing any respiratory issues or,… migraines. My Simple Green did the work and I was able to start having fun!
First thing was what I call my crumb coat. You know like a baker! That thin coat that can be kind slapped on to contain the ick and crumbs, (though there are no ick or crumbs here..) and provide adhesion for the next coat.. . I keep a damp brush and use my Pure and Original Classico in Evening Shadow. (seriously check out the link I gave you above! They have a new web shop that rocks!) Once that dried, which was within minutes, I went on to the second coat. This one was a bit more full in coverage and was all these guys needed!
Once the highlights were done I went to my CeCe Caldwells Shelbyville Graphite Wax to add some depth and hit the lower areas. Using an artists brush I dry brushes and layered the wax to create shading.
Once all the layers were done it was time to sand! (YES I KNOW!) I use the sand paper to pull back in areas and create time worn areas,.. then using everything I go back in and layer each effect in a little more.
Now for a neat trick… you know those wax warmers we use to make the house smell lovely? Dont toss it! I use those leftover blocks to tackle the drawers and glides. I just take them and rub against any area where the wood rubs together.. In a pinch? Just grab a bar of soap! I use the left over wax melts because they just smell lovely!
Pretty Right?? You should go enter to win your own Pure and Original paint so you can do it yourself,..
Do you love them?! They have been delivered and are for sale at Main Street Antiques… Though I really would be happy to just keep them…
Now for some fun news!!
Me and a few of my DIY Bloggy friends have decided to come together once a month to share what we are up to! They are all so awesomely talented! So tune in the second Tuesday of every month!
Just LOOK at what canvases they have to work with!
…I cant WAIT to see what magic they worked!
And wow!! All the amazing products being used too! Be sure to go check them out!
Pin It!
About the Author
Latest Posts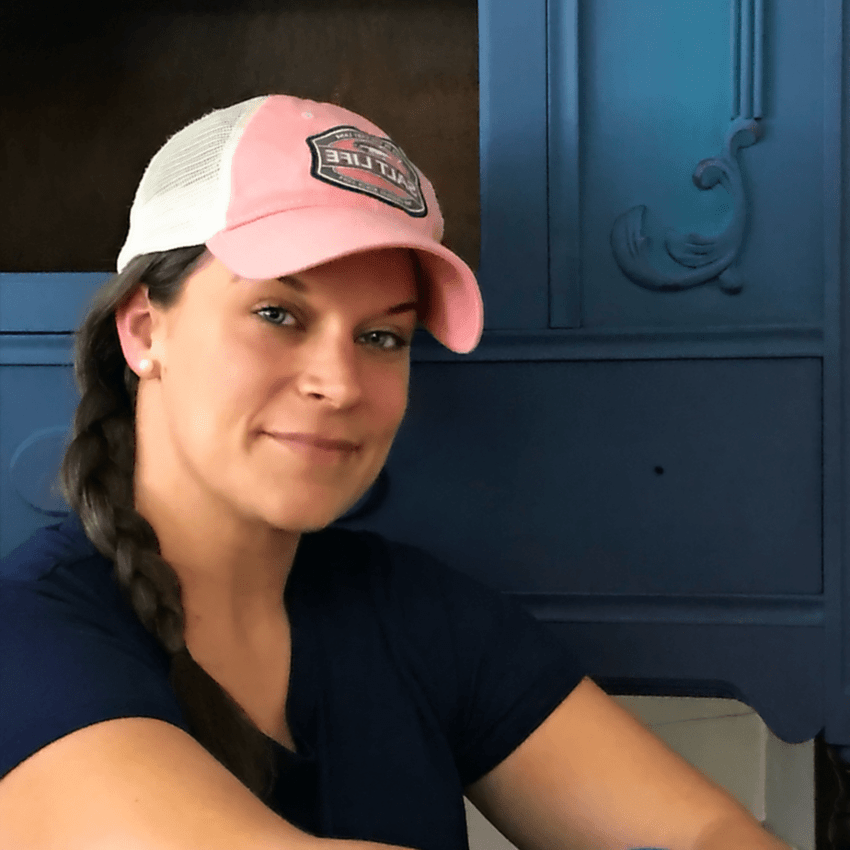 Thea Osborne is a celebrated blogger renowned for her expertise in DIY and paint techniques. With a keen understanding of Southern culture, Thea's commitment to producing engaging and informative content, coupled with her detailed tutorials, inspire her readers to embrace their own creative pursuits.
Thea's passion and creativity have left a lasting impact in the DIY community, transforming "That Sweet Tea Life" into a thriving and cherished resource.