If you're searching for the perfect farmhouse dresser or need some inspiration for updating or DIYing a dresser, we have you covered. Here you will find virtually every style of farmhouse dresser that is fit for a farmhouse-themed home to help guide you to a breathtaking result.
From shabby-chic to country western, this is your one-stop dresser shop for the best ideas out there. Have fun and stay inspired! And, as always, remember to have fun with it!
1. Shabby Chic Farmhouse Dresser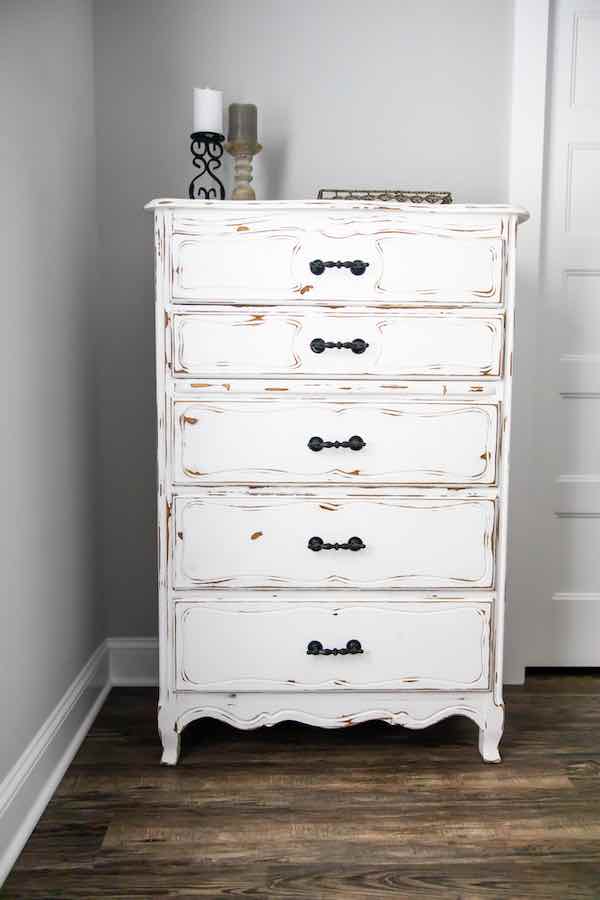 This shabby chic stack of drawers is a country delight. You can easily find something like this at an antique store, and if you can't find it worn down as pictured, you can always DIY it. With a bit of white paint and some sandpaper, you can turn a clean-cut dresser into a farmhouse dresser in no time.
While this dresser itself is unique and beautifully worn down, you can do some updates on it to fit your exact space and style. Switching out drawer handles is the easiest way to go about this. If you're wanting something a bit more country glam, consider swapping out the handles with some diamond-shaped plastic ones.
Or, if white just isn't your color, add a splash of robin egg blue to add a pop of color and a unique take on this farmhouse dresser. No matter what style you choose, it's hard to go wrong with this style!
2. Simplified Country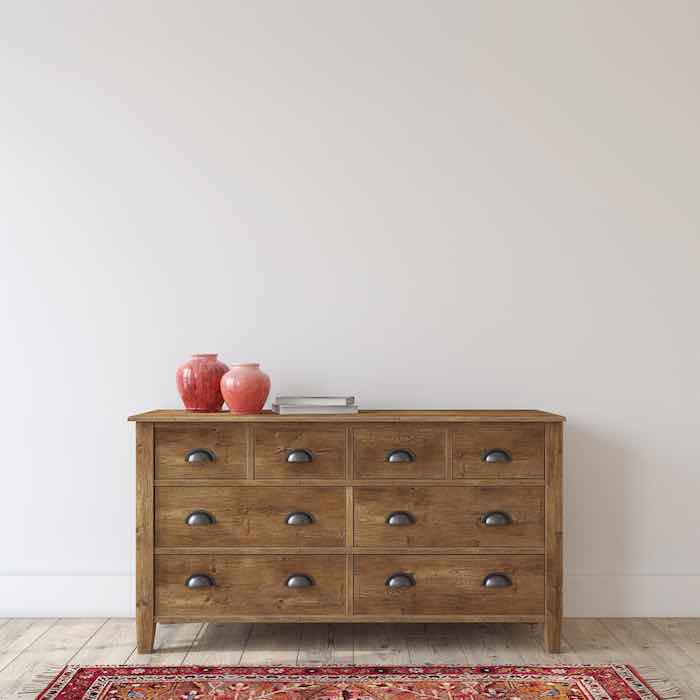 This dresser takes us right back to the 1950s! It's a simple antique piece and a wonderful addition to any farmhouse.
If this is the look you're going for, you want to make sure that it doesn't have any dings or scratches. A lot of farmhouse dressers and decor tend to look intentionally run down, but this isn't the type of dresser for that (you'll see one later on that is and it's magnificent!)
Often times, these dressers are at least a few decades old and they may require some new stain. If you're staining a dresser yourself, make sure to educate yourself on the proper techniques and products, and it's best done outdoors! Have fun with this!
3. Simple and White Dressers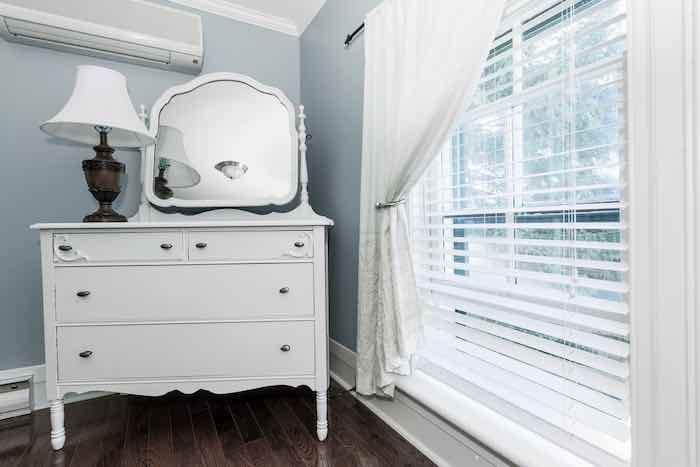 This simple, elegant, and pristine dresser is a good fit for a farmhouse room that isn't shabby chic. Its white color goes well with light colors, such as cloud blue or a light peach.
Dressers like this are easy to update and refurbish, because they are so simple. An extra coat of white paint can help cover any blemishes hiding underneath, and updating the handles on the dresser is a great way to add your own unique style to it.
If this is the look you're going for, be sure to prime the dresser before you paint it. This will help give you the most even coat possible and avoid a splotchy or poor finish. If you're going for a more matte look, check out some chalk paints that can help you achieve this style.
4. Rustic Farmhouse Dresser
This farmhouse dresser takes us right back to the old days, where cowboys ruled the towns and the style looked like it was right out of a movie set. If your farmhouse looks more like a country western movie, this is definitely going to be the dresser for you.
These are commonly found at antique stores or thrift shops, and are often pretty inexpensive, which makes them even more appealing to the farmhouse lover on a budget. And if you want to add a beautiful, country embellishment to the top, we've got you covered with this simple DIY project.
What makes this such a great dresser is how low maintenance it is. A couple of dings or scratches fit the look perfectly, so it doesn't require too much DIY work. It takes us back to much simpler times overall!
5. Old Wooden Antique Dresser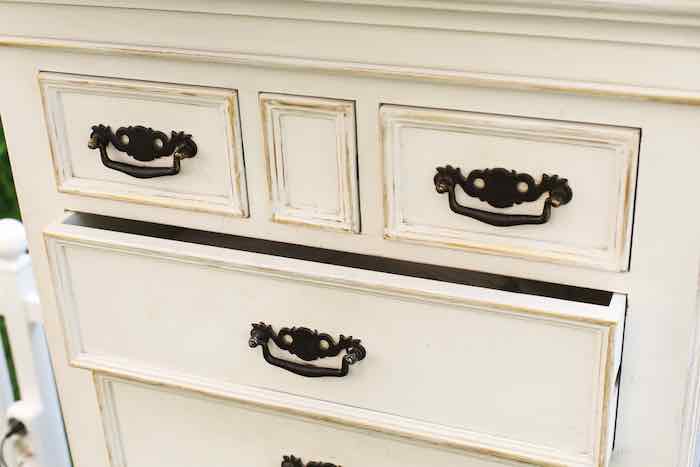 This shabby-chic, vintage dresser is perfect for old-school farmhouses. It gives a unique finish with maximum style that is perfect for any bedroom or guest room!
A distressed dresser like this will take some work to make sure it looks perfectly shabby. Make sure you study up on what is required to create this finished project to avoid any disappointments when you're all done!
Pairing this dresser with almost any colored wall will create a simple, elegant, and shabby chic finish that you'll love to look at. When paired with oil rubbed bronze or black handles, it creates a gorgeous end result.
6. Chic Painted Dresser
This is a great bedside table or a farmhouse dresser for a children's room. It intentionally looks unfinished to give a rustic, simple appearance.
This dresser will need some sanding, so make sure you have plenty of sand paper or another tool to complete the job. Since it is such a light tan color, it will look striking against darker walls, but is also well paired with a lighter color scheme.
If a more finished look is what you're after, consider staining it to give it some more depth!
7. Provence Style Vintage Bedside Dresser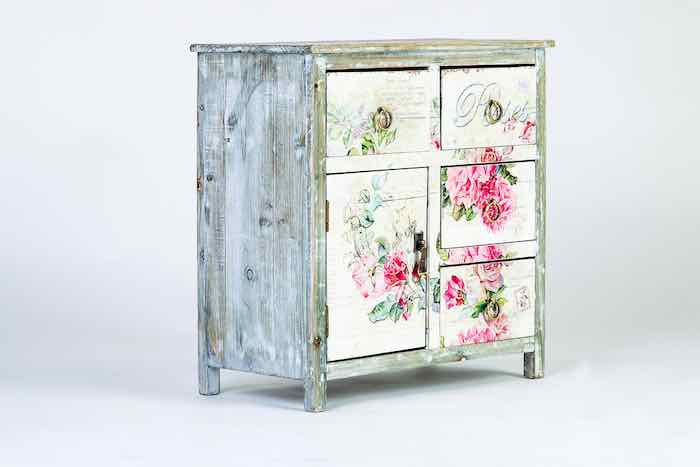 If you have the painting skills for it, this is a great dresser to incorporate in with your farmhouse decor. The shabby appearance paired with the bright colors of the flowers make for a stunning finished product.
A great paint product for this is Jolie Paint! It offers a beautiful, vibrant end result that will really stand out against the shabby finish of this farmhouse dresser. If you aren't very good at painting, check out some of the stencils and decals that are available. There are a ton of options online for beautiful decals that look just like this one on the dresser.
We could definitely see this being placed in a room with wood floors and white walls, and if you need some inspiration on various color schemes, be sure to look around the website (we have plenty!)
8. Wooden Shabby Chic Dresser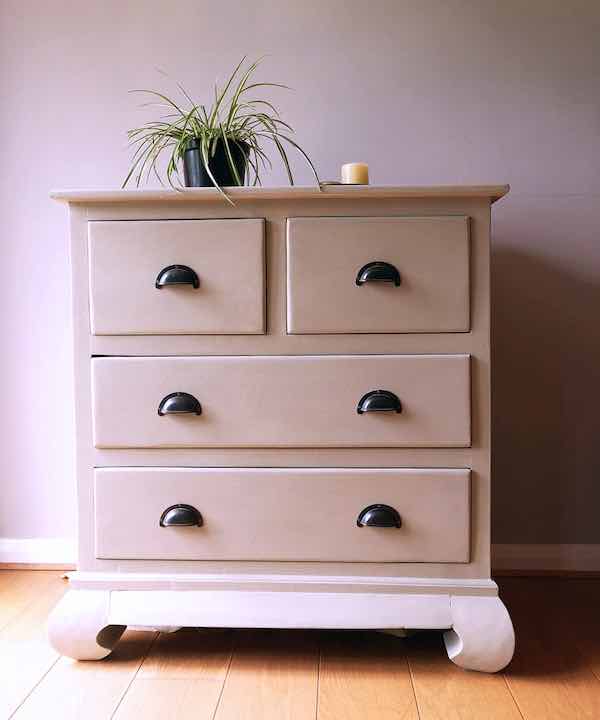 If you're after simple and clean, this is a modern farmhouse dresser that goes great in rooms that don't have a shabby-chic theme. Its tan color, lack of scratches, and smooth handles go great in almost any room (farmhouse or not!)
Since it is a smaller dresser, it may go well in a corner as a compliment to a larger dresser. Also, its neat and tidy look makes it an easy match for other types of furniture in different styles and colors!
Pair this dresser with some cream colored walls and beautiful country decor for a more finished look. We could see it going well in a well lit room with sheer white curtains to add to the softness of the space.
9. Shabby Wood Farmhouse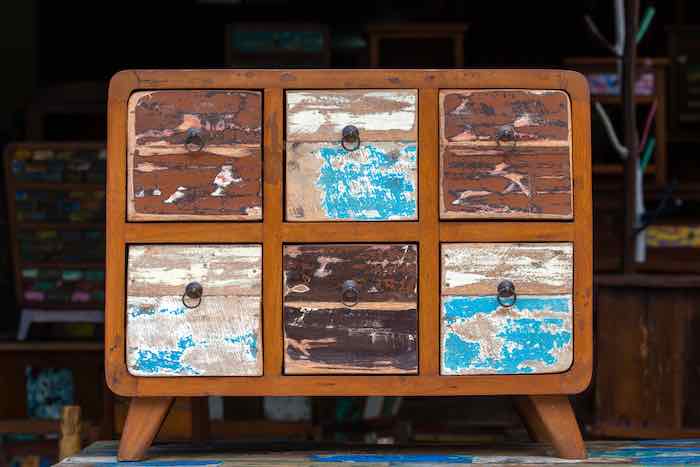 One of the most unique dressers on this list is this shabby wood farmhouse dresser with a pop of bright blue paint. It's definitely a DIY project so make sure you book out plenty of time to get this one done!
We have so many helpful tips for creating a distressed dresser like this, and you'll definitely want to read through all of the advice on here before taking this project on. It will require plenty of sanding and a good eye in order to create a finished product such as this one.
As with a few of the other dressers, you can swap out the handles for a more unique look that fits your space. And, if blue just isn't your color, select one that matches the color scheme of your room! A pop of pink or burgundy would look wonderful on this piece.
10. Hand Made English Wooden Dresser
This is another antique dresser that goes great in any farmhouse room. A few scuffs are to be expected, especially if it is a very old find, so don't let that deter you!
If there are too many dings in it, consider filling it in and re-painting or staining it in order to repurpose it. If you're not feeling the plain brown color, you can always sand it down and repaint it with some chalk paint and decals or spruce it up with a nice coat of glossy paint for a pristine finish.
This dresser style goes great in rooms that have a simple farmhouse theme. It doesn't have loud colors or patterns and gives a perfect finish to a traditional farmhouse bedroom.
11. Small Scandinavian Dresser
This small dresser has a mixture of solid colors with stunning patterns to make it a statement piece for any farmhouse room. It goes well with solid walls to offset the various colors and patterns, making it an excellent choice if you need something special without redoing an entire bedroom.
If you want to use a different color scheme, you could always use this picture as a template and create your own colors and patterns. Simply follow the general idea and you can match this little farmhouse dresser to just about any pattern or color!
For those who aren't great around a paintbrush, check out some templates and decals online. This can make your job much easier and reduce the frustrating mistakes that can happen with DIY furniture.
12. Painted Dresser
One of the most versatile farmhouse dressers on this list is a simple shabby chic dresser with a beautiful slate blue finish. Not only can it be used in the bedroom as a dresser, but it could also double as a TV stand in your bedroom or living room.
Reducing the amount of furniture in a room is great for smaller spaces. This farmhouse dresser allows you to save space in the bedroom if it is being used as a TV stand, and has a large enough surface that you can place plenty of things on it. If doubling it as a TV stand, it also prevents you from having to drill holes in the walls!
A chalk-based paint goes well on this dresser, as it enables it to stand out without being too loud. If you can't decide what finish you want on it, take a look around at our various ideas. We have tips for chalk paint, stain, and paint as well.
This is one of those pieces that is hard to go wrong with, so try not to over think it and just have fun! If worse comes to worse, you can always remove the paint or stain and start over (we have some advice for that, too!)
Find Cool Farmhouse Dressers on Amazon.
At the end of the day, you can't go wrong with a shabby-chic farmhouse dresser or an old western chest of drawers. No matter what you choose, it's sure to fit your space perfectly. We hope this list gave you some added inspiration to complete your farmhouse decor! In the need for some additional inspiration? We have you covered! Check out all of the unique and stunning ideas we've compiled here to help you transform your farmhouse from drab to fab.