Jolie Paint Back Story
Have you been thinking about trying Jolie Paint? You may have only recently heard of it but the owner and creator of Jolie Paint has been around the industry for quite some time. (Check out my Product Guide if you just want to make a purchase, and you can grab my discount code!) Find more in my Ultimate guide to Furniture Painting!
[mailerlite_form form_id=1]
Lisa Rickert came across Chalk Paint after Hurricane Katrina engulfed Louisiana. During this time she along with so many others began to rebuild their personal piece of the devastation. Chalk Paint had its way of simplifying home decor. While its simplicity suited the needs of the people, the colors and style suited the aesthetics of the traditional New Orleans homes.
---
Soon a new season in life would take off and Lisa began "UnFolded". Heard of it? After a very respectable amount of research and trade development, Lisa built an amazing relationship with Davis Paint Company who has been manufacturing paints since 1921.
Over time and while working with Annie Sloan, Davis Paint Company would come up with their American formula of "Chalk Paint". Labeled under Annie Sloan, Lisa Rickerts "Unfolded" would become the American Distributor for Annie Sloan products. This would be the beginning of a movement in the U.S. fiercely lead by Lisa.
---
Over time, and as all seasons do, this season would come to pass as another began to develop. At this point, Annie would take over the American "Chalk Paint" distribution using her European paint formula and Davis Paint Company would continue to own the American "Chalk Paint" formula.
Lisa with her own desires for a perfect paint formula, worked with Davis to create what she felt would be "similar but better" paint products. This paint formula would become Jolie Paint Established in 2018 by Lisa, her husband Scott, and her brother Jason. Jolie Home (afflink) would become a family company headquartered in New Orleans, Louisiana as well as Melbourne, Victoria (Australia).
Jolie Paint Review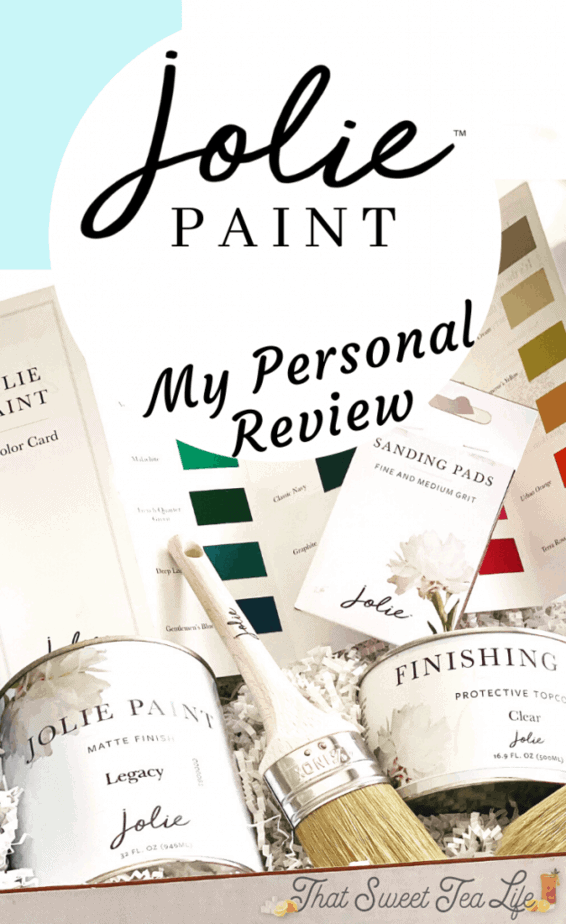 Ok so they got me! What can I say. The Essentials Kit (afflink) had everything I needed PLUS it was all just packed in such a special way! Its like the box just invited me into this ultra posh and comfy painting club,… Its what we always pictured painting furniture to be,.. wearing a white apron, sitting comfy on the floor, a cup of coffee beside us, our painting guide in hand, not a worry in the world. Jolie Painting is a lifestyle… haha I say that all tongue in cheek but for real y'all! Thats how it felt! You can see what is included in the Essentials Kit HERE. And LOOK! Here is a super sweet Color Mixing Guide,.. using this you can learn how to create hundreds more colors from their existing colors! ..Im not sure I know of any other companies that offer this!
---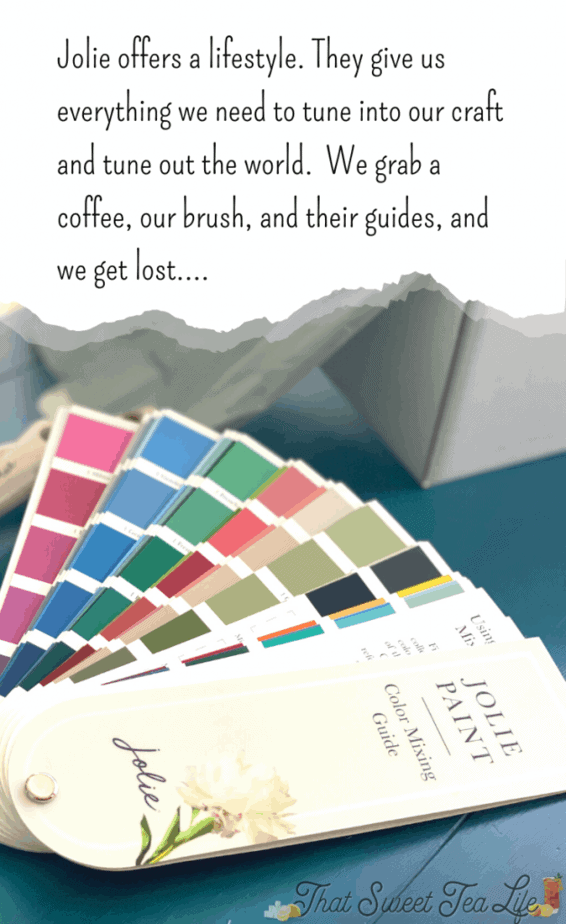 Before doing anything else I opened up my Everyday Guide. This short guide is PACKED with concise information to take you from start to finish on your project. Here is the kicker folks. IT IS FREE. You can download it, print it, whatever you want! But its absolutely free to you along with their Embellishments Guide and the Cabinet Painting Guide. (Find them HERE)
---
You see, in my talk with Lisa I found out this. Something she feels VERY STRONG about is, she wants her family of Jolie painters to feel EMPOWERED. She wants for us to pick up our tools and get to it with all the confidence we need! Not just her retailers y'all. US. The Customers.
---
This meets me at my own personal hope for you, to get off social media, stop following painters quite so closely and find the artist in YOU. Calm the chatter,.. avoid the painters that spend their time luring you into their fancied styles and product demonstrations, and find your own artistic voice! (Not that there is ANYthing wrong with them or what they do, but be sure to find value in YOU!)
---
My Jolie Paint's "Legacy" painted dresser
Prepping my dresser to paint
The first thing I would do is give my piece a little cleaning with just my mixture of 50/50 water and vinegar with a drop of dish soap. (You can read about my prep practices in Prep Everything You Need to Know.).
Jolie is definitely a low/no prep style of paint depending on what you are working with and their Everyday Guide breaks it down for you! Of course I had to bring out my favorite sander (afflink) though… What can I say, I cant help myself.
Learning how to apply a textured paint finish
I wiped excess dust away with just a slightly damp cloth and it was time to paint! Now, I ventured to be a bit more brave than typical and decided to try the textured finish outlined in the Everyday Guide. (y'all know I don't like brush marks, but we are gonna try this out..) I opened my can and got to it… first stirring it just like my guide told me to.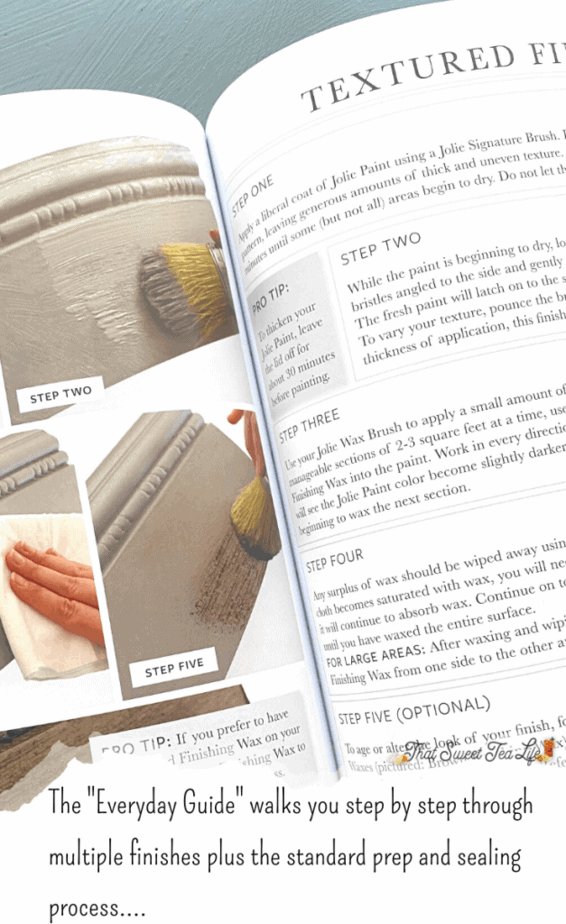 I noticed the absence of a smell, which I had pretty well assumed would be the case. What did somewhat catch me off guard was how smooth it was. Although I was going for a textured finish, what I did not want was grit. You know how some chalk finish paints are? They have unrefined particles,.. Jolie was very very smooth,.. so while I was able to create the texture in the brush marks that I wanted, I didn't get undesirable texture.
No primer was used! I decided to follow the guide and its remedies should I come up against bleed. Also, I knew I was going for a waxed finish, and this makes bleed through far less likely. The coverage was LOVELY. I actually had to restrain myself from putting on a full coverage coat. I personally prefer two coat techniques, however if you like one coat wonders, you will likely love Jolie Paint!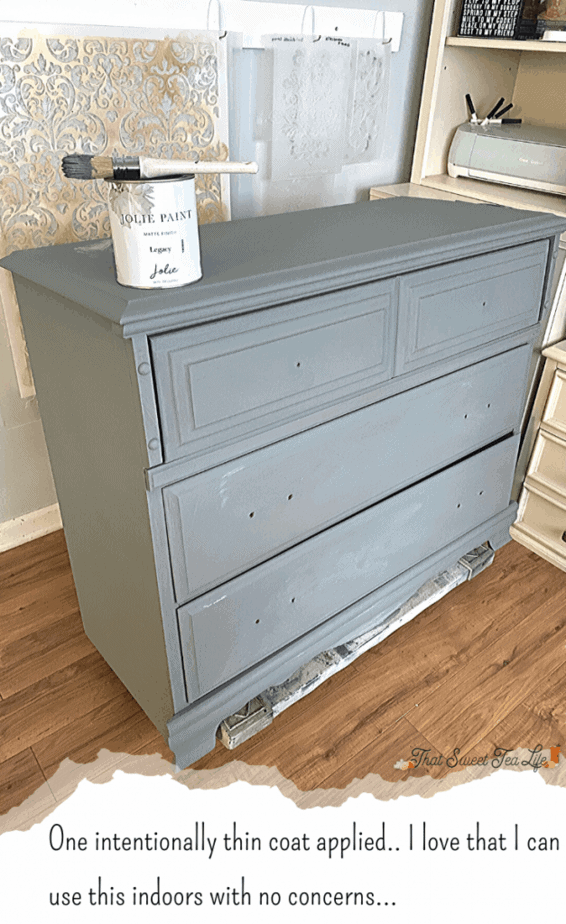 Cleaning up Jolie Paint
As expected dry time was almost no time! This meant I needed to go ahead and move on to my second coat as the Everyday Guide recommended for this textured finish. Once I had applied that it was time to clean up and I was eager to see how well my natural bristled Jolie brush would fair. No water had been used, and inevitably some of the paint had dried on there.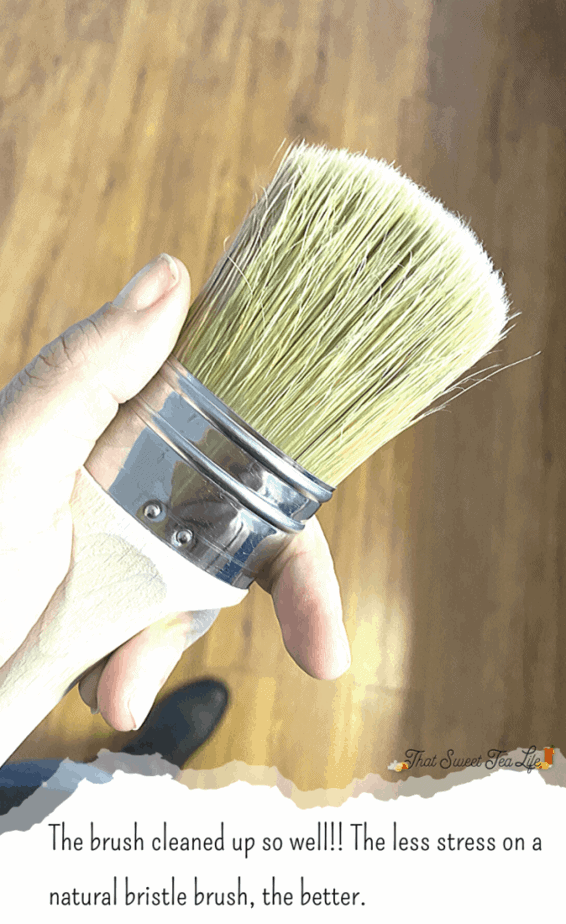 And this is when natural bristle brushes are typically scary… I have to say I was pleasantly surprised. The Jolie brush had very minimal loose bristles and the brush came out remarkably clean! There were no dried bits left behind to build up. Now I'm not saying there will never be but I only used water and worked the brush in my hand! Remember what I said earlier? lol ~Jolie is a lifestyle y'all….
Remember this little tid bit though, want that simple painting lifestyle? WIPE THE RIM! Leaving excess paint up there will do you in down the road. Wipe it clean before you close it all up to save you the struggle.

~Thea
Waxing with Jolie Wax
I braced myself. It was a pretty day outside and I was prepared to open windows and doors. But y'all,.. IT DIDN'T STINK! (Later I would mention this to Lisa and she chuckled,.. this was intentional during the product creation process)
---
I was so happy! Not only did it not stink, not only did it not throw me down with a migraine, but it also didn't have a tendency to dry over itself… it didn't gum up. Application was super simple! Again, I just followed my Everyday Guide and breezed through my little project! …and you know how I feel about wax…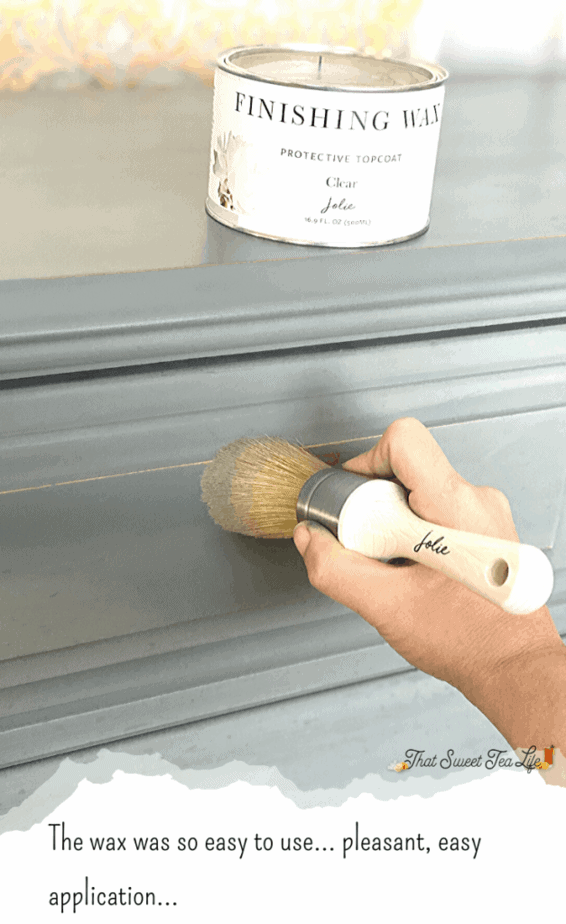 And just like that I was done,.. now I did clean the old hardware (did you see the before photo above??) and brought them back to beautiful. (You can see how HERE). I love the cross hatch you can see below that I cant feel as I drag my fingers across. Its silky smooth…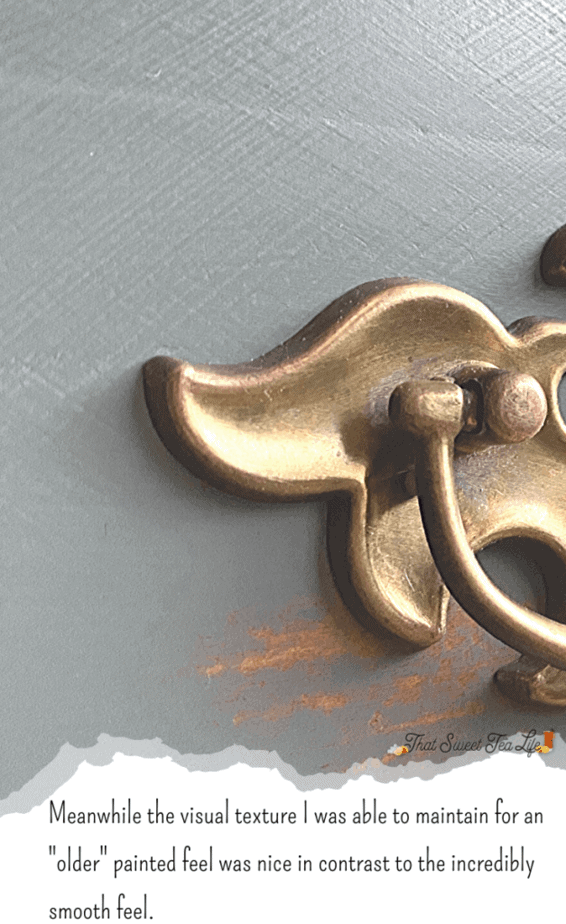 The wood knobs were replaced with restored vintage pulls I had on hand… I think they perfect this piece… I love the subtle distress, and how the finish feels so silky across the entire surface.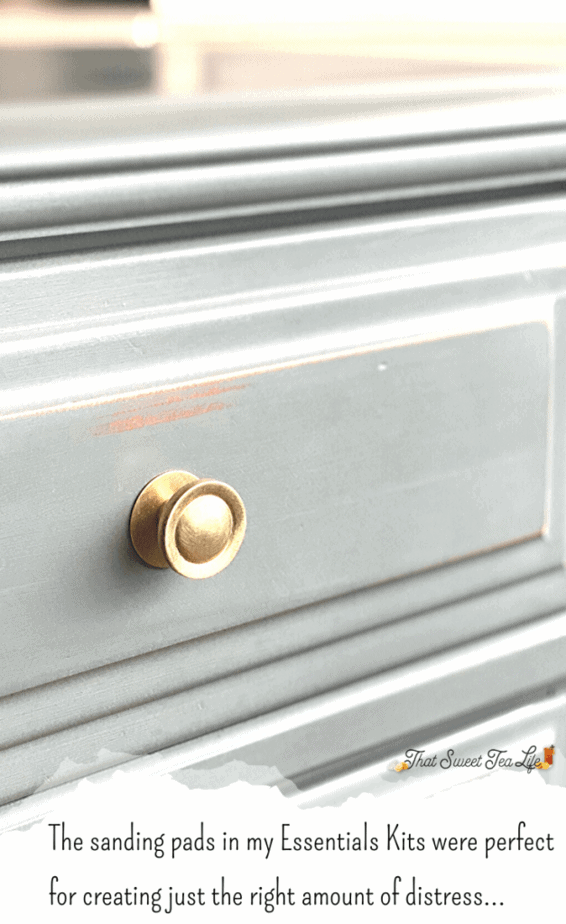 And she's done! … but is she? She is kind of perfect BUT this is going into a little girls room. Remember the mirror in the photo above? Now I think it's time to take a step back. Be sure you have subscribed to newsletters if you want the update, but now I think I want to add some character!
[mailerlite_form form_id=1]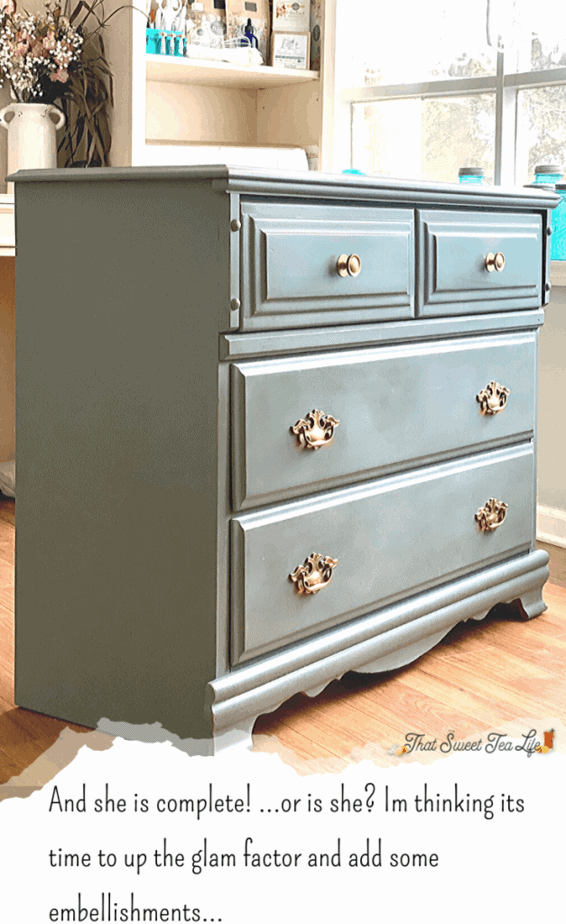 Remember those guides I told you about? Well, Jolie's Embellishment Guide is going to assist me in taking this piece to a whole new level of beauty! While I love the way it turned out, I want to make it special for a sweet little girl. Jolie has gilding products as well as metal leaf! I cant wait to dive in!
---
Grab your own Jolie Goodies HERE (afflink) and use INF-SWEETTEALIFE for a discount on your order!
Should I use Jolie Paint on my furniture?
So, in summery, who would like Jolie Paint?
You enjoy blending, layering, washes, and other artistic finishes, this paint will likely appeal to your artistic style!
You love the feel and results you get from Wax, you will love Jolie. With its highly porous nature, wax is a great sealer for this paint.
You don't love polycrylic top coats, you may like Jolie since its more wax friendly than it is top coat friendly. (Though this doesn't mean never use top coat , rather reserve it for surfaces instead of sides maybe)
You do not love the prep process and prefer minimal prep, you will love Jolie
You are a trade professional, working with clients or doing commission work, I highly encourage you check out their Trade Professionals program HERE to see if it could work for you!
You don't mind spending more on the actual paint products rather than creating your own.
---
Up next I will walk you though "de-waxing" areas I need to for embellishing and how to take this ultra perfect, slightly masculine look over to a more girly vibe. I hope you join me.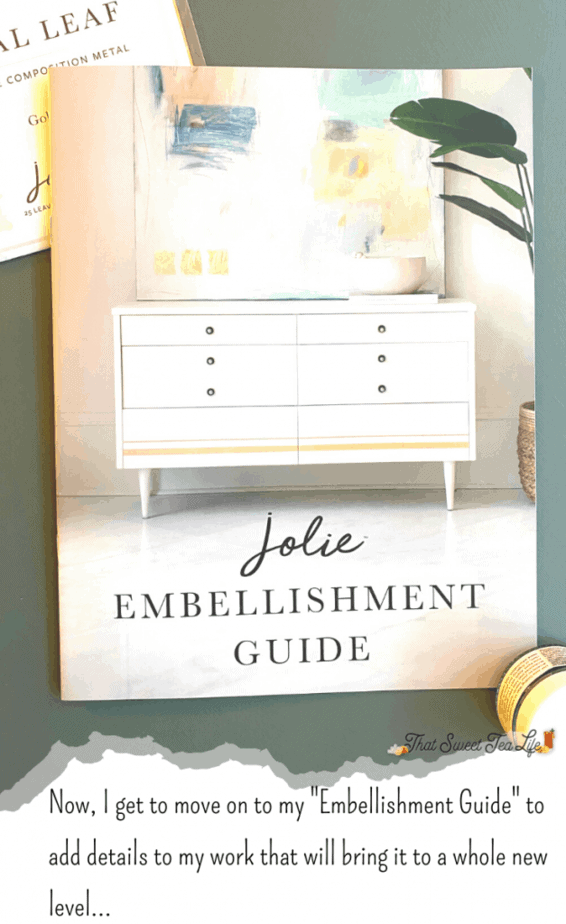 Until then, I hope you create something you adore! Scared? You can always grab my free 5 part How to Paint Furniture You LOVE series!