White furniture paint always seems like a great idea until we are in the middle of using it and begin to question all our life choices. Unfortunately for many reasons it just not that simple to paint furniture and far less simple to paint furniture white! I have covered a lot of the basics in understanding why it can be difficult in another article; "Painting White Furniture" where I explain the simplest way to ensure a perfect white paint finish on your furniture! (Many tutorials can be found in my Ultimate Guide to Furniture Painting)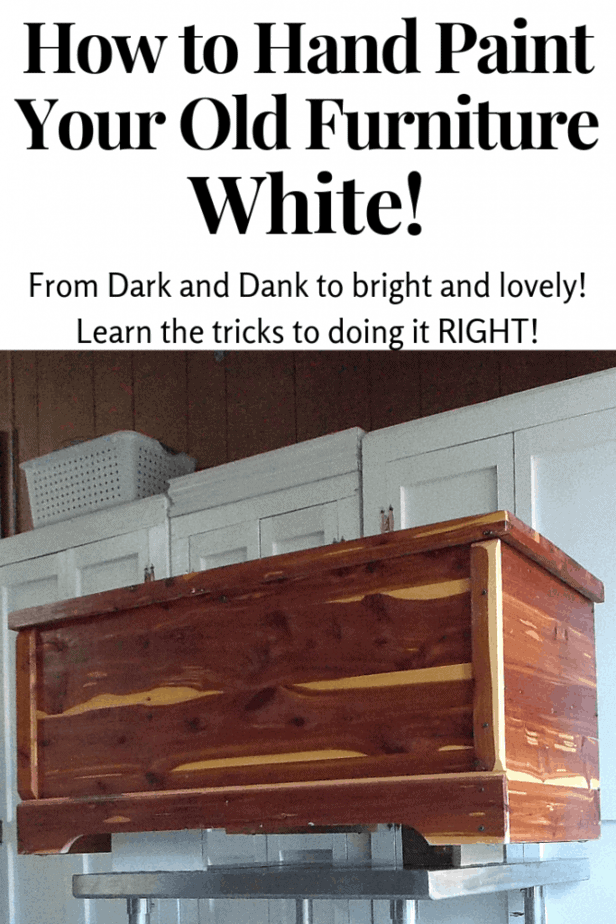 Personally, however, my no fail method includes a sprayer and so many are JUST NOT OK with that! I get asked almost daily for the easiest way to get a beautiful white paint finish using a brush! So, here we go. Im going to share with you the ONLY method and paint I will use to brush White furniture paint! Be sure to check out the nifty diagram at the bottom you can pin or save in order to help you remember the best way to process your paint steps!
So, here is the thing. See that wood. That wood contains oils, stains, tannin, that if allowed, will "bleed" into your beautiful white paint and turn it colors! Often times it doesn't appear until we add our lovely top coat then the water based paint wick the the stain causing substances up and through the paint to produce YUCK!
See those pink streaks?? Those are likely a result of a diminished original top coat that was painted over with out being sealed up before painting. "But I thought we were suppose to sand it before we paint?" Yes! Always sand a bit to provide tooth! To allow optimum grip! THEN always seal it up with a stain blocking sealer to button everything up tight before painting. Lets take a look at this chest for instance. I decided to refinish it using all my preferred products and using my preferred techniques just so I could show you a NO FAIL method for using white furniture paint! Ill break down why I recommend what I do and give you other options as well.
How to paint your furniture white

So, as you can here here I'm cleaning with Dixie Belles White Lightening (Found here) They made it specifically for furniture refinishing which is nice and I trust it! You can use any astringent style cleaner you wish but with ALL cleaners I recommend wiping them down after cleaning with just plain water to remove any cleaner residue! That residue can cause you to have adhesion problems! We definitely don't want that. If you dont want to purchase white lightening, you can try TSP, or you can mix 50/50 water and vinegar then add a dash of dish soap. It works well but it smells like vinegar so there is that..
Next, I used one of their nifty Sanding Sponges (Found here) to begin breaking down the existing shiny finish. NOTE that I am not trying to remove it! I am simply breaking it down some. Because this needs to be gentle, I love using the sponge as it provides give over ridges and such as I am sanding. Its gentle enough for my needs. Any sanding product that is 80-200 grit will work fine! Just note that anything rigid will require a more delicate touch as will anything at the lower end of the grit number.
Once everything was lightly sanded, it was time to seal it up! This is where it can get tricky. If you are like me, I love working in the confines of my home. I don't typically enjoy going outside to work, however most products that work WELL are either super volatile, (Like shellac that works wonderfully but should be used outside WITH a respirator!) OR its oil based (which should likely also be used outside) and requires a lot more intense of a clean up than my favorite water based products.
Generally though, water based "primers" are not made to block stains and seal up the surface. This is something you often won't find out until the end when you apply your top coat and begin to cry as you see the stains come through… This has brought me to the point of using and trusting Dixie Belles B.O.S.S. (Found here) to seal my pieces before I begin painting. Not only is it water based, and super easy to use (even indoors) but I am always amazed at how well it works!
I have found other products that I have used to be gummy and hard to work with or just not work! …so far, fingers crossed, so good! I've always had wonderful experiences with it! If Im super concerned about the possibility of bleed, I apply one coat and allow it to dry for 4+ hours before another coat then another 4+ hours before painting.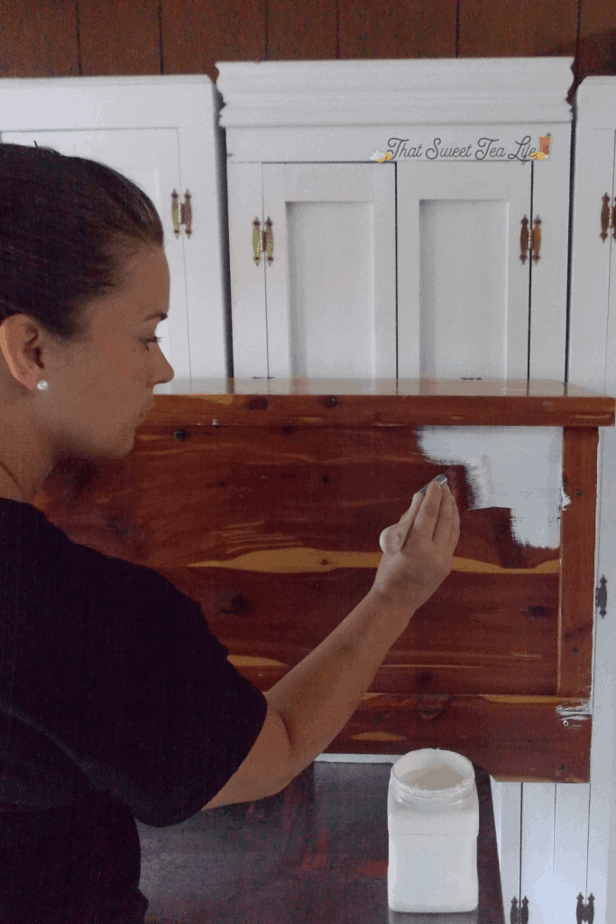 One of the reasons using white furniture paint is so difficult is because it has so little pigment compared to other colors. This lack of pigment means the coverage comes with much more work and as you are brushing (as compared to spraying) its even more complicated since the pigments are displaced by the bristles.
Each time you move the brush over the surface the pigments are pushed aside. This means getting an even white finish is difficult. When you are painting furniture white, you can also battle the color variations in the piece you are painting such as the piece I am painting today! This is all another reason using BOSS in "White" is such a HUGE help! Instead of attempting 5-7 coats of white paint that may very easily bleed still, I paint 2 coats of BOSS, then paint 2 coats of my preferred white furniture paint.
The Dixie Belles B.O.S.S. (Found here) gets me 80% to complete white coverage! On todays piece I was able to even get away with only one coat of my preferred white Dixie Belles "Fluff" (Found here) and then just touching up a few areas as needed. This saves time and money when over all far less product is being used!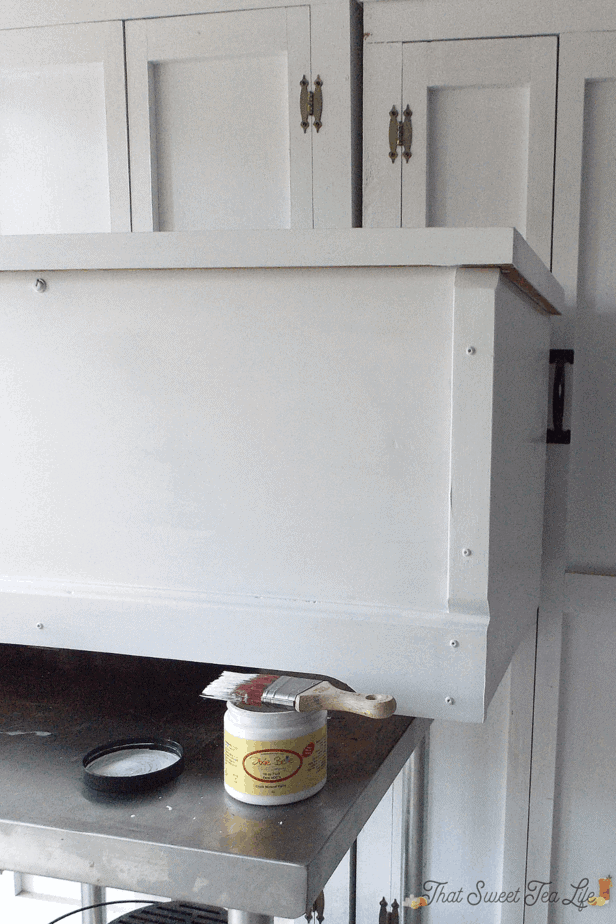 One reason I feel like the Dixie Belle paints work so well for getting that beautiful white coverage, is because of the way its formulated. While it is a mineral paint which makes forming texture and distressing incredibly easy, and building color depth (like white) Dixie Belle is far less mineral based than many furniture paints (commonly referred to as chalk paints).
It is balanced to create a paint that is easy to "intentionally distress" rather than distressing by accident and causing inconsistencies in the coverage. Once you know how to use products to achieve the look you hope for you can create the finishes you love carefree! Now how about if you want to create a distressed finish?? If you sand away the paint, and expose that raw wood, wont you create bleed when you are top coating?? Let me share with you my no fail way to distress AND SEAL your white furniture paint!
Pro Tip! Deathly afraid of lint or other airborne particles ruining your clear coat? If you are applying the top coat in a space with a concrete/pavement floor, wet the floor a few hours before you begin! All the airborne particles will be attracted to it and stay out of the air. This can cut down on dust, lint, and hair that may otherwise land on and flaw your perfect finish!

~Thea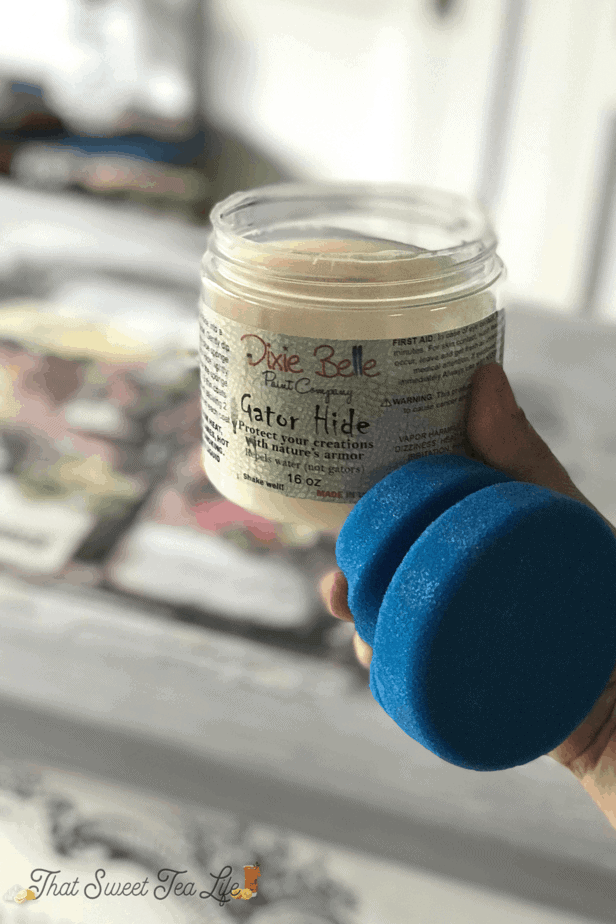 Here is my simplest tip to distress and seal your white painted furniture (or even light painted furniture) PROTECT your white painted furniture first! My favorite protective top coat to use on high traffic surfaces is Gator Hide (found here) since its so durable, wont yellow cover time, and is even water resistant!
When applying it or any other top coat one key thing to remember is to use very thin coats! And sometimes this means not getting full coverage with the first coat. This is fine! If that happens, simply be ready to move forward to the second coat after the first is completely dry. (Which you should likely apply anyways) It should give you the full top coat coverage you want. Trying to correct the top coat while it is wet, can lead to ruining your finish so resist that urge! My favorite way to apply is with my slightly damp sponge (Like the super fine sponges found HERE).
After I wring all the water I can out, I lay the bottom of the sponge in the Gator Hide, allow the Gator Hide to soak into the sponge, then quickly begin wiping the surface, being sure to use an artist brush to work away any pooling product. When you allow the product to "pool", "collect", or "drip"-it has time to draw in contaminants that may turn it colors. will likely turn it colors. Be sure to work these away as you go! Once everything is completely dry its time to distress!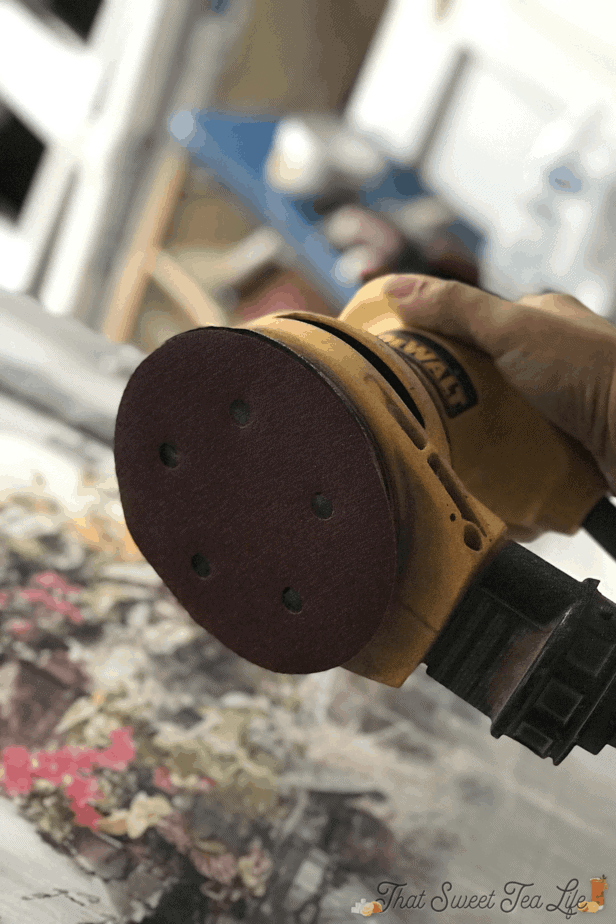 When I distress, I am only hitting the high points and edges which makes distressing simple and easy! Generally I don't distress over flat surfaces-doing so may be a little more difficult after the top coat has been applied. Using around 100 grit, I begin working the areas that naturally will see wear over time.
Once I have removed the desired amount of finish, I go back and smooth those areas with 200 grit or higher allowing the transition from paint to wood to appear more natural and graduated. Of course you don't have to use two different sand papers, I simply do this so the distress goes quickly and the finish is easily broken, then I smooth with higher grit. But, now what about those raw places?? Don't they have to be sealed up? And if we do, since they aren't primed, wont they cause bleed?? No, not if you use the appropriate thing to seal them up.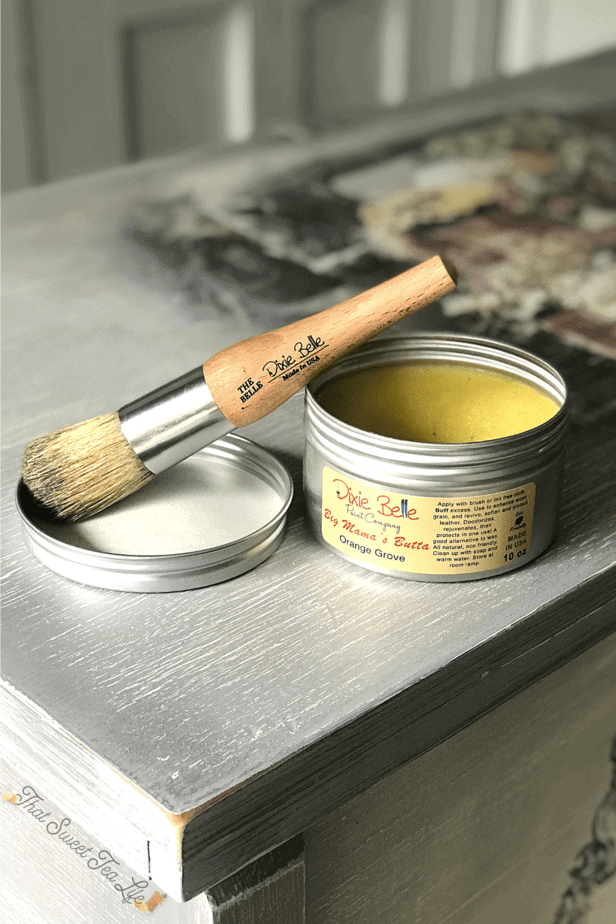 Thats where this lovely stuff comes in! "Big Mama's Butta" is an all natural penetrating sealer. This means it basically soaks into the surface it is applied to and cures from the inside out. The more porous the surface is, the more it penetrates. Because Dixie Belle is less porous than many paints, this makes it a great sealer for it. Not much is needed and it provides what is needed.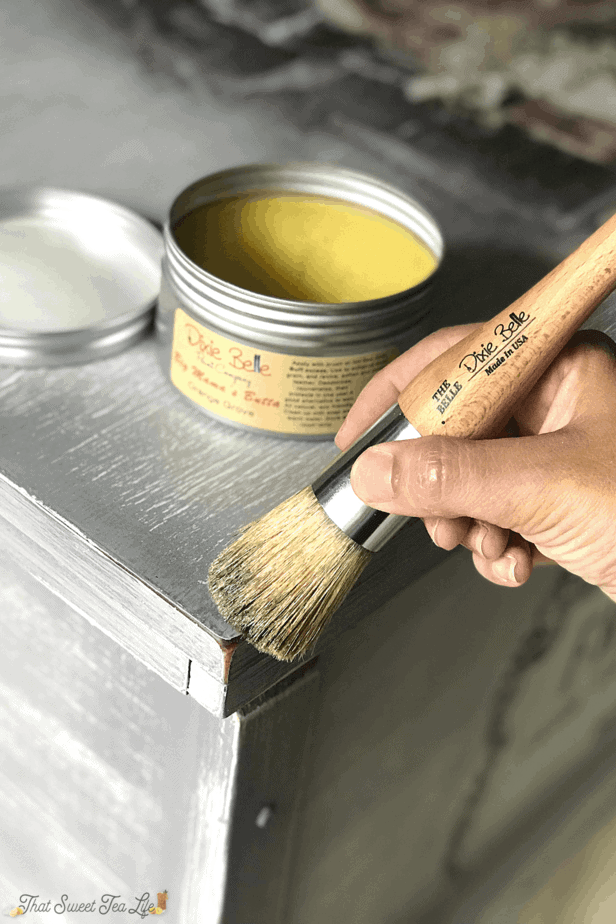 Often I will use only " Big Mamas Butta" as my sealer on pieces that will not see much traffic. It's perfect for this piece though since it can not wick up any bleed. Additionally, as it seals up these wood areas, it also smooths over the areas that have been protected with Gator Hide to make everything feel completely buttery smooth. It has very little "solvent" and wont harden over itself. This means it's soft and there aren't any concerns of it becoming tacky, sticky, or of it gooping up. Contrary to its appearance, which is a little rough, this piece is silky silky smooth! You simply apply in your favorite way-natural brush, lint free cloth, microfiber cloth, old t-shirt, then you simply wipe away any excess!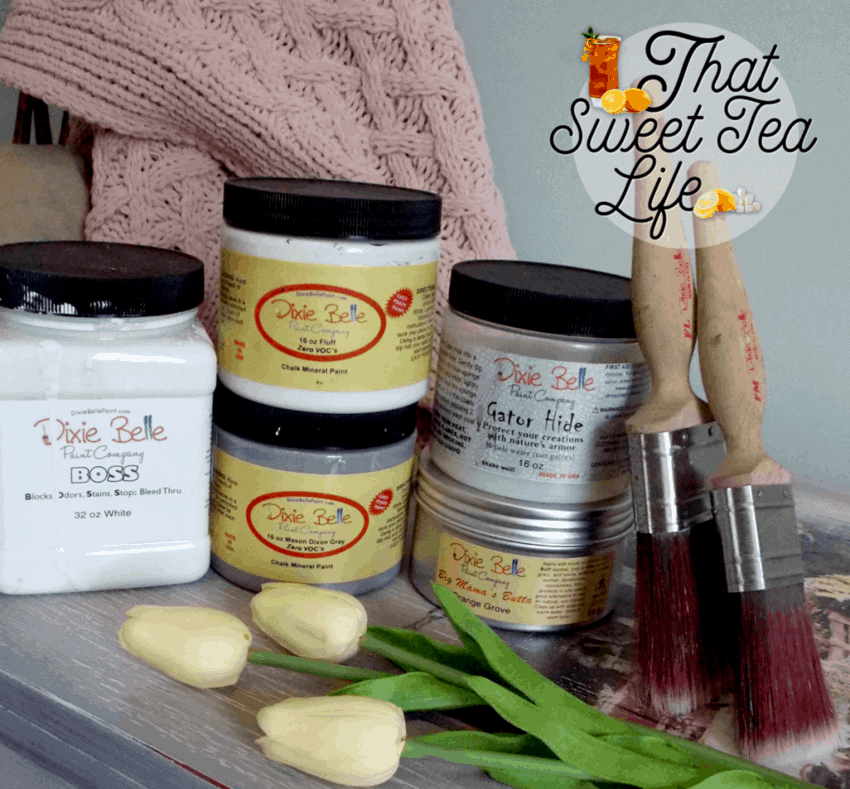 White Furniture Painting Product List
Here you can see everything I used and click on each to grab them for yourself! You can find a Dixie Belle Retailer near you HERE, or order online. Each product is also specifically linked here:
Dixie Belle B.O.S.S. (White)
"Fluff" Chalk Mineral Paint
"Mason Dixon Gray" Chalk Mineral Paint
Gator Hide
Big Mamas Butta in "Orange Grove"
Dixie Belle Synthetic Bristle Brush
Finished Photos of White and Gray Washed Trunk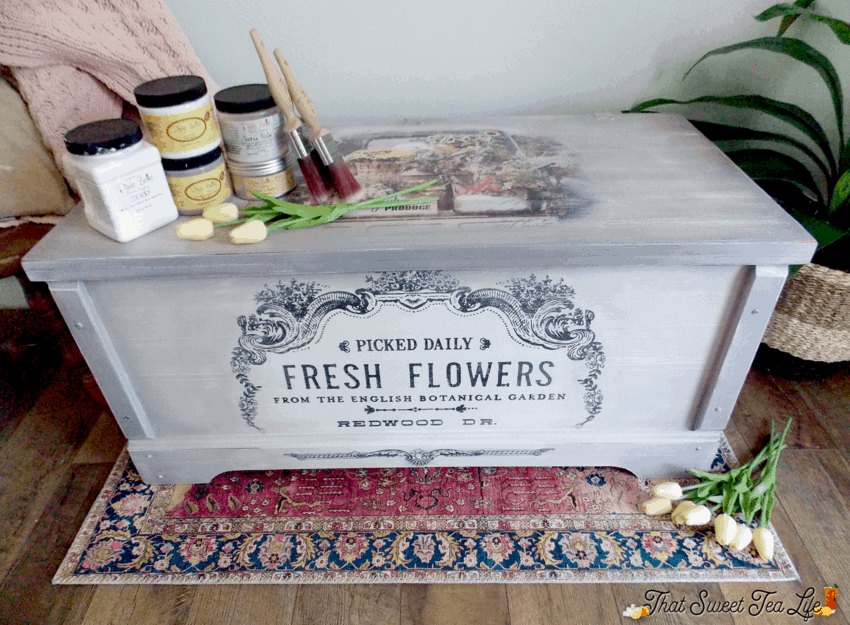 Now if you notice that image I added, that is a really nifty "Image Transfer" from "ReDesign with Prima". Its basically a big fancy sticker!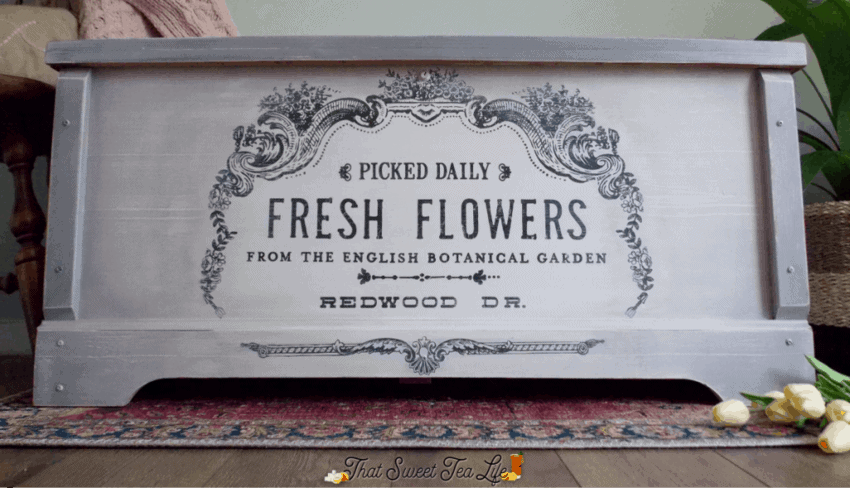 I love using transfers to add a little special touch! As you can see, I also did a color wash and paint distress on this piece. (Paint distress was completed with 300 grit sand paper before top coating with Gator Hide-high grit and gentle touch means not breaking through to the wood and breaking through the BOSS primer)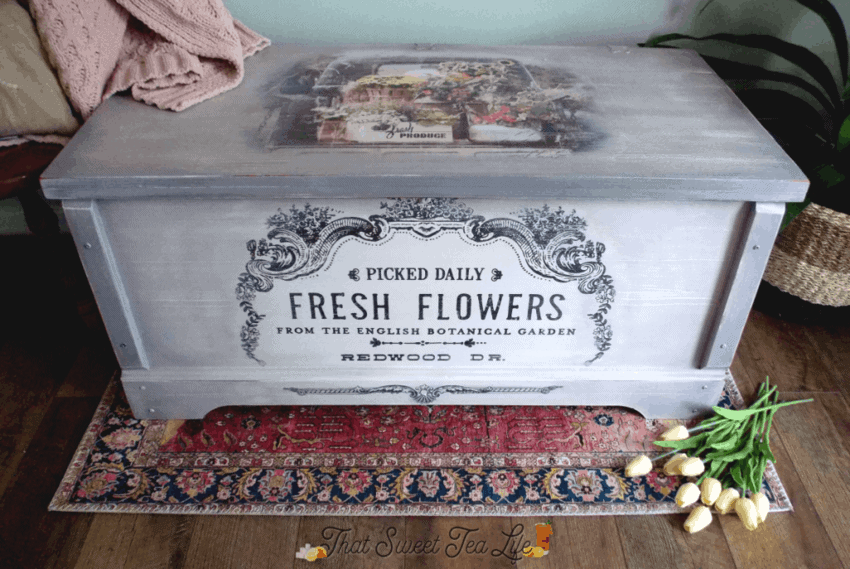 I love the fresh yet rustic feel! The Transfer adds a feminine touch so the whole thing is farmhouse fresh but will survive rough and tumble boys in the home!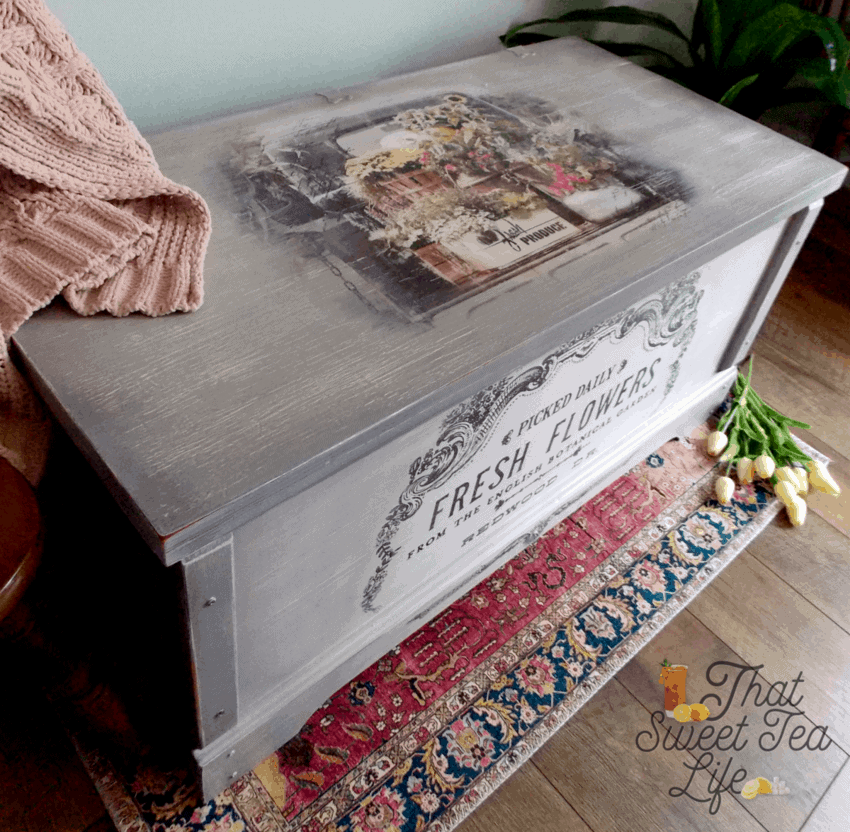 After I applied the transfer I proceeded to bring the "Fluff" and "Mason Dixon Gray" over the edges to provide a more faded back and distressed appearance,.. Want to find a transfer for your self? You may find one you love through Dixie Belle as well HERE or you may be able to find a retailer locally HERE.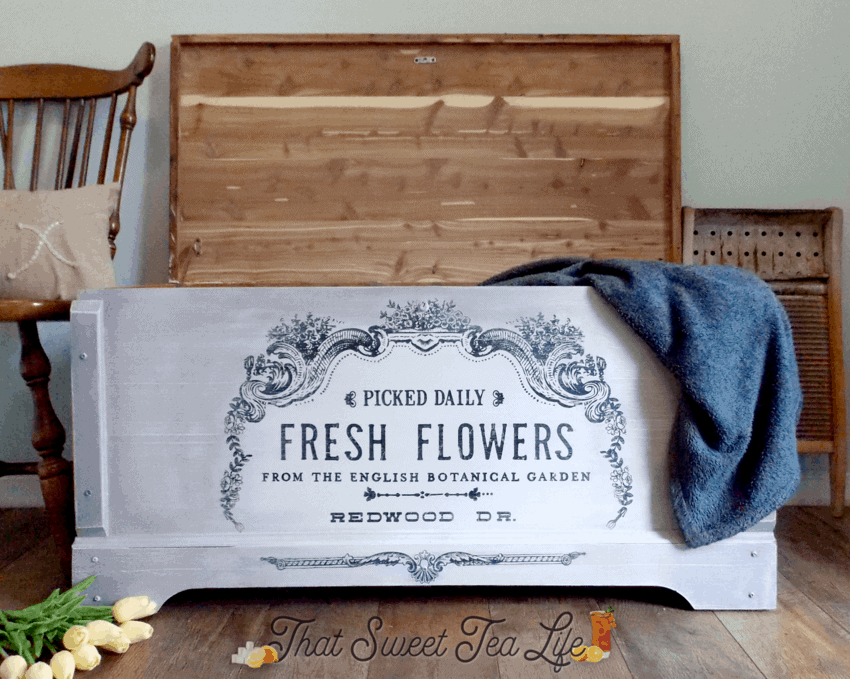 With all that can go wrong with white furniture paint, or even just light furniture paint, I'm always a bit amazed at how well these products all work together and just how dependable they are! I can't tell you how often people get to the "end" just to realize they have to essentially start over. …and then they/we/I cry.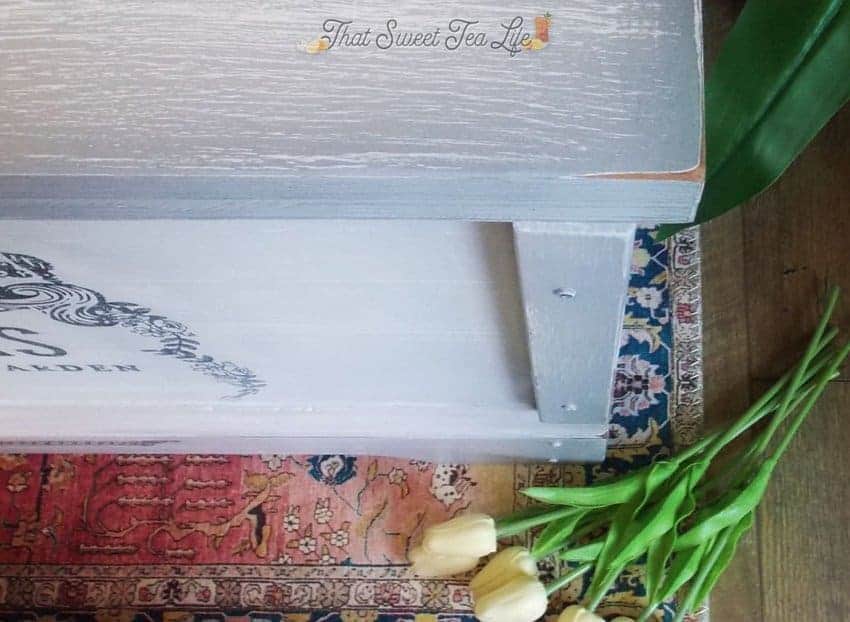 But, when you know exactly when to do what, the whole process is so much more smooth! And when you know exactly what products you can trust for each task-the guess work is removed and you get to just enjoy the creative process. Its a lovely lovely thing!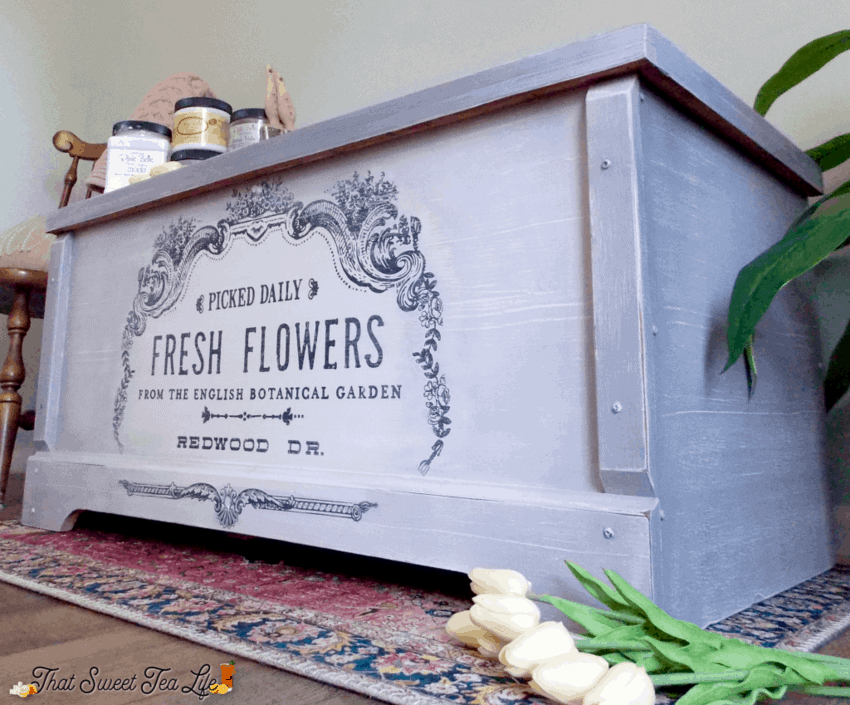 Remember you can always comment with questions or needs! Till next time at That Sweet Tea Life!