Flipping furniture is something anyone can do, and can actually make you money if you have a keen eye for undervalued pieces that others would be willing to buy. That's the challenge, though, you can't simply go out and buy any piece and expect it to fly out the door.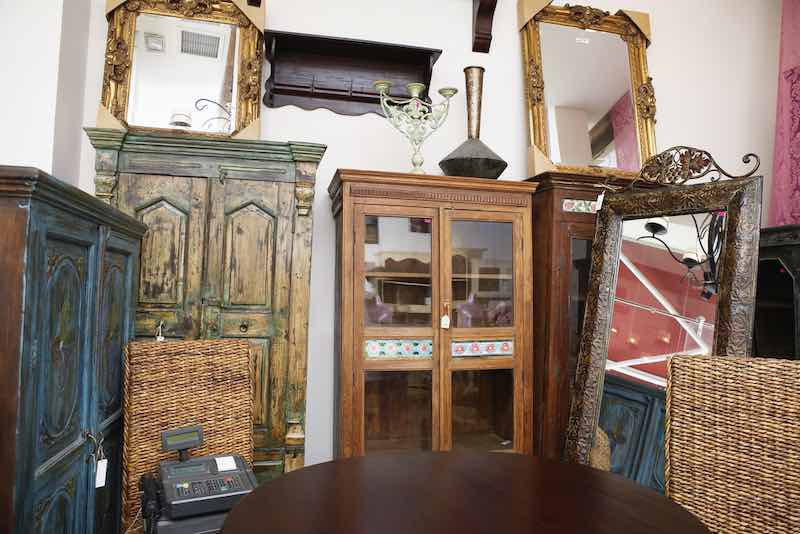 Luckily, with a little know-how, you can start making serious cash with this incredible side hustle. Use this guide to flipping furniture to hit the ground running!
How Do People Make Money Flipping Furniture?
When it comes to how people make money flipping future, it's pretty simple: they find undervalued furniture that is being sold or thrown out, spruce it up, and resell at a higher price.
Is Flipping Furniture Profitable?
It can be a profitable venture, but not for everyone. Hobbyist flippers tend to focus more on the restoration process than the business side of flipping, choosing to spend more time perfecting the piece than focusing on efficiency and decisions to bring in more work and a greater income.
Furniture restoration can be very profitable for someone willing to focus on the fundamentals of the business. Finding furniture to flip is easy to find at estate sales, garage sales, charity stores, and flea markets. Adding in the elbow grease and creativity frequently yields in the high resale value of your bargain find.
Why is Flipping Furniture a Good Side Hustle?
As you gain expertise restoring and reselling furniture, your opportunities to earn more money expand. The gig is highly flexible allowing you to set your own schedule and pace.
The cost to begin this side hustle is very low. Starting with a few inexpensive pieces and basic tools and supplies, you can keep your start-up costs for a few hundred dollars. As you gain experience and learn how to be profitable in this venture, you can expand your investments.
Building relationships with buyer and sellers will allow you to grow your business by negotiating contracts and developing a steady customer base.
How to Get Started Flipping Furniture
Slow and steady is the best way to enter this space and will allow you to acquire the knowledge and expertise needed to succeed in this space. Find one or two pieces, fix them up to the best of your ability, and sell for as high of a profit as possible.
Then lather, rinse, and repeat. Learn from each transaction; what pieces are easiest to restore, what pieces sell quickly, and what types of furniture are easiest to find.
What Type of Furniture Should You Look For?
Here are some general tips that will work regardless of your location.
1. Stick to Inexpensive Pieces
Hone your craft on simple, inexpensive pieces. As you develop your skills, you can slowly increase the amount you are willing to spend.
2. Look For Wood & Metal Furniture
Solid wood and metal furniture are the easiest materials to rework and have a better value increase when restored. It can be difficult to find solid wood furniture as pressboard has become a standard material in factory-made pieces.
3. Find Easy-to-Renovate Products
High return products with easy to fix flaws will yield higher profits for your business. Labor intensive restorations will quickly cut into your profits. Pieces with scuff marks, missing feet, and wobbly legs are all excellent candidates for simple fixes and a quick turnaround.
Where Can You Find Furniture to Flip?
Resellable pieces of furniture can be acquired from various locations but you'll have to narrow them down. A great place to start is to let people know that you're interested in buying old furniture through social media and chat app platforms where sellers can reach out to you if they have any pieces.
It is best to pick the pieces up yourself to save money and encourage sellers to hand the piece to you over other buyers.. Another is through online marketplaces like Craigslist but note to opt for local sellers as shipping can be expensive. Lastly, watch out for garage sales and flea markets because they offer great finds at a cheap price there.
Ways You Can Restore Furniture
Here are usual issues that come along with used furniture.
1. New Paint
A new paint job is the most typical fix needed to help modify or renew the appearance of a piece especially with old dressers and chairs.
2. Simple Fixes
Some fixes are as quick as removing and tweaking what's already there like unstable legs on chairs and cabinets.
3. Difficult Fixes
Not all repairs will be easy as you'll have to mix, match and modify different parts of furniture. In time, you'll be able to discern what's doable for you and what's better off done by an expert.
The Best Places to Sell Used Furniture Online
Online is the best platform to sell your furniture especially with many marketplaces with potential customers in just a few clicks.
Connecting customers and sellers, Bonanza allows sellers to post items for free, only having to pay charges once the item is sold. This app does not account for location so it would be good to plan out shipping options.
OfferUp is a platform where local secondhand items can be purchased or sold. Customers just type in a place, price and category for your listing while sellers input their pictures with descriptions of what they want to sell with the privilege of posting a free ad.
A great place to showcase and sell all things creative and cute, Etsy is a great platform to show off your restored furniture.
Facebook's Marketplace feature offers free postings with millions of potential buyers. If you need a boost, this classified service allows you to use Ads to boost your sales and audience.
If you're got something rare and unique, Chairish is a great platform as it is similar to Etsy but is exclusively for furnishing and decor and is perfect for furniture restorers who like to do unique styles.
If you're from NYC, AptDeco is a more expensive Craigslist that charges more to ensure easier selling as it handles delivery, returns, inspections and assistance with prices at your convenience.
The online cosmopolitan, auction site, eBay is a place where you can buy and sell almost anything. Put up your product with a reserve price and watch for bids on the item.
Since 1995, millions of people have been using Craigslist for buying and selling goods within a vicinity and is a good option for trying to sell furniture online.
If you can sell a great number of furniture regularly, try the premium online shop, Shopify for a marketplace experience rooted on authenticity.
How to Maximize Earnings Flipping Furniture
Reasonably Priced
Like restoring homes, you'll need to find furniture to flip at good prices to maximize your efforts. Consider the money and time you'll be investing and the added value that you can provide to the piece for profit and know where to find good places that can provide a reasonable base price for furniture.
Keep an Eye on Supplies
Once you've bought some furniture at a good price, you must acquire quality restoration supplies at a cheaper price to make sure it doesn't lower your profit.
Knowing where and what to buy is the key to finding the best price and quality so head over to wholesalers, buy in bulk or check out yard and garage sales. Even if you buy a lot, it will still be worth it to stock up.
Take Good Photos
Clear, high quality, uncropped photos displaying details and various angles of restored furniture will shine, attract buyers and get sold faster. Make sure the furniture is the centerpiece of attention with great lighting and composition and this can be achieved even from a phone camera.
Great Descriptions
Describe the product well by adding relevant information that customers will ask and the more the better rule applies here because people will want to know more about it if they can't see it in person.
Offer Shipping
Offering shipping is a great selling point that offers convenience and uniqueness and is not as complicated. If you were able to transport it while restoring it, you will be able to ship without any problems.
Wrapping It All Up
Well, it's time to get up and go flip some furniture! We hope you enjoyed The Complete Guide To Flipping Furniture. If there's anything we missed or if you have any questions please leave a comment below and we'll be happy to help out in the comments section. Thanks for reading and good luck with all your future flips!