Does your room need some pizzazz? A focal point? A pop of color? Something to perfectly reflect your personal style? A painted dresser might be just what you need.
Painting furniture is a simple way to up your decorating game and show off your personal design aesthetic. Whether you love a modern, pop, or antique style dresser, you can take a ho-hum piece and transform it into a stunning, one-of-a-kind showstopper. We have assembled a selection of painted dressers we hope will inspire you to create your own, unique design.
We will also outline the basic techniques for achieving these gorgeous functional art pieces. Once you have decided how to paint your dresser, the information in How To Paint Furniture will be key to your painting success.
1. Classic One Color Painted Dressers
The simplest way to take an old piece of furniture and update it, is to paint it one solid color. Your old bureau can be brought back to life by simply applying one color. Your painted dresser will look chic and modern. When you add pretty hardware to your newly painted piece, it will increase the style factor exponentially.
When you are considering painting with just one color, you will find 5 Tips to Paint Furniture a Solid Color very helpful.
2. Distressed Antique Style
If your bureau already shows signs of wear and age, then the solution might be to just go in that direction. Give your painted dresser a shabby chic look by distressing the paint. After painting in your chosen color, simply create a worn look around the edges with sandpaper. By taking away some paint and exposing the wood in areas that would be subject to heavy wear and tear, you can create an antique look with even a new piece of furniture.
3. Pop Art Painted Dressers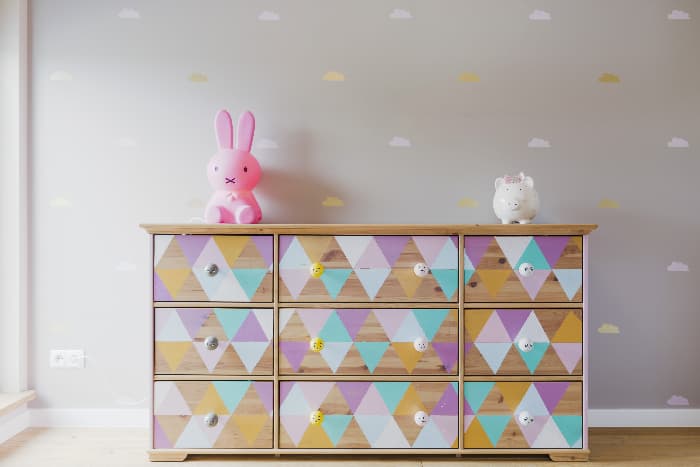 When you take a geometric design and add several colors in the same hue and leave some original wood to shine through, the result is a cool pop art style piece. A little bit of painters tape and some basic math will get you off and triangulating.
Playing with scale and color will make this type of pattern work in many different decor settings.
4. Adding A Freehand Pattern
By freehand painting, or tracing a classic design in a soft color, you can add a subtle design to your painted dressers. Featuring a gold or other metallic paint, will elevate your painted dresser from okay to elegant.
5. Pop Art To The Max
Color and pattern play are the perfect combo to take a tired old piece of furniture and make it a statement. With the repetition of several geometric patterns combined with a colorful and coordinating palate, your painted dresser will be a stunning centerpiece in any room.
These randomly painted squares are busy, yet visually appealing. To accomplish this look, trace off several designs and plan them out in a balanced layout. This piece has five different colors and the motifs are repeated randomly and painted in different tones.
6. Add A Subtle Midas Touch
To create a subtle, yet elegant design, add gold or other metallic paint to highlight carved and inlaid features. By adding gold softly to curves, darts, florals, and other design elements, you can take a pretty piece and elevate it to regal status.
Take note how the gold is deeper in the curved and recessed nooks and crannies, while it softens as you go further out from the center of the design. This gives your painted dressers a sophisticated aged patina.
7. Adding Wood Design
A beautiful dresser can take on a whole new life when you add simple decorative wood appliques. The appliques are simply glued to your piece and painted. They provide a subtle texture to your painted dresser when the piece is painted in one color. Alternatively, you can paint them a contrasting color before you apply them for a real standout design.
In this case, the dresser was painted and sanded to create a soft, well honed patina. Creating this elegant look is easy and doesn't require any high level artistic ability.
8. Really Mix It Up
This beautiful piece not only has several colors of paint, but also has a soft floral design. The bright blue paint is a stunning contrast to the soft painted florals. If you are uncomfortable painting the florals freehand, you can find a stencil that will create a similar look and feel.
9. Add Delicate Details
Every paint job doesn't have to be an all out redo. Sometimes adding a few small details can make an old piece sing. This well-loved dresser gets a face lift by adding a delicately stenciled floral motif to the knob section. To make the details shine through, the drawer was painted a soft cream before applying the stencil.
By applying this simple technique, your painted dressers will look like you revived it from grandmas' attic.
10. Black And Checkerboard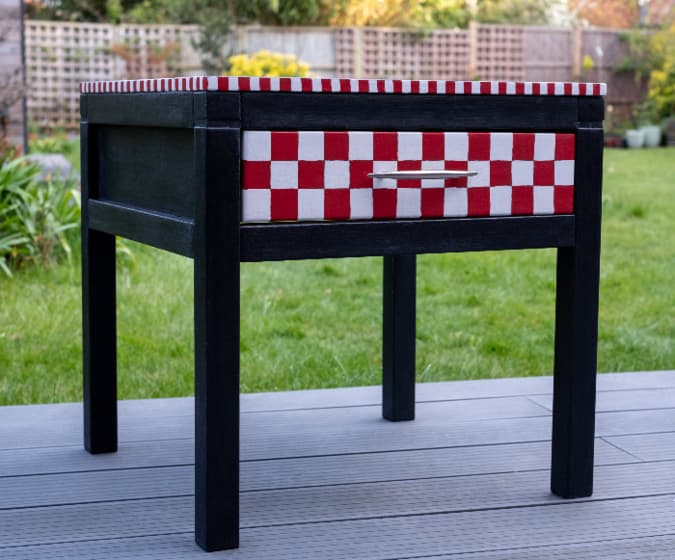 Make a powerful statement when you paint a piece with a bright checkerboard. This nightstand says "look at me." Imagine it in a room with black furniture, with bright red and white accents, or any other fun and happy color pairing.
The checkerboard pattern is easy to achieve. Paint the entire surface one color; in this case the drawer and top were painted white. Then tape off the checkerboard pattern and add the red, or contrasting color. A little math is required to keep this piece balanced. If you need to be reassured your design will work, mark and color it out on paper first.
This design would be adorable on a baby's dresser in pastel hews or a teen's room in bright, saturated colors.
11. Post-Modern Classic
No taping required to this post-modern classic piece. The soft background color supports the wavy lines in the same color family. You need to take care your lines don't slide down one side and follow a similar, but not identical wave. Just use the width of small brush and hash marks on either side of the piece to keep you on the straight plane.
12. A Thin Gold Line
Photo: https://www.shutterstock.com/image-photo/schwarze-kommode-auf-fliesenboden-terracotta-102996476
Does you style lean more towards classic? This thin, hand painted line takes a plain black piece and makes the drawers and doors pop. No need to be perfect when applying this technique, it is supposed to look hand finished.
Additionally, the gold circle hinges give this piece an Eastern feel. If you can't find circular hinges, add the gold circles with paint to enhance the look.
13. Consider An Unusual Color
When you want to jazz up a corner or even an entire room, consider using an unusual color to paint your dresser. For the price of a quart of paint, you can bring a pop of fun, vibrant color to your room. For a finishing touch, add some blinged out hardware to take your design over the top. This project only requires you to paint one color and can be completed in one day.
The good news is, when you get sick of the color, you can just repaint it. It is an easy way to up your designer look when you are not artistic with a paint brush.
14. Flaunt Your Artistic Skills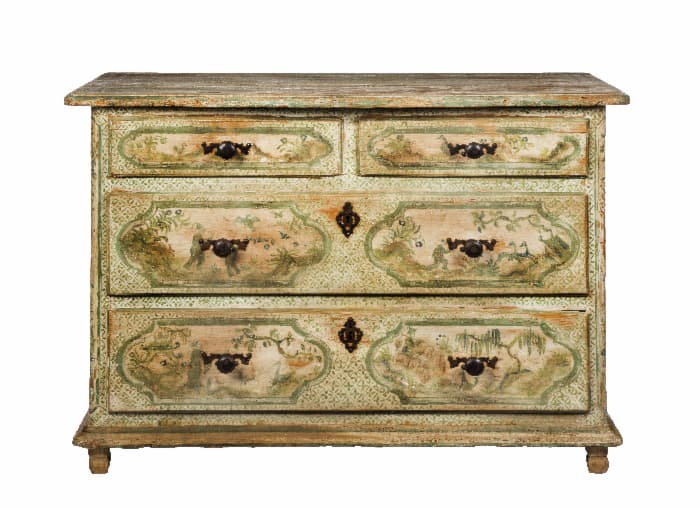 When you have skills, you need to flaunt them. If you can draw, then go for an all out, one-of-a-kind statement piece that will bring your art into a functional realm. This beautiful bureau encompasses different types of painting techniques, with the standout being the different nature scenes highlighted on the drawers.
The monochromatic palette gives this painted dresser a classy and elegant feel.
15. Go All Out With A Theme
Cute for a child's room, theme painting can be accomplished fairly easily. By using a pre-cut stencil, you can create a thematic design by simply repeating it over and over. The white bureau blends into the wall with both of them sporting a raindrop stencil.
Choose a pattern, a few colors of paint, and go. You will have a designer look that is simple to achieve and has a high-end look.
16. Monochromatic Pattern Play
By adding one color in a variety of hues you can create a subtle, yet interesting art piece. This one has stripes, perfectly lined up, on the drawers as an accent.
Take care when taping off the drawers to create this look, and you will produce a fun and stylish painted dresser you will be proud to display.
17. Sleek And Modern
Select a few small cans of paint in a sophisticated color pallet and give your bureau drawers different colors to flaunt. By keeping the colors muted with the same saturation and feel, the painted dresser looks sleek and modern.
Notice too, the hardware is different and mismatched creating an eclectic, chic look.
18. Simple And Sweet
An inexpensive, unfinished traditional dresser is easy to transform and will brighten up a child's room with just a few fun colors. Using knobs in the shape of bows and white polka dots on the drawer fronts creates a fun and festive feel.
19. Paint One Element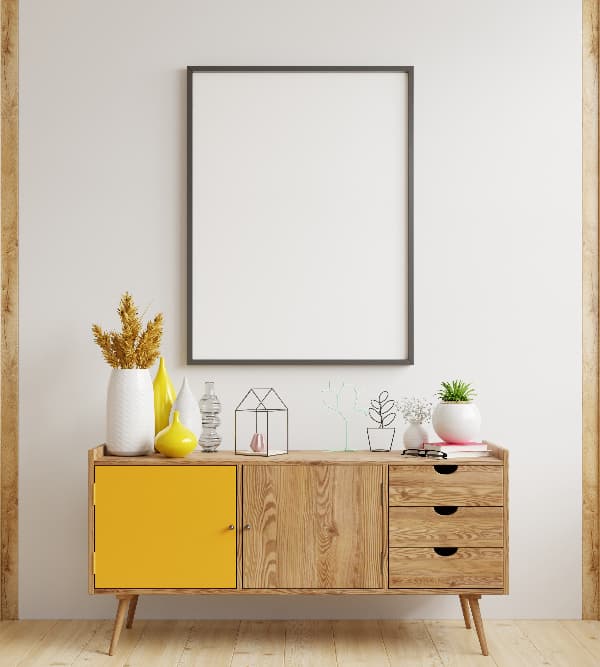 When you want to add some color but don't want to add too much, this would be a good way to get a decorator with a minimalist style. By painting one door/drawer/top and keeping the rest of the piece in a wood grain, it exudes high style paired with restraint.
The 90s trend of painting a bureau top black and keeping the rest in a wood finish has been very popular. But it's time to move away from the black and introduce a fun, vibrant color on your painted dresser.
20. Do It All
Color, lines, florals, shading, sanding, you name it, these have it all. This is for the serious decorative painter with outstanding artistic skills. However, by taking one or two elements as inspiration from these pieces can set you on a trajectory towards an outstanding, one-of-a-kind painted dresser art piece.
Give Painted Dressers A Try
Go for it. What's the worst thing that can happen? You may have to repaint.
Furniture in your bedroom can easily be a reflection of your fun, artistic side. It is a private space in your home where you can design just for you.
This is the room to test out style, color, and texture. This is the room where your choices are not judged by guests. This is the room to explore your design style. This is the room for painted dressers!
Once you have finished your gorgeous painted dresser, be sure to finish it off perfectly. Check out Protecting your Painted Furniture to keep it looking newly painted.
Subscribe to our YouTube Channel to learn painting techniques that will make your painting projects look like it was done by a professional.