It can be difficult deciding how to embellish painted furniture
Wanna be able to embellish painted furniture to make it WOW? Ok, I get it. You have completed your first few projects. But, you want to take your skills to the next level. You really want to work on embellishments but how exactly is that done? What do people use to add interest to their painted furniture projects? (Find some of my best tutorials in my Ultimate guide to Furniture Painting!)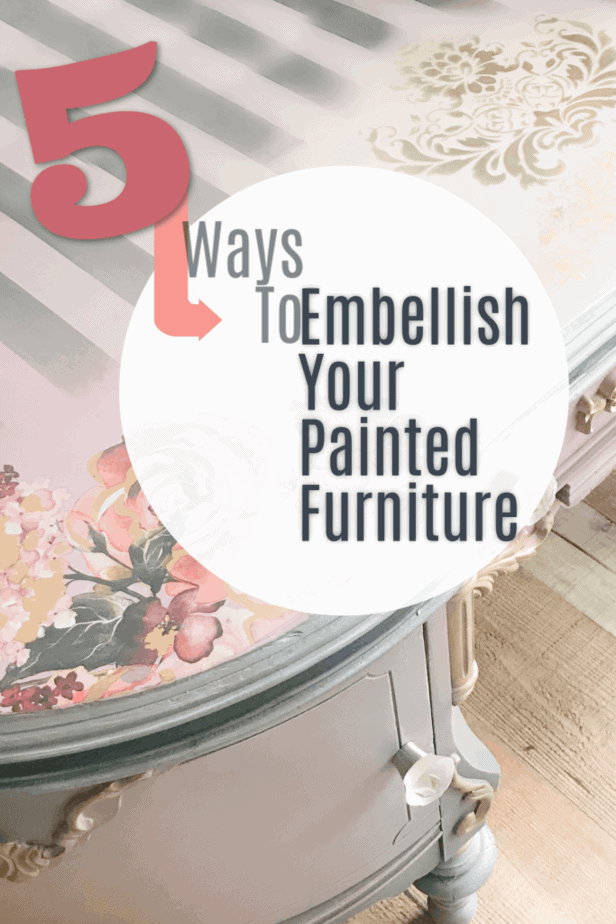 [mailerlite_form form_id=1]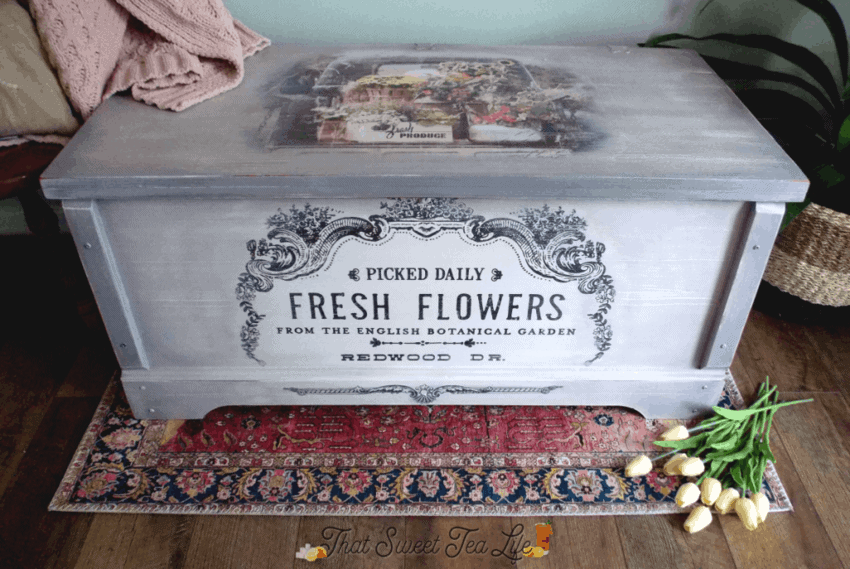 Embellish painted furniture with images
There are actually a few ways you can add images to your furniture. Traditionally decoupage has been the way to go. It has really adapted over the years though to become a completely different art form with many application possibilities! While you can use gift paper, magazine clippings, or posters, some companies have also begun creating tissue papers (afflink) that are the perfect thickness for this. Kandice from Just the Woods shows us how here! Another way to add images is by using image transfers. You can create your own by printing on tattoo paper! Check out how I did this in my Pink and Gold Furniture Transformation. Or you can also grab an ultra lovely transfer from Maisie & Willow or ReDesign with Prima (afflinks) like I did in my Coral Chest Makeover as well as above one the striped vanity with those flowers…
Embellish with wax
While we may know wax to be clear and used as a sealer for our chalk painted pieces, it can also come in various colors to add depth and interest! One style of these waxes will often come in large containers similar to the clear wax. These are meant to allow rather full range use over large surfaces and typically come in brown, black, gray, and sometimes white! You may apply directly over your paint, or apply clear wax first, then your colored wax. This gives you a bit more control but either technique are fine! Test and choose what you like.
Embellish your painted furniture with gilding wax
Gilding waxes are another style of wax you can use to embellish your painted furniture. These are often much smaller pots of wax and likely hyper pigmented. By just swiping your brush or finger over the wax and then a raised edge, you are able to add 100% coverage over the small area. These waxes are typically more often gold, silver, shimmery, etc.. they are meant to be used as accents rather than over large areas. Liquid Gold Leaf should also be added to this area as it acts exactly the same only its liquified. Expect both liquid gold leaf and gilding wax to come in tiny 1/2 ounce containers or the like.
Make it WOW with stenciling
Stencils can be so scary! But they can add so much personality to your creation! You can choose to add lavish designs or you can even create your own stencils like I did with this Dry Sink Makeover. Layer your stencils, distress your stencil work. Fade your stenciled designs. I also created this stenciled vanity live on Facebook! You can find the live tutorials here. I tape off stripes, add the gold stenciling, and give you tips on how to do it without fear!
Add interest and dimension with appliqués
Furniture Appliqués have come a long way! You can find them made from various materials, and you can even make them yourself now! Can you tell which designs isn the photo above are appliqués I added and which were original? You can truly treat them as part of the furniture once they are added on and they add so much interest to what can be just a basic box! Just be careful because they can be addictive… you can see where I tried out Efex appliqués in How to Apply Appliqués to Save an Old Dresser! Or find out which appliques may be best for you and your projects! I also share my favorite in Furniture Appliques: Which kind is right for you? Its a great read with detailed information on the types of appliqués that are available!
[mailerlite_form form_id=1]