Sometimes, there is a piece of furniture in your home that can create the look for a room, or a family space; or it becomes a focal point for a room. As functional as they may appear to be, dressers can be this piece of furniture. And you can transform any old dresser from something drab into something amazing with just a little time and paint.
So, before you toss or donate that old beat up dresser (or before you make your next thrift store run to hunt for treasure), check out these painted dresser ideas that are sure to inspire you to save that furniture for your next DIY project.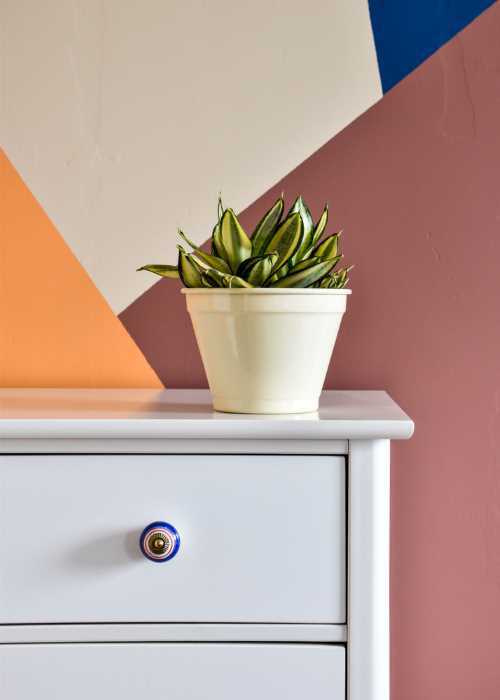 Painted dresser ideas
There are so many different ideas when it comes to painting furniture these days. If you can think it, you can do it. The possibilities really are endless. We have worked hard to include as many painted dresser ideas as we could when compiling our list. We are sure you will find something to inspire you below.
1. Modern Style Painted Dresser for the Bedroom
If you are into the linear style of the modern look, then you will want to find a dresser that has clean lines, sharp corners, with no extra molding. You should choose a neutral wood, such as pine, that can be painted easily and which will change the look quite dramatically.
Paint most of the dresser to match the color scheme in your room, then choose a complementary color to paint certain sections, such as the front of the drawers.
You could also simply paint the corners, or outline the drawers, for a more subtle look. Or you could choose to paint the dresser in a solid color and simply add touches of color through the drawer knobs or pulls.
2. Cottage Style Painted Dresser
The cottage-style look has become such a popular style in recent years. It is a soft, understated style that is both beautiful and simple.
One of the easiest ways to create the cottage style painted dresser look is paint the base and drawers of your dresser in a solid color of your choice, while leaving the top in its natural or stained wood state.
You can also create a unique cottage style look using chalk paint. By adding a couple coats of chalk paint, then distressing the piece, you can give your painted dresser depth and character, while giving it a fresh new look.
3. Beach Style Painted Dresser
Of course, we all associate some shade of blue with the sea, but you can also think about the beach and the stretches of white sand. This means that using blue or white for a dresser to give it a beach feel will work well.
For a breezy, beach feel, use a shade of blue that has a hint of green, such as a turquoise, or aquamarine. It isn't necessary to distress a beach-style dresser, but this can give a shabby chic look. You can use white for the doors of the dresser, especially if they are slatted.
4. Sleek and Stylish Painted Dresser
Give an upright dresser or chest of drawers a more traditional feel by painting it a dark shade, like black, navy blue, or dark brown. This will give it a more formal look.
To enhance this elegant style, choose a paint that has a glossy finish to give it a polished look. You can also do this with chalk paint and wax, but you'll have to touch up the wax often to maintain the glossy look. So, it may be better to stick with an acrylic glossy paint.
Update the hardware too, with sleek chrome or gold handles, to reflect the elevated style you are looking to create.
5. Create a feature from a bedroom dresser
A bedroom dresser can be painted in one solid color that turns it into a focal point in any room. Choose a rich, deeper version of the shade the walls are painted in to create this effect.
So, if the walls are painted a pale yellow, find a darker shade of the same yellow and paint the dresser with that. You can then use pillows to pick up the same color throughout the room.
Or choose a complimentary color that goes with the aesthetic look of the room. This will help draw the eye to the piece and accentuate the ways in which you have chosen to use it to add to the look of the room.
6. Painted Dresser in a Nursery
Furniture in a baby's room should be useful and also decorative. A dresser with drawers is the perfect place to store the baby's clothing and the wide top makes a great changing surface.
You can have lots of fun and take a lot of creative liberties with this painted dresser. Of course you will want it to coordinate with the colors and theme of the room, but you can have fun with how you do this.
You can paint the dresser a solid color, like white, then use a stencil to draw cartoon silhouettes on the sides and front. Or you can leave it the natural wood color and paint geometric shapes on it in complimentary colors. Then add fun drawer knobs or pulls to really give it character.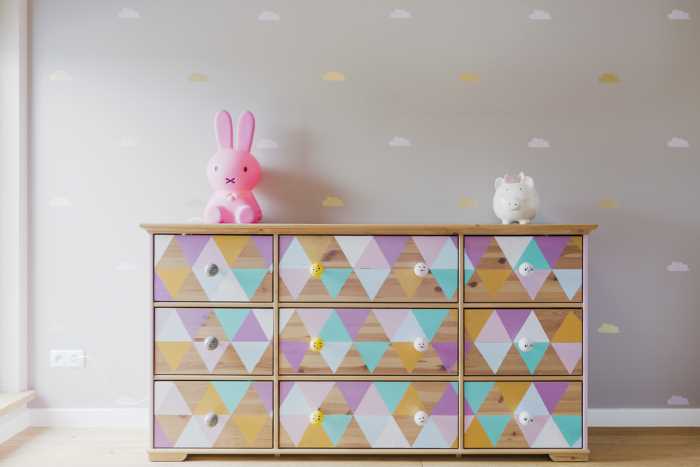 7. Painted Dresser for Storage in a Playroom
Any style of dresser can be used in a playroom, or game room, to store boardgames, ping pong paddles, video games, and the likes. And if you're like my family, you have lots of boardgames and need lots of drawers to store them in.
Paint the dresser in a fun color, such as bright green, or fire engine red, so that it becomes part of the tone for the room. Or go crazy and try to transform your dresser into a video game controller with some creative painting. Set your TV and game system on top and have the perfect game station set up.
8. Display Dresser in a Living Room or Dining Room
If you have a dresser that has both doors and drawers, you can get really creative with, not just how you paint it, but what you choose to do with the doors and drawers.
You can take the doors off the bottom of a dresser and leave the shelves exposed. Paint the outside of the whole dresser in a dark hue, then paint the edges of the shelves in the same shade.
You can then paint the inside of the dresser in a lighter shade of the same color. You can also create more of an effect by painting the inside of the dresser in a contrasting color. Make sure it picks up another color in the room, so your overall aesthetic flows.
Or, instead of painting the interior, you can choose to line it with shelf paper or wallpaper that accentuates your style and décor.
9. Painted Dresser in a Hall or Entryway
There are so many options you can do with a dresser in a hallway or entryway. They are so functional for storing odds and ends, and for creating a homey aesthetic.
You can paint a dresser in a soft, inviting hue that adds brightness to the space. This is especially helpful if these areas of your home don't allow for as much natural light as other areas.
Or use the dresser to make a statement through creative painting, stencil work, or adding rub-on decals. Paint the entire dresser in a color that blends with the floors or walls in the hall. Using a stencil paint shapes onto the front of the drawers. Try to choose shapes that make a statement, such as large flowers, or geometric shapes.
10. Painted Dresser in an Office or Study
Use a dresser to store items in your office or study. You can use the piece to help organize your room and space. Or choose to use a hutch in this space as well. Use the shelves to store books and files and the drawers to store your office supplies. You can also display any certificates or awards here.
You can choose to make this a statement piece, or keep is subtle and understated so it blends with the aesthetic of the room. You can choose to paint it in a dark, bold color that elevates the look and style of the piece. You can also choose to paint it in softer muted tones that help it blend in with the walls and make it a part of the natural look and design of the room.
Conclusion
A dresser is not only a useful piece of furniture to have in your home, but it can also become a focal point in a room. You can easily transform a well-loved dresser or thrifted piece into something new and fantastic with some creativity and paint. You can let your imagination run wild and make something completely new out of something you found or have lying around.