There is an endless world of opportunity when using coral paint colors for your home. The coral color is a broad spectrum, stretching from pink to more orange-tinted paints, lighter options, and even bold statement colors. Whichever shade you choose, coral paint colors are guaranteed to transform your space.
Keep reading to learn all about different types of coral paint colors as well as tips and tricks on how to use them to liven up your home!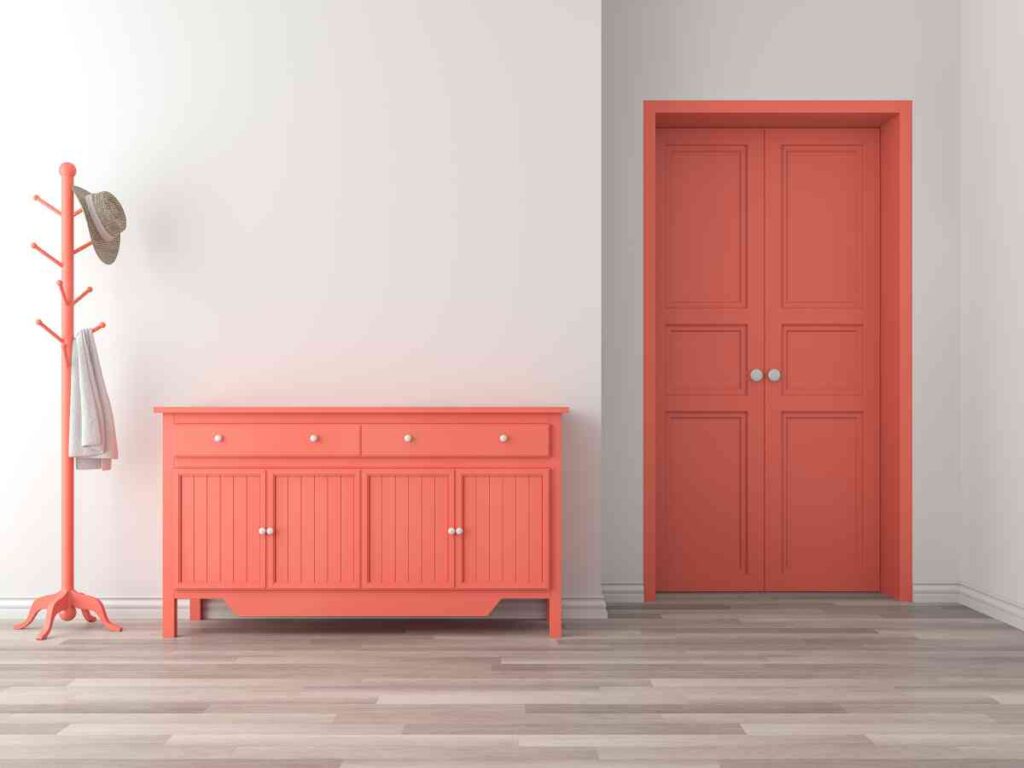 ---
Examples of Coral Paint Colors
With so many varieties to choose from, which coral paint color is best for your home? Each option brings something different to the table, so it's important to consider what you'd like the paint to do for your space.
1. Sherwin William Stone Fruit
Light coral colors like Sherwin Williams Stone Fruit can bring a relaxing and refreshing feel to your room. This paint color gives your room a pop of tropical color while still promoting a calm atmosphere.
2. Benjamin Moore Coral Buff
Benjamin Moore Coral Buff is a coral paint color option that is a very pale pink. This color is a great complement to earth-toned decor.
3. Sherwin Williams Charisma
Sherwin Williams Charisma paint leans towards a more pinkish tone that effortlessly livens up a room. This color goes great with light beige or cream colors.
4. Behr Island Coral

Behr Island Coral is a radiant pinkish tone that will instantly make your room shine.
5. Behr Coral Gold

Instead of a pinkish tone, this Behr Coral Gold has a light orange-yellow tint that is great for brightening a space with warm hues.
6. Behr Fire Coral

Behr Fire Coral has a deep orange influence that pairs well with other darker earth tones or a contrasting light beige color.
7. Sherwin Williams Begonia
If you're looking to make a statement, this Sherwin-Williams Begonia is a dark pink coral paint color that undoubtedly draws attention to the eye!
---
Walls vs. Accent Furniture
When experimenting with new paint colors in your home, you can never go wrong with a classic accent wall. Depending on the coral paint color you choose, creating an accent wall can bring in a splash of color that has just the right amount of impact in a room.
This type of wall works especially well if you're looking to highlight a certain area of a room. They're a great place to hang photographs, paintings, mirrors, and more! Painting the wall behind a fireplace, bedframe, desk, or bookshelf are ideal spots to create an accent wall.
Accent furniture can also be a great way to add color to a space. Who says you have to commit to painting a wall to spruce up a space? Painting furniture can be just as fun and even lead to multiple opportunities later on down the line, as you can reorganize your furniture to create endless possibilities!
---
Transforming Your Bedroom
In a bedroom, placing an accent wall behind your bed is a superb way to highlight your sleeping space. You can also paint your bed frame, a nightstand, an armoire, a dresser, or any other furniture piece you want to add color to.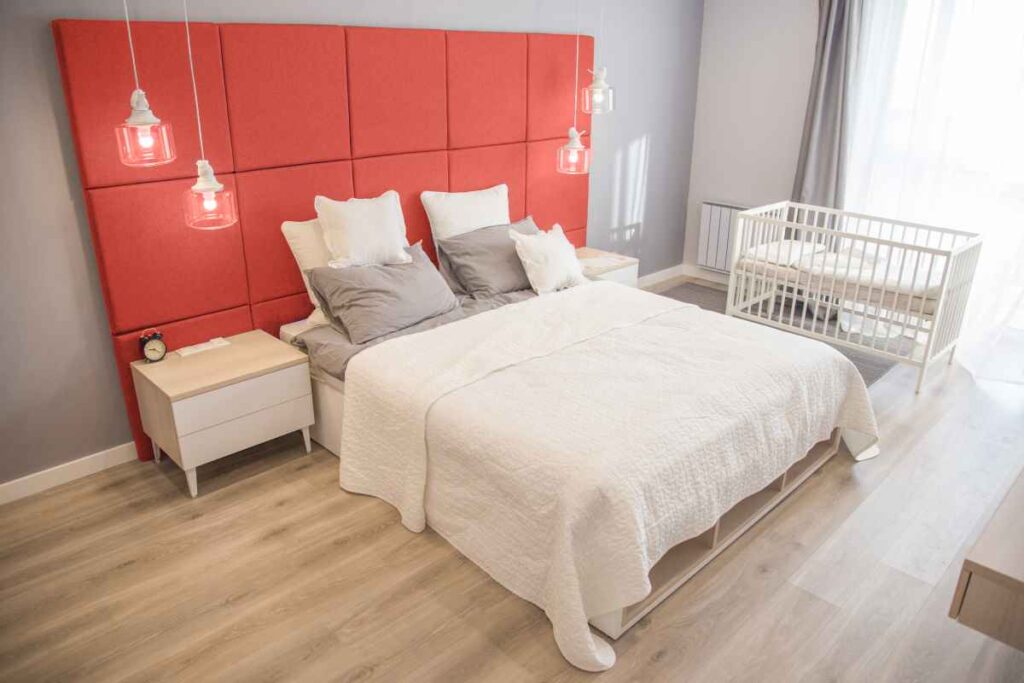 If you have a desk in your room, adding color to your workspace can help increase productivity and focus. You don't want to overdo it, as too much to look at can become distracting while trying to work.
However, splashes of color at your desk can amplify a creative environment. Adding a coral paint color to your desk or chair is the perfect place to start with an exciting new look!
---
Using Coral Paint Colors in the Bathroom
Adding color to a bathroom has many benefits that are commonly overlooked. Incorporating coral paint colors in your bathroom can give this personal space some unique charm.
Lighter coral options can help create a calm vibe for your space, whereas darker colors can be a fun departure from the typical gentle bathroom accent.
Vanities, storage spaces, and cabinets are all excellent candidates for adding color. Painting shelves or the wall behind the toilet can be a great place to include coral paint colors!
---
Livening Up the Kitchen
A well-placed accent color in a kitchen is a highly underrated element of design. Adding coral paint colors to kitchen cabinets is a fantastic way to create a dynamic space that reinvents not only how you work in the kitchen but how your kitchen works for you.
If your kitchen has an island, try embracing it as the center of attention. Adding a coral paint color to the base of a kitchen island is a classic way to make it the focus of the room.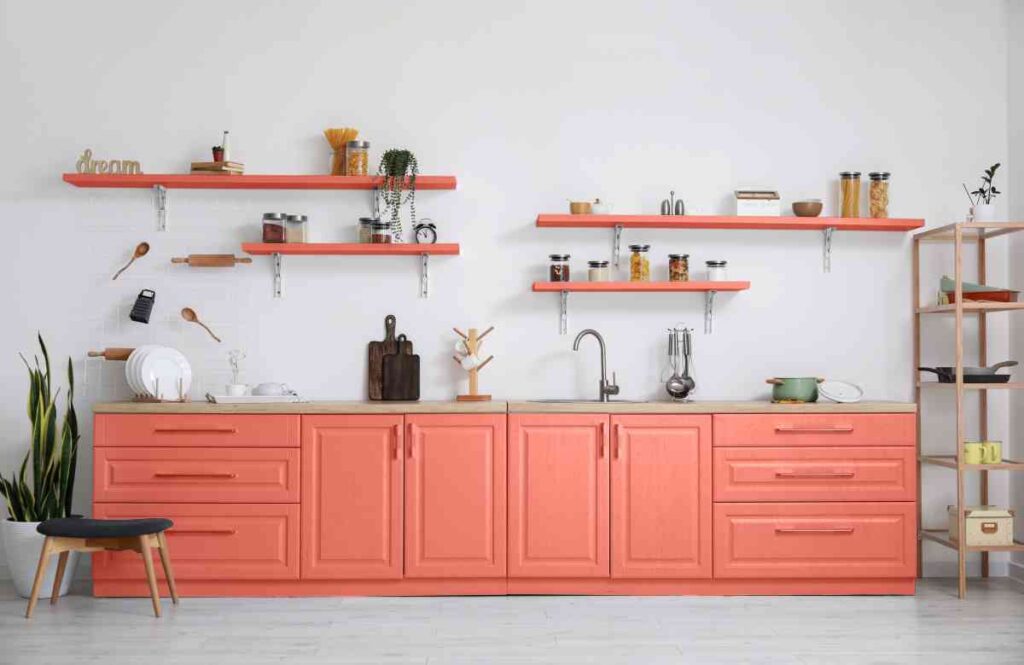 Even adding a coral-colored centerpiece to either an island or dining room table can work wonders for a space! Try adding a coral color vase with neutral-colored flowers to the counter next time you want to add a decorative piece to your kitchen.
---
Coral Paint Colors in the Living Room
The living room is one of the most important rooms in a home. It's used for entertaining guests, watching TV, chatting with your family, relaxing on the couch, and much more! Such an important and versatile space deserves to have lots of thought put into it. An inviting space goes a long way – creating a welcoming and cozy environment is what turns a house into a home!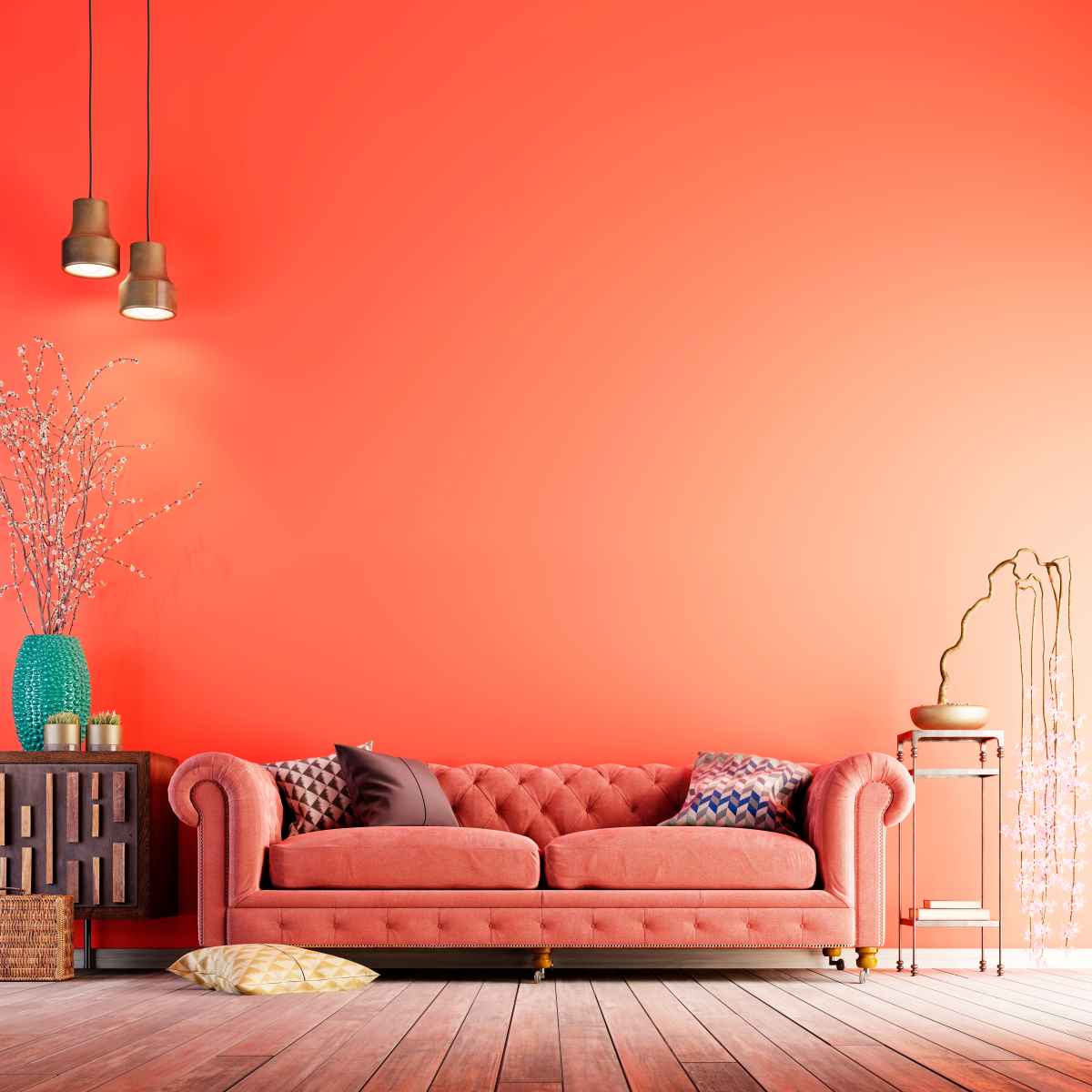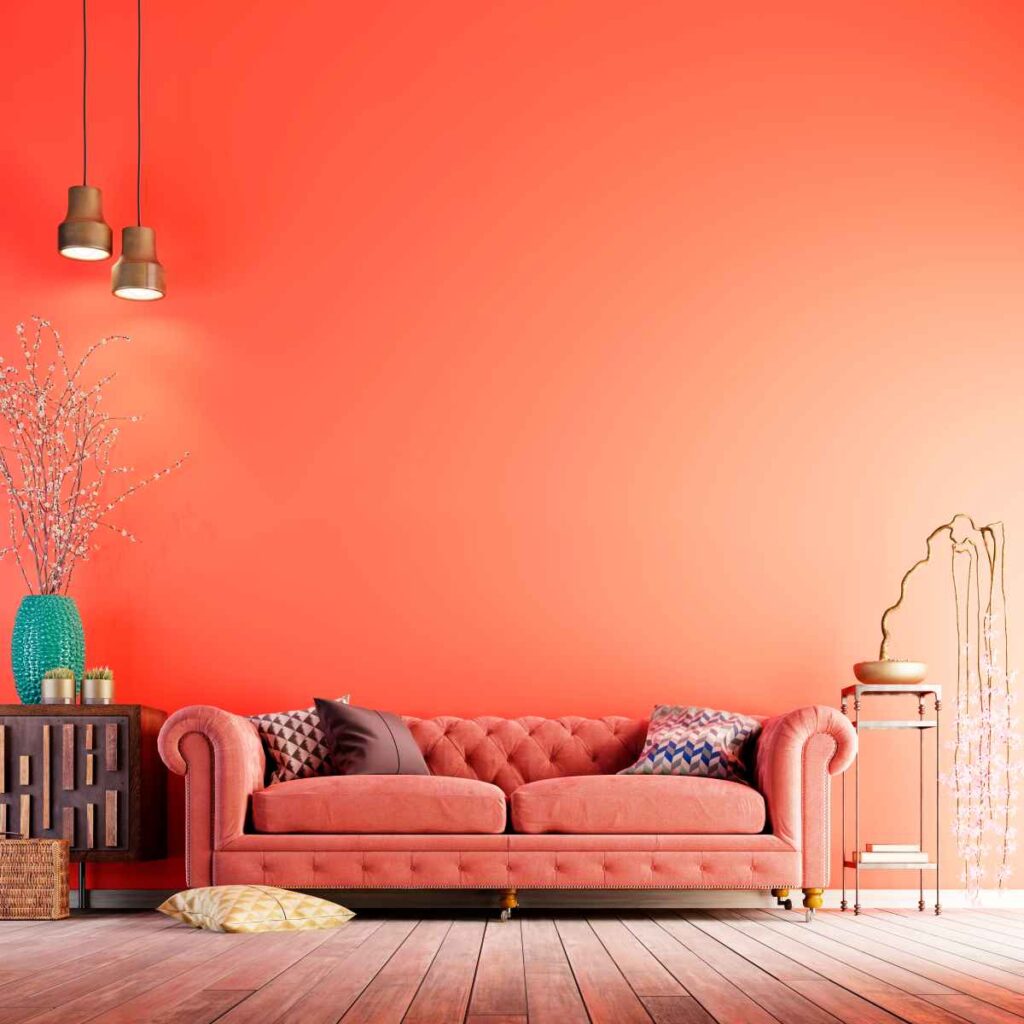 Besides creating accent walls, coral paint colors can add charming pops of color and create focal pieces sprinkled throughout a sitting room.
These alluring accents in a living room can be created by painting coffee tables, TV stands, bookshelves, and chairs and even by buying an eccentric (or more laid-back!) coral-colored couch.
---
So Many Coral Paint Colors
With hundreds of coral paint colors and thousands of ways to use them, an electrifying home makeover is right around the corner!
Looking for tips and inspiration for your new DIY projects? Check out our other posts on painting furniture for some fresh ideas!