Coral Paint Colors can be SO hard to nail! But, when the sweet girls next door have a dresser and their room just screams for the perfect coral reef color dresser, how can I ignore the cry? There is something so warm and fresh about the perfect coral colors. So, I made it my mission to create the best coral color painted dresser I possibly could create Including a beautiful image transfer! (Don't miss the super quick Talk through Video Below!) I wanted the dresser to be fun, yet mature enough to grow with them. -bright yet lovely and slightly elegant,.. two little girls with not completely similar personalities will share in enjoying it so I want it to appeal to them both! So, I guess we should meet the candidate!
If you want to learn more about how to paint furniture be sure to check out my Ultimate Guide! "How to Paint Furniture"

~Thea
So many of us have these dressers that are just passed down through the family. While we appreciate them, sometimes we would love to just make them our own! The perfect coral paint colors would do just that! But, what exactly is it? THERE ISNT ONE! Haha,.. let me walk you through this makeover and you will see what I mean.
Products and Tools used to create this Coral Painted Dresser
First let me go over everything I will be using so you are familiar with it and know where to find it all! Items are clickable links you can use to find out more about each of them and even order if you like! I may earn a commission if you order online through these links.
Now, don't get me wrong. Dixie Belle Paints Flamingo is GORGEOUS!! But, some people like their coral paint colors to be more pink. Some people like their coral paint colors to be more muted. So, first thing first I had to put my plan in place so I could continue on! I knew I wanted to incorporate a design so I took a look at my image transfers collection. (Linked Above) I chose to use the Love and Dream design to hopefully continue to inspire the girls for years to come. The black you see is only the background per this graphic. Dont you love that the transfer alone is completely white and bright and elegant.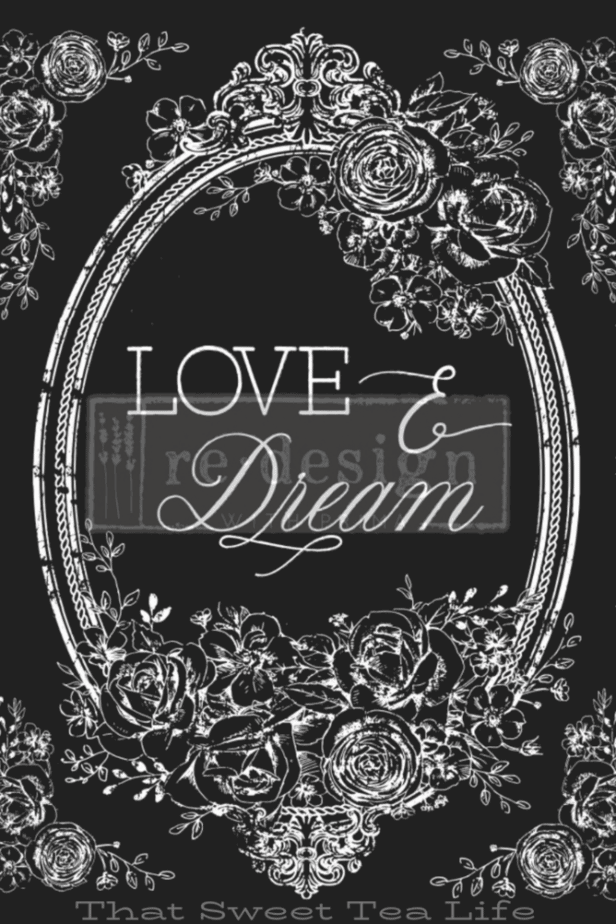 Getting the dresser ready for its lovely Coral Paint Colors
I laid out the transfer to get a good idea of what my design plan would be. I knew I wanted to use some sort of image transfer so, once I had it all laid out I could decide my plan for paint work as well.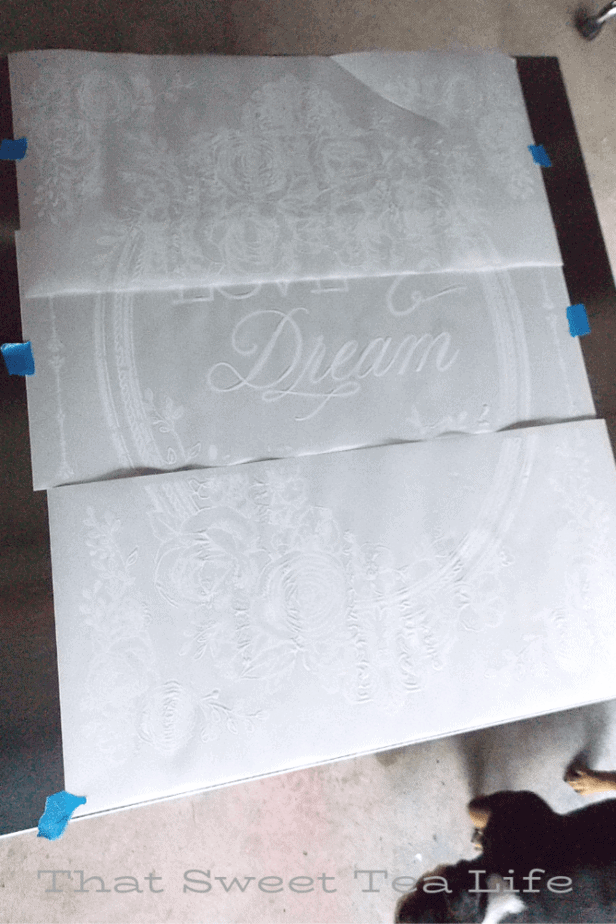 Knowing now just how much space the transfer would take up and knowing it would fill the space well, I decided on my paint finish. That means it's time to prep! If you want to know my typical prep process check out my "Ultimate Guide to Prepping Furniture for Paint" Of course I had to also remove the hardware and decide whether my chest painted in the BEST Coral Paint colors would keep the original hardware or be adorned new hardware! I decided I wanted to switch the chest pulls out for knobs instead. So I began removing all the existing hardware.
The holes then had to be filled. I chose to use Dixie Belle Paints "Mud" in brown. (Linked above) Using a small spatula I filled the hole allowing it to smooth out over the edge a inch or two. This allows for great smoothness as I sand it with my orbital sander once it dries. I allow a day to be sure. If you only fill the holes however and don't allow the filler to smooth out over the edge you may find you have a hard time sanding a nice even surface.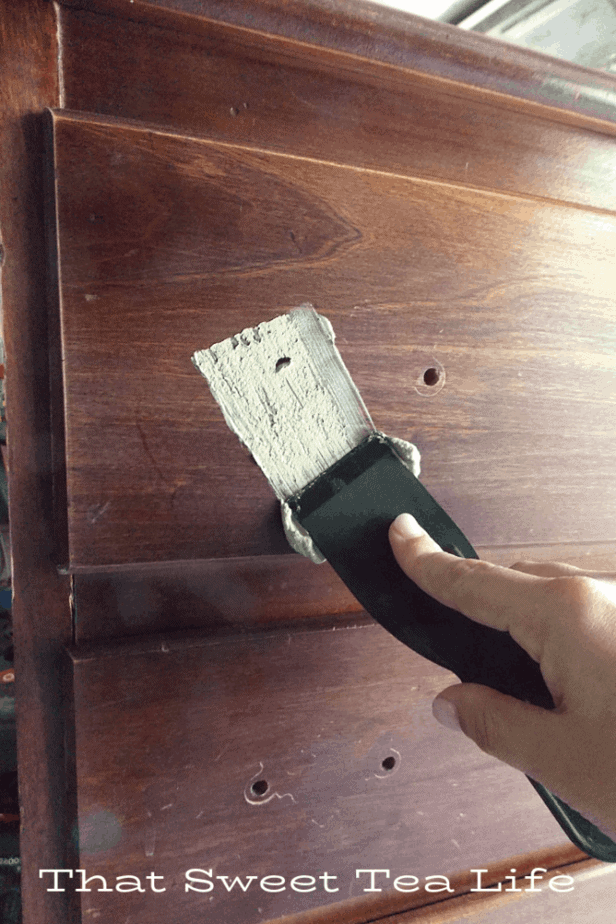 After they have all been filled and dried over night, I began sanding them smooth and continued to prep for painting. Notice how I offset the holes in the top drawer filling the outer hole instead of the inner hole. This will just add a little interest when I begin installing the knobs once it's complete.
Creating the look: Coral Paint Colors and Image Transfer
After everything was prepped and dried, I began painting! As you can see here I began by using Dixie Belle Paints "Flamingo". It's a lovely coral that leans toward the orange side. I dont lay the paint too thick. Im only attempting to lay a base coat to begin introducing the color. I will lay a more full blended layer after this is dry. Sometimes I allow a full day to be sure the paint has had time to dry and really bite into the surface, otherwise blending paint over the top can tend to pull the paint away especially as water is added to allow fluid paint movement.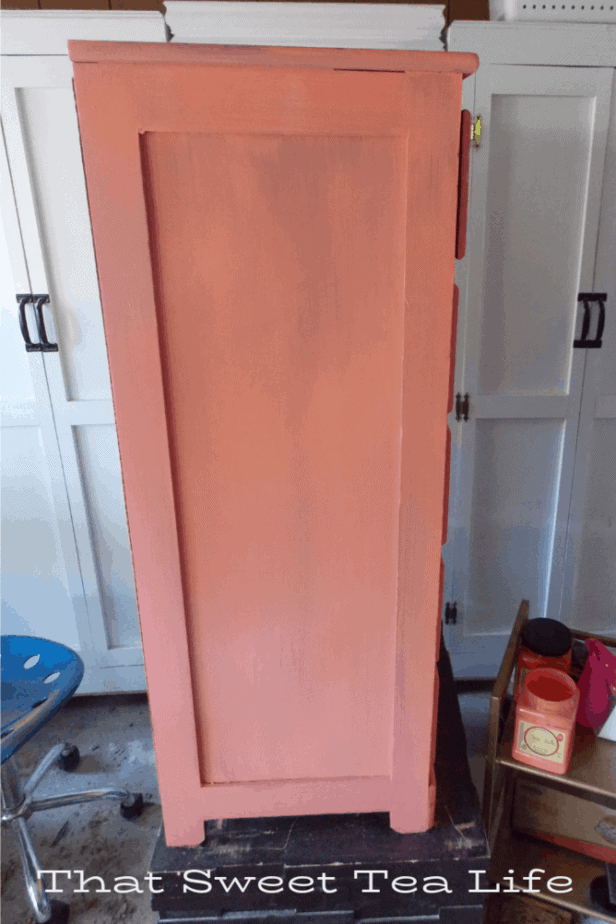 Using a water bottle I mist the surface liberally. The KEY to blending well is to have the surface saturated perfectly. Not drippy and runny, but well saturated none the less. I spray and work the water over the surface with my brush. I would use Flamingo, along with Drop Cloth and Red Barn to create the BEST Coral Paint Colors on this piece.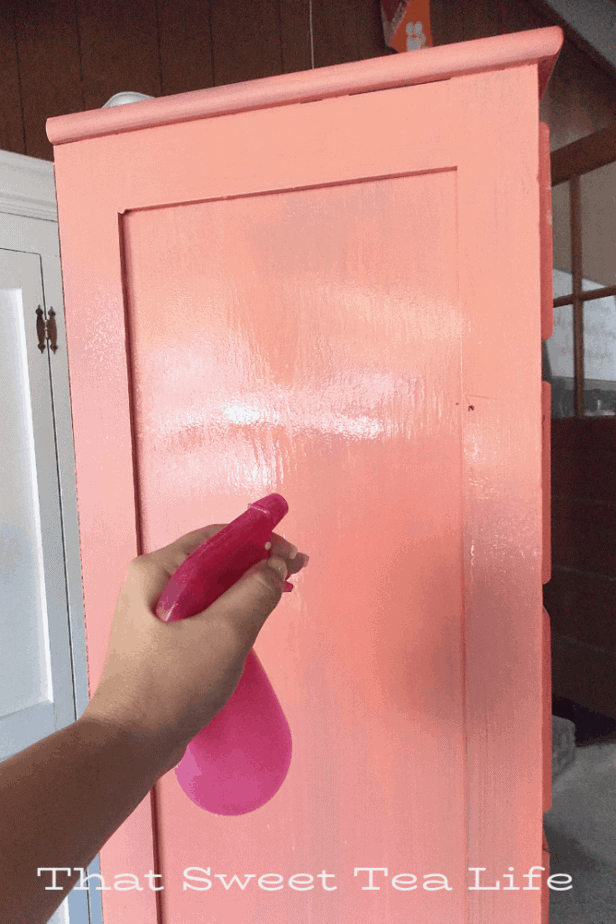 After wetting the surface and laying a decent layer of Flamingo, I began adding in and blending through the Red Barn and Drop Cloth. This would create a large range of the BEST Coral Paint Colors! This is exactly why I say you can't have just one! It's the range that ends up looking so very lovely. Do you SEE the range of coral awesomeness down there? From Light Coral Paint on up to a rose coral…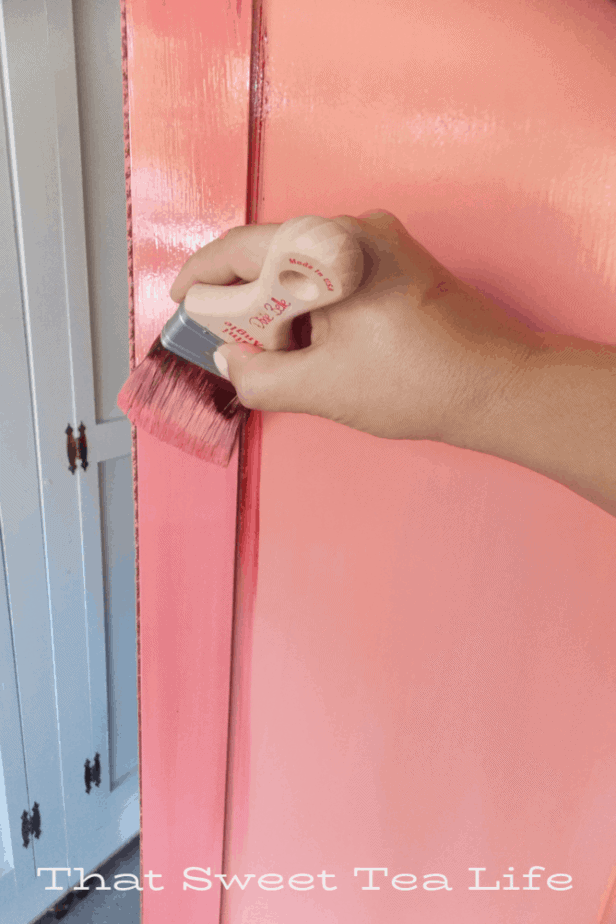 After the entire chest was painted I had to lay out the ReDesign by Prima transfer and really decide on my placement! Remember you don't HAVE to lay it exactly as you receive it in the package! Feel free to cut it up and place it as you wish! If you would like a brief talk through on how to apply them and what to expect, just check out this video to see how its done!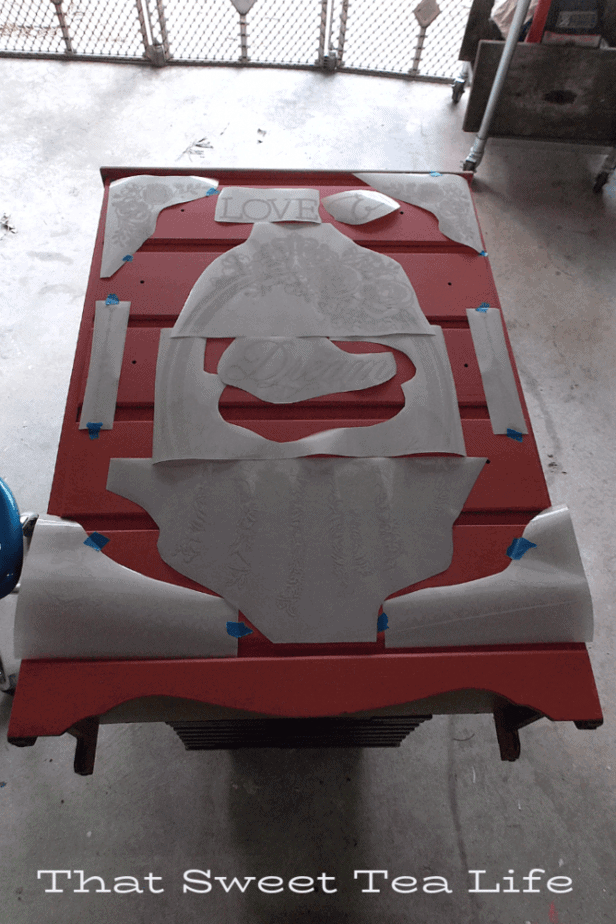 With the placement perfected it was time to begin actually applying the transfer. Because it would go over drawers as well as the dresser frame, I grabbed a utility knife in order to slice the areas necessary as I went.
The transfers come with an embossing stick. Be sure you are careful using it though since the stain could rub onto your project. Using it I began rubbing the transfer on. If you really want to see how it works, check out the video above!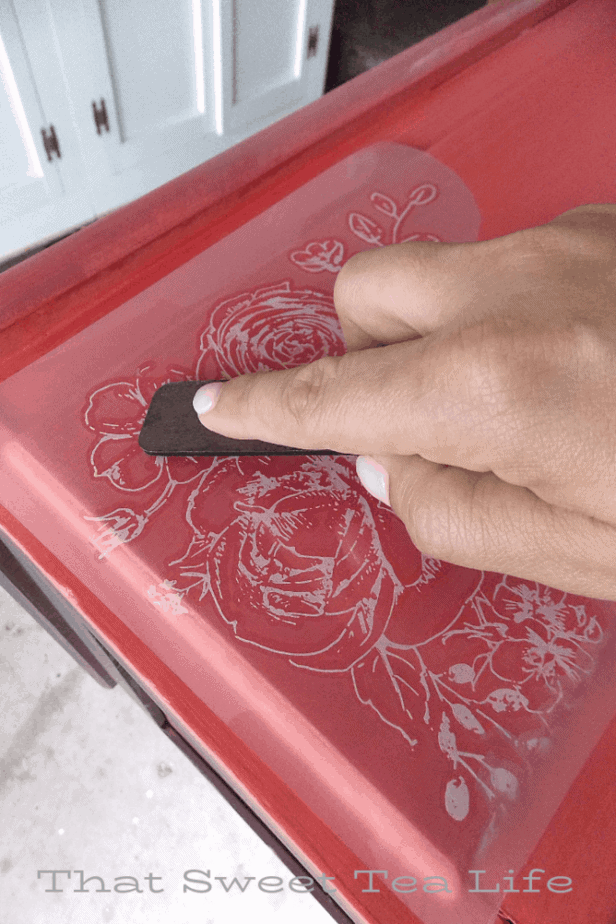 Its SO satisfying pulling away the protective film to reveal the design! Its just so pretty and intricate… I pulled away the protective film oh so very very carefully so as not to damage any of the transfer. Then I moved on to the next piece of the image transfer laying it as well.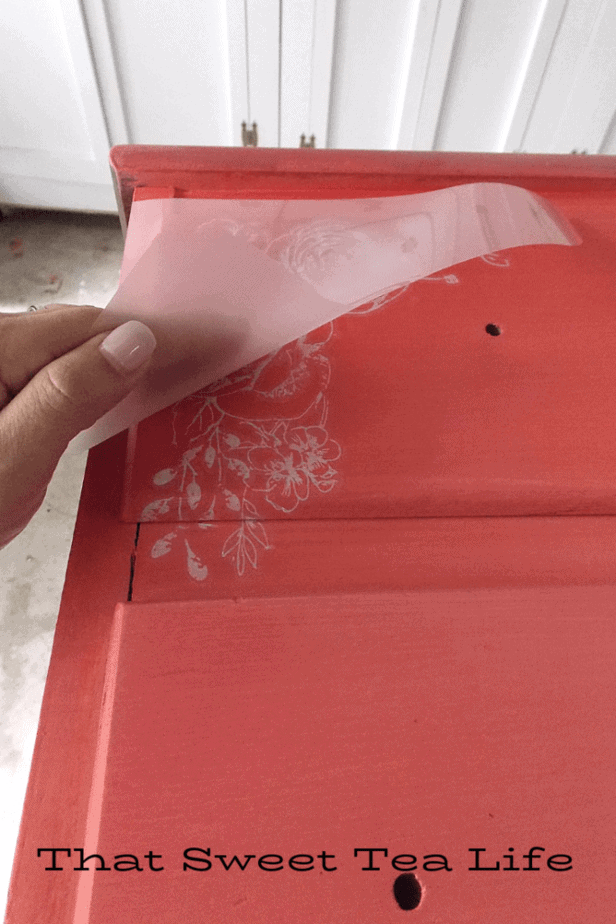 Once everything had been laid it was time to protect it! I knew it would be well loved and well used so I was sure to use Dixie Belle Paints "Gator Hide" to protect it!
I simply applied with a brush, being careful to load my brush well and not over work the product. Each brush stroke would just barely meet up to the previous one. Once it was fully dried, I installed the hardware then took a step back…
Lovely Dresser in Coral Paint Colors
What are your thoughts? Did I hit all of the BEST Coral Paint Colors? I love the Rosey coral that comes through as well as the lighter and more fresh coral. I would chose these simple yet lovely knobs from D. Lawless Hardware (Linked above) which I felt tied it all together perfectly. They carried on that warm rustic yet slightly polished appearance.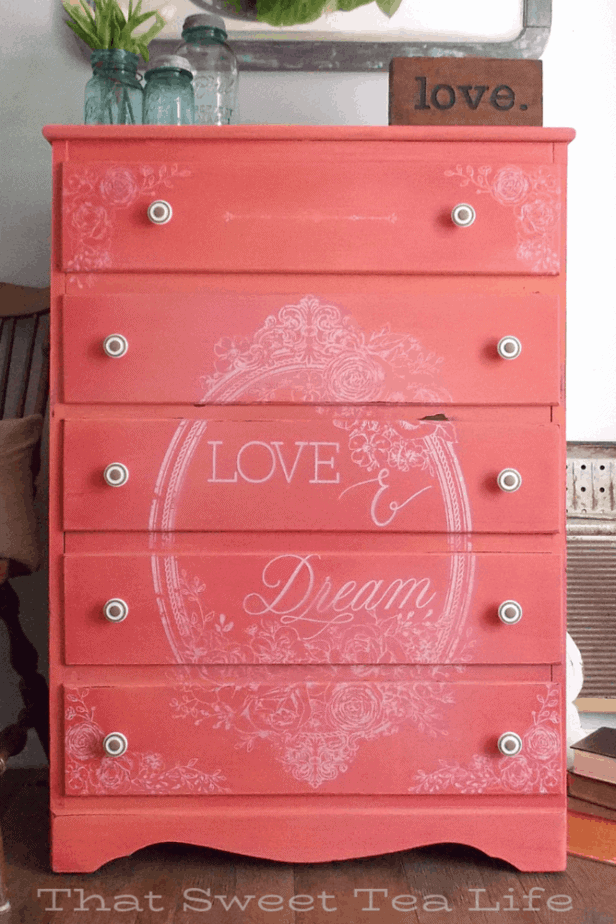 Some of the Coral Painted areas carry much more orange hues, and others more pink. I love how almost fiery it feels yet its still refined. Using the Barn Red, a deep red paint color really managed to add so much depth and interest to this already lovely color.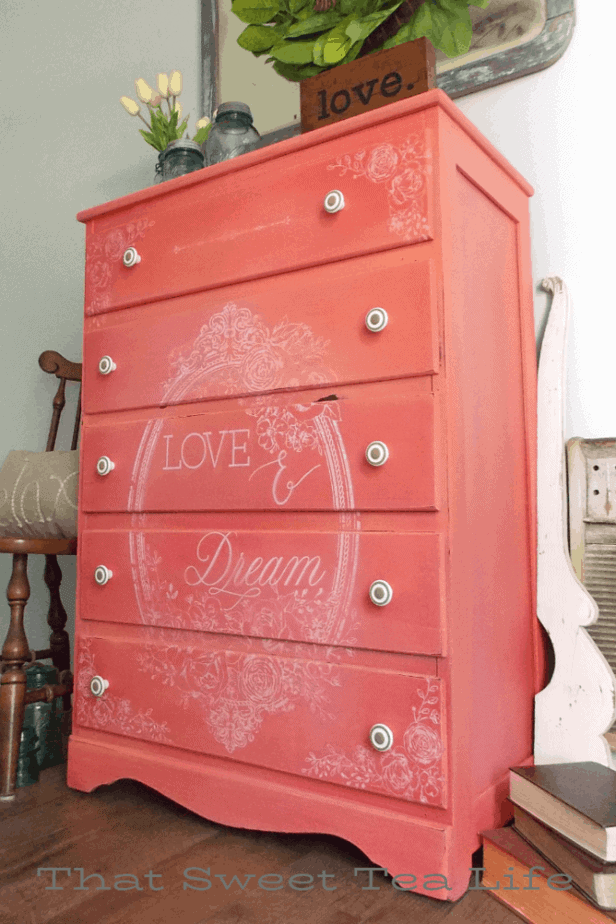 The knobs would genuinely create the perfect feel. They even tie in the distress in the most lovely way. Slightly rustic. Slightly refined. This dresser is ready to take on all the life these girls want to throw its way.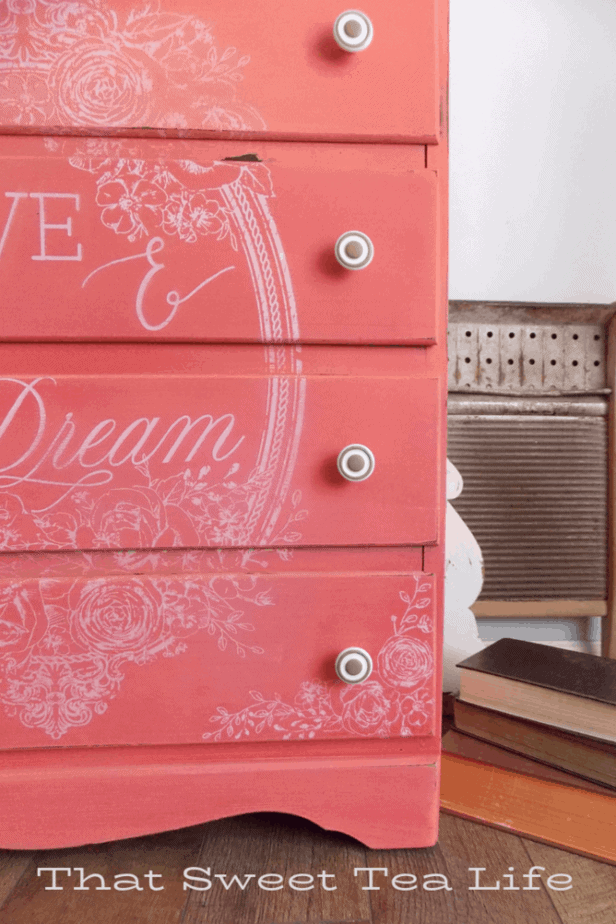 I just love love love a good mix of rustic, bold, and refined elements.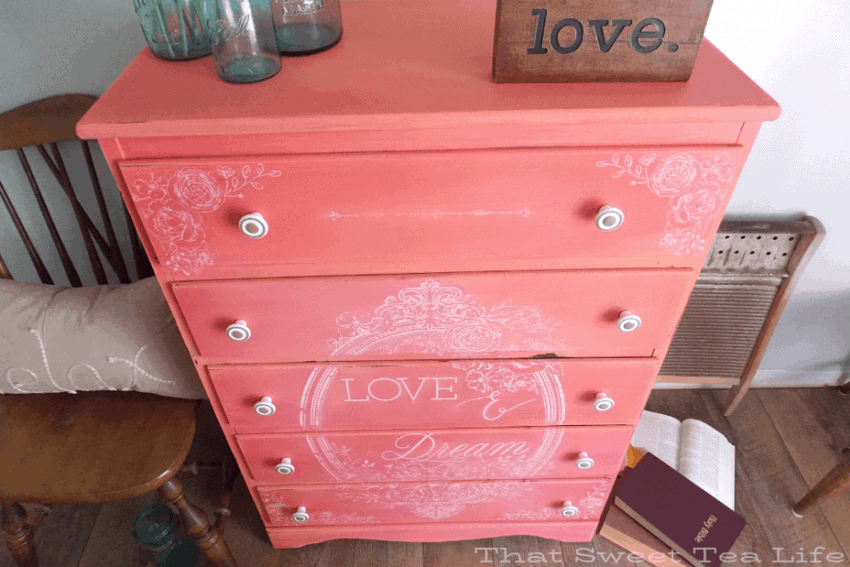 I hope you have enjoyed this makeover and tune into the YouTube channel above. For more info on any of these products or tools, alway feel free to comment or contact me over social media. The brief image transfer tutorial can be found above.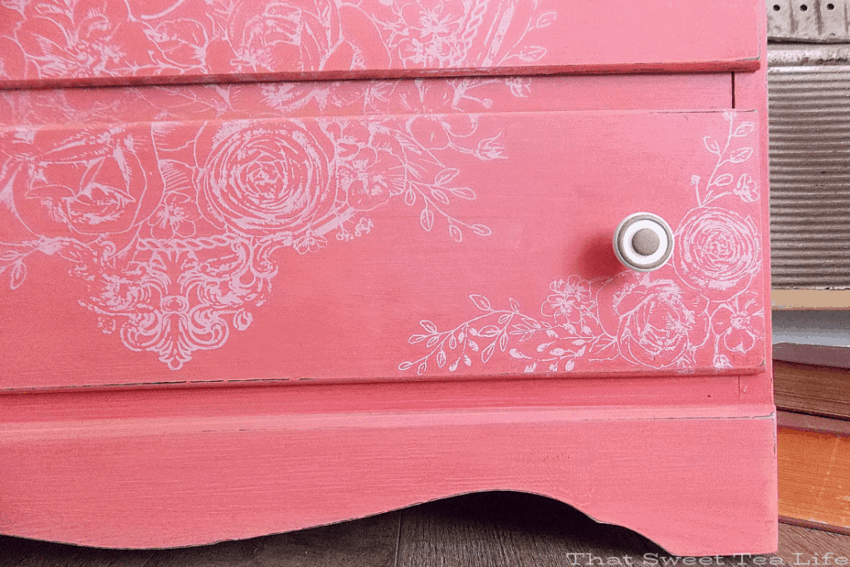 Thanks for "tuning in" to That Sweet Tea Life" guys! <3 Thea