Here is a lovely and Lively Collection of Yellow painted furniture to get you going! | Yellow Dresser | Yellow Chest of Drawers | Yellow painted | mustard yellow | antiqued yellow | distressed yellow
Yellow. Its like that cousin you don't see all that often. but when you do you are happy you did. It pops out at you unexpectedly,.. then when the initial shock dies down a tad you find yourself drawn to its cheerful warmth. I feel like us furniture artists don't realize just how much fun we can have painting with it! So, here you go, a Yellow Painted Furniture Collection!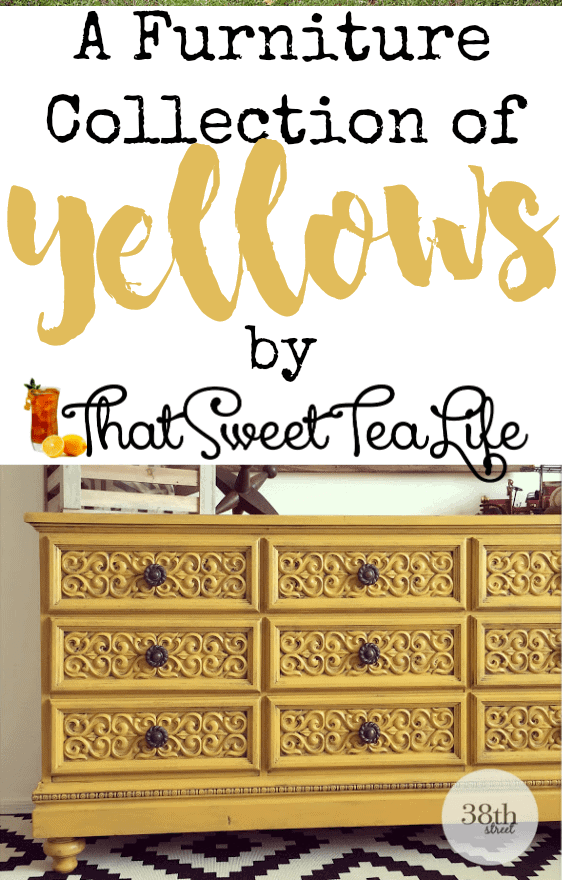 [mailerlite_form form_id=1]
Wise Owl recently came out with a Limited Edition Color called "Golden Rod" to add to their palette which already homes "Beeswax". I'm feeling inspired to give them a go! By the end of this, I'm hoping you feel inspired by these
yellow
hues and have my own yellow painted furniture to share…
I can picture so many lovely pieces of furniture being painted with them! Now to be inspired by other yellow creations! And be sure to pin this for inspiration later! I hope you enjoy the show!
Id love to hear about your favorite!