In the world of color psychology, yellow is broadly considered to be a positive color, bringing out feelings of cheer and optimism by virtue of its association with things like sunshine, warmth, and energy.
So it just makes sense that adding some splashes of yellow to your home decor can transform it into feeling like a more cheery and warm space. But be careful, because color psychology indicates that too much yellow energy can create feelings of frustration and irritation.
Read on for some specific ideas on how to get just the right blend of yellow into your home decor with yellow painted furniture, in hues ranging from creamy to mustard to neon.
---
Using Yellow Painted Furniture in the Bedroom
Sure, yellow is an energetic color, which might seem to be the exact opposite of what you would want in a nighttime sanctuary, but its softer and more muted shades — again, used judiciously — can add a touch of serenity to that important space.
If you're concerned about committing to adding yellow to one or more of the bedrooms in your home, you might want to start with the bedframe, draping it with yellow bedding like comforters and pillows, to get started.
1. Nightstands
Another way to subtly introduce the yellow color palette into your bedroom is to upcycle an old nightstand with some paint.
2. Dressers
One of the larger pieces of furniture in any bedroom is the dresser, and transforming a current dresser with yellow paint, or repurposing an old piece of furniture for use as a dresser, again with yellow paint, can add a dramatic touch to bedroom decor.
3. Jewelry Boxes
Jewelry boxes, even when relatively small, can be a focal point for design in the bedroom, and the array of interesting shades of yellow available to compliment or contrast with existing bedroom decor can make the jewelry box an interesting design element.
There are any number of places to look for inspiration for incorporating a yellow jewelry box into your bedroom design.
---
Yellow Painted Furniture in the Kitchen
As just a couple of examples of introducing yellow painted furniture into the kitchen, we suggest that yellow bar stools as seating around a kitchen island can add a pop of needed color.
And while they're not technically furnishings, yellow mixing bowls, pot, pans and decorative items can work in the modern kitchen.
4. Kitchen Islands
Kitchen islands, especially when equipped with chairs, can become a social focal point of any home in addition to being the place where at least some meal preparation is done. As such, a bright splash of yellow, or even just a hint of it, is worth considering.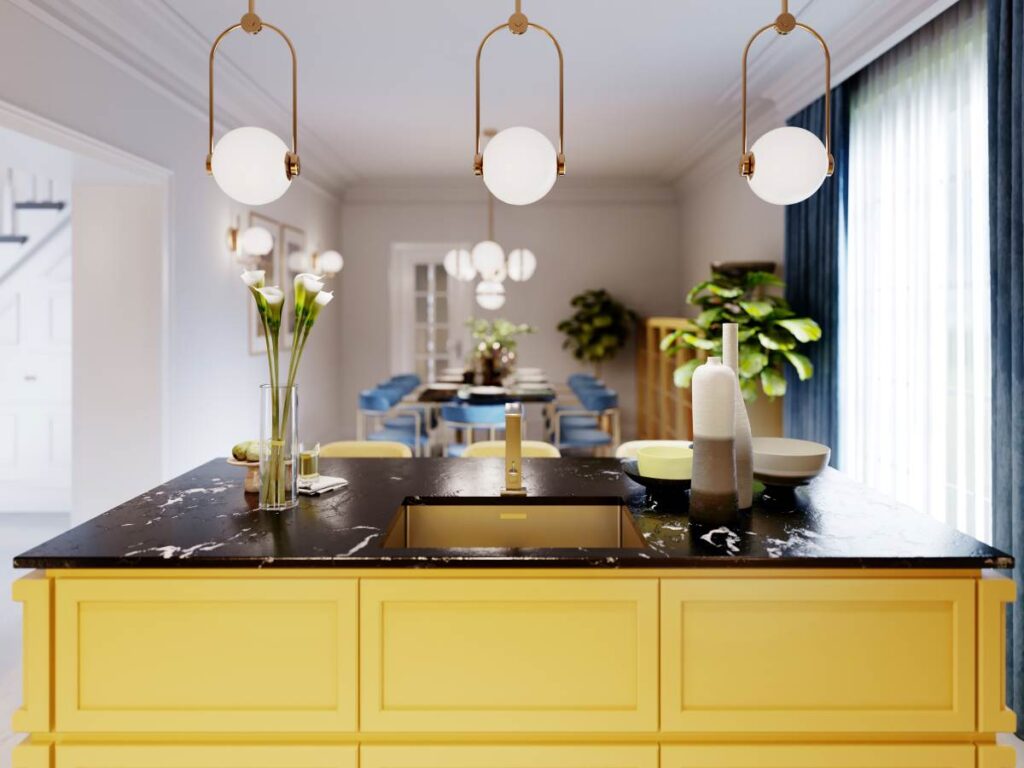 5. Kitchen Tables
If your kitchen is an eat-in design, you should consider your table and chairs as candidates for either transforming with a bit of yellow paint, or finding already-painted yellow furniture in a home furnishings store, or searching out a vintage table and chairs for transformation.
---
Yellow Painted Furniture in the Home Office
It's likely that anyone considering the introduction of yellow painted furniture into their home office will at least think about taking the bolder step of painting the walls in some shade of the versatile hue. It's easy, though, to introduce the color through furnishings.
6. Desks
Certainly, one of the easiest and most dramatic places to introduce yellow painted furniture into the home office is to concentrate on the desk. One particularly striking idea is to combine a minimalist approach with vibrant yellow.
---
7. Yellow Painted Furniture in the Family Room
Family rooms and other areas of the home where people will congregate for long periods of time certainly lend themselves to the positive energy that yellow painted furniture can bring to the space.
8. Bookcases
In many homes with bookshelves already installed along the walls of family rooms and other areas, or with bookcases already placed against those walls, adding a yellow accent to home decor is as simple as choosing a paint color and getting to work.
9. Entertainment Centers
We recommend yellow — in either golden poppy or mustard shades — as one of the best colors to paint the walls of an entertainment center, that place where everyone gathers to watch television, play video games or listen to music.
It stands to reason, then, that an entertainment center itself, as the place where the TV, video and audio equipment are displayed and stored, also is a great place to use yellow painted furniture in your home decor.
For the do-it-yourselfer, installing a yellow painted entertainment center in the home can be a fun project, inasmuch as old dressers are readily transformed to host TVs, monitors and audio equipment.
---
Wrapping up Yellow Painted Furniture Ideas
We hope that this post has prompted you to consider how a well-chosen piece of yellow painted furniture can touches ranging from whimsy to drama to your home's decor. For more tips and tricks for painting furniture, check out these other posts at That Sweet Tea Life.