What was your first DIY furniture painting project? Chances are you didn't use the best paint for furniture. Maybe you were trying to use up leftover paint from your kitchen or bedroom while sprucing up a thrift store find. Or, you didn't know you could buy specific furniture paint. No matter where you got your start, you're ready to upgrade your operation. By using the best paint for furniture, you can create impressive rehabbed furniture.
There's more to painting furniture than just slapping some latex paint onto a dresser or chair. As more people are getting interested in recycling and rehabbing furniture, more companies are putting out high-quality products that give a wide variety of results.
Back in the good old days of DIY, you had to add a plaster powder to latex paint to transform it into "chalk paint." Now, you can brush on novelty finishes straight from the can. It's not just the paint that's developed in recent years. There are specialty tools for rehabbing old furniture into gorgeous new pieces.
What are the Different Kinds of Furniture Paint?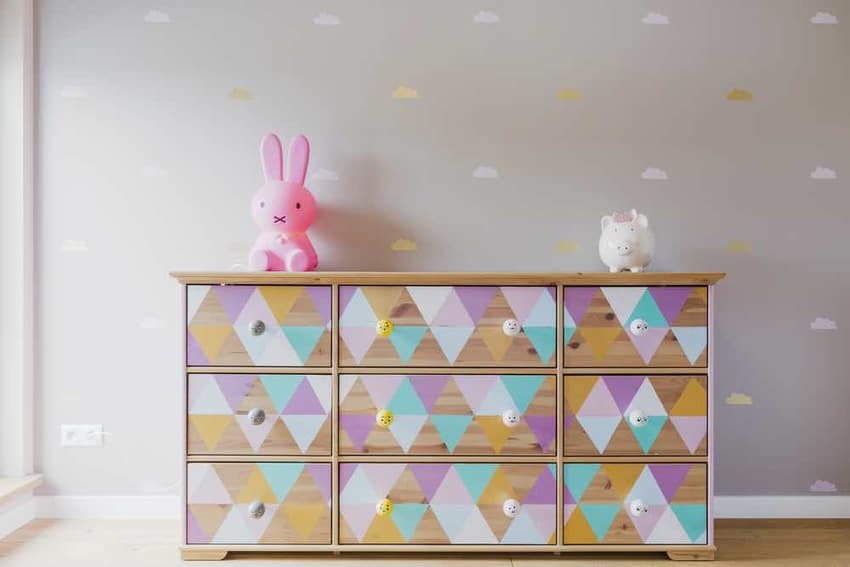 The type of paint you use on your furniture determines the style and aesthetic of the outcome. Are you looking for a high gloss contemporary style? Or maybe you're thinking of a chalk paint shabby-chic piece? No matter how skilled you are, you can't get a matte finish from glossy latex paint. So, read on for common furniture paints.
Latex paint: it's super-accessible, as in-chances are you have a few leftover quarts in your basement or garage. You can also get custom colors blended at the hardware store. It comes in a variety of finishes, like semi-gloss, high gloss, and satin. But it can't stand up to heavy use and is prone to showing defects in the surface.
Chalk paint: a water-based latex paint that's safe to use inside. It's one of the most popular furniture paints for the vintage aesthetic. Plus, it's easy to work with, and it dries fast. Take care as your brush marks may show if you're inexperienced with fast-drying paint.
Milk paint: as safe as chalk paint but more forgiving and with a thinner consistency. It's a water-based paint that comes in a powder form. That way, you can mix up only as much as you need. However, it will chip and peel, so you have to use both a bonder (either mixed in or as a primer) and a top coat to improve the durability.
Acrylic paint: a water-based product with similarities to latex, and some crossover with milk paint. It comes in smaller quantities than other kinds of paint but offers a few unique benefits. It's easy to mix for creating custom colors. However, it needs a primer to bond with the furniture surface and a top coat to protect it from heavy usage.
Oil-based paint: for home painting, oil-based paint isn't worth the harsh chemicals, difficult clean up, and long drying time. If you pick it as your preferred furniture paint, you must work in a well-ventilated area and use turpentine or mineral spirits to clean and thin the paint. Oil-based paint will adhere to almost any surface and is self-leveling for a consistent finish.
You don't have to pick one kind of furniture paint for the rest of your life, or even restrict yourself to one paint type for a furniture piece. You can combine high-gloss latex paint accents with matte chalk paint for artistic designs.
Just don't try to force one kind of paint to do everything you want when you're painting furniture. Decide the result you want before starting your next DIY furniture painting project. Then, pick the paint that'll help you get there.
What is the Best Paint to Use on Furniture?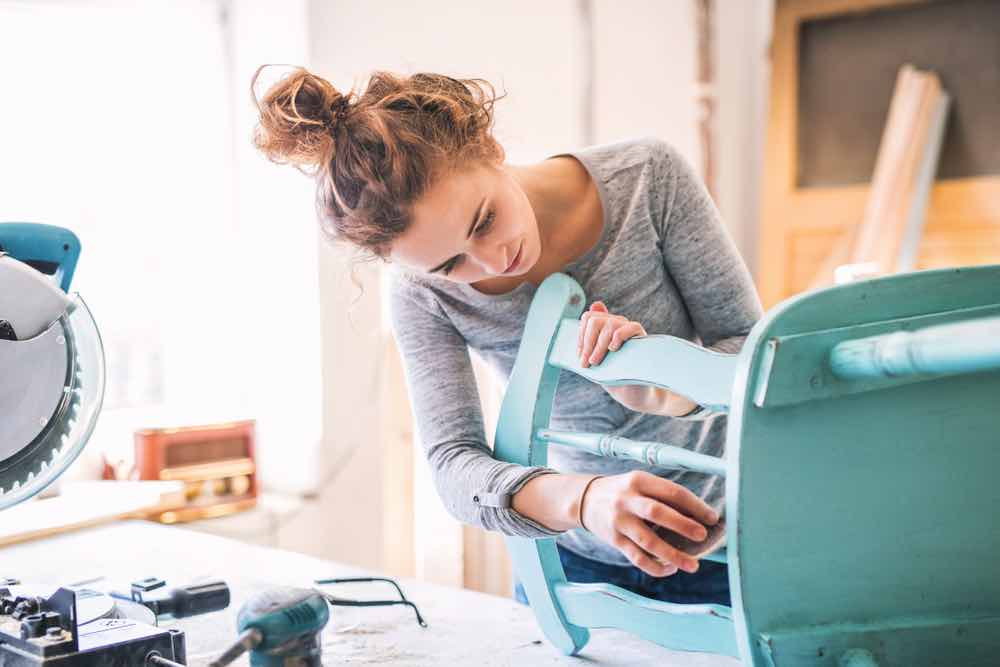 Now that we've gone over the many kinds of furniture paint, we can get into the specifics about the best paint for furniture. We'll break down five of the best brands available, in each of the above categories.
There isn't one paint that does it all. Try lots of different paint types for unique effects and to find your favorites before starting a furniture painting project.
Even if you think painted furniture won't fit in with your home, there's such a variety of sheens and effects, you might surprise yourself. You can even paint your outdoor furniture. With the right product, you'll end up with gorgeous and durable finished products in every room (and deck) of your home.
What is the Best Paint for Outdoor Furniture?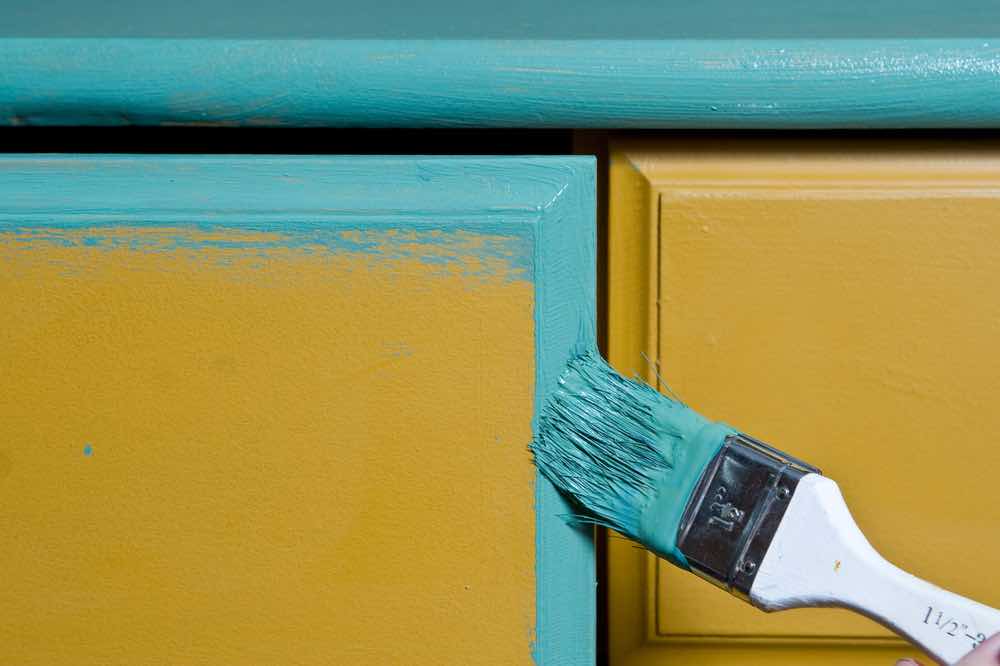 Outdoor furniture has different needs than upcycled dining room chairs or a dresser. It needs to stand up to the weather and UV exposure. But that doesn't mean painting old metal, plastic, and wood furniture for the outdoors is impossible. Just make sure you're using one of the following products.
Behr Premium Plus Ultra: you can feel confident that exterior latex paint will stand up to the elements and UV rays without fading, chipping, or peeling. This Behr product is the best for outdoor siding and will perform the same on your outdoor wood furniture. Make sure to add a second coat when you're painting furniture for the outdoors. The extra layer will provide full coverage and improved protection-aka, more durability throughout the years.
Rustoleum Painter's Touch 2X Ultra Cover: if you have a well-ventilated place to work, you can spray paint your outdoor furniture. It's one of the best ways to get a durable paint job that'll hold up to the elements for years. Always apply a light second coat and treat the furniture with a sealant for even more protection. The Rustoleum products come in lots of finishes and colors, so it's easy to find the perfect paint.
HGTV Home Sherwin Williams Weathershield: people who live outdoors during the summer will appreciate Sherwin Williams exterior paint's durability. It will hold up against harsh weather and extreme temperature changes and resist dirt and stains. For families with kids, pets, and friends over for barbecues, you can have gorgeous and bright painted furniture that cleans up with a hose.
One of the most important things, when you have outdoor furniture to paint, is surface preparation. Take the time to clean the piece, use a deglosser, and remove peeling paint. Then apply several coats of primer before you do a top coat with the best furniture paint. Start the first top coat as soon as the primer is dry to the touch, but before it cures. Always do a second coat for exterior furniture.
Even the best paint won't last for the rest of your lifetime, but you can prolong a paint job with excellent prep work and consistent care post-painting.
What is the Most Durable Paint for Furniture?
Durable means something different for indoor furniture than it does for outdoor furniture. Outdoor furniture has to stand up to temperature changes, wet weather, and UV exposure. But indoor furniture has to stand up to getting knocked around in busy households, stains from spilled food and drink, and scuffs from everyday life. There are some general things to look for in both interior and exterior paint to improve the durability of your furniture paint.
Gloss: the glossier the sheen, the more durable the finish. Chalk paint and milk paint are more likely to chip, and "antique" prematurely. For kids' furniture and outdoor furniture, you want a semi-gloss or high-gloss finish. A word of caution, the glossier the paint, the more it shows imperfections in the underlying surface. Take extra time with your prep for a final product with a professional finish.
Acrylic: unlike latex, paints labeled 100% acrylic don't have added vinyl or other resin blends. All-acrylic formulas are more resistant to fading, cracking, and peeling. If you have the choice between straight latex paint and an all-acrylic, go with the latter.
Spray paint: it's a bigger hassle to apply spray paint, but you can't argue with the results' durability. You can use it on any furniture surface, including wicker, metal, and plastic. But it's not a safe option unless you have a ventilator and an open-air space for painting.
Top coat: no matter what paint you use for color, there's the option of adding a sealant for an extra layer of protection. While it can be a bit of a hassle, it might mean more years of looking like-new years for the paint job.
Primer: taking the time to prime wood furniture improves the bond between the paint and the wood surface. Even if a paint claims to be two-in-one or all-in-one, take the time to apply a high-quality primer. It does more than cover old paint jobs and hide imperfections in the furniture's surface. It helps the paint grip the surface of the furniture pieces.
Even if you buy the best paint for furniture, if you don't prepare the furniture and use care when painting, the paint job won't last. Unfortunately, there's no formula or paint brand that can do the hard work of painting. But when you do a DIY paint job right, you won't have to do it again for years.
What is the Best Way to Paint Wood Furniture?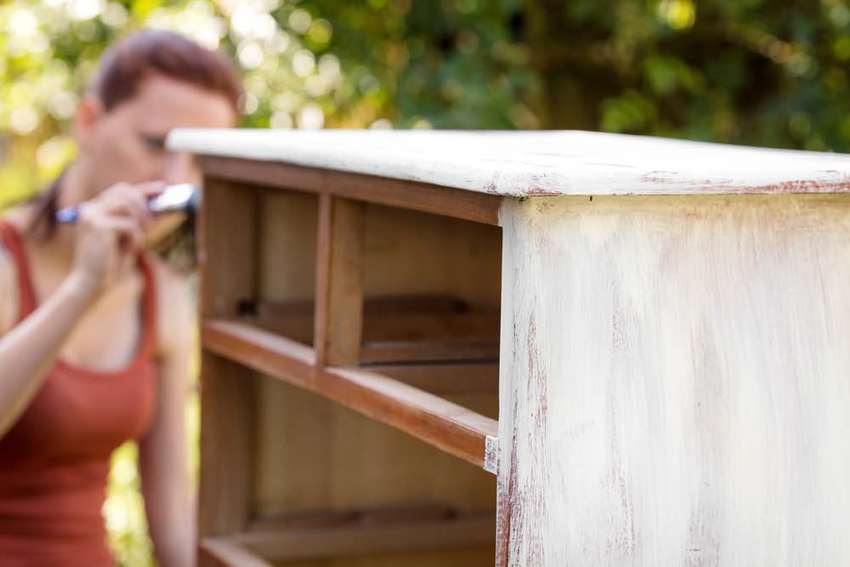 Our tips for getting long-lasting results from a paint job revealed just some steps for the best way to paint wood furniture. It's more involved than just slapping your leftover latex wall paint onto some old furniture pieces. Approach your DIY projects like you're doing a professional job. When you take your time and use the right tools and materials, the final product will show your effort.
Pick the right piece of furniture. Not all furniture is ideal for a new paint job. If it's broken, splintered, molded, or covered in mildew, it may not be worth repainting it. You can clean up and repair furniture. But before buying an old piece at a thrift store, consider how much work it'll take to fix before you being painting.
Clean, strip, and degloss. If your piece has thick paint chipped off in areas, consider stripping off the old paint. But, if you don't mind a weathered appearance, many of our recommendations go right over old paint. Take the time to get rid of visible dirt and dust.
Let the furniture dry. Once you've started on a DIY project, it's hard to chill as part of a thorough preparation to paint. But furniture paint and wet wood don't mix. Avoid using water to clean wood furniture, but if you must, wait a few days before you start with your primer-the drier the wood, the better the bond between furniture and paint.
Apply primer. Use a brush, roller, or sprayer and cover the furniture piece with at least one coat of primer. Let it dry, but not cure. You want to prime and paint the same day.
Sand, if necessary. Always follow the instructions on the can of primer and furniture paint for specifics. With spray paint and chalk paint, there's no need to sand the primer or between layers of top coat. However, semi-gloss and glossy colors are more prone to showing imperfections. When you sand between layers, it will give you a professional finish and improve the bond between slippery paint and wood.
Apply paint. With your top coat, depending on the type of paint for furniture you're using, you may get away with a single layer. For semi-gloss and high gloss, chances are you'll need a second coat for full coverage.
Apply sealant. Only certain types of paint require this step. If you're expecting ongoing "antiquing" by your kids, pets, and a busy household, don't bother with a sealant. But if you want glossy furniture or a pristine finish, use either a wax, spray sealant, or water-based polyurethane to protect the wood from dents, scratches, and chipping.
The thing we love about DIY projects is how you can customize every aspect of your home and style. From color options to paint type, every decision is yours to make. There are no right and wrong answers! Following the above guide for painting wood furniture will give you the best results, but if you don't have the time, tools, or materials, you can adapt our guide for your home and what's right for your project.
The Best Paint To Use on Furniture Without Sanding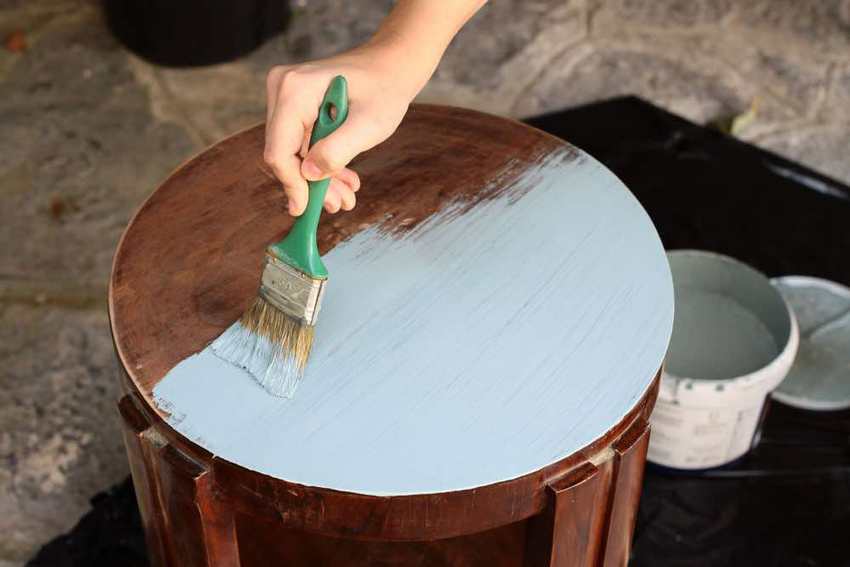 It's the question everyone asks and dreads the answer, "Do I have to sand?" In a word, no. But sanding wood furniture both before priming and in between coats of paint will give you a more professional, even finish. And sanding wood before primer helps the primer bond with the surface of the furniture. Think how easy it is to scrape paint off glass vs. get it out of carpet-the more porous and messy the surface, the better the bond. However, by using some specific types of paint, you can skip the sanding step outright.
If your primary concern is avoiding sanding (and we don't blame you if it is), use thick paint with standout bonding properties.
Chalk paint: goes on thick, with a super-matte finish and excellent adhesive properties. You often only have to do one coat with this paint. While a matte sheen is the only option, most brands come in a variety of color options.
Milk paint/acrylic paint: since you mix up the milk paint at home with powder, you can buy an actual bonding agent to add yourself. The result is an antique finish, without the hassle of sanding.
Bonding primer: while it's an extra step before the top coat, a bonding primer works extra hard to connect paint with furniture. And let's be honest-priming is way easier than sanding.
DIY furniture painting is a rewarding, creative hobby that might even turn into a profitable side business. Keep an eye out at thrift stores, sidewalk sales, and on trash day, because something as simple as a coat of paint can transform old, worn-down wood furniture.