If you're considering using chalk paint for your next DIY project, read this guide on chalk paint's pros and cons first.
Below, you'll learn this type of paint's advantages and downsides.
Chalk paint usually dries faster than other options and is easier to use. But it's also pricier than competitors and has more limited availability.
That's why we wrote this guide on chalk paint pros and cons so you can decide whether or not it's worth it.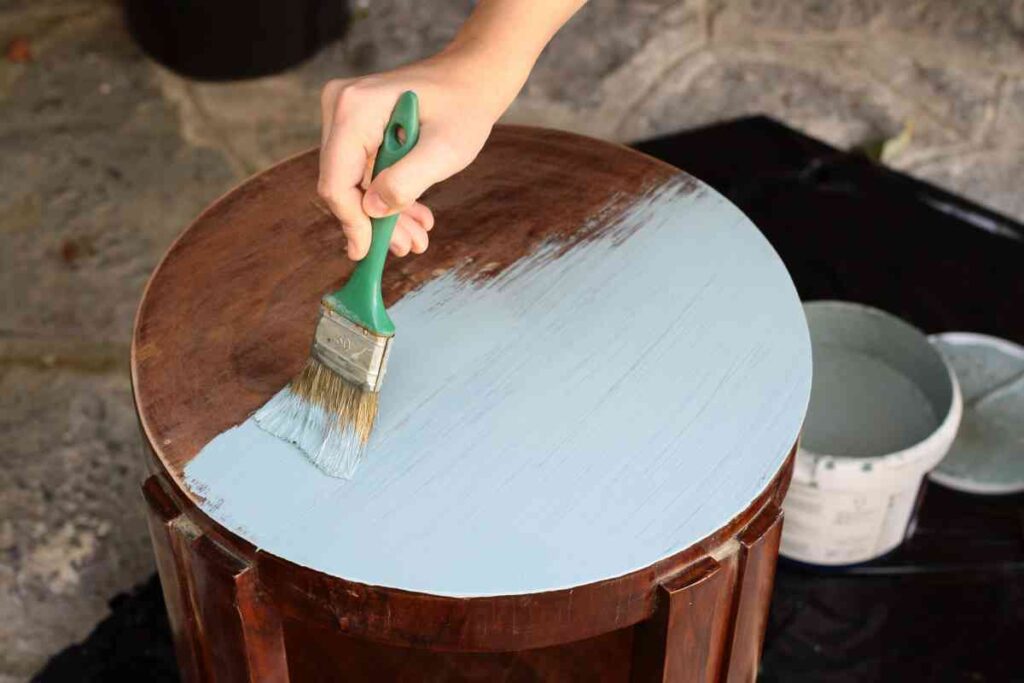 ---
What is Chalk Paint?
Chalk paint was introduced to the DIY market in the 90s by paint brand Annie Sloan. While technically trademarked, chalk paint has taken off, and many copycat versions are now widely available.
You might confuse chalk paint with chalkboard paint, but the two could not be more different. Rather than creating a surface you can write on, chalk paint creates a matte, vintage-inspired finish.
It gives furniture a gently-aged appearance and a distressed texture that works with minimalist, rustic-chic, and bohemian decor.
---
Pros of Using Chalk Paint
Now that we've defined the product let's keep our chalk paint pros and cons guide rolling and discuss the benefits first.
Easy to Use
Chalk paint is among the most accessible paints to use on the market. You'll appreciate its simplicity if you're just dipping your toe in the DIY scene.
Since chalk paint is widely used to give furniture a distressed appearance, you can forgo much prep work. You want your project to have imperfections like wood grain or aging lines since it adds to the vintage look of a piece.
There are various ways to use chalk paint, ranging from spray paint to liquid paint. It also blends easily if you're trying to mix colors.
No Sanding or Priming Required
One of the most remarkable aspects of chalk paint is that it doesn't require any sanding or priming beforehand.
It adheres to furniture wonderfully with minimal prep work. All you have to do is give your project a quick wipe-down to remove any dust or dirt, and that's it.
Not only does this save you valuable time in the workshop, but you'll also be conserving cash. There is no need to spend your money on primers or sanders when a single can of chalk paint gets the job done.
Versatile with Surface and Color Options
Another impressive feature of chalk paint is that it binds to most surfaces, including bare and finished wood, glass, metal, and even fabric.
We're not just talking about indoor surfaces either. Chalk paint also adheres to concrete, plaster, exterior walls, and terracotta.
You'll have difficulty finding a surface incompatible with chalk paint. This remarkable versatility will help you get more bang for your buck since you can use your purchase on multiple projects.
Dries Quickly
The last impressive aspect of chalk paint is that it dries fast. Working on a project and taking long breaks to give the paint time to dry can be cumbersome, but not with chalk paint.
This option will dry completely in under an hour, though it will feel dry to the touch in mere minutes. If you hate spending time between coats, chalk paint might be your best bet.
---
Cons of Using Chalk Paint
Now that you learned the advantages, let's keep our guide to chalk paint pros and cons going and discuss the downsides.
Can Look Messy
One of the best features of chalk paint is also a disadvantage. By design, chalk paint is meant to look older and rustic. Since this option makes creating a distressed look on furniture simple, it can be easy to overdo it and end up with a messy, unfinished surface.
Chalk paint can also highlight imperfections on the surface. In some cases, this can be desirable if you're going for a vintage look, but other times it might make your reclaimed piece of furniture look older than it actually is.
Requires a Sealant for Durability
Another downside is that chalk paint isn't durable enough to hold its own without a sealer. Used alone on a surface, you'll find it chips rather easily. If you paint it on a high-traffic surface like a coffee table or desk, it will decay fast without a top coat.
Luckily, chalk paint can last a long time if you use the right protection, even in outdoor settings.
Limited Availability
Since chalk paint is relatively newer on the market, you might have difficulty finding a wide selection. The market is dominated by acrylic and latex paint, which have existed since the 1940s.
You may have to spend extra time to find the best chalk paint for your DIY needs. That's why we wrote a guide on the best chalk paints to help you find the most suitable option without hemming and hawing.
More Expensive than Traditional Paint
Lastly, the biggest downside of chalk paint is that it's more costly than competitors. You'll find it's around 30-40% pricier than traditional paints like acrylic or latex. This extra cost can affect your DIY budget, especially if you go for a more specialized, eco-friendly option.
---
How to Use Chalk Paint
Now that you've read our guide on chalk paint's pros and cons, let's show you how to use the product.
Preparation of Surface
Before you start painting, you'll want to prepare the surface first. We mentioned that chalk paint doesn't require any prep work, which is mostly true. With most furniture, you can wipe the surface down with a cloth and then go to town with the paint.
There are a few exceptions to this rule. If you're painting furniture from the 1930s or '40s, check if there's an oil-based finish on the surface. If so, you'll want to sand it beforehand since chalk paint will draw out the oil and make it bleed through.
The same goes for laminate; sand the surface prior so the chalk paint has a textured surface to adhere to.
Application Techniques
The nice thing about chalk paint is that there are quite a few different application techniques.
You can use different brush strokes to create more visual interest in your surface. Or you can paint a couple of coats and then carefully distress using sandpaper for a vintage look.
Mix your chalk paint with water and apply it on raw wood for a lovely tint with natural grain showing through. You can also apply wax to create a supple finish on your project.
These methods are just a few options for how to use chalk paint. This versatile paint makes it easy to get your creative juices flowing.
Choosing the Right Sealant
Finding the right sealer is imperative to the chalk painting process. It will protect your project, saving you time and money in the long run. Plus, sealer helps create a nice satin finish on your furniture.
The best sealers for chalk paint are water-based polyurethane or wax, and both have their own unique pros and cons.
Water-based polyurethane is the most robust sealer out there and will help protect high-traffic home decor for years to come. The main downside is a slight risk of potential yellowing over time.
Finishing wax is another popular topcoat that helps seal chalk paint projects for longevity. It's natural and waterproof but requires touch-ups every few years.
If you're not sure which top coat to buy, read our guide on sealing chalk paint for the complete rundown.
Maintenance and Touch-Ups
Chalk-painted furniture only requires a little upkeep. Use a slightly damp cloth to clean surfaces every so often. If you use a wax finish, you may have to touch it up every few years to keep your furniture in tip-top shape.
---
Recommended Chalk Paint
This wouldn't be the ultimate guide to chalk paint pros and cons without listing some of our favorite options. If you're looking for the best chalk paint, here's what we recommend.
Folk Art Antique Acrylic Chalk Paint
FolkArt's acrylic chalk paint provides an ultra-matte finish with minimal surface prep work. You can use this paint on wood, metal, glass, and terra cotta, just to name a few options.
This American-made paint offers many different colors to speak to various design aesthetics and comes in a convenient 8oz size.
Country Chic Chalk Style Paint
Country Chic chalk style paint is built with a primer and top coat, saving you time and money throughout the DIY process.
This fast-drying paint comes in many colors, ranging from Raspberry Sorbet to Vanilla Frosting. It's low odor and eco-friendly, with no harsh chemicals in the formula.
Jolie Paint
Jolie chalk paint gives you high-end chalk paint with an affordable price tag. This option doesn't require any priming or sanding and boasts superior coverage to give your surface a full, matte finish.
Jolie Paint is non-toxic and lists all the ingredients on its website to promote brand transparency.
---
Chalk Paint Pros and Cons: Summed up
We hope you found some answers by reading our guide on chalk paint's pros and cons. If you're ready to get started but need ideas on what color paint to purchase, be sure to check out our 21 chalk paint colors for furniture that you'll love.
Despite its limited availability and costly price tag, chalk paint offers an easy, low-hassle way to paint a DIY project.
Now that you know the pros and cons of chalk paint, read our painting furniture guide for more helpful crafting tips.