It's amazing to see what people are able to do with repurposed furniture. Old or damaged pieces that otherwise might be trash can be transformed into something beautiful and useful.
Upcycling furniture into something fresh and new has become increasingly popular in recent years. Whether it's as simple as refinishing a worn-out table or something more complicated like transforming a broken dresser into a media stand, repurposing furniture is a fantastic way to breathe new life into old pieces.
If you're curious about repurposed furniture, keep reading! I'll show you the basics of how to do it, what you'll need to get started, where to look for pieces to refinish, and much more.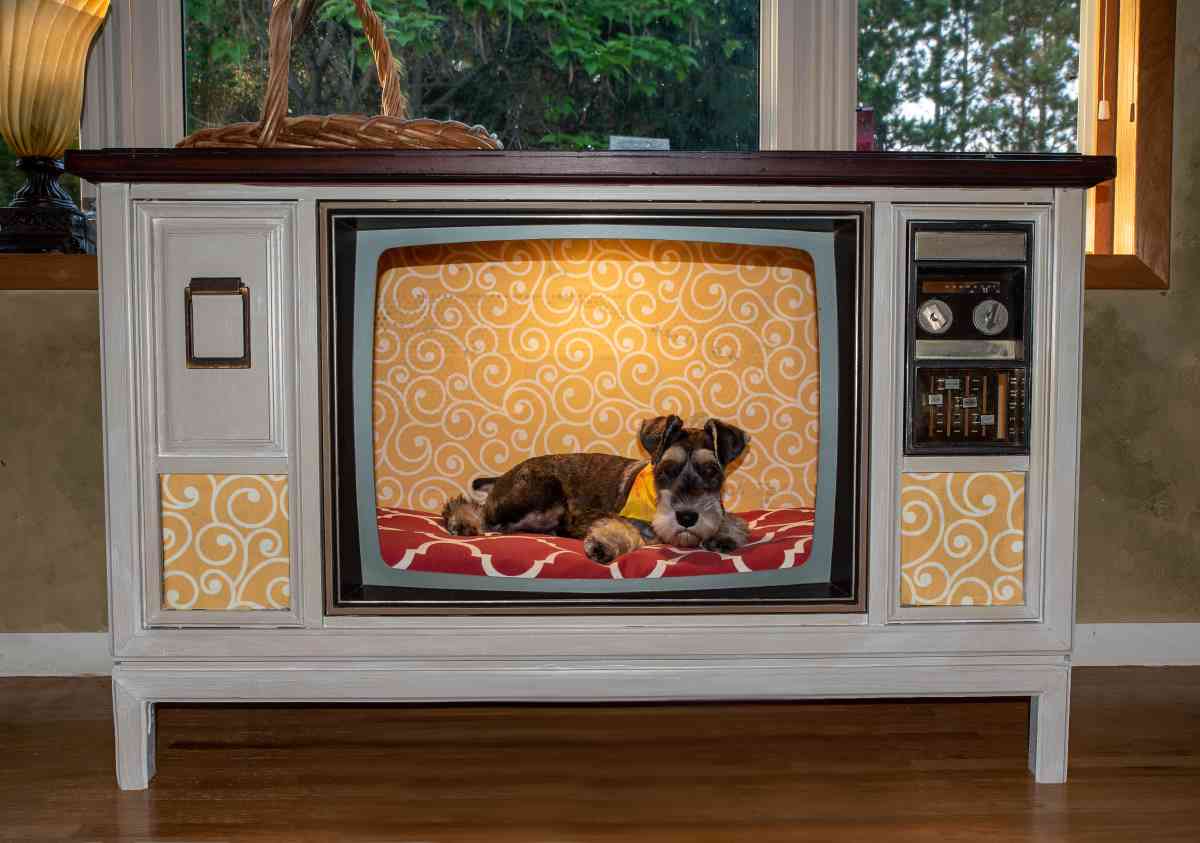 ---
Why Repurpose Furniture
It's not just a popular trend, upcycled furniture projects have a lot of practical advantages!
Create Something Unique
When repurposing old furniture, you can create something unique and truly one-of-a-kind. There won't be another piece exactly like yours. It's a great way to personalize your space and express your personality.
Save Money
Repairing and repurposing old furniture is much cheaper than buying brand-new pieces, especially if you refinish something you already have!
Be Kind to the Planet
Repurposing old or damaged pieces saves them from going to the landfill, helping your wallet and the planet at the same time! That sounds like a win-win to me.
---
How to Use Repurposed Furniture
The great thing about using repurposed furniture is you can use it however you want. A dresser doesn't have to be used as a dresser. It could be transformed into a media stand or an entryway table. A desk could become a coffee table or a kitchen island. An old bedframe can be remade into a bench or a swing.
The only limit is your imagination. Look at things in new ways and see what you can come up with.
---
The Basics of Repurposing Furniture
Turning old furniture into something new can be as complicated or as simple as you like. Sometimes, you may want to add or remove pieces to change the furniture into something new. For other pieces, a fresh coat of paint is all it needs.
Come up with a Plan
The first step to repurposing furniture is to come up with a plan. Once you've selected a piece to repurpose, decide how you want to use it and go from there.
After you've figured out how you want to use the piece, the next step is to decide how you want it to look. Are you going to add or remove any pieces? Will you need paint or stain? Do you want to change the hardware?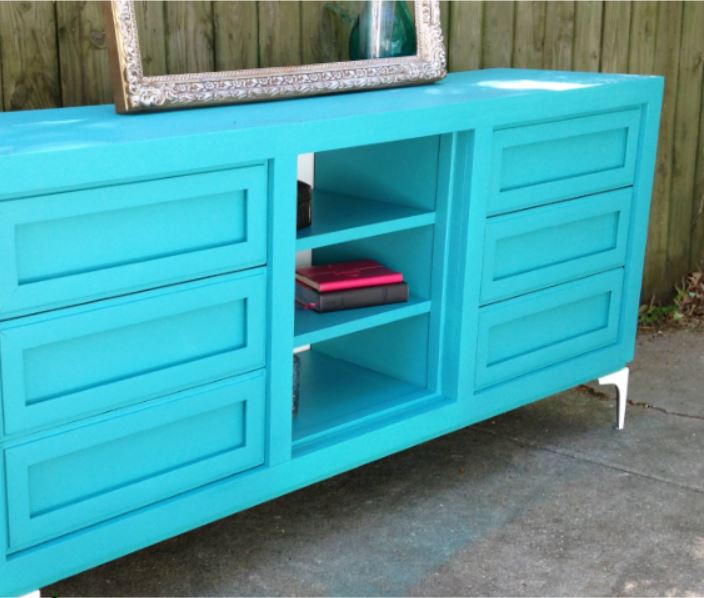 If you're unsure what to do, look for inspiration online or by visiting a local store that sells repurposed furniture. Getting ideas is a fun part of the process, so let your imagination go wild and see what develops!
Gather your Materials
Once you have a plan in place, it's time to start gathering your materials.
As a general rule of thumb, gathering everything you'll need for a project before getting started is always a good idea.
I don't know about you, but I hate starting a project only to have to stop midway because I forgot something important. When that happens, I often have to go to the store or order something online, which takes time. Meanwhile, the project gets pushed aside or forgotten until I have time to get back to it.
To avoid that from happening, make sure you have everything ready before you start! That way, you keep the momentum going.
Fix What's Broken or Missing
If your furniture has broken or missing pieces, remove or repair what's damaged. Remember, you don't have to use items the same way.
For example, a dresser with falling-apart drawers could become a bookshelf or cabinet. In that case, you would want to remove the broken drawers rather than repair them.
You may also want to add something that wasn't there before, like cabinet doors to that broken dresser.
Once repairs and changes are done, take some time to fill in any major dents or holes with wood filler. You don't have to fill in every scratch and scrape. A bit of natural wear gives repurposed furniture a weathered look and adds to the character of the finished product.
Sand and Clean
Now that your piece has been reconstructed (or deconstructed) how you want it, it's time to get ready for paint.
Repurposed furniture doesn't always need to be sanded, but in many cases, it's helpful. Sanding removes old, chipped paint giving you a smooth surface for fresh paint. Sanding helps scuff up the finish on glossy surfaces to give the new paint something to stick to.
Once you've finished sanding, grab a rag and a bucket of soapy water and wipe down everything really well. Removing old dust and grime helps the fresh paint or stain go on smoothly and evenly for a beautiful finish.
Paint or Stain
This is one of the best parts of repurposing furniture! Once you add that new color, the project really starts to take shape.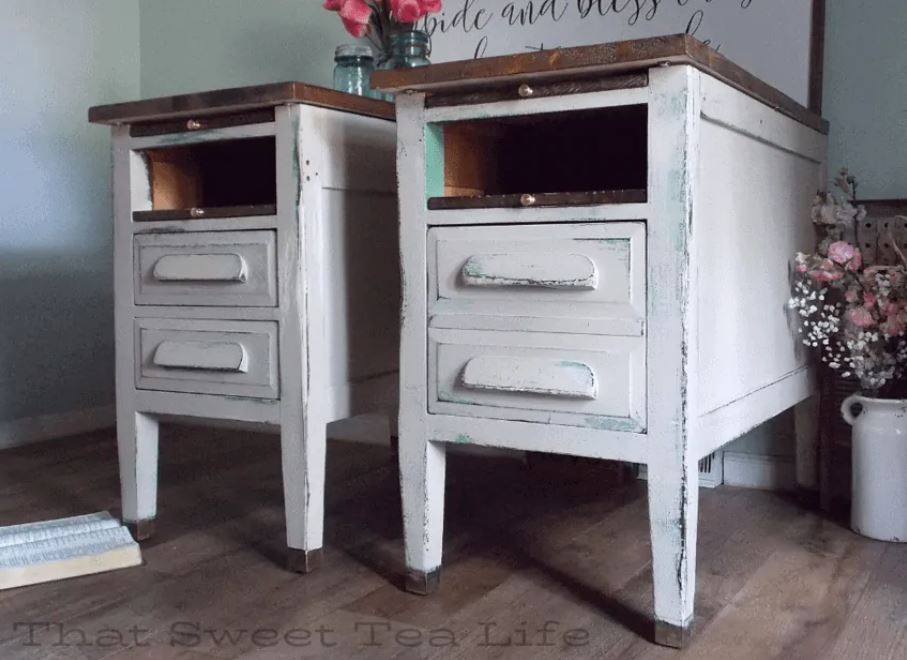 After cleaning, let the furniture dry fully before adding paint or stain. Follow the application instructions on your chosen product to achieve the best results. It can be tempting to rush things, but always allow the proper amount of dry time between coats.
Enjoy your Finished Product!
Once you're finished, pat yourself on the back for a job well done, then sit back and enjoy your new-to-you piece of furniture!
---
What You Need to Start Repurposing Furniture
Having the right tools makes repurposing furniture easier and faster. You won't need every tool for every project, but having an idea of what's out there is a good place to start.
Here are some useful tools for getting started. You probably have some of these at home already!
Sanding and Filling Tools
An electric sander makes sanding quick and easy.
For smaller jobs, assorted grit sandpaper is a practical choice.
Wood filler is good for filling in dents and scratches.
After applying wood filler, use a putty knife to smooth it down.
Paint, Stain, and Sealer
Spray paint is inexpensive and easy to use. It works great for many furniture projects.
Chalk paint is a popular option for repurposed furniture.
Wood stain is another option you'll want to consider for certain projects.
Paint brushes are a simple way to apply paint or stain.
Chalk paint brushes should be used for applying chalk paint.
A paint sprayer gives your projects a professional look. If you're planning to do a lot of projects, a quality paint sprayer is a great investment.
Painter's tape is essential when you're only painting a certain area or when applying two different colors to the same piece of furniture.
A polycrylic sealer protects your fresh paint job and ensures it will look great for years to come.
Protective Equipment
Drop cloths help to keep your work area clean.
Cloth rags are handy for cleaning furniture and catching drips and spills as you paint.
Protective eyewear is always a good idea when working with wood and paint.
A pair of work gloves are ideal for sanding, while disposable gloves work well to protect your hands during painting, especially when using a messy product like spray paint.
Additional Tools
Scrap wood from old projects.
---
Where to Find Furniture to Repurpose
There are so many places to look for furniture to repurpose, the possibilities are endless!
Start with what You Already Have
Your own home or garage are great places to start. If you have an old piece of furniture that you just don't love, why not give it some new life by repurposing it?
There may be pieces you've shoved to the back of the garage or left in the attic. Look at what you have that could use a fresh look before shopping.
Thrift Stores
When you do hit the stores, thrift stores like Goodwill or the Salvation Army are great places to look. These stores are often treasure troves of old furniture. They carry everything from dressers and tables to bed frames and china cabinets. You never know what you might find!
What's great about thrift stores is they're always getting new stuff in. If you don't find something you like, you can always go back another day and look again.
Garage Sales
Garage sales are one of the best places to find old furniture on the cheap. Most of the time, people use garage sales to get rid of stuff they no longer want. That means they're usually willing to bargain so you can get some really great deals.
Check your local newspaper listings to find nearby garage sales. For the best selection, go early in the day. For the best bargains, go a little bit later. Towards the end of the morning, people are ready to be done, and they're more likely to make a deal.
Estate Sales
Estate sales are another great place to look for old furniture. These types of sales often have antique and vintage pieces for sale.
Check your local newspaper or look online at estatesales.net to find an estate sale near you.
---
Selling and Gifting Repurposed Furniture
Once you get into repurposing furniture, you'll want to do it all the time! Repurposed furniture makes an excellent personalized gift for the friends and family in your life. When gifting furniture, you can make something unique and special designed just for that person.
Selling repurposed furniture is a great way to continue with the hobby. Get a flea market or craft fair booth, sell items on Etsy, or use free online resources like a community page or Facebook Marketplace to sell your completed projects.
---
Repurposed Furniture Before and After
Seeing what other people have done is a great way to get ideas. You may be inspired to make something you didn't know was possible before. Here are some ideas to get you started.
Roll Top Desk into Farmhouse End Tables
This old broken desk was transformed into two farmhouse chic end tables.
Dresser into a TV Stand
Here an old, dated dresser was turned into a bright and modern TV stand.
Upcycled Rocking Chair
This worn-out rocking chair gets a whole new life with a fresh coat of paint and some stencil work.
---
Time to get Started with Repurposed Furniture
Are you ready to get started? There are many opportunities to create and explore when it comes to repurposed furniture. Whether you want to find something broken to make into something new or just repaint a piece of furniture you already have, repurposing furniture is a great way to bring out your creative side.
To get more ideas for your next project, don't miss the inspiration section on the blog. And if you're ready to get started, visit the DIY page for tips and tricks to help you along the way.