If your space is felling a bit lackluster, one of the best ways to add inspiration to your personal space is to use paint. In fact, the right colors can have a positive effect on your mental health and well-being. For one thing, teal may improve your mood by making you feel calmer or even rejuvenated. If you're looking for a color to give your furniture a vintage flair or just brighten your day, then you might want to try out a teal chalk paint project or two.
We've compiled a list of DIY teal chalk paint projects you can do to help brighten up your space or get your crafty on.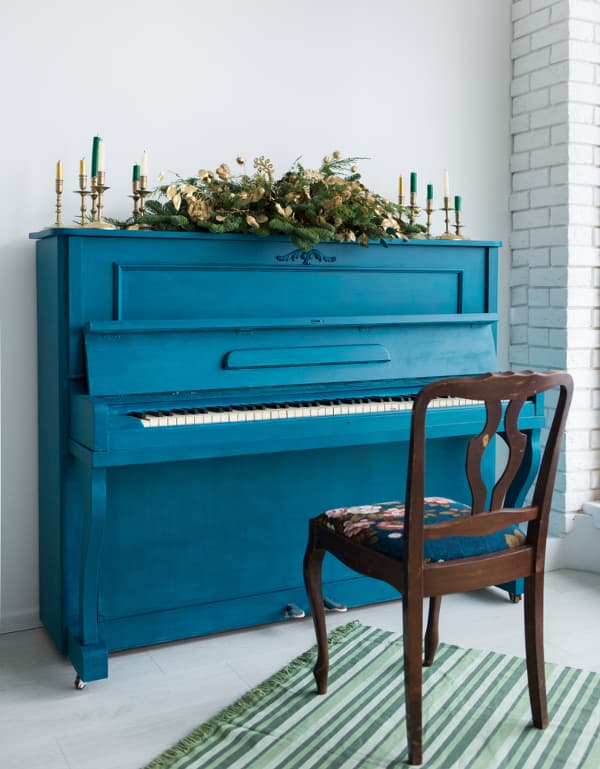 A Brief History of Teal
I always think its fun to learn a little bit about where things came from, don't you? Although teal was used a lot in the 1950s and 1960s, its first recorded use as an English color name was 1927.
A common belief is that the color's name comes from the common teal, which is a duck with eyes ringed with this color. Additionally, teal derives from tele, which is a Middle English word, meaning "at a distance."
The Meaning of Teal
For Egyptians, teal is a symbol of faith and truth. On the other hand, Tibetan monks see it as a reminder of the endless vastness of the sky and sea. The combination of green and blue lends the hue a sense of renewal and calmness.
Moreover, it can represent clarity of thought and open communication. Accordingly, if you have anxiety or feel socially isolated, teal might help you feel healthier and happier.
From Plain to Pretty
Taking a furniture piece or craft item from drab to dreamy can be a simple task, especially when using teal chalk paint. You can use a spray or paintbrush to apply this regenerating hue.
And, if you're like me, the best part is you'll be able to take your thrift store finds out of storage and make them like new again. This way, setting them out for display will be more exciting than ever. I just love upcycling the things I find for cheap, don't you?
1. Revamp Thrift Store Items
Plenty of people would love to restore a cheap thrift store item to make it appear brand new again, but don't follow through because it seems like too much work. This couldn't be further from the truth when using chalk paint.
Chalk paint makes most DIY or upcycling projects a breeze due its ease of use. The hardest part is often deciding what color to use. And since you're here, chances are you have decided that teal chalk paint is where its at. This means you don't have to put off a project for another day if you don't want to.
Worst case scenario, the piece you've chosen may need minor sanding and a quick cleaning before you start. From there, you are free to paint (and distress) your piece however you want. Once you are finished painting, allow three days to dry and cure before applying a sealant to your finished masterpiece.
2. Paint a Piano
I know what you're thinking – painting a piano sounds crazy and complicated. And while painting a piano might seem like a huge project to take on, breaking down this seemingly daunting task into small steps can make it simple. There are several tutorials on how to do this, step-by-step, online. Be sure to do research on how to do it beforehand, so you understand how much easier it can be with chalk paint, because it really is a simple task.
And teal chalk paint will not only brighten up your instrument but will also fit your personal style and give the piece some amazing character. Try adding a touch of gold paint to strategic areas to add a classy touch and make it extra extravagant.
3. Make Alluring Jewelry
Plenty of women enjoy donning beautiful teal jewelry and would probably love to make a few pieces. Making jewelry is one of the most fun DIY craft projects you can do.
To create a unique beaded necklace, you just need a few items, including wooden beads, string, and teal chalk paint. For this project, you have the option to use either spray chalk paint or canned chalk paint.
Simply place your beads in a container or box, pour in or spray them with your teal chalk paint, then roll the beads around in your container. You can do this till you achieve full coverage, or just partially cover the beads to create unique designs as they roll through the paint.
When you're done, you'll be able to show off your one-of-a-kind necklace, bracelet or earrings.
4. Glamorize Pumpkins
I love the fall. It's my favorite time of year. I love the weather, décor, colors, smells. And one of the recent trends that I just love is adding a splash of teal into the mix. A simple way to do this is to use teal chalk paint on a few pumpkins to add some variety to the mix.
You can even glam them up by shaking a little glitter onto the wet paint to give your pumpkins a dazzling effect. Teal pumpkins also let trick or treaters know you are providing allergy friendly goodies when they come knocking at your door. For more information on this, you can check out the Teal Pumpkin Project.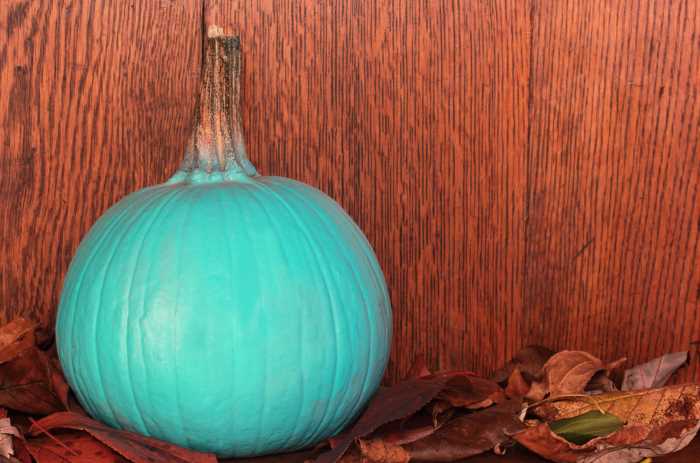 5. Create a Rolling Game Table
You can turn a thrift store coffee table into a rolling game table in just a few easy steps. Just add casters to the bottom of the table, throw a coat of teal chalk paint on it, then load it up with your games. Then you'll be able to roll it out and roll it away whenever you need it.
And you obviously don't want to leave such a unique piece all drab and plain, so you're going to want to jazz it up with some teal chalk paint. When the paint is dry, you can fill the coffee table with board games to use for family game nights.
It will definitely be a conversation piece whenever you have friends over for game night and wheel out this unique and fun piece.
6. Bedeck a Craft Cabinet
Who says the place where you store your crafts needs to be drab and dull. In fact, if anything, this space needs to be vibrant and full of life and creativity. So, if you feel stuck using a plain craft cabinet, or just need a quick DIY project to get those creative juices flowing, then maybe this is a great place to start.
Just prep it, pick up a paint brush and get to work revitalizing it with your teal chalk paint. You can let your creativity run wild while you revamp this piece. And when you are finished, you will always look forward to heading to your gorgeous cabinet to grab any craft supplies you need. This project may be helpful in motivating you to get involved in craft projects and learn new craft skills you've never dared to try.
7. Add Charm to a Mason Jar
Although mason jars are highly useful for storage, decorating with them can give your home some aesthetic appeal, especially when you add a splash of teal into the mix.
There are so many options to do this, depending on how you want to use the jars in your home. You can choose to apply your teal chalk paint in one of two ways. First, you can apply the paint to outside of the jar with a brush. Simply paint the exterior of the jar with your brush till you reach the desired coverage and allow for it to dry.
Another option is to apply the paint to the inside of the jar. This is done by pouring the paint into the jar, then tilting the jar in different directions to spread the paint around on the inside. This method is great for both full coverage, or if you want to create a designed look to your jar.
Once you have finished and your jar has dried, you can add some burlap or tie a bow around it and you'll have a charming home décor item. Further, you can put colorful flowers inside to make it stand out in any room. Place your finished jar on a countertop, kitchen shelf or anywhere you'd like. This project is budget-friendly and can be done quickly.
8. Customize Pencils
Why, you ask? I mean, why not.
These days, writing with a bunch of boring yellowish-orange pencils isn't necessary. This is also a great activity to do with your school-aged kids.
You have the choice to make yours as vibrant as you'd like to with teal chalk paint. Your kids will love making their pencils unique and different from all of their friends, and it will give you a fun project to spend time together working on.
And who knows . . . using a brilliantly colored pencil can inspire you to write in a daily journal, create poems of epic proportions or be as productive as you'd like to be when pursuing any career goals you may have. This is one of the most effortless projects you can do.
9. Emblazon Objects with Patterns
Despite the expressiveness of single shades, adding patterns can make objects more artistic and complex, and add depth and texture to your space.
You can use a store-bought stencil or make your own. Numerous stencil designs exist so you can paint an intricate pattern onto a garden table or deck, add user-friendly patterns to a ladder or even decorate a wall in any design you admire. There are numerous online video and blog tutorials on how to create a DIY stencil for free. Use teal chalk paint as an accent color with neutral tones or in a mix with other vibrant colors.
10. Coat a Dish Towel Rack
Vintage aficionados can rejoice at the ease of creating a teal dish towel rack. Dressing up your kitchen can help you feel more comfortable showing it off to guests. For design purposes, consider installing your newly fashioned dish towel rack above the kitchen sink, beneath a countertop or wherever you think it looks nice.
It's important to remember that in home design, small details can contribute to the entire look of a room and the overall house itself. But it can be useful to note that taking projects one step at a time can motivate you to actually get started on doing them in the first place. And whenever I'm in a crafting rut, I like to fall back on projects that make my life and home easier to navigate to get my creativity flowing.
11. Embellish a Lamp
One of my favorite thrifting projects is lamps. New lamps are expensive, y'all. So what better way to brighten up a space than to DIY your lamp. As long as the bones and wiring are good, you can take any drab thrift store lamp and turn it into something completely new and unique.
Beautifying an ancient lamp can help you create a one-of-a-kind piece for your home. There are endless possibilities, from painting the base with teal chalk paint, to painting the lamp shade with chalk paint. Yes, you can paint fabrics with chalk paint. Other than paint, you can use hot glue to decorate it with faux jewels, appliques, beads, stones or seashells, whatever fits your style and budget.
12. Makeover a Mirror
Another simple and easy DIY teal chalk paint project is to spruce up a mirror. You can do wonders for a mirror that's lost its original brilliance, or one that you love, but the framing no longer matches your style or décor.
Paint has the power to enhance every little detail of a frame's surface by making each one stand out in exceptional ways. For one, try distressing it to give it an antique look. The process can be a lot easier than you might think. Not only this, but chalk paint dries quickly and requires minimal prep work. There are several techniques and tricks out there for creating different looks with chalk paint, so don't be afraid to do an online search for ideas and tricks to creating just the right look for your mirror project.
13. Refresh a Vase
In as much as you can upcycle mason jars, you can do the same thing with old vases. You can choose to apply the paint to the outside, or the inside of the vase, depending on what you want the finished project to look like,
So, if you have a cheap vase lying around, you can give it a refreshing touch with paint. Further, you can experiment with different finishes, such as limestone, two-tone or chalky. Another thing to remember is that stencils and chalk paint can be a perfect match where crafts are concerned.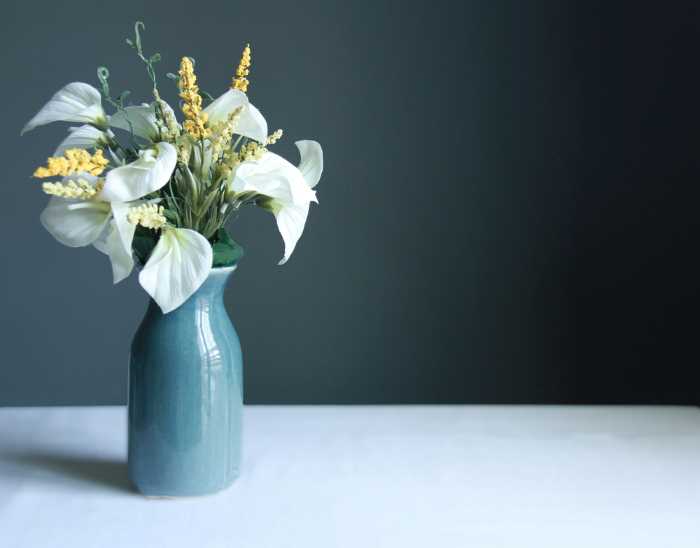 14. Jazz Up a Wreath
If you love making wreaths, chances are you have already tried this in your crafting. However, if you are new to the craft of wreath making, one way to create a unique and different look is to paint the base of your wreath with teal chalk paint.
This typically works best with grapevine wreaths and I personally prefer to use chalk spray paint, versus canned paint, for ease. You'll paint your wreath first, allowing it adequate time to dry, then set about adding your personal touches to create the look you desire.
Turning an average wreath into an updated home décor item will make you prouder to hang it on your front door or a wall. Neighbors, friends and family can appreciate walking up to your front door again and again. In addition, you can create varying wreaths for each changing season. So gather up several pinecones, greenery, ribbons or anything else you need to transform your wreath from basic to fancy.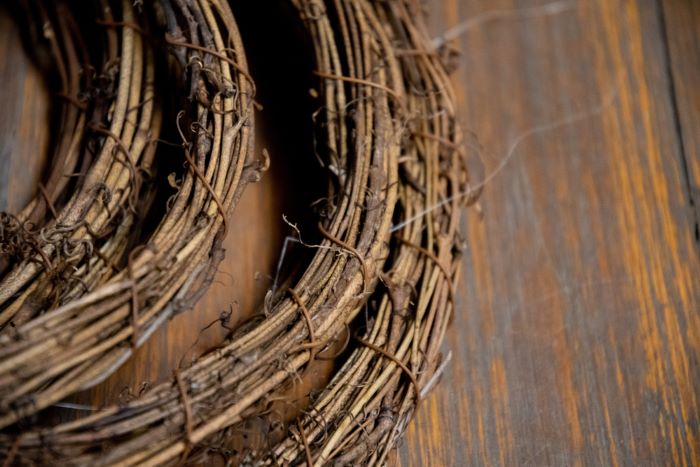 15. Rejuvenate Plates
I feel the need to preface this by saying, this is not a craft for plates you intend to eat on. Now that that's out of the way, if you love the look of a country kitchen and having decorative plates on display, then this might be a crafting option for you.
You don't need to purchase expensive plates to decorate your home. As a matter of fact, try browsing a thrift store online or locally to see what kinds of affordable treasures you can uncover. Before you know it, you'll have darling plates you can decorate yourself and display on your wall.
16. Enliven a Magnet Board
Since an unadorned magnet board isn't as imaginative as it can be, you might choose to give it a coat of paint to liven it up and change the appeal of the board. Not only will this make it fit in nicely with your home design, but it will also be more enjoyable to use. Plus, painting it won't take away from its ability to magnetize objects.
17. Perk Up Some Scrap Wood
It may seem like you can't do anything worthwhile with the scrap wood from your last project, but you might want to think again.
For example, pick up a stencil and fill in the design with teal chalk paint to create an accent piece you can place on a shelf or buffet. Or, you can create a sign that resonates with you.
A few other scrap wood projects you might enjoy making are a shelf, bench, stool, laptop riser, wall art, wooden tote, lanterns, planters, vegetable storage bin, floral holder, bookends and more. The versatility of scrap wood can give you the freedom to create nearly whatever you desire. And when you are done creating, add a coat of teal chalk paint to your finished product to make it visually pop.
Reasons to Use Chalk Paint:
Create Vintage Appeal: Giving your pieces a vintage style can be straightforward and meaningful with the right supplies.
Easy to Use: Chalk paint dries fast, requires minimal prep work and can be surprisingly easy to use.
Give Pieces a Matte Look: Considering that matte finishes absorb light, they can often hide flaws well.
Less Prep Work: Before starting on a project, you don't have to feel discouraged by how long it can take to begin.
Make Items Stand Out: In comparison to when you first bought them, your newly painted thrift store finds can be expressive and unique.
Achieve Different Styles: Whether you prefer a Farmhouse or a modern style, the right paint allows you a certain amount of versatility.
Paint a Whole Wall: Limiting yourself to crafts and furniture isn't necessary when you can paint an entire wall in a color of your choosing.
Extremely Versatile: Depending on which one you use, it can work on various surfaces, including metal, wood, concrete or laminate. You can even use it indoors or outside.
Highly Durable: After applying a protective finish, chalk paint can be exceptionally durable and last a long time.
Conclusion
When you're finished with a project, you may gain a sense of accomplishment. After all, creating something that's worthwhile can give you a boost of positivity. And this can be especially beneficial when you're stuck at home with nothing to do. So, each time you need something to cheer you up, try looking at your finished teal chalk paint project.
Have you recently finished a project is this gorgeous hue? If so, tell us about it in the comments below. We would love to hear about your crafting journey.