I know what you're thinking, and no, I'm not talking about the mossy green color of the 70s that looked more like pea soup than moss. I'm talking about a true moss green. You know the deep, rich green that reminds you of a stroll through the woods on an autumn day after the rain. The same moss green that, when you see it, you want to reach out and touch it, for just a moment, to see if it really feels like it looks – warm, inviting, natural. That moss green.
In nature, green symbolizes growth, harmony, and tranquility, so why wouldn't you want to add it to your own home and create that peaceful feel throughout. So if you are like me, and love to have an earthy feel flowing through your home, then check out these moss green home decorating inspirations.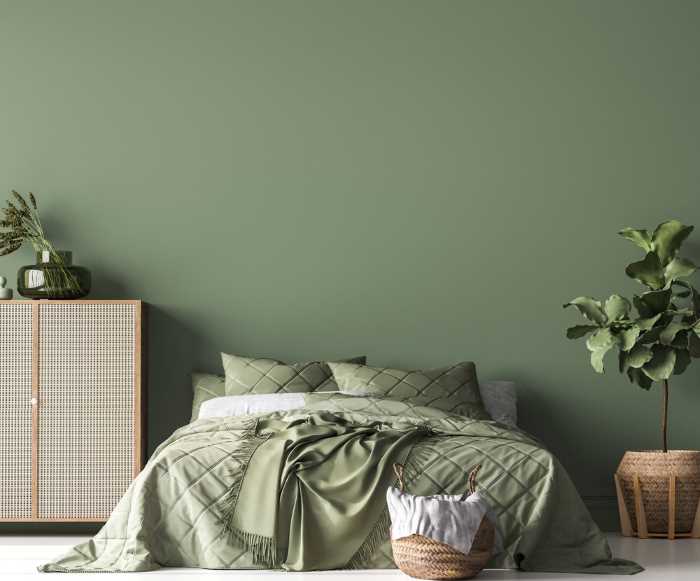 In the Bedroom
If you're like most people, your bedroom is a safe space that is tucked away from the world; a place where you can unwind from your day, take a breather, and rest and recharge for the next day. It's one of the most important rooms in the house for this reason!
Using moss green in your bedroom can help you feel closer to nature and encourage relaxation and a serene environment – excellent qualities to have in your bedroom. Green is believed to be the easiest color for our eyes to process, and for that reason works to help calm us down. So, why wouldn't you want to have this shade in your bedroom?!?
There are so many ways in which you can use this green in your space, from painting the walls, or an accent wall, moss green, to working it into your room's décor by accessorizing with it.
Try using moss green pillows and blankets to cozy up with, or incorporate this color into your bedroom furniture. When you pair these accessories with live plants, not only does it naturally clean the air in your room but it also creates a calm environment that you'll look forward to running home to after a long day of work.
In the Bathroom
In general, green is one of those colors that gives off a clean, refreshing vibe, so where better to add notes of moss green than in the bathroom. Incorporating this hue into your bathroom space with help to create a tranquil aesthetic that will make soaking the days stresses away all the more enjoyable
There are plenty of ways you can incorporate this shade into the bathroom. Since most bathrooms tend to be smaller, and moss green is a darker color, you might want to avoid painting the walls this color. However, you can incorporate this color into your bathroom in other ways, from toothbrush holders and hand towels, to bath rugs and shower curtains. We also recommend finding wall art that incorporates this hue into its palette to create a natural, tranquil space. In doing this, you can add personalization and attractive décor to your bathroom even if you don't own your living space!
Moss Wall
One of the most interesting trends to appear in the last few years is the moss wall. This is a unique take on decorating with moss green. If you want to use actual moss, or lichen, you can do so and create a living wall within your home.
Before you dismiss this idea as something bizarre and crazy, there have been some proven benefits to having a wall like this in your home. It helps to improve air quality, improves productivity, reduces airborne dust – and who doesn't want to dust less, and works as a natural noise reduction.
There are two options when thinking about a moss wall for your home – living and preserved. A living moss wall requires maintenance through water and humidity, while a preserved moss wall requires less care. If you are thinking of adding this décor touch to your home, be sure to weight your options before getting started.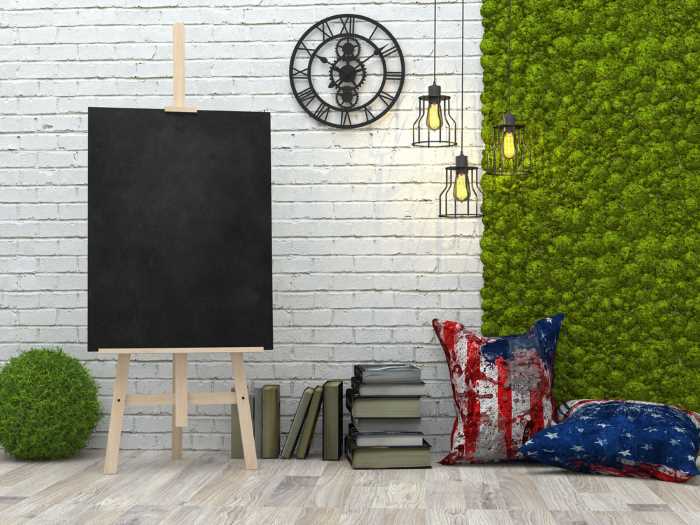 Interior Paint
If a moss wall is a little too bold for your liking, why not try some moss green paint instead. There are several different shades moss green available, so you will want to compare samples to find the shade that is right for you.
Moss green is a rich green that is also soft and inviting, making it perfect for an entire room, or used as an accent wall. It is more forgiving and allows you to use as much or as little as you like!
Because it's a slightly darker shade, it goes on easily over walls that have already been painted with probably no need to prime.
If you do plan to use it to paint an entire room, be sure to use it in a room with a lot of natural light to accentuate the earthy tones in the paint. It will really make the room feel like a natural oasis in the middle of your home.
Exterior Paint
What better place for such an earth, natural color than outdoors. Painted brick has become all the rage in recent years, and moss green is a gorgeous choice for your brick home. This color is so versatile and appealing; you can paint your entire house with it, if you choose. A moss green house with some lighter trim, or natural earthy trim, is a great way to make your home stand out on your block. Just picture it, moss green with natural wood shutters and a gorgeously trimmed front door in your favorite complimentary color.
KILZ has a 2-in-1 paint and primer in the shade of "Deep Moss" which is great for exterior surfaces. Since it is a paint and primer combined, this saves you time not having to prime first.
If painting the entire house isn't the look you are going for, don't worry. There are other amazing ways to incorporate this color into your home's exterior aesthetic. Consider using this paint for the trim of your home, or on your privacy fence. No matter what you decide to do with it, the color is so perfect that it will likely come out fabulous. Stuck on inspiration? Look around online because there are some excellent ideas out there.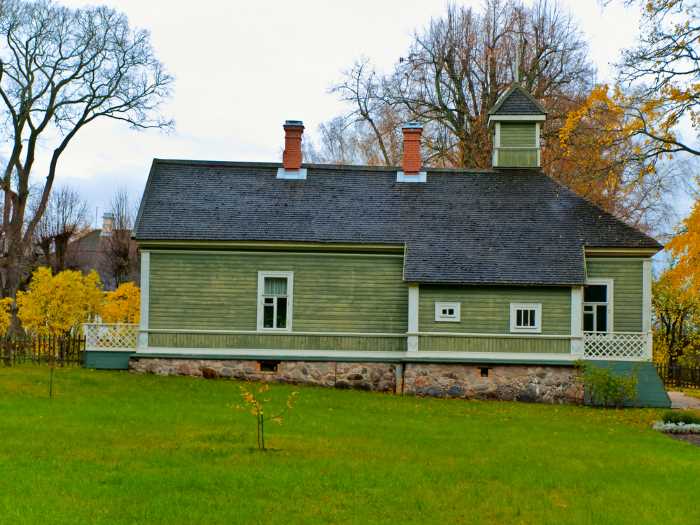 In the Kitchen
If your home is anything like mine, the kitchen is the most used room in the house. Not only do you prepare meals and eat in there, but it tends to become a gathering place at various times throughout the week. So much happens in our kitchens!
For many buyers, a kitchen can make or break a home purchase because it's just that important! I know it was for us, having lived in a home with a small kitchen, we wanted an open, airy space in our new home. This means, the ways we choose to decorate our kitchen are also important.
Moss green is a great choice if you want to make your kitchen just a touch more inviting for your guests or enjoyable for you to cook in. And there are so many options! Painting the walls moss green, when combined with natural wood countertops, creates an earthy and natural feel. Or, you can choose to use it as a backsplash to really add an extra pop of natural color. Or even incorporate it into your décor, through your cookware and table settings.
Décor
If you are't quite ready to tackle painting your room moss green, or are looking for less permanent ways to incorporate the color through your home, then why not start with your home décor?
Moss green makes for great eco-style interior accents throughout a room or your home as a whole. Whether you are using actual moss or just the color, it's hard to go wrong!
While using live moss will make for an interesting, eye-catching decorative piece, you can also find other home accent pieces and artwork for sale that incorporates this earthy hue as the primary color.
In larger spaces, go big! A sofa, chair, or sectional are all great options for adding this color in your home. There is more room to work with and it allows you to use bigger statement pieces.
However, if you're in a smaller space, such as a bathroom, it would be best to stick with smaller artwork to avoid overwhelming the eye. These touches can be as simple as throw pillows or blankets, to well-placed wall art or area rug. There are so many ways to incorporate this shade in your space.
Conclusion
Moss green is a rich, vibrant earthy tone that will add grounding and depth to your home when used. There are so many different ways to incorporate this shade, from the most subtle to the most grandiose. When done the right way, this hue can give your home a relaxed, calming feel that makes unwinding after a busy day all the more enjoyable.
If you love this shade, or have it in your home, share your ideas on how to use it in the comments below. We love hearing your thoughts and ideas.