If you want to transform a piece of furniture, using chalk paint is a great way to get a look that can be either elegant or rustic. The best chalk paints should be super easy to work with and apply to your furniture. KILZ Chalk Paint is an option that is both popular and affordable.
When you use chalk paint, you can cover a wide variety of surfaces, including metal and wood. Also, you can distress chalk paint if you like a more country or vintage look. Your end result will be a finish that is matte in appearance and long-lasting.
Let's dive in and learn all about KILZ Chalk Style Paint and how it can help you give your home and furnishings a fresh look.
History of Using Chalk Paint
Chalk paint is a very thick matte paint that has become popular because of its versatility in covering almost any type of furniture. People love that it can be used to disguise blemishes in nice pieces of wood.
In terms of the phrase "Chalk Paint," the name is actually trademarked by Annie Sloan, the leading supplier of chalk-style paint products. Annie Sloan's chalk paint is a decorative paint with a water base.
KILZ offers a chalk paint style line and a special Magnolia Chalk Style Paint line that they created with Joanna Gaines. In this review, we are covering the KILZ Chalk Style Paint line.
What's So Great About Chalk Paint?
Like most products, there are both upsides and downsides to chalk paint. Perhaps the most significant benefit of using chalk paint is that it adheres to surfaces without requiring that the surface first be sanded.
Chalk paint is highly versatile and is easy to distress if you're looking for a vintage touch. Above all, chalk paint is a paint that doesn't require a lot of prep and offers a nice farmhouse look.
Here are just some of the things you can paint with chalk paint.
Old furniture
Milk bottles
New cheap furniture that needs a nicer look
Garage sale and thrift store finds
Inexpensive decor items
Old photo frames
Fabric
Lamps
Christmas ornaments
Outdated home decorations
How to Choose the Best Chalk Paint
How do you know which is the best chalk paint? The best thing you can do before any painting project is to do some online research. Read the reviews of the various chalk paints available and get a good idea of how they will work for your project.
Typically, chalk paint comes in cans, but you can also find chalk spray paint. For example, KILZ Chalk Paint is available in quart cans on Amazon and in retail stores. Whether you buy the quart cans of paint or spray paint will depend largely on how easy you want the job to be and how you plan to use it.
In terms of reviews, Amazon reviewers say that they're just as happy with KILZ Chalk Style Spray Paint as they are with the chalk paint that comes in cans. On Amazon, there are several different color options available
How to Use KILZ Chalk Paint
Chalk paint is famously easy to use because there is technically no "prep" required. However, you will be much more satisfied with your final piece if you take the time to prepare your piece.
Follow these steps for best results when using chalk paint.
1. De-Smell Your Piece
Get rid of the smells in the furniture. Do some research and use whatever technique is recommended for removing odors from whatever you're planning to paint.
2. Clean Well
Find the recommended cleaning technique and product for whatever material you're painting and clean it well. Be sure to allow your furniture to dry completely before painting it.
3. Repair Damage
If desired, fill any holes that are in the furniture with spackling or other products. You can use wood filler for this, too.
4. Consider Sanding
You don't have to sand furniture that you're going to paint with chalk paint. However, a light sanding with 120-150 grit sandpaper will help your final piece look better. Also, the paint will adhere much more securely if you sand it. Finish it off with a light sanding with a 220 grit sanding block.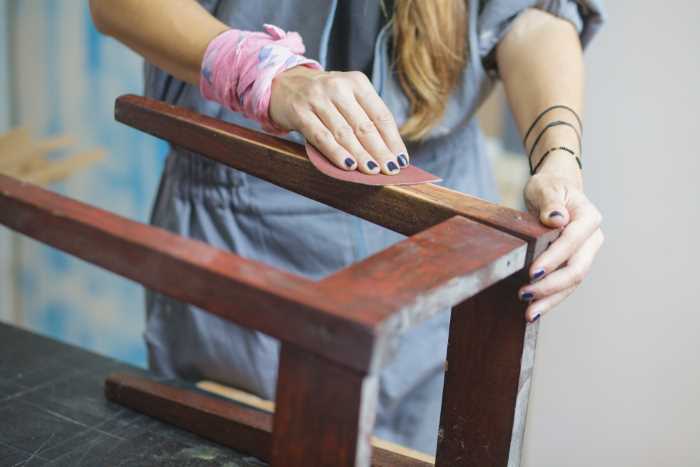 5. Prime Stained or Unfinished Wood
Prime your piece to prevent bleed-through and staining on your finished product. Also, if you're painting unfinished or raw wood with chalk paint, you will need to prime it to keep your chalk paint from soaking completely into the wood.
Chalk Paint Coverage
When discussing coverage, it's important to note that KILZ Chalk Style Paint isn't as thick as Annie Sloan. This can be seen as a pro or a con, depending on what you're doing with it.
However, the KILZ chalk paint does give excellent coverage and goes on smooth before drying to a gorgeous matte finish.
Chalk Paint Durability
When it comes to durability, chalk paint has its limitations. For one thing, we don't recommend using chalk paint in areas of your home that get a lot of moisture. This includes most surfaces in the bathroom or kitchen.
Moreover, chalk paint doesn't wear as well on pieces of furniture that are used heavily. For example, the kitchen table isn't the best project to tackle with chalk paint. Alternatively, if you want to paint a decorative table that is seldom used, go for it.
Obvious high-use pieces of furniture include coffee tables if you place hot or cold foods and beverages on them.
KILZ Chalk Paint Colors
The KILZ Chalk Style Paint line comes in 13 colors in the cans. If you opt for spray paint, you can choose between six different colors. You can see all of the different colors on the KILZ website.
KILZ Chalk Style Paint Colors
The KILZ Chalk Style Paint in the cans comes in the following colors:
White
Cameo Coral
Chalk Gray
Blue Juniper
International Gray
Platinum Ring
Yellow Duckling
Smokey Eyes
Toasted Poppyseed
Swedish Blue
Basic Teal
Red Flare
Authentic Navy
KILZ Chalk Style Spray Paint Colors
The spray paint comes in the following colors:
White
Blue Juniper
Platinum Ring
Authentic Navy
Toasted Poppyseed
Cameo Coral
Clear Coat and Wax
Additionally, KILZ offers dark wax and clear wax that you can use to seal your final piece. The clear coat is available in an aerosol spray and it's very easy to use. After you spray your piece, you will need to allow it to cure for a few weeks before it will hold up to heavy usage.
KILZ Chalk Paint Pros
One of the most significant pros to buying KILZ Chalk Paint is that it's much less expensive than brands like Annie Sloan. For a fraction of the cost, you get a product that many users say is just as good as the more expensive brands.
Another big plus is that the paint dries quickly between coats so that you can get your job finished more quickly.
Equally important is the fact that you can find KILZ products at most retailers that sell paint and supplies, including Walmart and Amazon.
One thing that reviewers note is that KILZ Chalk Style Paint isn't as thick as Annie Sloan, and that may be a plus for many projects. Nevertheless, two coats are enough for most of the pieces you want to paint with chalk paint.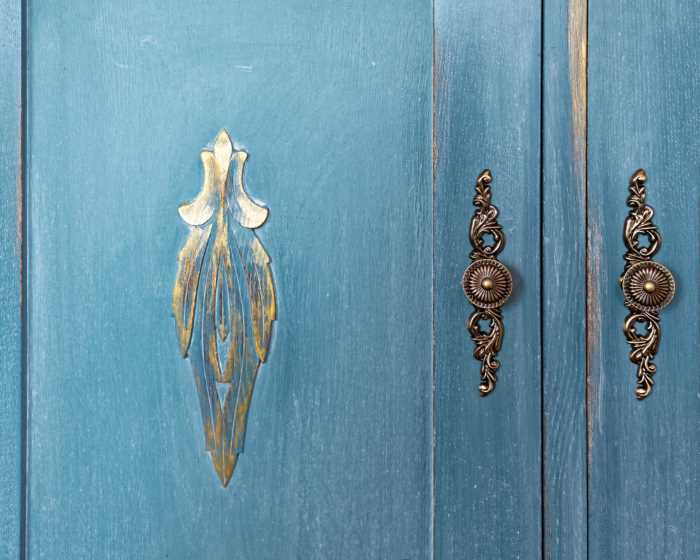 KILZ Chalk Paint Cons
Like most paints, there are some downsides to using KILZ Chalk Paint. For one thing, you will need to apply more than one coat to whatever you're painting. However, that's the case with most paint jobs.
Also, when using chalk paint, most people apply a layer of wax to finish off the job. This is a step that can usually be skipped with other types of paint.
Some reviewers noted that this paint isn't as smooth as Annie Sloan and there may be some streaking. This works well with some projects, but if you're going for a sleek look, you may be better off going with a more expensive brand.
When You Can't Use Chalk Paint
There are some things that aren't best served by painting them with chalk paint. Simply put, chalk paint isn't the best choice for every single project you want to tackle. Here are some projects that aren't well-suited to KILZ Chalk Paint (or any chalk paint).
Bathrooms or other high-moisture areas
Furniture like mahogany or knotty pine that bleeds through
Unprimed raw furniture (you just have to prime it first)
Heavy-use items like the kitchen table
Super low-quality furniture
Anything that you want to have a sleek satin smooth look
If you have your heart set on using chalk paint to paint your kitchen cabinets, you can do it, but you will need to take some extra steps. For example, they will need to be sealed well with a poly sealer (not wax) after you paint them.
Chalk Paint Supplies
The list of supplies for painting with KILZ Chalk Paint looks similar to what you would use with any other type of paint.
Paint
Paintbrushes (unless you're using spray paint)
Painter's tape
Dropcloths
Painting trays
Wax (optional)
Polycrylic (optional
You will need to use either wax or polycrylic. One good option is Minwax Matte Polycrylic.
KILZ Chalk Paint: The Final Verdict
For the price and quality, it's hard to go wrong with KILZ Chalk Style Paint. It's much less expensive than Annie Sloan and users love it just as much. For novice painters, KILZ Chalk Style Paint makes it really easy to make your furniture look great.