If you have been tackling some home renovations, you've probably heard grand claims about chalk paint. But what is chalk paint, how can you use it, and is it really all it is hyped up to be?
In this article, we'll discuss everything you need to know about chalk paint and compare the best chalk paint brands.
---
Our Top Picks
Best Overall
Jolie Paints – Chalk-Style Paint
Runner Up
Country Chic Chalk Style Paint
Budget Option
Rust-Oleum Chalked Paint
---
What Is Chalk Paint?
Chalk paint, as the name implies, is paint that has a matte, chalky finish. It provides a slightly rougher texture that you can seal using several different products and methods. (Chalk paint is not the same thing as chalkboard paint, which is used to turn surfaces into a DIY chalkboard.)
It is becoming more and more popular for home decor, especially for painting wooden furniture. It has a charming, relaxed appearance that is perfect for decorating tastes that lean toward rustic or vintage.
Other terms you might have heard associated with chalk paint include shabby chic and modern farmhouse.
---
How Is Chalk Paint Used?
Chalk paint is widely used in painting walls and furniture. It provides a unique look that is popular among DIY painters wanting a rustic or vintage style.
Because chalk paint by itself dries to a matte finish, it requires a sealant of some sort — otherwise, dirt and fingerprints are tough to clean, and the paint will chip and flake from ordinary use. Chalk paint can be sealed with wax or other poly sealants. The product you use to seal chalk paint can slightly alter the look of the paint job, so you may want to test your sealant in an inconspicuous spot to see if you like the results.
Chalk paint also doesn't require any prep work such as sanding or a primer — another reason for its growing popularity.
---
The Best Chalk Paints For Your Projects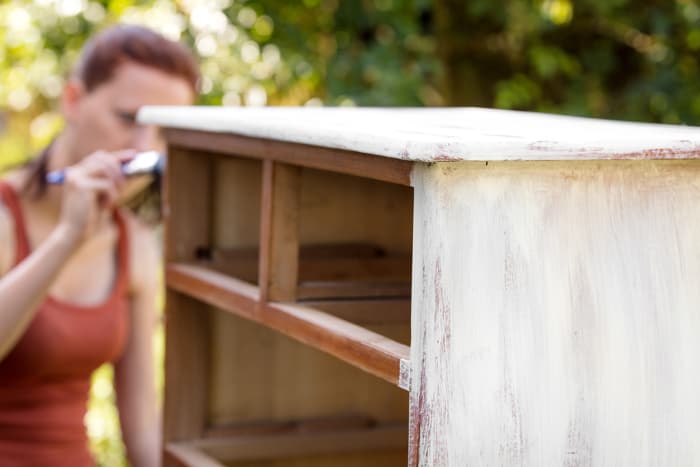 We've compiled a list of the top chalk paints for all your home projects. Not all of these are right for every project – some are better for furniture, others suited for walls – but all are top-quality. These brands are the best choices for achieving that unique look that only chalk paint can provide.
---
1. Jolie Paint
Jolie Paint Chalk-Style Paint is water-based, non-toxic, and quick-drying. This premium paint goes on smooth but still allows for some desirable brush stroke texture. It doesn't have a characteristic chalk paint smell.
Dry time is almost zero with this paint, and you can put your second coat on almost immediately. And it cleans up easily. What more could you want? Full review here.
---
2. Country Chic Chalk Style Paint
Unlike most other chalk paint brands, Country Chic chalk paint doesn't require any waxing or sealant. That means you don't have to do any prep work or any finishing work. All you do is paint until you get the look you desire!
This clay-based chalk paint is designed especially for furniture and home decor, making it the perfect choice for simple and easy home fixes.
It is made from non-toxic materials, has low odor, and is perfect for a wide variety of materials, including wood, metal, laminate, and much more. It is also long-lasting and requires fewer layers, so you'll be done in a fraction of the time.
---
3. Retique It Chalk Furniture Paint
Retique It Chalk Furniture Paint is a brand of chalk paint produced by Renaissance. You can find this reliable, high-quality paint at retailers online, including Amazon.
This paint brings vibrant colors and full coverage to all your home furniture painting jobs. You can choose from a wide variety of shades, all of which provide the same smooth matte finish. It can be used on almost any surface, both interior and exterior.
This silky-finish paint dries in as little as 30 minutes, making it one of the fastest-drying chalk paints we have found on the market. It's a perfect choice for anyone looking to bring new life to their furniture.
---
4. RECOLOR Paint Recycled Chalk Paint
The only thing that is cooler than gorgeous chalk paint that goes on smoothly is a chalk paint brand that is made from recycled paint.
RECOLOR Recycled Chalk Paint is a fantastic chalk paint brand that, in addition to achieving beautiful results, is also good for the planet. With a wide range of colors, RECOLOR offers you everything you need to get that perfect vintage, shabby chic, or distressed look.
It goes on smoothly and easily with no preparation required. While it does have a longer drying time than many other brands (it should be fully dry in two to six hours) RECOLOR chalk paint makes up for it in the quality of its color and coverage.
---
5. Dixie Belle Chalk Paint
Dixie Belle Chalk Mineral Paint is another brand that has become well-known and beloved by DIYers. This extra-thick paint lets you achieve maximum coverage in a short time, cutting your work time significantly.
Dixie Belle chalk paint has a unique feature: it thickens when exposed to the air. This offers even more versatility in achieving the perfect look. For more distressed pieces, keep the paint sealed and thinner. For fuller color and coverage, let it thicken!
It's also an excellent paint for leveling. That means that, as it dries, it will smooth out to a single layer, eliminating any visible brush strokes.
---
6. FolkArt Home Decor Chalk Paint
FolkArt Home Decor Chalk Paint is a highly affordable brand that you can find at craft stores across the country. It is simpler and provides less coverage than other brands, but that means that it is perfect for painting furniture and doing detail work.
It is also great for beginners who are new to using chalk paint and aren't sure if they will like the result – or who maybe aren't sure what result they're even going for!
There's no preparation required for using FolkArt Home Decor Chalk Paint. All you have to do is make sure the surface is clean before you get painting.
---
7. Rust-Oleum Chalked Paint
Rust-Oleum Chalked Paint (yes, that's the brand name) is an affordable brand that is widely sold throughout the United States. It can be used on everything from wood to metal, glass, laminate, ceramics, and canvas.
The brand offers 51 different colors as well as paint finishes, including waxes and glazes. This lets you create many different effects for your painted projects.
Because Rust-Oleum is widely sold and cheaper than most brands, it is a great option for most people, especially beginners who are new to the world of using chalk paint. This can also be a great brand for larger projects that require more paint.
---
8. KILZ Chalk Paint
KILZ Chalk Style Paint is a high-quality paint that has earned a reputation among DIY enthusiasts as easy to use and reliable. It is advertised for upcycling projects, but the truth is that it's perfect for so much more.
KILZ chalk paint is extra thick for full coverage and easy application. All you need to do before applying is make sure the surface is clean and free of any dust that could get caught. There is no need for primer or other prep work.
Once you finish your paint job, KILZ also offers special wax to help seal your project and keep it looking great.
---
9. Krylon Chalk Paint
Krylon Chalky Finish Brush-On Paint is a versatile, quick-drying chalk paint that is ideal for indoor or outdoor furniture. This brand is made to use on wood or wicker.
Most impressively, it dries in as little as one hour, and is completely set within 24 hours. This makes it a great chalk paint for quick projects.
Krylon features chalk paints in a variety of colors with extra applications, including clear seal wax and dark antique wax. This lets you achieve any look you want on your furniture, including distressed, farmhouse, rustic, or vintage looks.
---
10. Behr Chalk Paint
Behr is one of the most recognizable brand names in the world of paint, and its chalk paint stands up to its reputation. It offers excellent coverage with a smooth matte finish.
Behr also features a variety of sealing finishes, including wax, to give you the look you want on your walls or furniture. The most unique about this brand is that, in addition to the traditional brush-on chalk paint, it offers a spray option. This also provides excellent coverage on a wide range of materials, from wood to metal, laminate, and much more.
If you are looking for a top-quality chalk paint, Behr should be on your list.
---
11. Sherwin-Williams Chalk Paint
Sherwin-Williams is a top paint brand, but it doesn't carry chalk paint under its own label. Instead, you'll find Sherwin-Williams selling chalk paint under the Krylon Chalky Finish label, which is listed earlier in this article.
There's something to be said for quality when you are the featured chalk paint brand for a nationally-recognized paint company like Sherwin-Williams!
---
12. Annie Sloan
Annie Sloan is the original chalk paint brand, actually trademarking the name in 1990. While other copycat brands have followed, Annie Sloan remains one of the top trusted chalk paints you can find.
Annie Sloan has chalk paints in 42 colors and can be used for a number of home improvement projects, from furniture to walls and beyond. The chalk paint from this company can even be applied to metal, glass, brick, and laminate. It is quick-drying and can be waxed on the same day.
Annie Sloan isn't always available in the United States, as the company is based in the United Kingdom. However, you can find the brand in individual stores or from certain online retailers.
---
FAQs
If you still have more questions about chalk paint and how to use it, you're not alone. Here are some of the top questions that other users had about using chalk paint for home projects.
What Is the Best Chalk Paint For Walls?
Many people love using chalk paint for walls to achieve a unique distressed look that is still chic and modern. If you are looking for a chalk paint brand that offers the versatility and quality coverage you need, Annie Sloan is the best bet.
This brand has been constantly developed since it was first introduced in 1990. It is specially formulated for use on walls as well as furniture, making it the best choice for any room in your house.
What Is the Best Way to Seal Chalk Paint?
The most common way to seal chalk paint is through wax. You can find this commercially in almost any store and usually paired along with the chalk paint.
To wax your project, wait until it is completely dry. Then dip a clean, dry cloth into the wax and rub it gently and thoroughly into the paint.
If you prefer not to use wax, there are a few other options. You can also use polyacrylic, glaze, or oil. But bear in mind that each of these substances will have its own unique look, so you may want to spot-test before deciding on one!
What Happens If You Don't Wax Chalk Paint?
It's not a good idea to skip waxing chalk paint unless you are using one that is made to be used on its own (such as Country Chic chalk paint). If you skip waxing, you risk your paint job looking dull and lifeless. What's more, the paint is more likely to chip or crack over time, and the extreme matte finish will make it very difficult to clean. Although waxing takes a bit of elbow grease, it's definitely worth your time!
What Are the Pros and Cons of Chalk Paint?
One of the main pros of chalk paint is that it doesn't require any prep work — like primer, for example. It's quick and easy to apply, and most brands dry very quickly.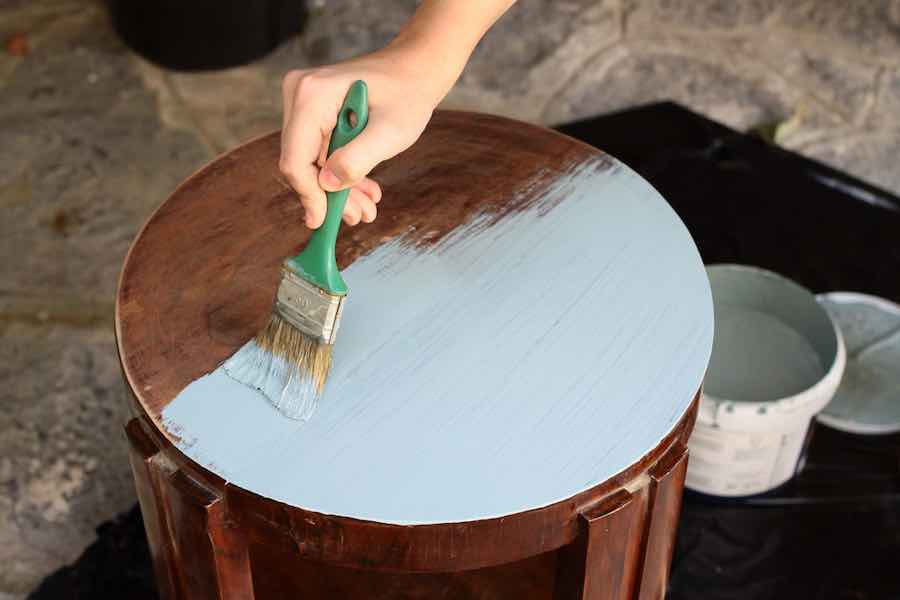 One con, however, is that it does require some kind of sealant after you paint. If you don't seal it – as we mentioned above – your project will look faded rather than bright. It is also more likely to chip, and matte paint on its own is extremely hard to clean.
The good news is that sealing your chalk paint job is as simple as rubbing a waxed cloth over the paint!
---
Conclusion
Chalk paint has maintained its popularity among people tackling home improvement projects for more than 30 years, with no signs of waning any time soon. It offers a fun, creative option for doing home projects that are uniquely yours, whether you want to tackle furniture, walls, or something else.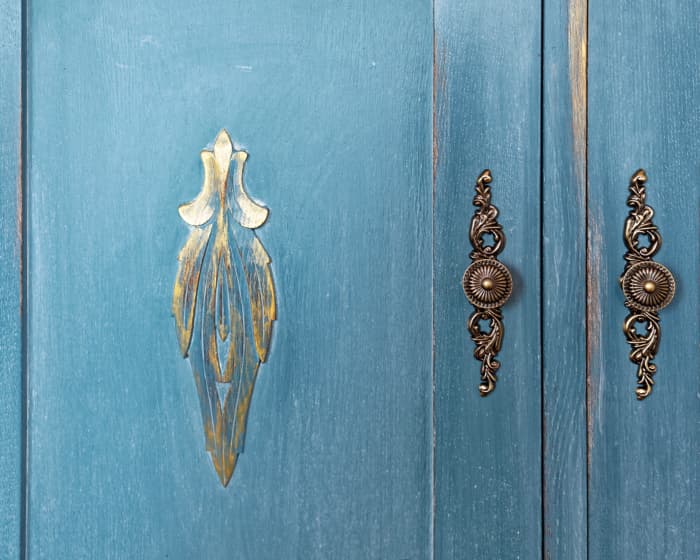 To learn more about how to use chalk paint for your home projects, click this link and also subscribe to our YouTube channel!