We have assembled this collection of beautiful painted tables to inspire your home design and/or your DIY creative talents. When searching antique stores, flea markets, and craft fairs you may come across amazing finds that just need a little TLC and make the perfect canvas for your creative talents.
Let these ideas work as a jumping off point for your painted creations. We'll help you with painting tips and tricks along the way. Of course, if you're not confident in your painting ability, there are lots of options listed for purchasing the perfect piece to complete your look.
1. Mid-Century Mod
Here is a sweet little round table with a clean mid-century vibe. Painted table tops with wooden legs has been all the rage in country farmhouse decor for years, but you now see it moving in to other decorating styles as well.
The butter yellow top provides a perfect foil to the stark wooden legs. This table requires no artistic painting ability, just a good sanding and a fun color paint.
2. Uber Modern Little Table
If your style is a little avant garde, this quirky ultra modern table will fit your design esthetic. The simple lines are set off by an asymmetrical, two-tone paint treatment that will certainly be a conversation piece.
This is one of those beauty is in the eyes of the beholder items. Simple to accomplish since it only requires a two color paint job.
3. Sophisticated Style
Up town, sophisticated style painted in a classic gray hue makes this piece a perfect hall table to display a very special vase or other art piece. The black and gold-plated hardware compliment the flat paint finish to create a very high-end look.
When you find an old piece at a yard sale or grandma's attic, using a simple color and upscale hardware can bring an old piece back to life.
4. Overlaid Fun Colors
When you start with a vibrant, saturated undercoat and add a colorful washed or brushed on top coat, you can create a fun and funky piece to brighten up a room. This piece would shout look-at-me when you enter the room. You could apply the same technique with more subdued colors for a subtler effect.
There are no rules when creating a tabletop like this, just let your spirit and brush run wild. It will be liberating.
5. Isolated Decorations
Bright red poppies jumping off a weathered white background is a pretty and vibrant shot of color. This particular design is on a chair, but would work equally well on the corner of a rustic table. You can find stencils that work with your decor or go freehand. If you aren't happy with your final product, just sand it off, repaint the base, and begin again. No worries.
6. Antique Look
Old pieces with a well-worn patina deliver an interesting history and look. You can also create this look by staining and aging the piece, then adding a paint to the stand and sand some of it away. Paired with old wire chairs, the antique outdoor café look is just waiting for afternoon tea or a pre-dinner glass of wine.
7. Subtle Highlights
By highlighting the carved artistic trims and appliques you can take a simple piece and elevate it to a designer find. This table has beautiful lines and an egg and dart detail and wood carvings on the legs. By highlighting the recessed details, you can elevate the intricate woodwork to a higher design level. This would be gorgeous in a luxurious dining room or master suite.
8. Color Staining
Adding a colorful stain to raw wooden tables brings out the wood grain creating an interesting patina. The bright blue on this tabletop makes the knots and grains pop. For a more subtle look, you could apply a softer, more neutral color.
9. Washed Paint Tables
With a beautiful piece like this elegant table, a sophisticated paint washing technique in a soft, neutral hue gives a table with an older, less modern style a fresh new look. Washed painting is a simple process and can transform your table in an afternoon,
10. Chinese Lacquer Red
Red lacquer, high gloss paint technique highlight the Chinese style theme. The black drawers on this piece with the floral design require a little painting skill. You can use stencils to create the floral motifs on any type of piece. It works extremely well with an eastern style furniture piece.
11. Elaborate Style
A collection of paint color and style combine to create this elaborate one-of-a-kind painted table. From the swirling, multi-colored top to the triangle detail on the corners, this table is a showcase of painting skills. The black edge and rings provide an anchor for the mix of colors helping tie it all together. You can apply any one of these design details on their own, like the dots on the feet, to create a beautiful, custom painted table.
12. Modern Black And White
Modern with an art deco feel, this black and white painted table is stunning. The circular design of the table is set off by the angular lines of the design. The gold outline adds glamour to the piece. This would be beautiful to show off a prized possession in the center circle.
13. Vintage Bombay Table
Vintage eastern style with beautiful curves, exquisite artwork, and a marble top are the markers of a classic Bombay style table. Often placed in the front hall as a message to visitors that proclaims classic style and expensive pieces, this gorgeous table would be at home in almost any decor style. So beautiful.
14. Spool Table
Old wire spools were recycled into patio tables way before recycling was fashionable. These old spools are still available and lend themselves to all kinds of designs. The elaborate sunflower design table would make a fresh and inviting spot to sit and enjoy a friend's company on a beautiful sunny afternoon. The lettering adds a touch of whimsy and a carefree feeling.
15. Marble Painted Tables
The movement of the paint on this marbled end table is so interesting you could look at it for hours. With a complex look, the technique requires some skill and practice. However, it is all worth the effort once you finish your masterpiece.
16. Starry Starry Night
Whimsical and fun, starting with an inexpensive, old TV table is a good way to practice your painted tables techniques. This starry starry night design can be drawn free form, with a flowing hand. Practicing on this type of design is a perfect way to use up leftover paint too.
17. Painted Elephant
This adorable, India inspired, painted elephant table is the eclectic pop of color you room may need. The look, reminiscent of Indian design, will fuel your desire for international travel and exploration. This colorful conversation piece will make you smile at the whimsy in the elephants' presence.
18. Painted Glass
Bring the tropics to your next outdoor party with a painted glass top side table. Painted glass has the added feature of transparency over its painted wood cousins.
How sweet is this tropical design with the shells on the beach and swaying palm trees. It will bring your patio right to the tropics as you sip a cool, refreshing beverage.
19.Moroccan Style
Moroccan style is all about pattern upon pattern. The octagon shape with cutout windows give this piece its distinct look. When you add graceful painted patterns across the surface, the table comes to life. Rich and traditional, furniture painted like this Moroccan style table work well in an eclectic, classics decor.
20. Subtle Style
Do you love the hand painted look but not the bright colors, then a tone-on-tone painted table will fit your design style perfectly. The straight, linear lines of this console table are a good foil for the curved, sweeping lines of the pattern work. The monochromatic color palate and contrasting form makes this table a designer piece without needing to be the center of attention.
21. Solid And Steady
Painting doesn't always mean multiple colors. Painting a table one solid color can make a statement too. It can be bold and audacious or soft and subtle. Our post on 5 Tips to Paint Furniture a Solid Color will get you started on your painted tables journey. The beauty of painting a table one solid color is you can hone in on your style in a subtle, understated way.
22. Painted Picnic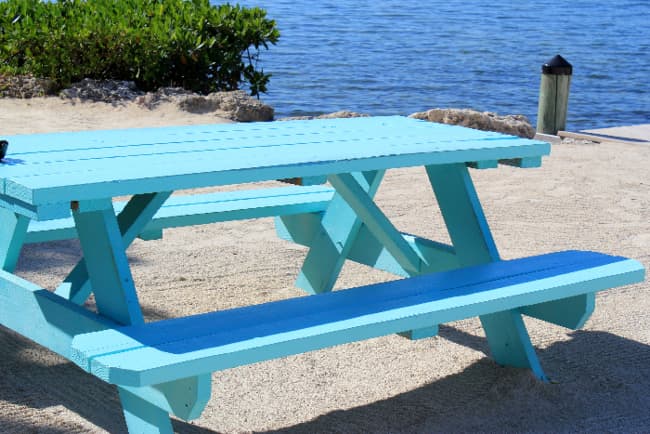 Give an old, hand-me-down picnic table new life. By applying a coat of exterior paint in a fun color, you can elevate a tired and worn piece of outdoor furniture into a welcoming spot to enjoy your burgers and dogs. Any color you choose from bright, fire engine red to a soft gray will be a big improvement over the raw, weathered wood.
23. Wood Look
Create a patterned wood look with assorted stains, washes, and finishing techniques. This piece appears to be made with inlaid panels, yet it is simply painted with different finishes in a chevron style. By treating the front drawers as one solid piece, the artwork has more presence.
24. Design Your Own Painted Table
Purchasing a painted piece may be the best choice for your time and budget. However, if you have an artistic bent and want to give painting your own table a try, purchasing an unfinished piece or yard sale find will allow you to personalize your pattern and color choices on your painted tables.
A table with clean, straight lines like this writing desk, is a good piece to add angular line details or a floral motif on the top.
Another fun option that offers lots of options is this accent table. The drawers add another surface to play with pattern and color.
This modern accent table has a metal base, requiring only the top to be painted. With the small wooden surface, this piece is a good starter table. It is also a great flat surface to try an intriguing design or new paint technique.
No matter how adept your artistic ability is, exploring the world of painted furniture is a wonderful creative outlet. The process is also extremely forgiving, if you are unhappy with your work, just paint over it and start again.
To get started, review our post on The Best Paint for Furniture DIY Projects. It will save you from making costly mistakes on your painted tables projects.
Painted Tables Make A Statement
Painted tables can be anything you desire. They will spice up your decor or add a soft touch of whimsy. Be sure to join our DIY enthusiasts by visiting our Inspiration page for painting and home project ideas.