How to Use Jolie Paint to Makeover Your Furniture
Jolie Paint is lovely and you can find my full review in the Ultimate Guide to Painting Furniture. Today let's walk through the entire makeover.
While reviewing Jolie Paint, I came across Jolies Embellishment Guide and products. I just couldn't resist the opportunity to put them to use and glam up this otherwise masculine dresser makeover.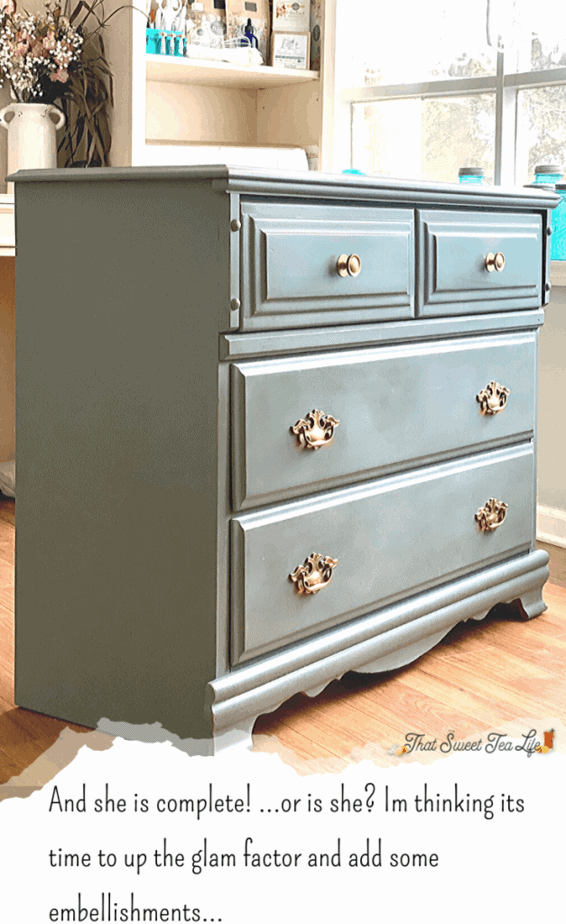 [mailerlite_form form_id=1]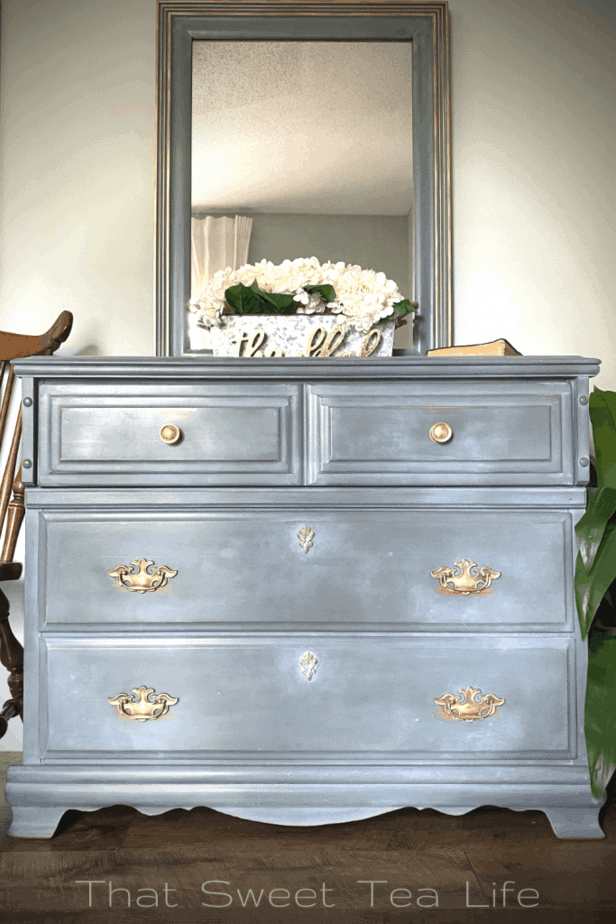 Jolie Paints How-to Guide
Jolie Paint has their crazy helpful Everyday Guide. While I have plenty of experience with painting furniture, I decided to go by the guide just as you may! I was so impressed with how detailed it was! From prepping the surface to a distressed finish, or textured finish, or modern finish everything is detailed so beautifully.
Prepping the Dresser to Paint
I went on to prep the dresser for paint in just the same way as you may have read in Prep: Everything You Need to Know. I removed the backing from the mirror to prevent paint squish from getting under the frame, then everything was cleaned and scuff sanded! Dust was kept to a minimum with my SurfPrep Sanding System.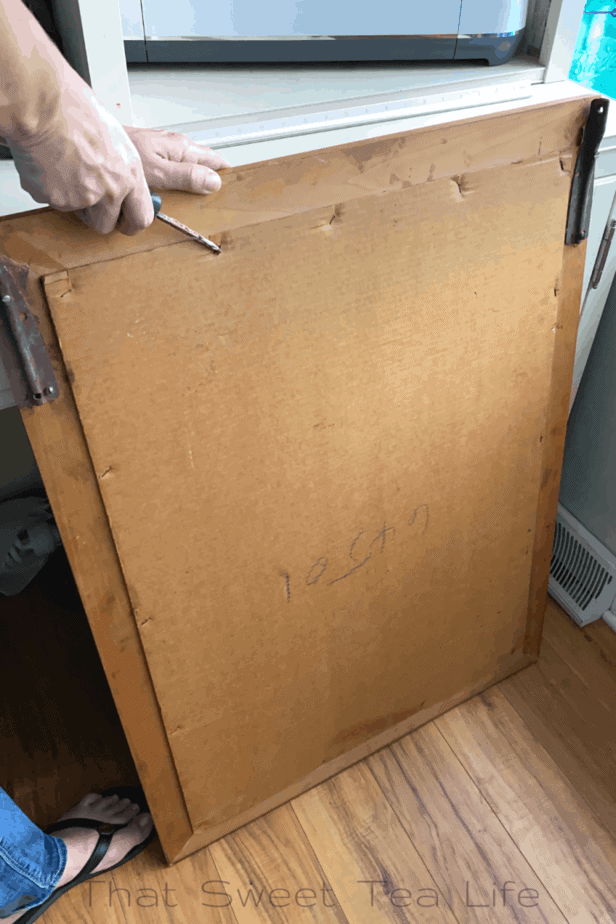 What we need for this dresser makeover
Affiliate links may be included which help support this bloggers family.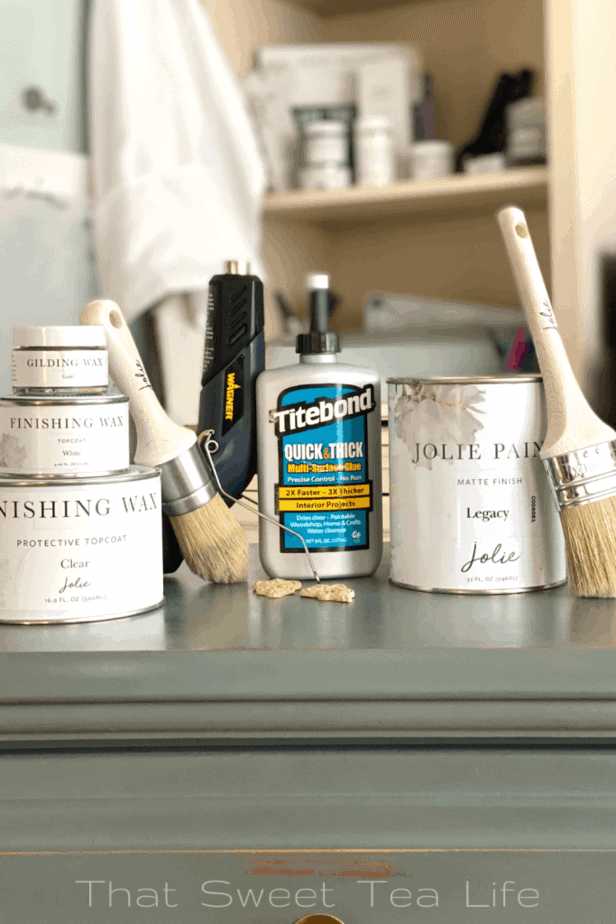 ---
Painting the Dresser
I decided to go with the textured Jolie Paint finish which is normally not easy for me since you are focused on allowing the texture to show. By the time one coat was laid all over, I was able to go back to the beginning and apply another coat. Once finished, I was sure to wipe the rim with a damp cloth.
Sealing the Paint
I applied and buffed the clear wax. Such a little amount is needed and buffing was no chore! I lightly went over it with my microfiber cloth until the rag didn't "catch" anymore. I took a step back to look at it and Trinity the Bulldog agreed. It wasn't pretty enough. Not for a a little girl.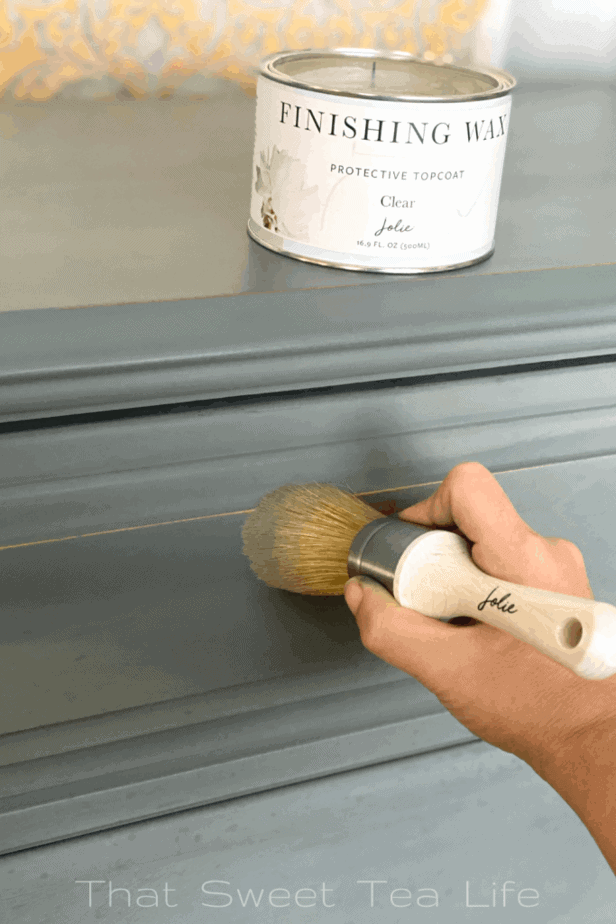 At this point we needed some feminine details using appliques, white waxing, and gold gilding wax. (All linked above) Typically I would apply appliques directly to the wood surface. However, because I had already painted and waxed the piece, I had to use mineral spirits to remove the wax from the area where the appliques would be added. So, I took a microfiber cloth and mineral spirits and wiped the area until I was back to raw paint. (Mineral spirits can be used to remove wax! If there is a oily residue simply use denatured alcohol to wipe it down and remove it!)
Applying the Appliques
With the dresser ready, I could begin adding my appliques. (Not pictured are the marks I used with a pencil so I would know exactly where to apply them) Using my Wagner heat gun (linked above) I heat up the first applique to make it soft. This allows for us to be sure there is no space between the dresser and the applique as it molds completely to the surface. Quickly I use my glue (I prefer Titebond Quick & Thick) and apply the glue over the back side of the applique. Then I apply and hold it on the area I want it to adhere.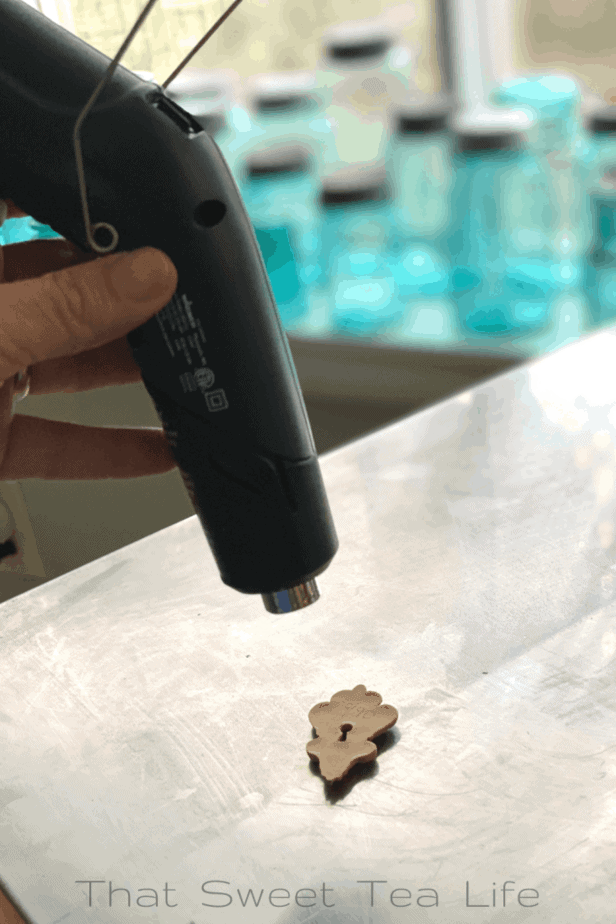 Applying Jolie Paint White Wax
While I allowed the glue on the appliques to set up, I went ahead and tried my hand at applying the white wax to the top. I was once again SO pleasantly surprised at how low odor the wax was! I was able to use indoors without issue (I tend to be sensitive to smell) Once again I applied with my brush by gathering a decent amount on there and spread it over the top working in long sweeping motions from side to side. After it was fully applied (remember never apply too thick)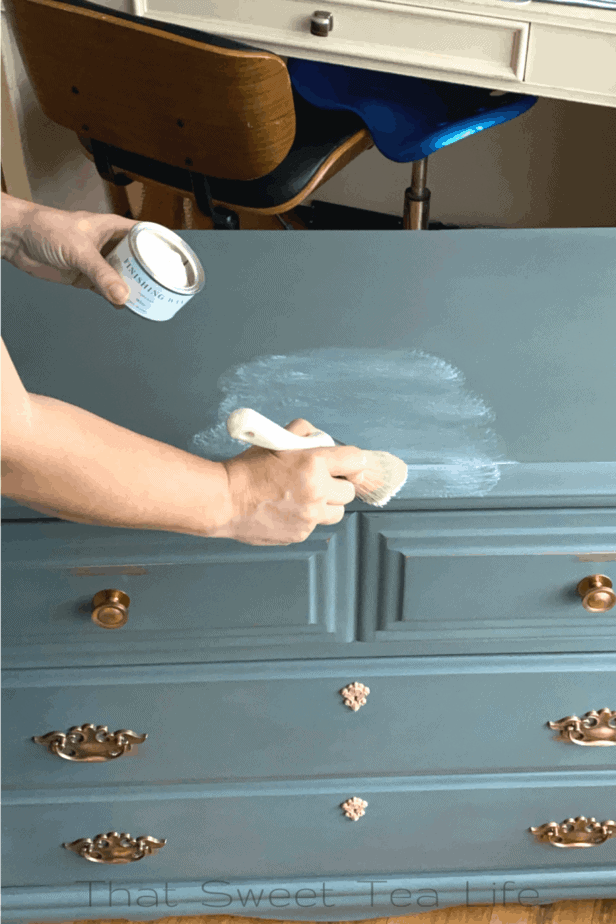 I swept my microfiber cloth over it to gently begin making sure there was no tackiness. Once the tackiness completely subsided, I was able to buff with my buffing brush attached to my drill. Satisfied with the look, I painted the appliques and allowed everything to set until the next day, (I like to allow a day between painting and waxing) The next day I clear waxed over the freshly painted areas then applied white wax over everything not already white waxed.
Adding Jolie Paints Gold Gilding Wax
Finally the gold touches! Again, Jolies Gilding Wax had low odor and was super easy to work with! It easily glides across the surface leaving plenty of luster and gold on the surface… it may be my favorite product to use… its just so fun!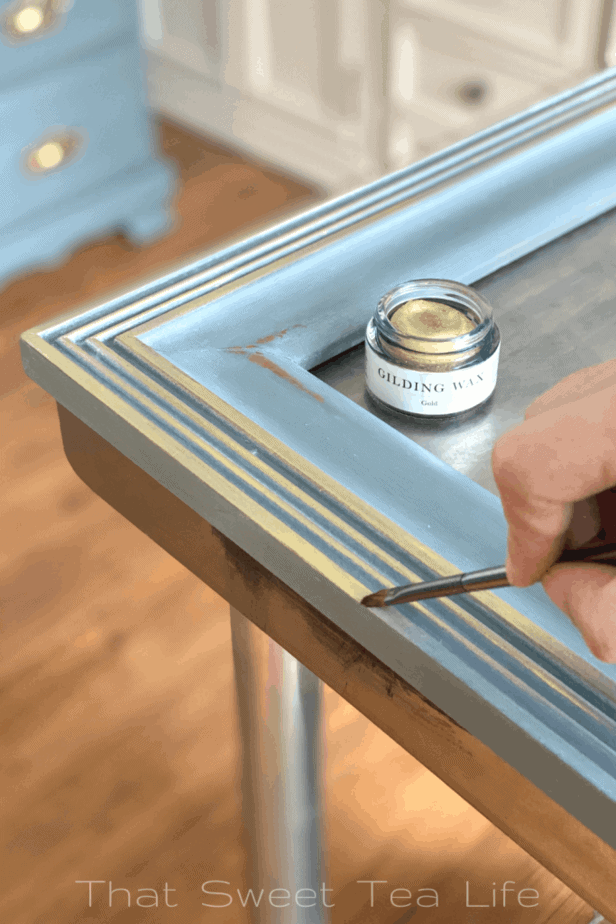 Now if you are actually reading this, I will tell you I typically use my finger. Sometimes I glove it, because well,.. you should. But you can also apply it with a brush. (Feel free to clean the brush with Mineral Spirits) I simply hit the high points. I dont try to press it down into crevices, but rather simply rub across the top of the ridges along the mirror frame as well as the appliqués.
---
Some ask about when to use each style of wax. Its depends on the look you want. Clear is good to use first because it protects the paint and creates a barrier before you add anything pigmented. The white wax is considered a finishing wax. Its meant to go across an entire surface.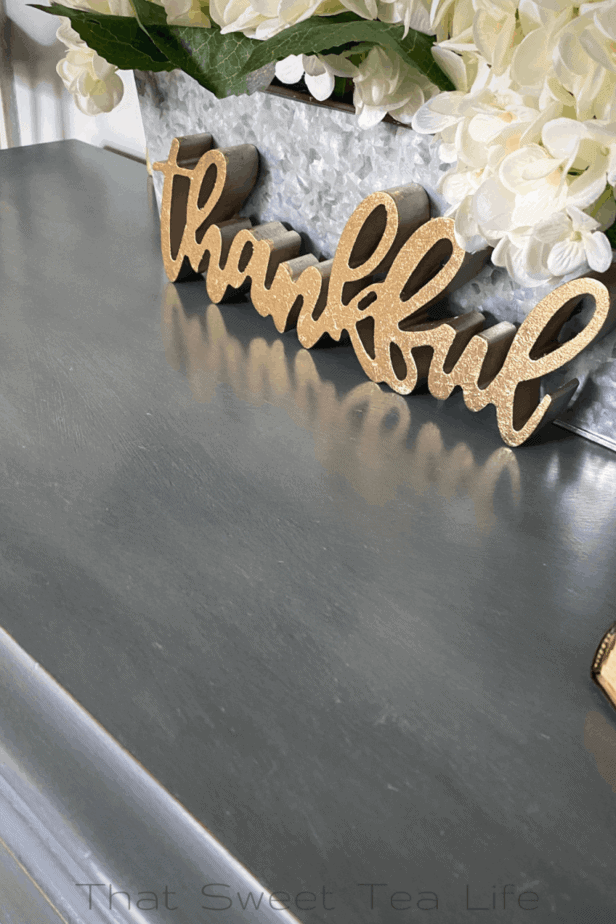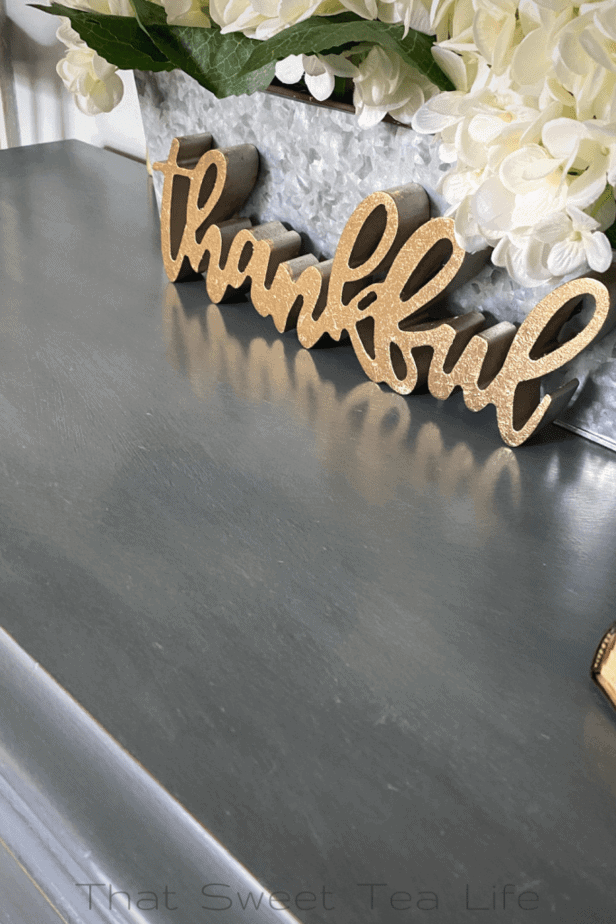 Each wax will tend to re-active the wax it goes over. They absorb into each other. If you brush one wax across another, you will end up removing what is on the underside. (Did that make sense?). Gilding wax (Such as the gold) is meant to be applied to small areas. It's generally not brushed over large areas. You will typically use it last.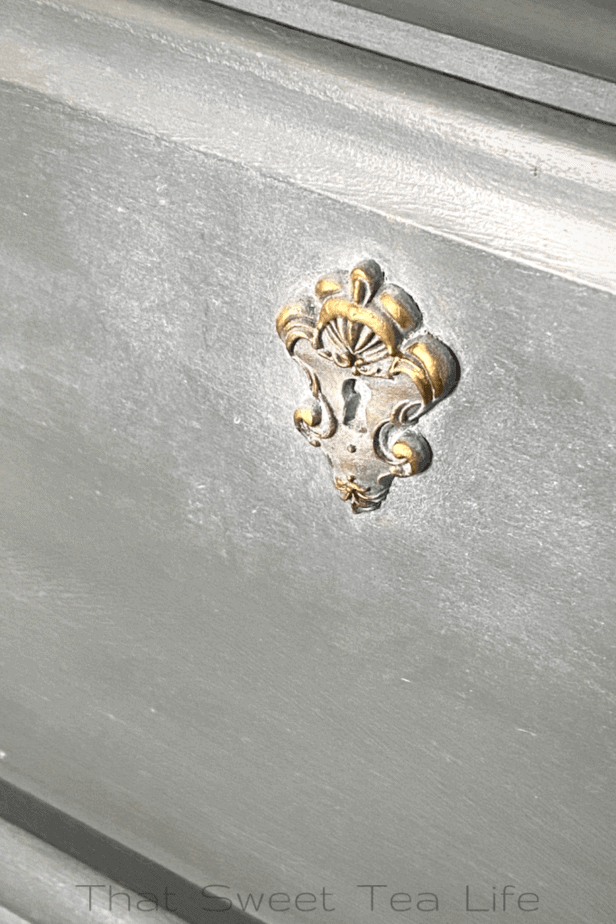 I hope you enjoyed the makeover! Remember if you have signed up for newsletters you can always reply to those to contact me OR you can ask questions and leave comments below!! Happy Creating friends!
About the Author
Latest Posts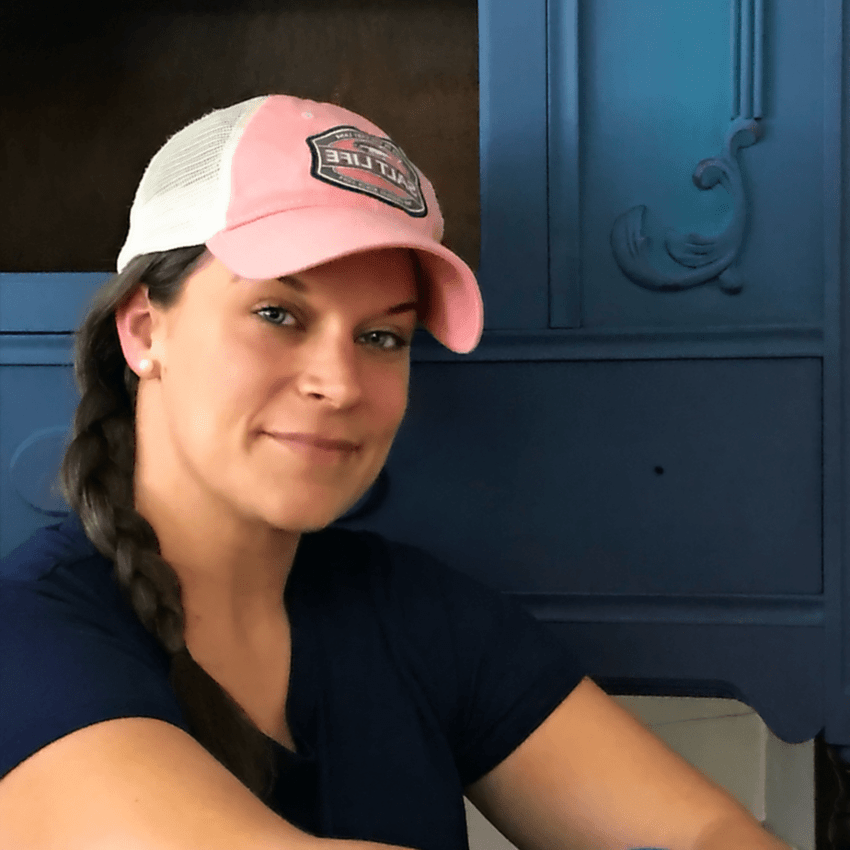 Thea Osborne is a celebrated blogger renowned for her expertise in DIY and paint techniques. With a keen understanding of Southern culture, Thea's commitment to producing engaging and informative content, coupled with her detailed tutorials, inspire her readers to embrace their own creative pursuits.
Thea's passion and creativity have left a lasting impact in the DIY community, transforming "That Sweet Tea Life" into a thriving and cherished resource.