What are furniture appliques?
Furniture appliques are 3 dimensional forms that can be used to enhance our projects and make them more interesting! In addition to using them on furniture, you can also use appliqués on DIY Signs, mirrors, lamps, or any other DIY home decor you can possibly think of!! Find more in my Ultimate guide to Furniture Painting!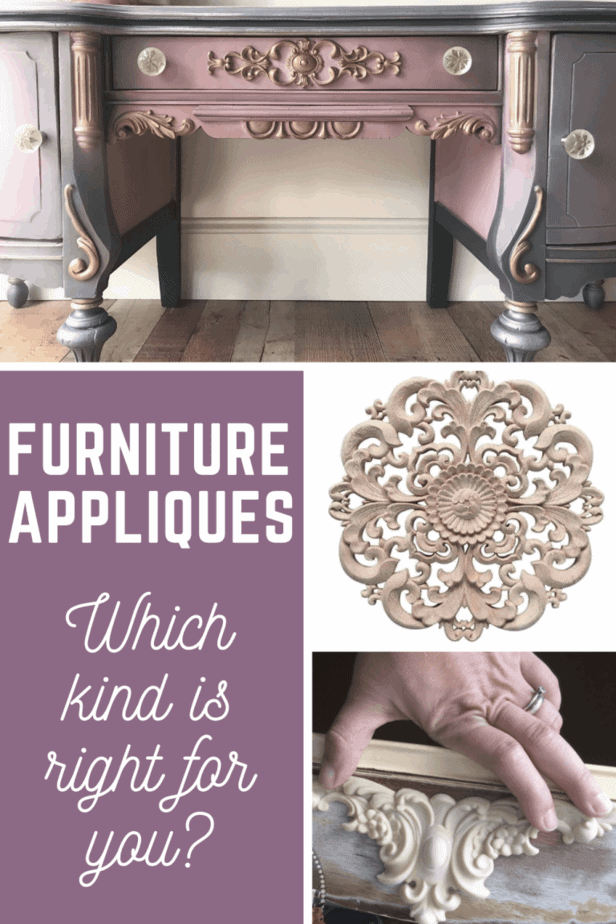 What are furniture appliques made from?
They can literally be made of just about anything you can imagine. Appliques come in a huge variety of materials that each have their personal perks! Lets take a look at some of the most widely used types of appliques and be sure to stick with me till the end! I'll be sharing my favorite appliques! (They are amazing!)
Wood Appliques
Wood furniture appliques are the classic go to option! These are going to be carved or pressed from solid or ply wood. Stainable and paintable, they can really be treated like any other wood you use. These can be applied by wood glue then clamped or you can also use a brad nailer. See how I used them to embellish a boring buffet in Applying a Wood Applique to a Buffet. You can find them in a HUGE assortment of looks and styles. Many can be found right here on Amazon (aflink). Lets look at the pros and cons.
Wood Applique Pros
Stainable
Paintable
Cuttable
Sandable
Wood Applique Cons
VERY Limited flexibility
Often has a very rough texture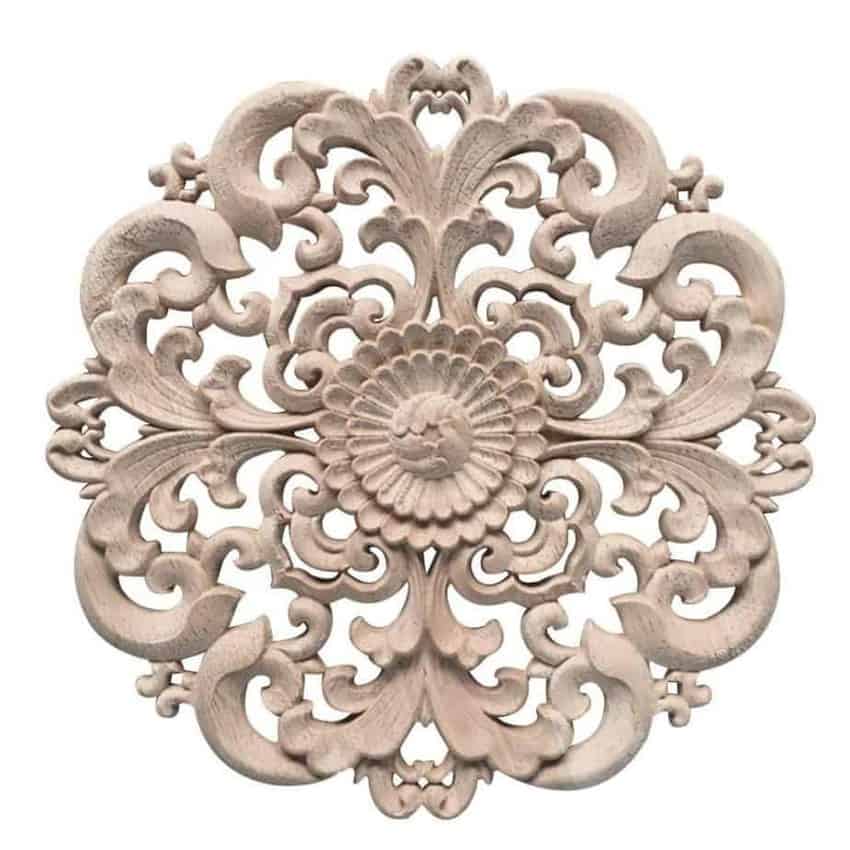 Efex Appliques
Efex bendable moldings and appliques are a genuinely unique product! With many historically accurate designs, you could literally get lost in their catalogue! Made from a rubber like material they can very easily be bent and used on non-flat surfaces. Trimming them is just a matter of pulling out your scissors or knife! Application is incredibly easy. They can be adhered with rubber cement or DAP Rapid Fuse, then taped or held in place. You can see exactly how I used them to embellish an old chest of drawers in How to Use Efex Appliques. Want to get your own? The best online selection I could find you is through Brushstrokes by Annie here. Many Annie Sloan stockists carry them though, so check with your local stockist! Now, let's look at the pros and cons.
Efex Applique Pros
Paintable
Cuttable
Very Bendable
Efex Applique Cons
Not Stainable (distressed looks take artistic finesse)
Not Sandable
DIY Furniture Appliques
Now, this is an entirely extra art form in itself. Companies like Prima have created moulds that allow you to create the appliques yourself! By the mould one time, and you can make as many appliques as you like! Personally I just don't have the patience. There are however, MANY who LOVE to make their own appliqués and apply them to everything they can! The moulds are made of a silicone material and while Prima also makes the product you put in the moulds to create the appliques, many use all sorts of products such as glue from a hot glue gun, resin, and paper clay. You can find lots of moulds and other products here on Amazon. I have no personal articles on this one,.. maybe I will do one soon though! Until then, lets look at the pros and cons.
DIY Applique Pros
*Can be economical if you want to use a LOT of them
Cuttable
*Bendable (depending on product used and application technique)
Paintable
DIY Applique Cons
Not Stainable (distressed looks take artistic finesse)
Not Sandable
Takes PATIENCE
WoodUBend "Wood Appliques"
Ok, so these are hands down, unashamedly my favorite appliques. Based in the UK and taking the US by storm, they are made from a wood product that is paintable, stainable, cuttable, sandable, and yes bendable. Treat them just as you would any wood product except, additionally you can bend them and mold them using a heat gun or hair dryer! Recommended application is with wood glue. They come in incredibly ornate designs and even some crazy tiny and intricate ones! See how I used them (including a video talk through!) in Painting a Wood Vanity Currently you can find the largest inventory I know of through one of my favorite online retailers Jan of Flipped Furniture of Kentucky here (aflink)
WoodUBend Pros
Stainable
Paintable
Cuttable
Sandable
BENDABLE
WoodUBend Cons
They could break? But even that isn't much of a con, because they can be glued right back together seamlessly.