Furniture flipping is the ultimate hobby for upcyclers. There's nothing more satisfying than turning outdated and undervalued pieces into showstoppers! If you love the process, try flipping furniture for profit, too!
In order to upgrade your hobby to a successful side hustle, there are a few things to keep in mind. Read on for all the details on flipping furniture for profit.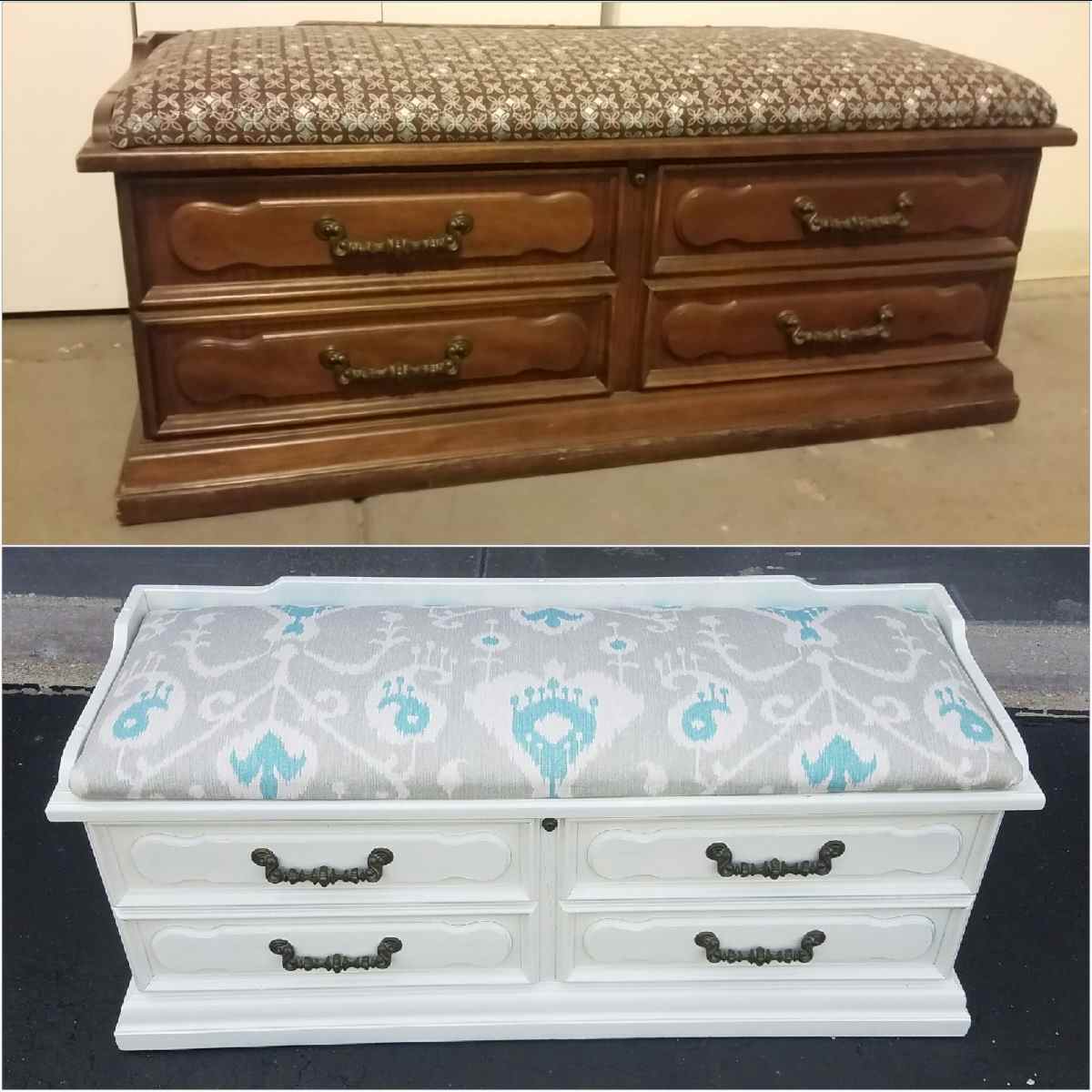 ---
What is Furniture Flipping?
Have you ever found a worn-down piece that just needs a little TLC? Furniture flipping is the process of buying these undervalued items, fixing them up, and selling them at a profit.
Furniture flipping generally applies to smaller furniture pieces and easy upgrades. Restoring an entire dining set would require a big investment of time and materials.
A flip should be a project that has a quick turnaround time and requires a relatively small investment.
---
How Do You Make a Profit from Furniture Flipping?
For hobbyists, furniture flipping is all about turning trash into treasure. When you're refinishing a piece for your own home, it's fun to customize it to your tastes. You can choose your favorite styles and colors to create exactly what you love.
Furniture flipping for profit means focusing on what you can sell. Ideally, you can choose furniture and finishings that will appeal to multiple buyers.
Similarly, efficiency is more important when you're flipping for a profit. Many hobbyists have pet projects that languish in the workshop for weeks or months. That's totally fine if you're refinishing a project for fun!
However, if you want to make money on your flips, you'll need to watch your time and energy investment.
Read on for our do's and don'ts for building a profitable furniture-flipping business.
---
Flipping Furniture for Profit: The Do's
Do Understand Your Market
Start your furniture flips with future sales in mind. Who will buy the finished flip?
If you're refinishing a two-person dinette set, your target customers might be empty nesters or young adults.
Refinishing a desk? You'll probably market to university students.
Children's furniture might be a hot ticket item for young families or grandparents.
Now, what price will people pay for the finished item? Knowing the market is important here. You don't want to buy a piece for more money than you can make selling it!
Finally, you'll want to understand where you can sell your flips. Selling furniture at a local store or community sale will limit your sales to a specific area. If you're personalizing pieces for your hometown or state, that could be ideal!
In general, though, you'll make the most sales by offering your flips far and wide. To reach a broader market, your best bet is selling online.
Do Make a Furniture Flipping Budget
In order to make a profit, you'll need to keep track of your investments. Start with an ideal sales price and work backwards.
Furniture purchase
Since you're going to be fixing up your finds, you want to keep your purchase price as low as possible. However, don't fall into the trap of buying a piece because it's so inexpensive. If it's too damaged to repair easily, walk on by.
Supplies
If you've dabbled in DIY projects before, you might have plenty of supplies already. Furniture flipping for a profit is a great way to use up paint remnants and supplies from past projects. If you do purchase new materials, consider how any leftovers could be used on other flips.
Time
Even if you enjoy furniture flipping and don't consider it work, it's smart to calculate an hourly rate. Every hour you spend on a flip is an hour you aren't able to spend on other paid or leisure opportunities.
You might not mind spending ten hours on a flip that only nets a thirty-dollar profit. However, that's not a sustainable workload if you're flipping furniture for profit.
Skill
Don't forget to pay yourself for your expertise! It's not an accident that you're good at spray painting or handy with upholstery. These are skills you've learned and practiced over time. If you're flipping furniture for profit, you need to charge a price that reflects your expertise.
Do Use High-Quality Furniture Flipping Materials
While you want to be economical, it's always worthwhile to invest in good tools. It will make your life easier and your results more professional.
Since you are flipping furniture for profit, you can invest some of those initial payouts into high-quality tools. Start with small projects that you can complete with the supplies you have on hand. After you've done a few successful flips, you'll have a better idea of the new supplies you'd like.
As you continue to build your business, budget for replacing consumable materials. For example, painter's tape, sandpaper, and upholstery tacks get used up very quickly! Look for bulk deals on professional-grade materials. This is a good way to keep your expenses low without sacrificing quality.
Other supplies will last for years, especially if you invest in the best. A cheap hammer from a five-and-dime store won't be as durable as a professional-grade tool.
Do Try Out New Furniture Flipping Techniques
If you're considering flipping furniture for a profit, it's a safe bet that you've done plenty of DIY projects before. Flipping furniture professionally gives you a chance to revisit projects you've tried and loved before.
However, flipping also allows you to try out new styles and techniques. Look for inspiration on social media, in magazines, and in other furniture flips. If bleached-wood pieces are selling like hotcakes online, go ahead and give it a try.
Experiment with time-saving techniques and products, too. Stripping paint and sanding are labor-intensive. Look for products that can help cut down your turn-around time. Fast-drying shellac and combination paint-and-primer products are examples of products that could save you time and money.
One word of advice: if you're playing with new techniques, choose low-investment pieces until you get the hang of it. It's easier for your budding business to swallow the cost of a ruined TV tray than a whole entertainment center.
Do Your Marketing
When you're ready to put your first flips up for sale, it pays to do your marketing. Especially when you're just getting established, customers need to know what you have to offer!
Give potential buyers everything they need to know upfront in your advertisement. Great advertisements tend to have high-quality photographs, clear measurements, and information on shipping and handling.
High-quality photographs
Especially when you're selling online, buyers want to see all the details! Take pictures from several angles so that customers can imagine the furniture in their space. Make sure you upload high-resolution images, too!
If you'll be selling your flips at a local marketplace or community event, offer to help with advertising. Include images of some of the pieces you'll have for sale.
Share advertisements from fellow vendors on social media, too. Networking with the local community is a great way to start flipping furniture for a profit!
Measurements
Offering this information upfront is key for hooking buyers. People often shop for furniture with a specific area of their home in mind. Offer the height, width, and depth, as well as the overall weight of the piece. It's okay to say that your measurements are approximate!
Shipping
If you're able to ship your pieces or help with transportation, make sure to let people know! Many people don't have a large vehicle for moving their furniture finds.
Look up shipping prices for your furniture and decide what you can reasonably offer. Can you afford to ship a piece internationally, or only within your country? If you're unable to ship, can you help local customers arrange for delivery?
Calculate how shipping costs or gas money could affect your bottom line. You may net more customers if you offer free shipping. However, when flipping furniture for profit, you need to limit your expenses!
---
Flipping Furniture for Profit: The Don'ts
Don't Break the Bank
Beginning a new venture is exciting! It's easy to get in over your head simply because flipping furniture for a profit is so much fun.
Just because you can imagine the possibilities for a piece doesn't mean you have to take it on. In fact, in order to make a profit at flipping furniture, it's best to minimize your investment. Otherwise, you could overspend on materials before you turn any profit!
Minimizing your investment includes taking shortcuts and choosing easy fixes instead of overexerting yourself. Look for time and energy-saving techniques, like painting furniture without sanding.
Finding unusual and rare pieces is another common pitfall. If a certain type of furniture is hard to come by, it may be hard to pass up.
It's not easy to turn down a great deal! However, it's best to walk away if you don't have the budget, time, or expertise to flip it.
Don't Neglect Your Safety
It's important to cut costs, but don't skimp on safety materials such as goggles and gloves. It's always worth the investment to protect your health.
Preparing a safe workspace is worth the investment, too. Flipping furniture for profit doesn't require a lot of startup costs. It doesn't have to require much in the way of specialized equipment, either. But having a safe space to work on your flips is absolutely important.
Make sure your space is well-ventilated, well-lit, and has easy access to a sink. Keep any toxic chemicals and sharp tools safely stored. And above all: don't take risks in order to complete a project more quickly.
Don't be Afraid to Jump Into Furniture Flipping!
Furniture flipping is a great way to make a little extra income. Don't be scared off by a few potential risks. If anything, furniture flipping is one of the less-risky business ventures!
You have complete control over what you invest and how you budget your time, energy, and expenses. Play it smart, but don't forget to have fun!
Many people who get started flipping furniture for profit enjoy the creative challenge. From sourcing your furniture to researching new refinishing techniques, there are plenty of ways to use your imagination.
Plus, furniture flipping for profit gives you tons of opportunities to meet new people. You might end up making friends with antique dealers, flea market vendors, and fellow flippers.
As you build your business, you'll enjoy greater rewards for all your hard work. There's a big market out there for upcycled furniture. Your business could be generating income before you know it! Don't be afraid to start flipping furniture for profit!
---
Flip Some Furniture and Your Bank Balance with these Do's and Don'ts
If you love upcycling projects, flipping furniture for profit could be a great side hustle! But in order to turn your hobby into a business, there are a few do's and don'ts.
Do make the most of your expertise by creating a budget, researching the market, and using new materials and techniques. Remember to market your finished products, too!
You'll need to minimize your expenses, but don't sacrifice your well-being or safety. And most importantly: don't be afraid to try flipping furniture for profit!
Learn all there is to know about furniture flipping in our complete guide!