A farmhouse kitchen sign is a great way to add a design element to your kitchen. You can stick with creams, browns, grays, and other neutrals to bring farmhouse decor to the room without using too much color. Farmhouse kitchen signs are an easy way to do this.
Signs are also great way to add a touch of personality to a room — the text on the sign can do a lot to set the tone of your kitchen.
Here are 21 farmhouse kitchen signs you need that won't break the bank.
1. "Eat" Farmhouse Kitchen Sign
This kitchen sign reads "EAT" in white block letters against a dark wooden background. The border is finished with a silver sheen with the letters nailed to the wood to give it a rustic look.
The sign will look great on a countertop, or nailed to a small part of the wall in the kitchen. It can be paired with other decor in similar colors and materials.
This sign looks good on a white kitchen countertop, sitting against a wall finished with weathered wooden planks. Kitchen necessities, such as food, salt and pepper shakers, dishes, and silverware are placed on both sides of the sign.
2. Script Kitchen Sign
This cute sign is beautiful while being simple and to the point. "Kitchen" is written in script in simple black on a white background to make the letters stand out. The sign is framed with beautiful natural wood on all four corners.
This farmhouse kitchen sign will look great in a kitchen decorated in similar colors. You can hang it on a door or wall with other items to mix and match with it. On the back is a keyhole slot to make mounting a no-brainer.
3. Checkered Kitchen Sign
This sign has the word "kitchen" printed in block letters in black. The edges are in black-and-white checkers, with a white background. There is some discoloring on the finish to make it look older than it is.
The sign would look great in a kitchen designed in black, white, and checkers. Black-and-white decor in solids and a mix of designs would look interesting with this sign, which can be hung on the wall or propped on a countertop or tabletop.
This farmhouse sign is placed on a wooden divider against a wall made of stone.
4. Pantry Sign
A popular choice of material for an item with a farmhouse design is wood. This kitchen sign is no exception. The sign is made of wood with words and designs painted white.
The weathered black wood is stained to look older with the words "pantry" printed in block letters in white. Floral designs swirl in thin, white lines below and above the words for a beautiful look in any kitchen and pantry.
5. Home Sweet Home Sign
"Home sweet home" is written in script letters that are white on a rustic wooden sign. This sign matches the small wooden bowl where the yellow eggs are resting. Yellow is a great color choice to pair with wood, as seen in this photograph.
The sign would also look great on a wall in the kitchen, such as above the kitchen door, or with other wall decor and signs. Make sure there is plenty of other wooden decor to match with this sign in your kitchen.
6. We're Open Sign
This wooden sign reads "welcome, we're open". The letters are printed in a block design to look slightly darker than the wooden sign itself. A variety of food and kitchen utensils can be seen around the sign.
An appropriate area for this sign to go is near the entrance to the kitchen to welcome guests and family members to this space. Have other wooden, rustic, and even white kitchen pieces and decor to match with this farmhouse kitchen sign. You can also bring in some colors to really make this sign stand out in your kitchen.
7. The Gathering Place Sign
This cute sign lets visitors know they've found their way to a "Gathering Place" and will make anyone who enters your kitchen feel welcome to "sit long, talk much, laugh often" as the inscription reads. A mix of script and block letters will create a great look for any farmhouse kitchen.
The letters and black leaf print are black on a wooden background that is whitewashed. A natural wood border completes this sign.
Mix and match with other signs in similar designs on a wall in your kitchen, or hang alone to keep the focus on this beautiful sign.
8. Coffee Bar Sign
A lot of farmhouse decor is done in white, as seen in this white kitchen sign. It reads "coffee bar" with black letters and stars against a plain, white background.
The small shelf is a great place to display a sign this small, along with the tiny mugs, dishes, and jar full of coffee beans. This sign can also be hung on a wall, countertop, or table in the kitchen with other items that match it.
9. Secret Ingredient Sign
Pair this cute farmhouse kitchen sign with other decor in your kitchen to let everyone know that love is your secret ingredient (along with butter!). Most of the words are written in thin letters, with "love" standing out in script and a heart at the end. A clean white background with a natural wooden border will make this sign stand out.
A keyhole slot makes this sign easy to hang on a kitchen wall or door for family and friends to enjoy. Add other signs in a similar design to the same wall, or spread out all over the room. You can even prop this sign on the countertop or kitchen table with other farmhouse-related items.
10. Chalkboard Sign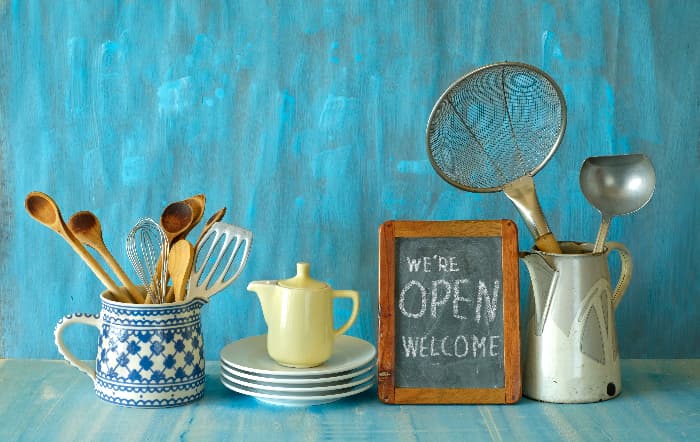 This farmhouse kitchen sign is made up of a chalkboard with a wooden border. Those with a flair for words will enjoy having this sign in their kitchen since they can get creative with their words and change the sign with chalk whenever they want to.
The sign is displayed on a rustic wooden table painted a weathered blue with other kitchen items. The blue-and-white decor really makes this chalkboard stand out in this kitchen. You can also match this sign with other items that are black, wood, and white.
11. Personalized Kitchen Sign
Another way to decorate your kitchen is with a personalized farmhouse sign. The name and the other words are printed in a few fonts and sizes to keep the sign looking interesting. They pop in black letters against a wooden background painted over in white.
Floral lines are printed in-between the words, and around them as a beautiful border. This is one of a few farmhouse kitchen signs that would make a great gift as well!
12. White Kitchen Sign
This simple kitchen sign is made to look like a nameplate for a door. The word "kitchen" is printed in black block letters on a shiny white background. The border is done with a black line that goes around the word and screws on either side for a neat and tidy appearance.
The kitchen sign would look great on a door or wall with other farmhouse decor in black and white.
13. Farmhouse Box Sign
Farmhouse kitchen signs can also be in the form of a shadowbox to be three-dimensional. One, like the box shown in the link, can be placed on a table or shelf in your kitchen with other decor in wood, cream, and other similar colors.
Choose from the words "gather" or "thankful" to have printed on this box sign. The words are printed on an embossed metal board and painted over in enamel white to look worn. A beautiful floral design can be seen on the metal, which is covered in a wooden border.
14. Wooden Kitchen Sign
This sign also has the word "kitchen" on it in a different design. The letters seem to be carved out and painted black for a three-dimensional effect. The wood around the letters is painted white, with some taken off around the edge to look old.
Place this kitchen sign above the door, on a wall, or on the countertop with other kitchen items in similar colors to match with it.
15. Rustic Eat Sign
This playful sign is made up of three letters all made of wood and painted over in matching colors of white, gray, and light blue. Each letter spells out the word "EAT", which is perfect to display on a wall or shelf in the kitchen. Tea lovers may prefer spelling out "TEA" to showcase their favorite drink in the kitchen.
Proudly display this sign in an area of your kitchen for all to see when they enter. Decorate your kitchen with other items in similar colors to match your new sign.
16. Cutting Board Sign
This unique sign is made out of a kitchen cutting board. The words "people who love to eat are always the best people" are printed in simple block letters in white on the wooden cutting board. The board looks to be worn and stained in several shades of brown for a weathered look, which makes it a perfect fit for a farmhouse kitchen.
You can pair this sign with other farmhouse decor in white and wood, as well as other pieces that look worn and weathered.
17. Metal Kitchen Sign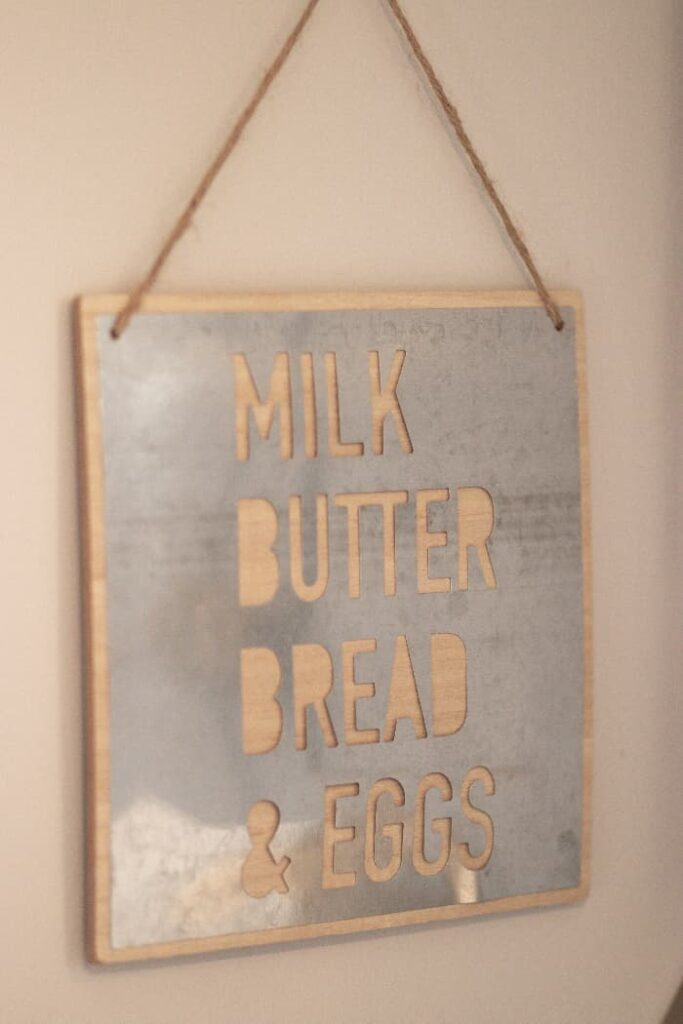 Metal can also be included as a material for farmhouse kitchen signs. This sign is made of metal and mounted on a wood backing for a great farmhouse look to add to your kitchen. The words are done in block letters and cut out to reveal the light wood board on the back.
This sign can be hung by the fridge, pantry, or other popular areas in the kitchen. Make sure to have other metal and wood decorations and kitchen items to display with this sign. Add a pop of your favorite color to really make your kitchen stand out from others!
18. Vintage Chalkboard Sign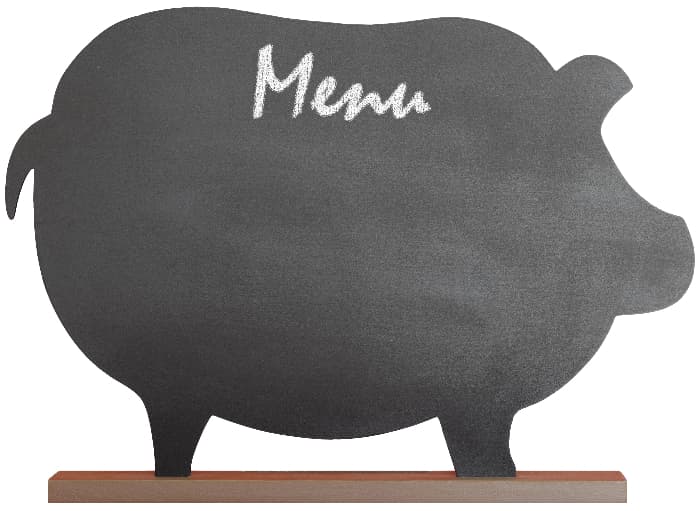 This cute chalkboard sign is shaped like a pig, making it a perfect addition to a farmhouse kitchen. The chalkboard sits on a wooden stand so that it can be displayed on a table, countertop, or shelf in the kitchen.
Pair this sign with other decor in the shape of pigs, with pig images, or figurines throughout the kitchen. Stick with basic colors, or choose a few hues to splash around the kitchen.
19. Wooden Coffee Sign
These wooden letters would look great in a kitchen with a farmhouse design. Each block has a letter carved out and painted white with the rest of the block stained to make the wood look darker. The sign reads "coffee bar" with several of the blocks stacked on top of each other to form a square.
These blocks stand on coffee beans, but can also be placed in other areas of the kitchen, such as the door, walls, countertops, or table.
20. Farmer's Market Sign
Farmhouse kitchen signs can come in all shapes and sizes. This one is in the shape of a pan turned upside down, which is different than typical signs that are rectangular.
Metal, rope, and wood make up the materials on this farmhouse kitchen sign. The words are printed in black script and block letters. The image of a rooster is a nice touch and gives the sign more of a farmhouse look than others with just words.
The sign can be easily hung on a wall, or propped up on the countertop with other farmhouse decor.
21. White Kitchen Plaque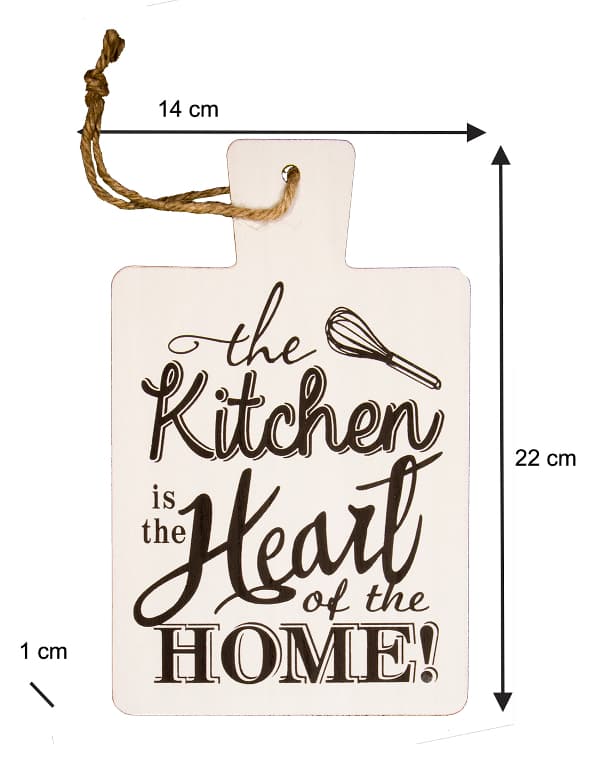 This sign is in the shape of a paddle with black letters on a white background, a typical choice of colors for farmhouse kitchen signs . The letters are printed in a mix of fonts and sizes for a unique look. The small whisk printed at the top is a great addition to the letters.
The sign can be easily hung by the rope at the top. Just hammer a nail in a wall or kitchen door, and hang the sign up. Keep the rest of the kitchen basic in black, white, and wood. You can also add some color throughout to make the room pop for family and friends.