Easy yarn crafts for kids is more than just making an end product to display proudly on the mantel. Yarn crafts help your children explore their creative side affording them an outlet for personal expression.
Crafts also aid in the development of their fine motor skills by allowing them to manipulate small raw materials. Finally, yarn crafts are fun and keep your cherubs entertained for a finite time period.
Just remember, this is a creative process, it is about the journey through this process of creating art, not the perfection of the final project.
The ultimate crafting goal is to have fun and enjoy the ride.
Below is a list of our favorite 13 easy yarn crafts for kids. We have simplified the construction process to give you an overview for each project and listed the supplies needed to complete the craft. Once you find a yarn craft you and your munchkins like, hop over to the crafters link for their detailed instruction process.
1. Yarn-Wrapped Art Supply Organizer
The first of our easy yarn crafts for kids is a yarn-wrapped toilet roll art supply organizer by Happy Hooligans is a simple and easy project. Even the youngest children can have success wrapping the tubes with colorful yarn.
The Process
Wrap and glue each tube with assorted yarn. Glue a cardboard bottom on each tube. Glue the tubes together to form a "caddy" type organizer. Fill the organizer with art supplies.
Supplies Needed
Toilet roll tubes, paper towel tubes, etc
Assorted yarn
White glue for younger children
Glue gun for older children
Cardboard (for the bottom of the tubes)
2. Yarn Butterfly
Express your love of nature and vibrant colors with this adorable butterfly weaving craft. The Craft Train demonstrates how to make these cute little critters. Fun to play with, they would also make great party decorations hanging from a mobile or tree in the yard.
The Process
Lash two popsicle sticks together into a flattened "X" shape. Wind the different colored threads in a figure 8 pattern until you reach the end of the popsicle sticks. Secure the butterfly with a pipe cleaner adding two small beads at the bottom and one at the top. Finally, curl the top of the pipe cleaner into the antennae.
Supplies Need
Craft sticks
Pipe cleaners
Yarn
Small beads
Large beads
3. Paperclip Tassels
Colorful tassels adorn the end of colorful paperclips to mark your pages. These charming little bookmarks are fun to make and fun to give as gifts with that special book. Michaels has simple instructions to get you started.
The Process
Wrap the yarn around your fingers or cardboard about 10 times. Cut through one end of the wrapped yard and thread the bunch through the paperclip. Tie off the tassel, and you have a fun and fancy bookmark. How cute would these be to mark recipes in your favorite cookbook.
Supplies Need
4. Finger Knitting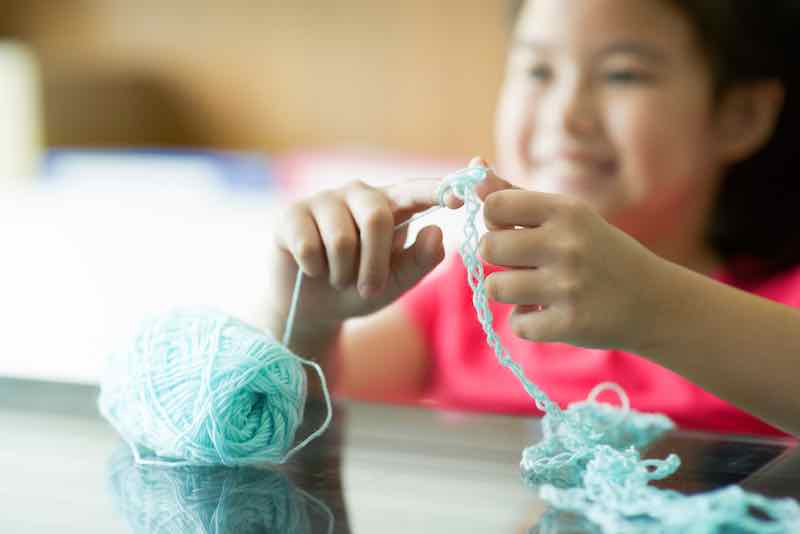 Another favorite easy yarn crafts for kids is finger knitting is a fidget project that keeps hands busy. One Little Project has detailed instruction on finger knitting. Kids can make a bracelet that they will love wearing. Forget the needles, fingers and yarn are all that is needed.
The Process
You start with a simple slip knot. Then wrap the yarn around your fingers with an over and under pattern. As you draw yarn across your hand and pass the loops on your fingers over the wrap, you will begin to see the knitted cord take shape.
Supplies Need
5. Cardboard Roll Snake Knitting
Snakes, fun and colorful, are another easy knitting technique that doesn't require any needles. Repeat Crafter Me has a fun version that will get the boys and girls knitting.
The Process
Tape five, evenly spaced popsicle sticks to the outside of a toilet paper tube. Wrap the yard around the sticks in a cross loop pattern. As you wrap more yarn around the tube and lift the loops over the wrapped yarn, your snake will grow through the bottom of the tube.
Supplies Need
Yarn
Popsicle sticks
Masking tape
Cardboard tube
6. Paper Plate Weaving
Here is an updated version of paper plate weaving from Fave Crafts. With a package of pretty plates, some coordinating yarn, and a cookie cutter to trace, you will have a project to keep your crafter busy for hours.
The Process
Trace a cooking cutter onto the bottom of the plate. Using the needle threaded with yarn, poke through the plate and crisscross across the traced pattern.
Supplies Need
Yarn
Paper plates
Large sewing needle
Cookie cutters
Pencil or marker
7. String Art
Next up for our easy yarn crafts for kids is string art.
String art is the older kids version of paper plate weaving. Hip and Simple outlines the process clearly. When your kids are ready to use hand tools and want to spend time creating something more durable, this is a great project to get them started.
The Process
Hash mark your drawn design outline every half inch to indicate where the nails will be placed. Tack the design to your board through several of the marked lines to secure it. Then using a tack, mark each of the hash marks to imprint a small hole in the board. Hammer the nails into the small holes. Then start tracing your design with yarn. Use a variety of yarns to add color and texture to your design.
Supplies Need
Drawn design
Piece of wood
Wire nails
Thumb tacks
Yarn
Glue
Hammer
Needle nose pliers
Measuring tape
Pen
Sawtooth hanger
8. Glue Yarn Balls
Whether you are making a spring basket or holiday decorations, glue yarn balls are a fun, albeit somewhat messy, project your kids will love. Make and Takes does a great job with their instructional tutorial.
The Process
Blow up your balloon, small ones work best. Add craft glue to a bowl and dunk your yarn into the glue. Wrap the glue soaked yarn around the balloon in a fun, airy pattern. The hard part is waiting for the glue to dry; it usually takes overnight. Once the yarn ball is dry, remove the balloon and display them in a basket, on a tree, or as a mobile.
Supplies Need
9. Yarn Dolls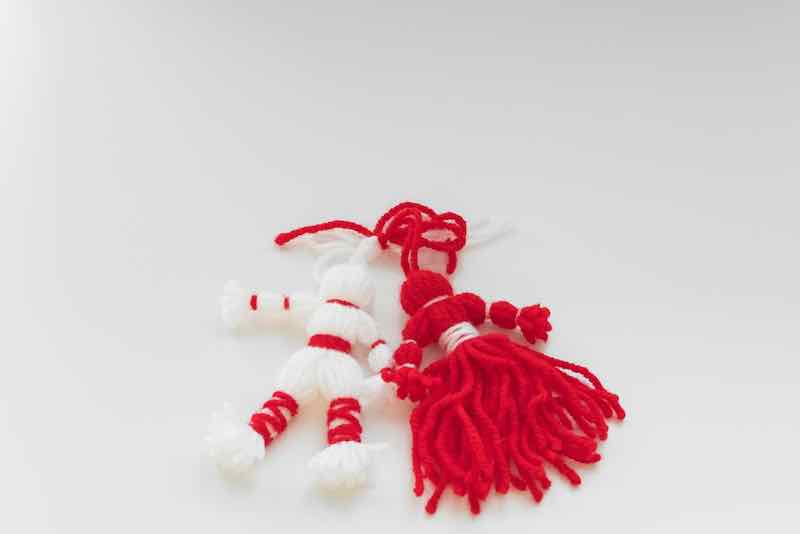 Yard dolls are an easy project that requires some nimble fingers to get the doll features balanced. They are a great project to practice finger dexterity. A string of these cute dolls would make a sweet garland. The version from Inscrutables Craft offers well illustrated instructions.
The Process
Using cardboard as a base, wrap the yarn to make the doll's body and arms. With shorter pieces of yarn, tie off sections to highlight the doll's form.
Supplies Need
10. Yarn-Wrapped Cardboard Letters
Learning to spell your name is fun with these yarn-wrapped letters. Art Bar offers up cute ideas on how to make letters that are colorful and educational.
The Process
This couldn't be easier. Cut out letters that you want to showcase. They can be any size you like. Wrap them with colorful yarn and start spelling!
Supplies Need
Cardboard
Yarn
Tape or glue
11. Pom Pom Cacti
The classic pom pom can be transformed into all kinds of different critters and objects. These adorable cacti are from Laura Radniecki and are a perfectly easy yarn craft for older kids. To take the project one step further, have the kids paint the terracotta pots in a southwestern pattern to compliment the cacti.
The Process
Make a variety of pom poms using your favorite method or Radniecki's pom pom tutorial. Once you have a collection of pom poms and a satisfactory design; you can shape and glue your cactus pom poms into their terracotta pots.
Supplies Need
Yarn
Mini terracotta pots
Hot glue gun and glue
Optional paint and paint brush
12. Dream Catcher
Every child's room needs a dream catcher to catch all the bad dreams. Why not create one together. This colorful project from My Nourished Home will get you started down the dream catcher path. An if you are lucky, a better night's sleep.
The Process
Assemble an assortment of colorful pom poms, yarn, and feathers. Twist a wire ring to support the structure. Begin by weaving in a star shaped pattern then add pom poms, feathers, and yarn tails to create a beautiful wall hanging.
Supplies Need
13. Yarn-Wrapped Slap Bracelets
Slap bracelets go on and off with a snap and are perfect for younger children to manipulate. These bright and colorful yarn-wrapped versions from Fun 365 will enhance anyone's outfit. These are a great party craft that works well for any size crowd.
The Process
These slap bracelets are one of the most easy yarn crafts for kids on this list. You simply wrap the yard around the bracelet and slap it on your wrist. So simple and so many decorative options.
Supplies Need
Yarn
Silicone slap bracelets
Let's Craft Together
Working together on easy yarn crafts for kids is a time for sharing creative ideas and bonding. The whimsical designs may create less-than-perfect finished products, but the process of working together and enjoying each other's company is worth every minute.
We hope you enjoyed these 13 easy yarn crafts for kids. Please share your creations proudly in the comments below. Your projects may inspire others to craft together.