Halloween popsicle stick crafts are a great way to let the kids have a little spooky fun and get a craft that you can show off all Halloween long.
If you've been looking to get into popsicle stick crafts this Halloween, this guide has you covered. We've got everything from challenging crafts for experienced kid crafters to accessible options for your youngest trick or treaters.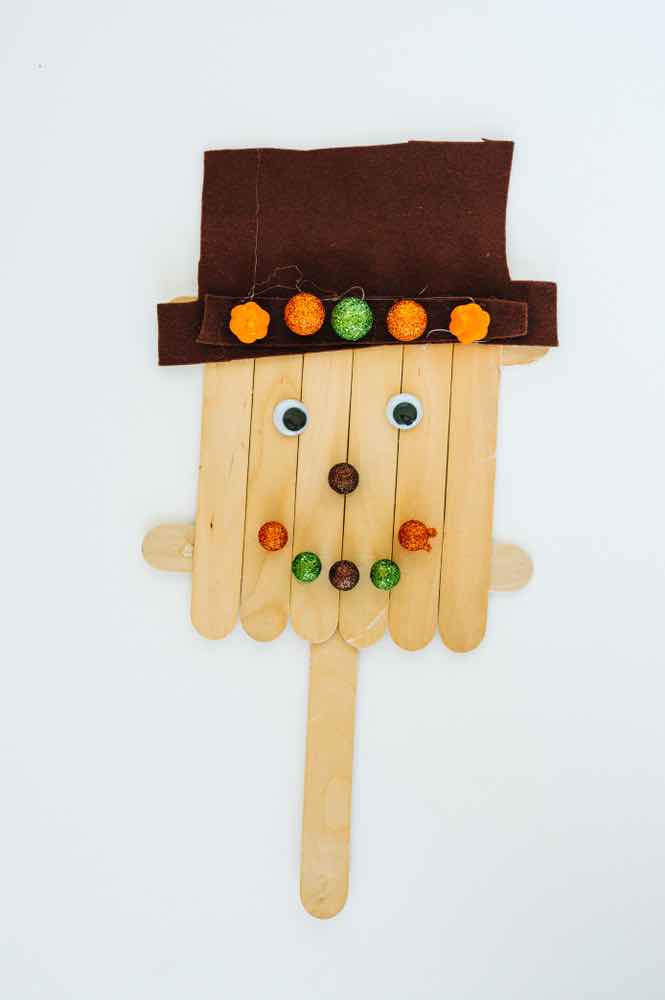 Let's get into some spooky popsicle stick crafts!
Haunted Halloween Popsicle Mansion!
Let's start off our Halloween popsicle stick crafts for kids with one of the most iconic sights of spooky season: the haunted house!
Now don't get too scared! This DIY craft can be made as fun or as haunting as you and your kids want to make it. This is one of the most impressive Halloween popsicle stick crafts on this list. It does take a little more skill and patients than some other crafts on this list, but it's worth it.
This guide includes a recipe for sugar paste glue, but you can swap that out with any old kid-friendly craft glue, and you'll be just fine. You can even do the hard parts of assembling the walls ahead of time and leave it to the little ones to add all the spooky charm without the potential frustration of lining up walls while the glue dries.
Here's what you'll need:
A Cute Halloween Keepsake
This cute Halloween treat uses a few more supplies, but is very easy to make and has a lot of versatility. This even makes a fun craft for kid's Halloween-themed parties.
What makes this, so great is that you wind up with a keepsake that you can display year round on the fridge, at the office, or really anywhere thanks to the magnet. The picture can also easily be swapped out for a pic of your kid's favorite pet or a fun drawing.
You'll need:
Paint
Brushes
Scissors
Popsicle sticks of a few different sizes
Hot or craft glue
Fridge magnets
Green pipe cleaners
Double-sided tape
Wallet photos
Mix and Match Jack-o'-Lantern Faces
This craft is for people who want to get a little more mileage out of their crafts. With these popsicle stick jack-o'-lanterns, you'll have one of the most flexible Halloween popsicle stick crafts out there!
The best thing about this craft is just how flexible it is. You can create eyes, noses, and mouths that can be swapped out. It's just like carving a real pumpkin!
If you're looking for a craft that the kids can go back to and mix up as they choose, this is right where you need to start. Here are the supplies you'll need to get started.
Jumbo popsicle sticks
Glue
Craft paint
Velcro stickers
Popsicle Pumpkin Patch
When it comes to Halloween popsicle stick crafts, you want to find something that lets the kids show off how creative they can be. This craft lets them have some pretty solid direction while still giving them the freedom to create. It's the best of both worlds!
This project lets the kids put together a Halloween-themed pumpkin patch complete with bats, ghosts, moons, and anything else they desire! The sky is the limit.
The popsicle sticks come together to create either a green field or a fence that our pumpkins can call home. The ribbon and cardstock let you show off your kid's crafting skills during the spookiest time of year.
Craft popsicles
Glue
Craft paint
Halloween themed cutouts or stickers
Glitter
String or a thin ribbon
Cardstock
Spooky Spider Webs
Are your kids looking for a Halloween craft that is just as ghoulish as it is cute? These Halloween popsicle stick crafts let your little ones embrace the creepy nature of this holiday and have a little fun while they're at it!
These spider webs are a great craft to make in bulk. Having the kids make a few each is the best way to decorate a hallway, porch, or really any other space. Plus, then the kids get to know that they helped make the holiday even more fun!
Here are the supplies you'll need to turn up the spookiness a notch.
Popsicle sticks
Orange, white, and black yarn
Glue
Craft paint in Halloween colors
Small decorative spiders!
Easy and Quick Halloween Popsicle Puppets
This is easily the most basic out of all the Halloween popsicle stick crafts on this list, but that doesn't mean it's any less fun!
This craft lets you have fun with nothing more than the basic supplies. This is a great way for kids to get started with some fun crafts or to make the most out of limited supplies. This guide shows you how to make a spooky mummy, a ghost, and a pumpkin, but you can let your Halloween imagination fly with this craft.
Best of all, you can spice this one up with all kinds of variations. Add googly eyes or pipe cleaners, use more popsicle sticks for arms, or combine this one with a paper craft to really knock it out of the park.
All you need are these basic supplies.
Popsicle Witch Hats
These witch hats let you have so much fun you just might start cackling!
This craft is a great way to break up all the pumpkins and ghosts on this list. You and your little ghouls will get to make some stylish accessories for your local witches. What makes this craft, so fun is it lets everyone show off some personal style. These witch hats can be customized to match your style. Have fun with it!
Here's what you need (besides your black cat and broomstick!)
Ribbon
Gold-colored paper
Popsicle sticks
Glue
Craft paint
Scissors
Spooky Clothespin and Halloween Pattern Sticks
Are you looking for something to give your youngest not only a fun craft, but also something to work on recognizing colors, shapes, and developing motor skills?
These eerie pattern sticks are just as much a craft and an early-learning tool as they are a fun game to play.
Simply paint the sticks with stripes of spooky colors and have your kids match the colors with the corresponding clothespins. You can even find Halloween clothespins that have bats, pumpkins, and ghosts on them for some extra Halloween value. Kids will love these so much you can expect them to transform this simple craft into a full-blown fantasy world.
Here's what you'll need to try your hand at this fun Halloween game.
Halloween-themed clothespins
Popsicle sticks
Craft paint
3D Popsicle Stick Pumpkins
Yes, we just said 3D popsicle stick pumpkins.
This craft is definitely the most involved on this list. Just like our haunted house, this one might be best either prepared ahead of time by the adults or put together by more experienced junior craft champions.
Soak the popsicle sticks overnight, gently bend them into curves, and use the glass jars to help them hold their curves while they dry. Glue a few curves together, and you'll have a basic pumpkin. Also like our spider web craft from earlier, these go great in little groups!
Here's what you'll need to escape the 2D craft world:
Orange popsicle sticks
Bowl of water
Cups for shaping the soaked popsicle sticks
Hot glue or craft glue
Green buttons
Various ribbons and twine that match your Halloween theme
Popsicle Stick Monsters!
Let's turn the scare factor up a notch for this next craft. It's Halloween after all! Let's have some trick with our treats.
There are several guides for popsicle stick monsters out there. Whether you want classic Halloween characters or creative monsters, there's an option for whatever floats your boat. Once you've made the basic head shape, you can go wild crafting up the most frightening, or cutest, Halloween monster you can come up with!
Here's what you'll need to help your little monsters create some monsters of their own:
Popsicle sticks
Craft paint
Googly eyes
Straw
Felt
Construction paper
Glue
Scissors
Halloween Popsicle Stick Crafts For Kids
This has been our roundup of our favorite 10 Halloween popsicle stick crafts for kids, but what are yours? With so many spooky options for Halloween crafts, there's bound to be more out there. Leave us a comment and let us know what Halloween popsicle crafts have been in a hit in your home in seasons past!