Is there a DIY chalk paint project you have been wanting to try, but have put it off because you weren't sure you could use chalk paint in this way? You have probably heard that chalk paint is for a very particular style or project. But these days, people are finding more and more ways to use it — and often in ways you might not have thought of before!
These 15 chalk paint ideas are totally unique and might even challenge you to try chalk paint in a different way than you usually do.
Chalk paint is a great choice for all kinds of furniture, and this chalk paint idea is perfect. If you are expecting a baby (or just want to do this for yourself!) this chic Ombre nursery dresser is a gorgeous project. It takes the bulk of the effort out of the project, since you will just be painting the drawers rather than the whole dresser.
Of course, you will need several shades of a color for this. Feel free to get small amounts of each shade, since this is a project you can easily complete in an afternoon. Or, like this DIY-er did, and blend your own colors to create the Ombre effect for the drawers. This means you will only have to buy two colors, your darkest Ombre color and white, and then just blend them till you have the different shades you need. The result is the perfect way to make your baby's nursery truly one-of-a-kind with this unique chalk paint idea.
Our next chalk paint idea is also a bedroom inspiration.
Most bed frames are pretty nondescript — in fact, you are probably unlikely even to notice them in most people's homes. But that will all change when you add a few layers of chalk paint in a striking shade to that drab frame. It is the perfect way to bring a piece of furniture, like a bed frame, from invisible to a real statement piece.
You will be surprised by how much a simple project like this can make your whole bedroom pop. Just make sure to seal it with a good sealant after painting or you will run the risk of the paint scratching or chipping over time.
Here is another chalk paint idea you will enjoy. You might have heard that chalk paint is only good for farmhouse or shabby chic styles, but this modern dresser proves that theory wrong. They used a deep, almost royal blue and applied several coats of paint, then finished it off with wax to get a super-sleek look with great coverage.
The result is a beautiful piece of furniture that would be right at home in a nautical or ocean theme (or wherever else you like). This piece goes against the old idea that chalk paint is streaky or doesn't provide good coverage, making it suitable for only rustic styles. Clearly, this chalk paint idea is far from rustic, and works with any décor style.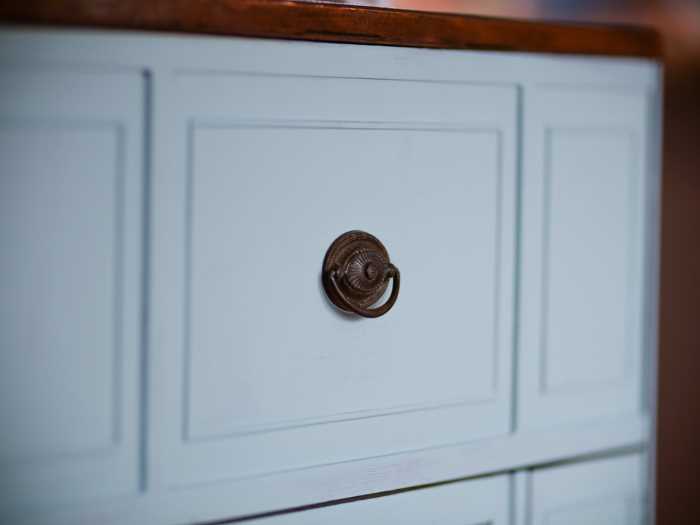 This chalk paint idea will probably blow your mind, like it did ours.
You probably didn't know that you can use chalk paint on fabric. This is the perfect way to revamp an old or tired piece of furniture almost instantly. While chalk paint does alter the texture of the fabric, it should remain comfortable — and it will look much brighter.
Before you paint the fabric, make sure to clean it thoroughly, first with a vacuum, then with a lint roller. This will make sure you remove any hair, crumbs, or other debris before you put the paint on! You can even heat seal it to make sure that the paint meshes with the fabric, if you so desire.
The one downside to doing this is that you won't really be able to wash the fabric as often as before, so be sure to try this chalk paint idea on something you know won't need a lot of laundering.
What southern front porch is complete without a rocking chair? And when you hear the words "rocking chair," you probably have a pretty basic idea in mind. But this chalk paint idea will help transform that worn out rocking chair into something new and unique.
With a bit of chalk paint, you can breath new life into that shabby rocking chair and transform it into a real statement piece. Whether you like bright colors or want something muted and elegant, there are countless ways to take this idea. In the end, you will have a rocking chair that is totally one-of-a-kind.
This is also a project that does not take a lot of time. You can easily have it done in an afternoon, even allowing it to dry between layers. Just be sure to use a sealant that is appropriate for where you plan to place your finished chair, whether it is outside or inside.
If your kitchen is anything like mine, it is the heart of your home. So it only makes sense that you want it to reflect your personal sense of style and comfort. The debate around painted cabinets is one for the ages, and often times gets a bad rap. However, there are many ways to achieve gorgeously painted cabinets in a way that looks stylish and put-together.
When using chalk paint, make sure to use multiple layers, letting the paint dry thoroughly between each coat. After the last layer, seal the paint with good quality sealant. You might be surprised by how long the paint job continues to look shiny and new — even in the busiest room in the house.
Painting a bookshelf is a pretty common DIY project, even when it comes to using chalk paint. But this chalk paint idea is a bit more unique, and the simplicity of the changes make for something surprisingly eye-catching.
Instead of painting the entire bookshelf, this DIYer has opted to prioritize the inside of the shelving unit, leaving the face of the shelf white. This lets the interior pop while keeping the outside muted.
It is a great way to add a splash of color to your room without being overbearing — and the perfect opportunity to use some bright shades without making them feel glaring or over-the-top. Plus, it is an instant way to elevate an otherwise bland piece of furniture.
If you love a truly unique look in your home, this chalk paint idea may just be what you are looking for. These striped stairs can be the perfect choice if you want to make a bold statement with your staircase.
These are undeniably eye-catching, while adding a delicious pop of color to your stairway. These stairs have been painted in stripes as a nod to a historically significant pattern, as stripes were often used to denote marginalized groups in society.
However, there are many ways to take this idea and make it your own, whether you want to use a meaningful pattern, just make things bright and colorful, or create the same effect with more muted tones. No matter what you choose, it will be a gorgeous focal point for your home.
If you are the type who likes subtle, intricate details, then this chalk paint idea is one to consider. Talk about one of the simplest and most eye-catching DIY projects you can make!
This scalloped dresser is almost completely unfinished. All that has been done is a simple scallop design along the top of the drawers and a pop of color on the top and legs. Despite this minimal work, the piece is really one-of-a-kind and unique. It just goes to show how much you can achieve with some chalk paint and a stencil. (By the way, feel free to make your own stencil out of construction paper — there is no need to buy one from a store!)
I just adore this next chalk paint idea. And this is especially great if you have a set of chairs that need a little bit of life breathed into them. I'm honestly thinking of doing this with the chairs in our school room now.
I mean, matching chairs are all well and good, but if you have a slightly more eclectic style, you need to make some gorgeous rainbow chairs like these! There is no special trick to this project — just chalk paint, your favorite colors, and a little bit of elbow grease. While these chairs look right at home in a bright kitchen or dining room, they are also a striking piece for a front porch. You can cover them thoroughly or keep them looking slightly streaky to achieve your perfect style. As with most things DIY, there is no wrong answer!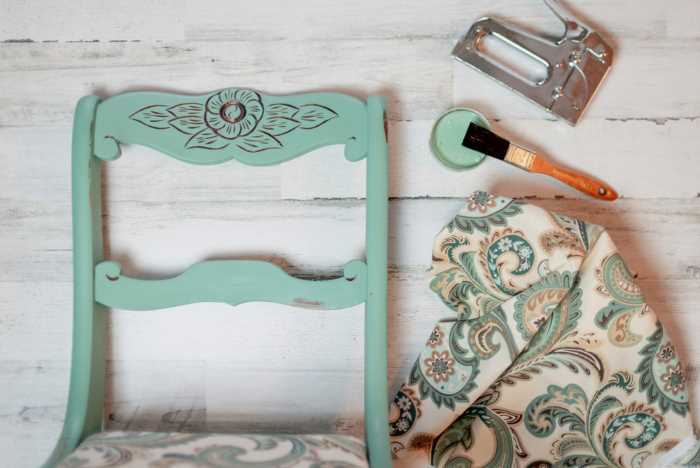 If you are like me, you find yourself giving your drab coffee table the side eyes most days, debating on whether to sell it online or burn it. But, before either of us makes a rash decision, lets look at this next chalk paint idea. It has me wanting to save my coffee table.
Chalk paint has made a name for itself in the world of "farmhouse chic" styles, like this gorgeously upcycled coffee table. This is a super striking way to take a basic coffee table and transform it from boring into unique and stylish.
Even better, this project doesn't take a lot of time, since you will just be focusing on the base. The farmhouse chic style doesn't demand total paint coverage, so you might be surprised at how quickly this project comes together. Even if the final look is streaky, make sure to hit it with some sealant to protect the paint long-term!
Who said that wood was the only surface you could use for chalk paint? This chalk paint idea will have you looking at your interior brick surface a little differently.
Instead of leaving it bare, try adding a layer (or more) of chalk paint to an exposed brick wall. This will instantly transform the wall from basic to eye-catching, and it is an especially great backdrop for art pieces or collections! You can take this in any direction you choose: muted, dark, subtle, vibrant, whimsical, or anything else. If you have a brick wall in your home, don't think you're obligated to keep it exactly as it is.
A hutch is a great piece of furniture to have in a kitchen, entryway, or living room. It is incredibly versatile and can serve as a focal point, especially in a small space. But there is no need for your hutch to look exactly like a thousand others! And if you're like me, you don't want it sticking out like a sore thumb if the wood color of your hutch isn't exactly what works with your space.
This DIYer used shades of soft brown and off white to make a rustic French-inspired hutch that is absolutely gorgeous. This is the style that made chalk paint famous, and it is not hard to see why! It just goes to show how versatile chalk paint is and how you can use it to achieve almost any style.
Believe it or not, you can absolutely use chalk paint on walls and even front doors! It all comes down to how you apply and seal your paint.
They say that the front door is the introduction to your home, one that makes an immediate statement that people can see from the street. So why not make it one that is uniquely yours?
This particular example started with a fairly nondescript front door. But a few layers of sea green chalk paint transformed it into something unique and lovely. This is an extremely elegant version, but you can turn it into whatever style you prefer, from sophisticated to colorful, whimsical, or stately.
This next chalk paint idea will have me thinking twice the next time I go thrift shopping. After all, chalk paint is often used to achieve a vintage look, so why not pair it with an actual vintage piece?
This antique clock, dated from the 1930s, was originally coated in dark varnish with gold and black paint. But the new owner wanted to give it a more modern look, and that is where the chalk paint came in!
They started out by using a razor to remove the old varnish. Then they repainted it with chalk paint and finished it off with wax sealant. The result is a stunning and chic modern design that any thrift store devotee will love.
FAQ
Do You Have to Sand Before Using Chalk Paint?
You may have heard that you need to sand any furniture or walls before applying chalk paint, but this is not usually the case. The most important part is to make sure the surface is clean and free of excess dust, grime, or other debris. As long as it is clean, you shouldn't need to sand before starting to paint!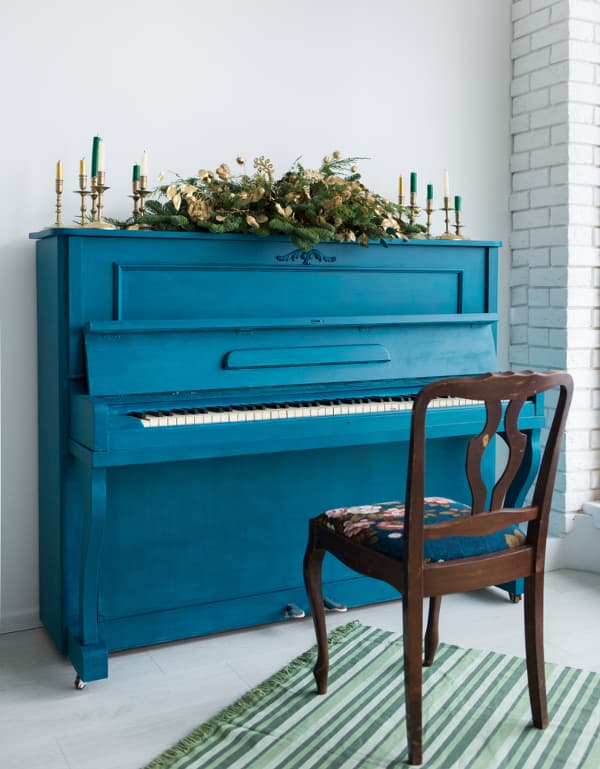 What Surfaces Can You Use Chalk Paint On?
There is almost no limit to what you can use chalk paint on. DIY enthusiasts have been using it to paint walls, cabinets, furniture, metal, and fabric. As long as you use it properly — and make sure to seal it with good quality wax — chalk paint is an excellent choice for most surfaces.
Conclusion
If you are hankering to try chalk paint in your home, there is no limit to the projects you can do. These ideas are just the start of all the ways that you can use chalk paint to brighten your living space, whether you are applying it to walls, furniture, cabinets, or something else. Do you have a favorite chalk paint project that you have done? Let us know in the comments below!