If you've always wanted to make your home or office fit your style more or would like to try out a new paint color, you might want to try cream chalk paint. Cream isn't a boring color at all. In fact, you can use this unique hue to add some elegance or sophistication to any room. And it can be paired with any color palette you have in your home.
There are so many possibilities on how you can add creamy touches around your home without having to paint a single large piece of furniture. After all, the attention is in the details, right? Besides this, it can be fun and invigorating to pick up a paintbrush or spray can and get creative.
And these 21 cream chalk paint ideas might be just what you need to upgrade your space.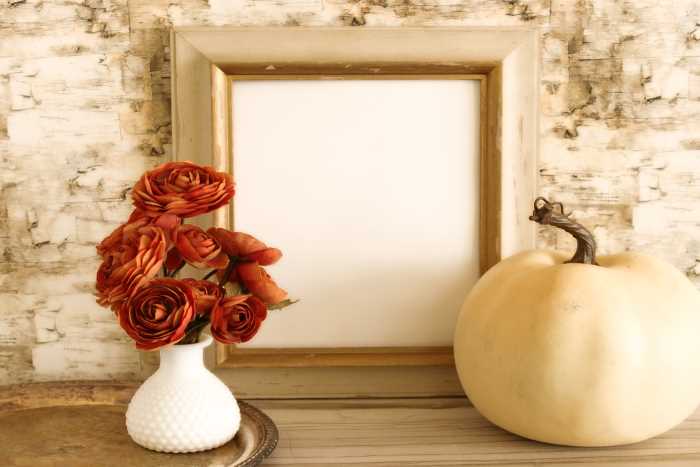 Meaning of Cream Color
With white representing freshness and brown indicating warmth, cream has an air of sophistication. This quiet color can be reminiscent of history. It gives things an aged and vintage feel that is both classy and transcendent of time. Further, some words you may hear to describe this pleasant tint are relaxing, calm, conservative, and neutral.
What Can You Do with Finished Projects?
Once you've put the finishing touches on your projects, you can use them to decorate your home, or give them as gifts around the holidays. For instance, place decorative items on a desk or shelf so you can look at them whenever you'd like. The understated tone is actually quite eye catching when paired with darker hues. Alternatively, you can use other objects, such as a clipboard or storage box, for staying organized or for other practical reasons.
You can find some of the most unique things at your local thrift store and give them new life with a simple coat of paint, transforming them from someone's discarded trash to your new treasure. Here are a few ideas on how you can transform something drab into something sophisticated and elegant.
1. Vintage Books
Next time you visit a thrift store or other budget-friendly shop, try searching the racks of old books. You can give these a bright coat of cream chalk paint or make each book a unique color. The result can be beautiful, smart and expressive. Another idea is to set a pile of books on a wooden chair, and put a candle and a vase of flowers next to them. Other than this, place the books on bookshelves or a coffee table, or set a glamorous container of flowers on top of a stack.
If you have a vinyl cutting machine, like a Silhouette or Cricut, you can tie 3 or 4 books together with twine and add a cute expression to the spine of the books.
2. Birdhouse
You can give a birdhouse in your garden or yard a vintage or stylish look by using cream chalk paint. Try adding a bit of the hue to strategic areas or painting the entire birdhouse this color. Building a birdhouse yourself can be a simple craft project to undertake or buy an unfinished one at a craft store. Other colors that coordinate with cream include sky blue, seafoam green, turquoise, lavender, white, mid-gray and pale gray.
3. Bookends
Instead of purchasing expensive bookends from the store, you can save money by doing it yourself. In addition, you have the opportunity to use your own creative ideas for a unique project. You can find low-priced bookends at a thrift shop and upcycle them into something new and fabulous.
Or, you can try creating your own unique bookends with vintage rolling pins, an old telephone, trophies or other objects you discover while thrifting. By adding a coat of cream chalk paint to these items, you can take something that most people would simply overlook and transform it into a unique and functional statement piece for your bookshelf.
4. Flower Planter
You can customize a flower planter to fit your personal style with cream chalk paint. Doing this means you can stop overlooking the cheaper (and sometimes tackier) planters you see in some stores, and bring them home to transform then into elegant looking pots with cream chalk paint.
After you're done painting it, put some beautiful flowers inside and place them inside the house or outdoors. You can set planters on a windowsill, in the corner of a room or make them the focal point of a room's décor.
Another idea is to let your creativity and decorate the flower plots with a design you created yourself. Alternatively, stencils can be easy to use and extremely affordable if you don't want to get THAT creative.
5. Wall Racks/Shelves
Since plain shelves and racks aren't always interesting to look at, you might like to freshen them up with a coat of cream chalk paint. When you've completed your project, you can make your shelves even prettier by placing your favorite artistic objects or other items on top. This could be a statue, books, vases, small mirrors, candles, plants or anything else you choose.
6. Farmhouse Sign
Seeing as how the cream color gets its name from the dairy product, it can seem fitting to use it to make a vintage farmhouse sign. You can hang your sign above a kitchen window, prop it up on a desk or put it anywhere else you can think of. Farmhouse signs can be quaint, cozy and reminiscent of simpler days. They can inspire you to relax and appreciate what really matters in life.
7. Bird Bath
Bird watching can be such a fun and relaxing hobby on a lazy Saturday. And since one of the necessities of a bird's life is water, you might want to incorporate a bird bath into your yard. You can attract various birds and watch them in their environment as they stop for a drink or a quick bath.
And lets be honest, no one wants a drab looking concrete statue in their yard. So why not brighten it up with a few coat of cream chalk paint? Just be sure to not paint the inside of the water well, so the paint doesn't affect the water quality for your feathered friends.
Your gorgeous bird bath will look so magnificent. Plus, you don't need to limit yourself to only one tone. Birdbaths can be a highly decorative addition to a garden or yard.
8. Drying Rack for Clothes
Rather than hang your clothes to dry outdoors, if you only have a few pieces, it can be easier to place them on a drying rack in your laundry room. This is especially helpful in the winter months when you don't want to go hang wet clothes outside to dry.
There are so many different objects you can transform into a drying rack with just a little imagination and a coat of cream chalk paint, from an old ladder to PVC pip. You aren't just limited to what you can pick up at target in the laundry aisle.
You can brighten up whatever you find with the creamy hue. Then, after it's dried, you're ready to use it for your clothes. And, drying your clothes on a rack supports the environment and can help you save on your electric bill.
9. Garden Ornaments
Whether you plan on having a garden party or just enjoying your time alone, decorating your outdoor space can be an exceptional idea. You can easily spruce up your area with some cream chalk paint since it sticks to nearly any surface. Imagine how exciting it can be to restore flower boxes, garden gnomes and other decorative yard objects.
10. Thrift Store Frames
I learned a long time ago to not judge things at surface level. And this is especially true when thrifting. This means you don't have to overspend by making purchases at high-end stores. After all, you can find attractive objects at affordable prices at a thrift store online or locally.
And frames are no exception. Frames can enhance family photos or original artwork. Or you can repurpose them into mood boards, memo boards, earring organizers or something else. All you have to do is find a frame style you like and add a few coats of cream chalk paint to it and you have instantly transformed it into something new and unique.
11. Chicken Coop Décor
Although your space matters a lot, it can also be exciting to decorate your pet's living areas too. If you have chickens, here is a fund idea for you.
After all, they need a nice area to lay eggs, roost, and do what they do all day. You can create a chic chicken coop with cream chalk paint by painting things like mirror frames, rustic wooden signs, nesting boxes and other objects you can find. Just have fun with decorating and see how much your chickens adore their redesigned space. And if they don't seem to care, at least you'll love the fresh new look of their coop.
12. Storage Box
Since an unfinished or decaying storage box can be unimaginative, consider dressing it up with some cream chalk paint. Doing this can make you actually want to use it more often. Aside from this, you can make it match your home design so it fits in better.
Further, organizing your stuff so it's not scattered on the floor can make you and your family less likely to trip and injure yourselves, providing they actually put things in it (but that's a story for another day). Finding what you need without having to search endlessly can reduce frustration and give you peace of mind.
13. Magazine Rack
Magazine racks can be excellent organizers and home décor pieces. Whether you mount them on a wall or place them on the floor, you'll be increasing a room's aesthetic appeal with your fresh looking rack.
You can paint a store-bought magazine rack or upcycle another item to create one. Some people make them from clothes hangers, cardboard, plastic bottles and other objects. Your altered magazine rack might motivate you to actually read that issue you picked up at the store the other day.
14. Clipboard
Clipboards are such a great thrift store find. As a homeschooling mom, I love scoring them for next to nothing. A lot of times they are marked up or decorated by the previous owner, so they need a little something to make them fresh.
Since chalk paint is so versatile, its super easy to thrown a coat of cream chalk paint on the used clip board and then decorate it with some stencils or vinyl accents.
This can be an especially great idea to enhance an office space or to motivate you to finish any college homework you may have or finish that TO-DO list you've been putting off. If you think about it, the updated color is likely to have the best effect on your mindset. You can be more successful, improve focus and increase productivity by using cream chalk paint or another beautiful color you like.
15. Ladder
At first glance, you might not think of a ladder as an exciting DIY project. But you can do so many things with a ladder that don't involve climbing, especially if you find yourself lucky enough to stumble across a wooden one in good shape.
Using cream chalk paint to give your ladder a fresh makeover will make it look as charming as can be. You can place your newly painted ladder somewhere for decoration or set it aside for use later on. Ladders make great blanket wracks, drying racks, or just used as decoration.
16. Wooden Crate
If you're crafty or love participating in DIY projects, there are several ways to decorate with wooden crates. In particular, you can turn one into an adorable end table, or put a bunch together to build an outdoor bar for entertaining.
Color can give wooden crates a modern, practical, or rustic charm. And giving your wooden crates a coat of cream chalk paint will give them a country look and feel. And you don't have to use then for anything fancy either. You can simply utilize them for storage. They make great bins for storing blankets, books, or craft supplies.
17. Vase
Another thing to keep an eye out for when thrifting are vases. You can take any old vase and transform it into something funky, elegant, or whimsical with a coat of paint. Using cream chalk paint on a vase will give it an elevated look, making it fresh, new, and elegant.
You can buy fresh flowers from a store, pick them from your own garden, purchase artificial blooms or make paper flowers. It's not necessary to be a skilled florist to create an appealing arrangement. You can place one flower in a fitting vase and set it on a table, or learn how to make more complicated arrangements by following an online tutorial. Decorating with flowers is an effortless way to add a pop of color, texture and softness to any room.
18. Recycling Baskets
You can take the boredom out of recycling by getting creative with paint and a few baskets. Baskets are so versatile and can be used for so many things. For one, you can use it for recycling by setting up 4 baskets together, for glass, plastic, metal and paper. Now you can encourage your family to recycle frequently.
They are also great to keep around for gifting. You never know when you might need a basket for a baby or bridal gift. Use your recently refreshed basket to create a unique guest the new bride or mom-to-be can use for years to come.
19. Lattice Frame
As one of the most ornamental ways to frame a picture, lattice frames can still be spruced up. For one, a coat of cream chalk paint can change a boring frame into a gorgeous piece. As well as this, you can search Etsy for a lattice window frame, wood lattice grid tile panel, wooden shaped heart lattice wall art and other attractive items to use as home décor.
20. Shipping Pallet
If you're crafty, you can repurpose wood pallets into all sorts of useful items. It's one of my favorite types of DIY projects. This can be anything from a shoe rack to a vertical planter to even a gorgeous headboard if you have the time and patience to disassemble them.
Other ways to upcycle them include a pallet bookshelf, a compost bin, expressive wall art and a sturdy garden pathway, among other things. You can find wood pallets for free by asking business establishments such as department stores, distribution facilities and auto repair stores if they have extras you can have. Just try to be sure you find some that are free of chemicals or spills.
21. Holiday Decorations
When Thanksgiving, Christmas and other holidays arrive, it can be important to embellish your home with decorations. And with a little paint and imagination, you can turn any Dollar Tree Christmas decoration into something rustic or elegant.
You can adorn your tree with Christmas ornaments such as a miniature window, an angel, a miniature wreath or something else. Or take plastic holiday houses from a discount store and paint them with cream chalk paint, then distress them if you want, to create a rustic look.
Where to Find Items to Paint:
IKEA: At IKEA, you can search for numerous products to repurpose. This can be furniture, storage pieces, or something else entirely.
Thrift store: Although thrift stores can have quite a bit of junk to sort through, it can be worth it to find that one gold nugget in the heap.
Antique shop: In comparison to thrift stores, most items antique shops sell can be valuable.
Arts & crafts store: Many creative people can relate an arts & crafts store to a candy store full of delightful items like colored pencils, paints, sewing supplies and other handy items.
Home: If you'd rather not go anywhere, you might want to search for something to repurpose in storage areas like closets, bookshelves or other places.
There are so many ways to take a used or new item and transform it into something completely new with a little cream chalk paint. You can use it to create something rustic, elegant, or sophisticated with minimal effort.
And there are so many ways to give your space a fresh look without embarking on a major project like painting an entire dresser or table. In fact, knocking out a few small craft projects can be quite encouraging and motivating to help you work on rearranging, purging, or finding new joy in old things. Let us know what project you are most interested in giving a try in the comments below.