With weeks of frosty, snowbound days, winter is the perfect time to cozy up and get crafting! Whether you're looking for kid-friendly projects to keep the little ones engaged and entertained, or you're hoping to create a special keepsake—we've got you covered with these fun and easy winter craft ideas!
With just a few materials and a little time, crafting is a great way to unplug and de-stress. Not only can it be a money-saver to make your own gifts and decorations, but it's also a chance to learn a new skill and add personal touches to the items you're making.
Check out the list below to begin making beautiful decorations and aesthetically pleasing functional items that double as great gifts around the holidays.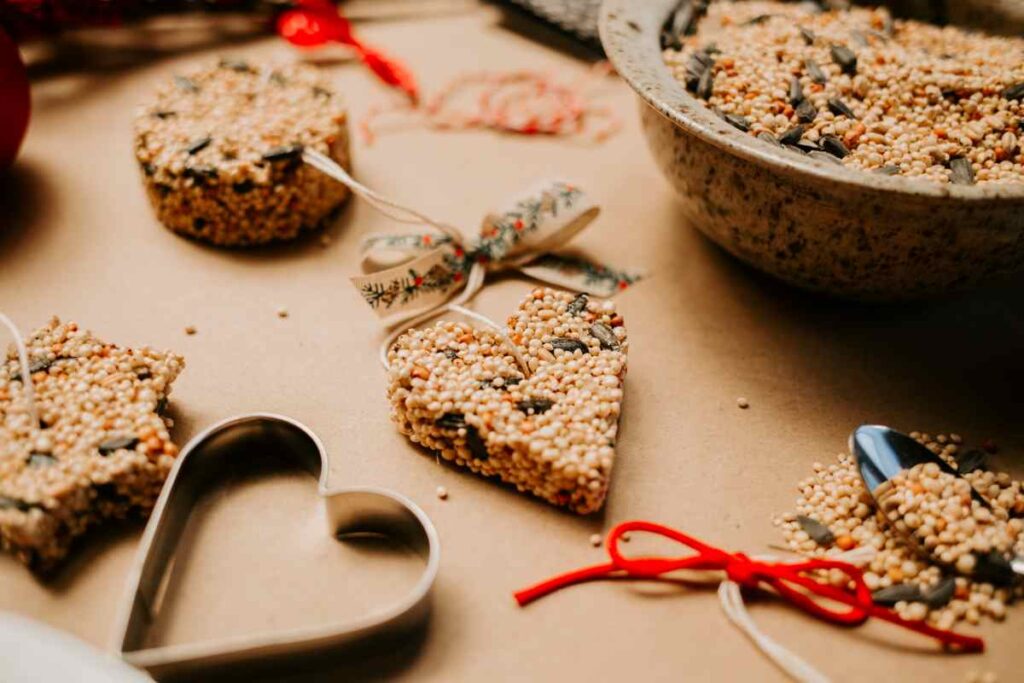 ---
Adorable Homemade Decorations
1. Salt Dough Ornaments
Making Salt Dough Ornaments is a classic winter craft idea for the whole family! They also add a sweet touch to any gift around the holidays. Tie an ornament on presents with ribbon, or use twine and loop an ornament around the neck of a bottle of wine you're bringing to a friend's holiday party.
Creativity knows no bounds when it comes to creating salt dough ornaments! You can personalize them any way you want. Add colors, or leave them snow-white. Use cookie cutters to cut out shapes, or go wild and mold your own. Utilizing crafting stamps is a great way to press intricate designs or letters into your ornaments.
And the best part is, this salt dough recipe is so simple! It only requires three ingredients: all-purpose flour, salt, and water (essential oils may be added if you prefer a little fragrance).
In addition, you will need a mixing bowl and spoon, a rolling pin, cookie cutters, food coloring or acrylic craft paint to add color (if desired), a drinking straw to punch a hole out for threading ribbon, parchment paper, and twine or ribbon.
2. Felt Ice Skate Decorations
These Felt Ice Skate Decorations are also a super cute and easy winter craft idea for kids. And since they're not holiday-specific, these decorations can be displayed all winter long!
The materials needed for this craft include the ice skate template, which can be found in the Felt Ice Skate Decorations link, as well as jumbo craft sticks, glitter glue, black permanent marker, small pom-poms, small wooden snowflake embellishments, acrylic craft paint, craft felt, white yarn, glue gun and glue sticks, paintbrush, scissors, straight pins, tape, and an eyelet snap punch.
3. Coffee Filter Snowflakes
No winter is complete without snowflakes! Whether or not it gets cold enough to snow where you live, your kids will still love making (and hanging!) these Coffee Filter Snowflakes.
With so many ways to fold and cut, each snowflake ends up looking unique! Leave them white, or draw on the filters with washable markers and spray with water to add tie-dye splashes of color. Use string to suspend your snowflakes from the ceiling, or group them into a garland to hang on the mantle.
And the best part is, the materials you need for this winter craft are probably things you already have around the house! Supplies needed include round white coffee filters, washable markers, scissors, a water spray bottle, and paper plates (or parchment paper).
4. Tea Light Snowmen
Whether the kids have a surprise snow day off from school, or they're just looking for something fun to do, these cheery Tea Light Snowmen are another easy winter craft.
Hang the finished snowmen on your tree, or weave them in with a wreath or garland. They look so adorable when they're all lit up!
To make these cuties, you'll need battery-operated tealights, silver pipe cleaners, small pom-poms, assorted ribbon for scarves, black self-adhesive rhinestones, orange craft paint, glue gun and glue sticks, paintbrush, scissors, and hooks or ribbon for hanging.
5. Toilet Paper Roll Gnomes
Gnome decor is everywhere you look these days, and for good reason! These adorable little Toilet Paper Roll Gnomes add a bit of whimsy and brighten up any space. And what's really great is that this isn't just a winter craft. You can switch out the colors to make themed gnomes for any holiday!
And since everyone loves gnomes, this craft is not only fun–it makes for the perfect homemade gift, too. Have your child make these friendly gnomes for their teachers or classmates. Or make them and take turns hiding them around the house for the rest of the family to find (à la Elf on the Shelf).
To create your own gnome, you'll need one large white pom-pom, fiberfill, yarn, toilet paper or paper towel roll, scissors, hot glue or quick setting glue, and a piece of cardboard (or a small book).
6. Rock Painting: Mix & Match Stone Snowmen
To quote Olaf, 'Do you want to build a snowman?'
If the answer is yes (and it should be!), then this Rock Painting: Mix & Match Stone Snowmen idea is the winter craft you've been looking for! Perfect for kids, and kids at heart, this craft is not only fun to paint, but it's fun to mix all the pieces around to see how many different snowman combinations you can come up with.
In order to paint your own mix-and-match rock snowmen, you're going to need smooth stones (if you can't find them in the wild, look for bags of stones for purchase at your local garden store), white paint, and a pack of colorful permanent markers. That's it!
---
Fun & Functional DIY
7. Cookie Cutter Birdseed Ornaments
Birdwatching is an engaging pastime for all ages, and these pretty Cookie Cutter Birdseed Ornaments are a great way to draw more birds into your yard. Kids love making this simple winter craft. Hang your ornaments on nearby tree branches, or string them up on your back deck for even more up-close birdwatching.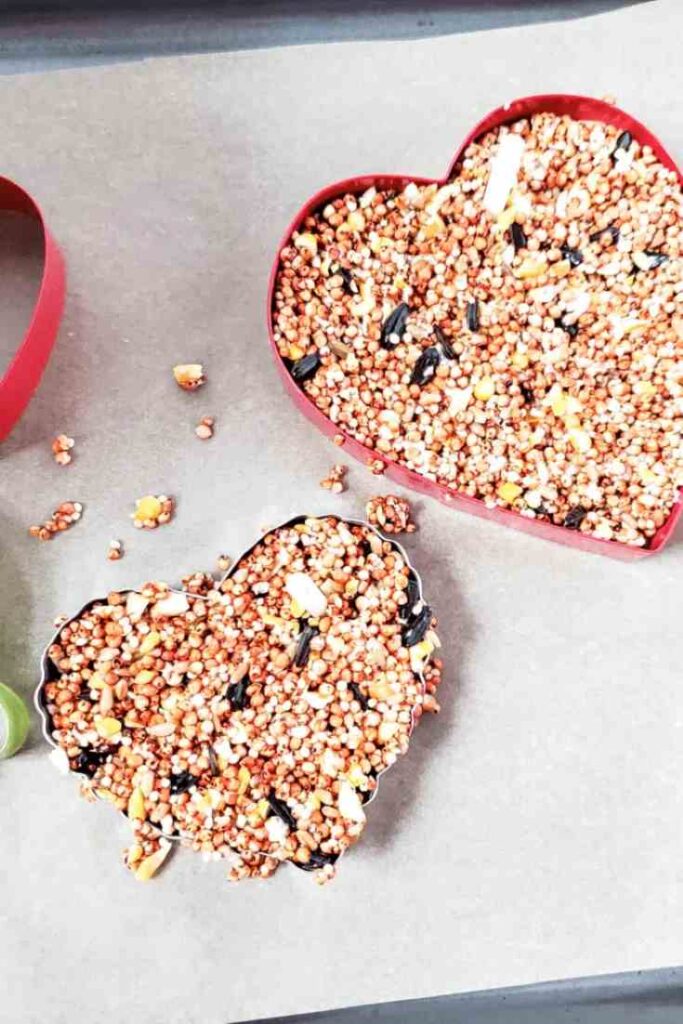 For a fun learning experience, consider keeping a pair of binoculars and a field guide on hand. This way, you can easily identify all the different bird species that come fluttering in to snack on your ornaments!
To make this winter craft idea, you'll need birdseed, unflavored gelatin, water, cookie cutters, straws, vegetable spray, a non-stick pan, and twine.
8. Fire-Starter Pinecones
Crackling fires are synonymous with cold winter days, and fire starters are an excellent time-saver when it comes to lighting them. But did you know you can make your own fire starters, and they can double as decor items, too?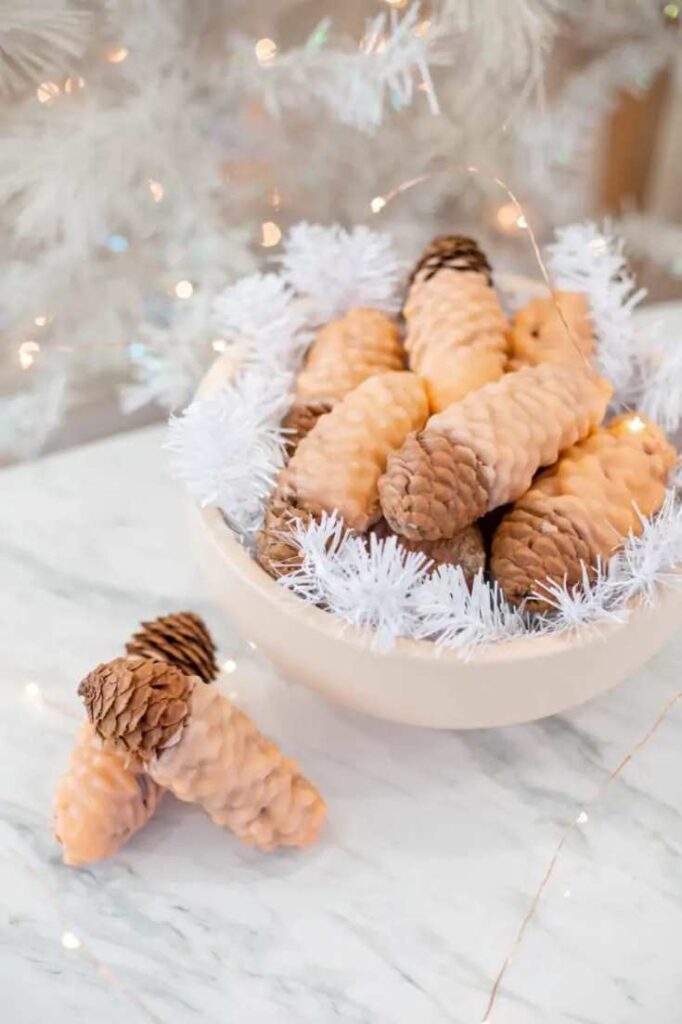 These Pine Cone Fire Starters are a favorite winter craft idea. Not only do they look stylish displayed in a bowl on your hearth or coffee table, but they're functional and super easy to make. Craft these pretty pinecones and give them as wintertime gifts to friends and co-workers.
In order to make this winter craft at home, you will need pine cones (you can either forage for them, or purchase plain, unscented ones at a craft store), beeswax pellets, crayons, a pot for boiling water, a candle pouring pot, wire, and plates or cups to catch wax drips.
9. Winter Fun Snow Slime
Save this Winter Fun Snow Slime craft idea to make on a snow day, or just a day when the family is stuck inside looking for something to do.
Slime is a fantastic sensory activity for kids of all ages. Playing with its super stretchy texture engages all the senses, and it even helps kids develop their attention and focus.
To make this sparkly winter craft, you'll need an 8 oz bottle of school glue, warm water, borax powder, blue glitter, craft paint (optional), a bowl, measuring cups, measuring spoons, and a sturdy spoon for stirring.
10. Cute Snowman Bookmark
What's better than settling in with a good book once the snow starts falling? Marking your page with this Cute Snowman Bookmark, of course!
This is a fun and simple winter craft idea for kids. Let their creativity run wild as they put together these little snowmen to follow along as they read (or as you read to them). You can even color-coordinate their hats and scarves to match whatever you're reading.
In order to make this adorable bookmark, you'll need to download the template (which can be found in the Cute Snowman Bookmark link above), construction paper, glue, permanent marker, pencil, and scissors.
11. DIY Yarn Pom-Poms
Pom-poms are a staple in so many crafting projects, so why not make them? And it's so easy, too! With just a few supplies and about five minutes, you can make these DIY Yarn Pom's Poms in any color combination you want.
Use bright pom-poms to accent the top of a winter hat, or smaller ones to decorate scarves, and wreaths, or string a bunch of pom-poms together to make a festive garland. There are so many possibilities.
To make this winter craft, you only need yarn, a piece of cardboard, a round lid (or use a glass to trace a circle), a pencil, scissors, and a coin.
12. Snowy Cardinal Painting
Painting is a therapeutic hobby. It's known to relieve stress, instill self-confidence, and improve things such as fine motor and problem-solving skills. Painting allows our minds to wander and come up with creative solutions in a low-pressure situation. Plus, it's a great hobby for those cold winter days.
If you always wanted to try painting but never knew where to start, this Snowy Cardinal Painting comes with an easy-to-follow step-by-step tutorial. It's a wonderful winter craft idea for kids and adults alike.
Give your cardinal painting as a gift, or hang it in a place of honor in your home. All you need for this winter craft is acrylic paint, paintbrushes, a small canvas, a paint palette, a paper towel, and a jar of clean water.
---
Winter is the Perfect Time for Crafting
Winter is full of gift-giving opportunities, and with everyone spending more time indoors, it's a great time to start crafting. Make unique items to decorate your home, or to give as gifts.
And if you're looking for even more winter craft ideas, be sure to check out 20 Easy Christmas Crafts to Make and Sell, 19 Christmas Pipe Cleaner Crafts for Kids, and How to Make Fake Snow For Crafts.