The opportunities for creating attractive and effective features in your home are endless when you use white wallpaper. White wallpaper can add depth and range to any room, while still maintaining the classic appeal that comes with having white walls.
There are so many benefits to using white wallpaper, when strategically planned and executed. You can draw attention to a chimney stack in a cozy living room, or create the illusion of space in a hallway. The use of 3D paper will create the illusion of age in a high-ceilinged room. There are many subtle differences in white wallpapers that can be used creatively and effectively, if you find the look you are going for.
Here are 15 white wallpaper options and the 21 different ways to use them that we are sure you will love.
I know what you're thinking. This wallpaper doesn't look white at all, but it is. If you scroll through the photos you will see the white undertones that make up the backdrop of this geometric design. The affect it creates gives off a shimmery silver affect while maintaining a distressed white aesthetic.
This unique design opens you up to use this white wallpaper in a variety of ways. Here are two ideas to get you started.
Idea One: Hallway
If you have a hallway you just aren't sure how to make more aesthetically pleasing, this may be the wallpaper for you. To make the most of it in this smaller space, keep it clear and uncluttered, especially if your hallway is narrow and dimly lit. The use of this paper will add depth and brightness to the space in a way that other designs or paint would not.
Idea Two: Living Room
If you use this wallpaper in the living room, pair it with bright colored furniture for a contrasting affect. A tuxedo couch, with its rectangular shape and right angles, in a solid color would compliment the geometric designs of the white paper perfectly, while breaking up the randomness of the design with some structure. Throw pillows can be lighter shades of the dominant color, interspersed with white.
Do you love the look of beadboard, but hate the price? Then we have found your solution. This white wallpaper is designed to look like real beadboard. The look of this paper is suitable for a doing a whole room or just an accent wall. Here are a couple ideas you can use to incorporate this look into your home.
Idea Three: Dining Room
Do you have a dining room, but don't really want to go with an overly formal look? This wallpaper will help create a more laid back feel while maintaining a clean, crisp look for the room. This works especially well if your décor style is more country or farmhouse in nature. Pair this look with natural wood furniture and small accents throughout.
Or perhaps you want more of a contrast in color. Choose classic furniture in a darker color with lighter upholstery to tie the look together. The white walls will lift the light in the room. The clean vertical lines will complement the lines of the dining set.
Idea Four: Living Room
Having had this look in my living room, I can attest to the fact beadboard creates an amazing living room aesthetic. The vertical lines work to create the allusion of height in the room, making a small living room seem larger than it really is. Pair this look with a sectional in dark grey and it creates a modern feel with minimal effort.
This white wallpaper also works well for an accent wall in your living room space. Consider using it along the same wall as a fireplace or entertainment center.
If you are a fan of chevron, then this white wallpaper may be just what you are looking for. The delicate lines creating the chevron design offset the white background and give this wallpaper an elevated style that would look great in almost any room in the house. One of the things that make this peel and stick so great is that you aren't just limited to using it on your walls. You can use this on bookshelves, cabinets, or even your refrigerator, if you feel so inspired. But here is our idea for this gorgeous white wallpaper.
Idea Five: Bathroom
I don't know what it is about this design that instantly makes me think of using it in the bathroom, but it does. Now, don't think this means I don't like this style, because that isn't true. In fact, there is something about this that reminds me of an old-school classic Hollywood-esque bathroom I could picture Marilynn Monroe or Audrey Hepburn using. Can you picture it too?
If your bathroom could you a glam-up, consider this paper. With its crisp lines and simple aesthetic, it will give your bathroom an elevated look that is both clean and sophisticated.
You will want to check with the manufacturer to make sure this paper can withstand the fluctuating humidity it would experience in the bathroom, but if it will, you won't regret it.
If you are a fan of the marble look, this white wallpaper should peak your interest. Its sleek, glossy design gives off a realistic marble look you will simply love. If you are planning to use this on your walls, we recommend limiting it to an accent wall or smaller space. Otherwise, our suggestion for this paper is to use it . . .
Idea Six: Everywhere else
That's right, this wallpaper just screams to be used in so many ways. If you're into upcycling and refurbishing well-loved furniture pieces, this will help give items an elevated aesthetic.
Use it to cover the top of incidental tables in a lounge/living room. It can also be used in a bedroom on the nightstands. If you are redoing a buffet or dresser, use this to set the drawers or doors off to give the piece a more elegant and classy look.
This is also an effective cover to use on the counters in a kitchen or bathroom. You can also use it on the wall in a bathroom. Paper the upper half of the walls, above the tiled area. There are so many options for this classic marble look.
Textured wallpaper has seen a reemergence in resent years, so we would be remised if we failed to include it in our list of white wallpaper inspirations. And this gorgeous off-white/beige wallpaper doesn't disappoint. And we've worked up a couple ideas of where you can use this style in your home.
Idea Seven: Living Room or Study
This paper lends itself to a living room or study, giving some interesting texture to the walls, without being overbearing. It would work well on the top half of the walls, above either a plain white paper, or a painted wall, or architectural wall. Offset the walls with rich colored furniture to add depth and range to the room.
Idea Eight: Dining Room
Alternatively, use this paper in the dining area in a house with an open floorplan, where the walls of the living area are untextured and painted/papered in a single, smooth muted shade of white. The dining room suit could have straight-backed, upholstered chairs in a relatively dark shade of brown. Keep the table and the sideboard dark wood to contrast the walls and create balance between light and dark.
In recent years, wood paneling walls has resurfaced. Now, we aren't talking the faux wood panel walls from the 80s, when everything was overly brown. We're talking gorgeous, white (distressed optional) wood panels that have grown popular in the farmhouse décor era. Here are a few ideas of how to use white faux wood panel wallpaper in your house.
Idea Nine: Ceiling
Okay, here me out. Did you know that the ceiling of a room is often overlooked? Unless you have the glittery plaster ceilings that were also produced in the 70s and 80s, chances are you have a basic white ceiling in most rooms of your home.
While there is nothing wrong with that, the reality is, the ceiling is, in fact, a "˜fifth' wall. With that in mind, why not give your ceiling a little facelift by installing this peel and stick paper.
You can have the ceiling papered in this 3d style wallpaper, which will make it a talking point – and will also be reminiscent of pressed ceilings. It will be particularly effective in a room with a high ceiling, though the style will work in most rooms regardless of the ceiling height.
Idea Ten: Hallways
With this paper, you can coordinate any color and styles. Use this white wallpaper in a hallway or foyer to create a homey. In most homes, hallways are narrow and poorly lit, so this style wallpaper will add brightness height to an otherwise small and enclosed space.
What we love about this wallpaper isn't the randomness of the design, but the pops of color incorporated in with it. While we do love the design and how it draws the attention, we love how the gold and blue break up the design's loudness giving the eyes something to focus on.
With a pattern this bold, you want to be strategic with where you choose to use it. Here is our suggestion on how to use this bold white wallpaper in your home.
Idea Eleven: Accent Walls
The appeal of this paper is the randomness of the triangular patterns and the scattered pops of color that draw the eye. However, because this is such a busy pattern, you don't want to overload your room with too much of it. Using it as an accent on the focal wall of a room is probably your best bet.
This white wallpaper pairs great with solid furniture in colors that coordinate with the touches of gold and blue in the wallpaper, to create continuity and flow in the room.
Another alternative would be using it to paper three walls, while keeping the fourth wall a solid color that is a complementary color. This allows the eyes to have another place to focus while still giving this wallpaper room to add depth and texture to the room.
If you love nature and the great outdoors, this white wallpaper may just be the one for you. This nature-inspired forest-scape creates a delicate and subtle earthy affect without feeling too overbearing. The slender light gray trees with their branches and leaves create a tranquil, nurturing affect that is hard to explain. Trust us, when you look at it, you'll feel it.
Idea Twelve: Living Room
The pattern of trees in a forest on this paper introduces a spirit of comfort with a soft touch of nature. If you prefer the minimalist style, this wallpaper works to create just enough aesthetic to add richness and warmth to the room without being overbearing.
This wallpaper works well as on an accent wall or two in your living room. The other walls in the room could perhaps be painted in a muted shade of green, which will echo the idea of what the leaves may be like.
The warmth of the paper will be picked up by a Womb chair, which will echo the sense of nurture in the images of the woods. The curved lines of the chair will echo the lines of the leaves and contrast with the straighter lines of the trunks – while also picking up the slightly curved edges of the trees.
Idea Thirteen: Nursery or Play Room
The first thing that came to mind when I saw this wallpaper was how perfect it would work in a nursery or playroom. Nature themed nurseries are a popular trend, and this paper would work to create a warm, earthy, nurturing space your bundle of joy. Use it for the whole room or as an accent wall, and pair it with nature inspired wall art and soft muted colored furniture and bedding.
This white wallpaper is definitely unique. It has a delicate romantic feel to it that inspires creativity and adventure. There are so many ways you could use this Parisian-inspired paper, but here are a couple of our favorite ideas.
Idea Fourteen: Craft Room
Are you lucky enough to have a craft room or She-shed to work in? If you are, I am simultaneously jealous and ecstatic for you. And with that said, this shabby chic design may be just the wallpaper for you.
With its Parisian appeal, the paper almost has a scrapbook aesthetic that will inspire you to create some beautiful craft projects while giving your room a little pizazz. Use it as an accent wall where you do most of your work, or for the entire room if you feel so bold.
Idea Fifteen: Child/Teen Room
If you have a child or teen who loves Paris and the idea of romance and adventure it inspires, this may be just the wallpaper for their next room makeover.
Use it to create the perfect accent wall, paired with their favorite color for the remaining walls. Add Paris-inspired décor and you will create a dreamy room for any romance-loving teen.
If you love the painted brick trend, and the urban look of exposed brick interiors, them you will want to check out this 3D white wallpaper. This wallpaper will not only give the look of exposed painted brick, but will provide the texture as well.
Idea Sixteen: Kitchen
If you have a country kitchen, this three-dimensional appearance of this white wallpaper can be used as an accent wall to create a more rustic feel. Add a washed-out wooden table and ladder back chairs in white, or light wood to complete the aesthetic. Paint the remaining walls a bright cheery color to compliment the white brick to round out the look.
Idea Seventeen: Fireplace
If your home has a fireplace, but lacks the look of a chimney stack to go with it, this wallpaper may be the solution to creating that aesthetic. The illusion of the roughness of the bricks makes this wallpaper look like the real deal and will add authenticity to the stack affect created. The look will bring attention to the space, and the white will emphasize the lines of the fireplace. Just be sure to not use it too close to the open flames of the fireplace.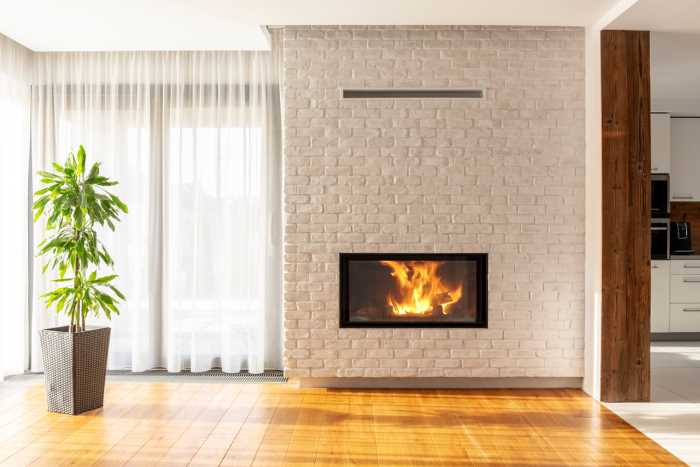 This white wallpaper goes out to all the dog lovers reading this list. If you just adore our four-legged friends, then you will want to consider this unique wallpaper for your next room makeover. While this paper can be used as a fun accent wall in just about any room of your home (we're thinking a study or library), we think you'll agree with our top pick for thispaper.
Idea Eighteen: Child's Room
The idea of a boy and his dog isn't a new concept. We've seen it everywhere in movies, TV shows, cartoons, and in our own neighborhoods and backyards. And while we think this wallpaper will go well in any child or baby's room, what better place to add this as an accent wall than in the room of a little boy who loves his pooch?
This fun paper will pair great with a darker color palette, and will perfectly contrast those hues to create airiness and space in the room. Use it on a focal wall with windows to accentuate the brightness of the paper, and help open the room up.
Fall is my favorite time of year. I love the color the leaves turn and seeing them scattered about on the ground. So, naturally I love all things leaves. And this leaf-inspired white wallpaper is no exception. The black stenciled leaves that speckle the off white background are both fun and flirtatious while maintaining an air of sophistication and refinement. And we have a couple ideas of how you can use this white wallpaper in your home
Idea Nineteen: Nursery
Like with the birch tree paper we mentioned earlier, this wallpaper would look great in a nursery or child's room, paired with nature-themed décor and muted earth-tones. Use it for the entire room, or as an accent wall, to create the aesthetic you are going for.
Idea Twenty: Furniture
Another idea for those of us who love to refurbish and upcycle old furniture is to incorporate wallpaper into your refurb. This paper is ideal for the top of a chest of drawers or a nightstand in a bedroom. It can also be used for a sideboard or sofa table in a hallway.
This white wallpaper also works great for floating shelves, or on an open bookshelf, where it will make a subtle statement. Place items that pick up the monochromatic color scheme and draw attention to the subtle undertones of the leaf work, or that echo the shape of the leaves on the shelves to create an unusual decoration for the room.
Conclusion
Gone are the days of plain white walls. Now, you can easily find white wallpaper to help you create the aesthetic that works best for you and your style while still maintaining the classic look that comes with white walls.
Did you see a wallpaper on this list that inspired you for your next home makeover project? If so, which one was it? Tell us about your idea in the comments below.