Every old and elegant home seems to have a red room. For instance, in the TV show "Downton Abbey," the family's most formal room was the red room that had luxurious red wallpaper. Your home may not be a castle, but you, too, can have a red room if you want one.
The great thing is that wallpaper has made a huge comeback and we are here for it. There are tons of excellent red wallpaper ideas online, and the sky is the limit in terms of options. Whether you want something fun for your red room or an elegant formal area, there is a red wallpaper for you.
Ready to design your red room? Let's dive in and explore some of the most gorgeous red wallpaper ideas out there.
Wildlife and nature decor continues to be a super hot trend. If you love all things Africa, why not go with this gorgeous zebra wallpaper? This is self-adhesive, so it is as easy to hang as you would imagine.
When you remove this wallpaper in the future, it won't leave a residue on your wall. This makes it the perfect option for renters and homeowners alike. This wallpaper also comes in several other colors as well.
Reviewers note that this wallpaper is gorgeous, but it isn't a high-quality wallpaper, so it's probably best for a fun accent wall.
If you love the classic look of birds and flowers, this red wallpaper with fanciful landscapes showing Jacobean embroidery may be perfect for your red room. This looks great in a dining room, living room, or sunroom.
The wallpaper is richly elegant and taps into the floral and botanicals trend in wallpaper. It comes pre-pasted, so it's easy to install.
This wallpaper is highly rated on Wayfair, with reviewers saying that they were surprised by how gorgeous it is. The wallpaper has a silvery sheen and bold, vibrant colors.
Always a popular wallpaper theme, birds liven up a room and bring a little nature indoors. This wallpaper has a rich red background with gorgeous blue accents. The greenery has accents of gold and blue, and the design is simply exquisite.
Whimsical purple berries give this wallpaper an interesting pop and help you to create an eccentric and fun feature wall. This wallpaper is non-pasted, so you will need some wallpaper tools and supplies.
Pair this wallpaper with either white furniture or furniture made from light-colored wood. Customers love the richness of this wallpaper.
Does your home have industrial or country decor? If so, why not dress it up with faux brick wallpaper in red bricks? This red brick wallpaper comes with peel-and-stick backing, so it's easy to install and remove.
This wallpaper makes an excellent backsplash in your kitchen and can also be used to cover a wood fireplace if you want to give it a brick look.
The reviews on Amazon are overwhelmingly positive, with customers rating this wallpaper with 5 stars 70% of the time. Note that since you're lining up bricks, it does take some patience to install this wallpaper.
If you're wanting to go with a faux brick design but crave a more distressed look, you will fall in love with this plastered brick wallpaper from Santangelo. This wallpaper is non-pasted, so you will need wallpaper hanging tools and supplies.
With this wallpaper, you can give any room a designer vibe. Imagine hanging this in your kitchen and using it as a backdrop for your collection of copper or cast-iron pots and pans.
This is also an ideal wall covering for a family room or den. Any type of furniture would look great with this. The more industrial, the better.
Does "go big or go home" describe your decorating style? If you're going for a huge red look in your home, this glossy red wallpaper may be just what your heart desires.
This wallpaper is peel-and-stick, so it's super easy to install. Also, the wallpaper is made of vinyl film, so it's waterproof and easy to clean. It also comes in different colors, so you can do an interesting room with contrasting walls if that's something you're interested in doing.
To decorate with this wallpaper, you can go with primary colors for bold and striking features. This wallpaper would also be excellent in modern decor.
Not for the faint of heart, this wallpaper makes an exciting statement in the right space. This would be the perfect look for a dressing room or closet because it gives a lot of glam without being overdone.
Imagine this wallpaper as the backdrop of a dressing room, for example. The wallpaper has actual chunky glitter, so it's not just flat wallpaper. If your walls have texture, this will lay nicely on your walls, unlike a smoother wallpaper.
One customer shared photos of how she used this wallpaper as the background for her wig collection. It would also be great to showcase a hat collection.
For people who decorate their home in shabby chic or country decor, this red and beige checkered wallpaper is perfect. The wallpaper is peel-and-stick, and it makes the perfect backdrop for kitchens or family rooms. You can also use this wallpaper as a shelf and drawer lining.
This wallpaper won't leave a residue when you remove it, either, and it can be used to cover furniture if you're looking to dress up an old table or dresser.
Customers note that the wallpaper is a bit transparent, so the surface you add it to should be one flat color for best results. One customer used this wallpaper to cover her cabinets and it looked gorgeous.
Abstract designs are in vogue at the moment, and when combined with the equally popular botanical trend, you've got a hit. This wallpaper is red, but it also has other colors, including green, purple, pink, yellow, and more. Best of all, the background is black, so everything with color just pops.
This wallpaper is peel-and-stick, so it comes off easily. Even better, this wallcovering is fire-resistant, water-resistant, and soil-resistant, so this design is a winner on all fronts.
With a matte finish, this wallpaper will do best if installed on smooth or sanded walls.
Poppies are not just gorgeous flowers, but they're also symbolic and invoke the feeling of peace. This wallpaper is moisture resistant and it's peel-and-stick, so it's easy to install.
Since it's seamless, it will be easy to get a look that seems to be customized and all one piece.
This wallpaper would go great with any color of furniture. To dress it up, use accent pieces like vases and pillows in turquoise. Poppy red and turquoise is a legendary combination. This color combo is cheery and has a bohemian vibe.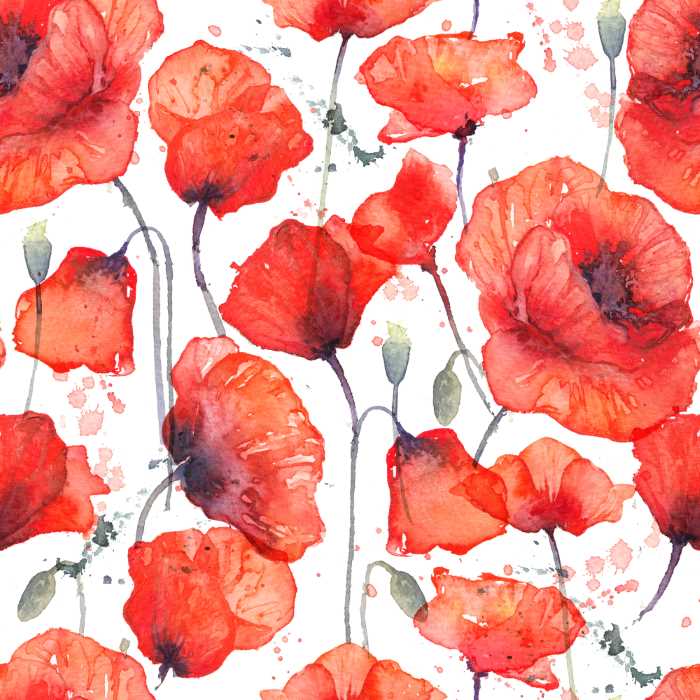 For a whimsical look, how about bringing some koi into your home? Everyone loves these beautiful golden fish, and these particular koi are shiny gold on a backdrop of rich rusty red.
The red backdrop of this wallpaper has a textured look instead of just a solid block of color. This gives the impression that the koi are actually swimming on your walls.
This look would be great in waterfront homes, making it seem like you're bringing some of the outdoors inside. Pair this wallpaper with natural materials for maximum drama.
Do you want an interesting and sensuous pop of red for your boudoir or dressing room? This wallpaper featuring beautiful vintage women with red lipstick adds excitement, intrigue, and drama.
We love this look in a small space, and it makes a gorgeous backdrop for your closet wall as well. You can install this wallpaper anywhere that you want an interesting look that is different from everyone else's.
This wallpaper is self-adhesive but you have to use water to apply it to the walls. It's not peel-and-stick, and that's the one downside of this design. Otherwise, we're all in on this one!
Although this isn't technically red wallpaper, we wanted to add it to the list because it gives you the chance to create dramatic or whimsical accents on your walls without using sheets of wallpaper. These dot decals can be arranged however you want and even moved around as needed.
These cute dots are peel-and-stick and they come in sheets of different sizes. You can use them to decorate your walls, and then add some to pieces of furniture to finish off a look.
These cute dots are a great alternative to wallpaper and painting, and they're great for when you want the complete transformation that you would get with wallpaper, but don't want the fuss.
Few color palettes offer the drama of black, red, and white, and that's exactly what you get with these gorgeous blooms. The roses look textured and shaded, and this wallpaper is like a work of art for your walls.
The wallpaper comes pre-pasted (peel and stick) and is much more elegant than most of the peel-and-stick wallpaper we see. You can also use this paper to cover furniture or add accents to other areas of your home.
This wallpaper is water-resistant and soil-resistant, and if you remove it, there will be no sticky residue left behind. With this wallpaper, you will have the perfect backdrop for bold furniture.
Who doesn't love the look of exquisite classic Moroccan tile? Now you can get it in wallpaper with red as the feature color. the other colors are different shades of blue and rich gold yellow, along with crispy bright white.
This wallpaper would make a gorgeous accent wall in your bathroom, or it can serve as a sturdy backdrop underneath your kitchen cabinets. If you have country decor in your kitchen, this wallpaper is perfect for you. The colors are also reminiscent of Americana, so if you decorate in that style, this one is a winner for you.
Reviewers have rated this wallpaper with an average of 4.5 out of 5 stars on Amazon.
To achieve the luxurious look of the Downton Abbey red room, you need luxurious wallpaper. This gorgeous red and gold damask may be exactly what your formal dining room needs.
This is not a self-adhesive wallpaper, so you need wallpaper installation tools and supplies to hang this wallpaper. This wallpaper also comes in different colors, but if you're trying to achieve a luxurious red room look, go for the red.
You can also use this wallpaper in an entryway or bedroom if you're striving for a pop of drama on your walls.
If you have decided that you want a polka dot wallpaper, we've found the perfect one for you. This wallpaper is self-adhesive and it can be used to decorate much more than your walls. If you have some left over, use it for drawer linings, shelf lining, and decorating furniture as well.
This wallpaper is removable from most surfaces, and it comes highly reviewed on Amazon. Reviewers noted that it was easy to stick onto wood and that the red and white dots look much denser in the photos than they do in reality.
For people who have a country or American decor, this "Dream On" wallpaper from NuWallpaper is perfect. The design shows flowers and leaves in gorgeous and varying shades of blue, with a deep red backdrop.
The white accents on this wallpaper will help to open up a room and make it feel larger.
Decorate with light-colored or white furniture for an exciting clean look in your home. This is great for a bedroom or family room.
Maybe you want to tap into the nature and botanicals trend and bring this into your home. With this gorgeous red wallpaper from York Wallcoverings, you get the best of both of those trends.
The egrets are resting on branches and there are several different shapes of flowers in the design. Also, some whimsical butterflies flit about in some areas. The tan color in this wallpaper is an exciting contrast and helps to balance out the red and white.
This wallpaper would look great in a dining room and can just as well with formal areas as it would with casual areas.
Wallpaper in Asian colors and florals is always a classic style to use in your home. These baby plum branches are elegant and understated, but also bring big drama to a room. This wallpaper is actually a contemporary take on Vincent van Gogh's painting of flowering plum orchards.
If the idea of fine art decorating your walls makes you excited, this red wallpaper is perfect for you. The delicate blooming flowers grow seamlessly up the wall.
The texture mimics oil brush strokes, giving your walls a realistic effect.
How do abstract red berries sound to you? This wallpaper is interesting and unique and gives exciting pops of red with blues in different hues as the backdrop. The yellow blooms add even more excitement to this wallpaper.
We love the idea of this gorgeous removable wallpaper in a bathroom or entryway. However, it would be equally dramatic in bedrooms, particularly if you live near or around the water.
This wallpaper would work nicely with decor items that are large and brightly colored.
Conclusion
If you're ready to start planning the red room in your castle, any of these red wallpaper ideas are waiting for you. You won't regret this bold color choice when executed properly.
Do you have a red room? Or did one of these ideas inspire you to give red wallpaper a try? If so, tell us about it in the comments below.