Have you started taking a new look at wallpaper as a home decor option? With blue being a long-time favorite color in home decor, blue wallpaper continues to be an all-time favorite. For decades, wallpaper took a backseat to more minimalist designs.
However, wallpaper is making a comeback, and in the last couple of years, news headlines have driven the point home. We began to see headlines like "Wallpaper Makes Triumphant Return" (Realtor Magazine), and The Seattle Times even proclaimed that wallpaper was 2019's comeback story.
Let's dive in and explore some of the most gorgeous blue wallpaper ideas on the market.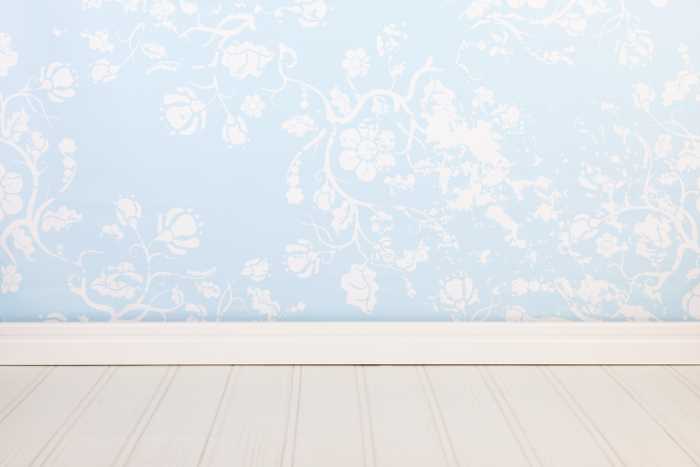 If you're looking for a deep block of gorgeous navy blue to paper an entire room or just an accent wall, this blue self-adhesive wallpaper may be just what you're looking for. It's not just beautiful. Made of durable vinyl, this wallpaper is waterproof and oil-proof.
Reviewers noted that the adhesive is nice and strong. This is a bonus for people who want this blue wallpaper to stay up for a long time, but it may not be the best choice for renters. Also, this wallpaper isn't easy to reposition. Another factor in solid-color wallpaper is that it will show all of the bumps and flaws in your walls.
Florals and botanicals continue to be hugely popular in wallpaper designs, and this blue lily pad wallpaper from Roommates will give your accent wall a delightful pop of color. This is a peel-and-stick wallpaper and the manufacturer says that it doesn't leave behind a sticky residue when you remove it.
This boldly patterned blue wallpaper would look beautiful in a room with white furniture. Customers say that this wallpaper is incredibly easy to install. As for how it looks on the wall, one customer said that with this wallpaper, you get a "lux look" with minimal effort and money out-of-pocket.
Few designs dress up a rustic decor better than a brick wall, and why not achieve that look with wallpaper? This blue brick wallpaper from HeloHo has a 3-D look that will make an accent wall pop.
Another excellent blue wallpaper idea is to use this design to do half a wall or the wall underneath a bar. Also, this is perfect for lining the backs of bookshelves.
This wallpaper would work beautifully in any room of the house, but it looks particularly nice in family rooms and kitchens. Create high contrast with large framed art or photos with white borders.
4. Blue Stripes Wallpaper
If you want a classic look, you can't go wrong with broad bold stripes in blue and white. If you have time to search, you will be able to find varieties of striped blue wallpaper that is perfect for your total room makeover, or for an accent wall.
Hanging striped wallpaper has its own special challenges because you need to make sure the stripes are lined up evenly. However, this striking look is worth the extra effort.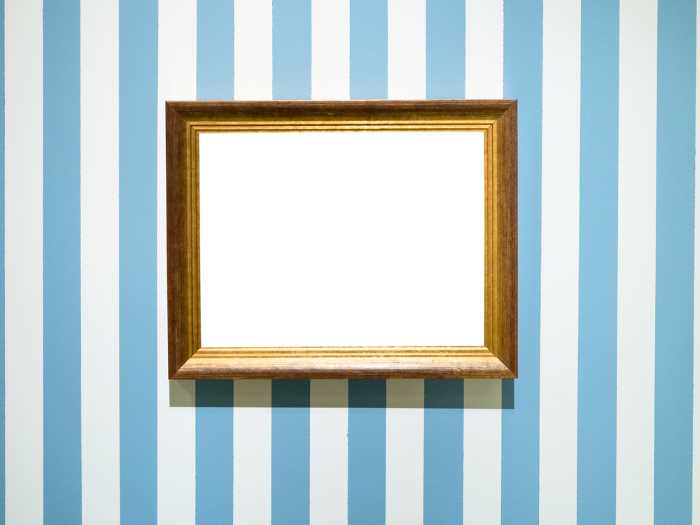 One of the hottest wallpaper trends is to cover walls with natural materials (or faux natural materials). This blue self-adhesive grasscloth wallpaper meets the criteria for the natural materials trend as well as the equally popular textured wallpaper trend.
To install this blue wallpaper, you can cut off the sizes you need from the roll. It's super easy to apply and the grid on the back helps you line it up correctly.
This wallpaper is a great option for walls that have some damage or are not perfectly smooth. Since it's a solid color, it goes well with both solid and patterned decor items.
Another great wallpaper for a trendy rustic look is a wallpaper that is designed to look like aged wood or barn boards. It's not easy to get your hands on old barn boards, and this wood plank wallpaper is the next best thing.
The wallpaper is made of premium PVC and is waterproof and durable. This is a self-adhesive wallpaper, and the company guarantees easy removal. Moreover, you can also use this wallpaper to cover furniture like tables and shelves.
Customers like that this wallpaper is nice and thick. Also, it has excellent adhesive.
Tropics and botanicals are hot wallpaper trends, and one of the best blue wallpaper ideas is to paper a wall with a huge botanical print. This Hawaiin-themed paper from NuWallpaper creates a striking accent wall and also works well on walls behind bookshelves.
To decorate with this blue wallpaper, consider furnishing the room with bright white furniture or wicker chairs and tables. This wallpaper would also look beautiful with light-colored woods such as you often see in the tropics.
Be sure to place plenty of plants around to create your tropical oasis.
Nothing says richness and luxury quite like blue damask in rich indigo. This wallpaper from NuWallpaper is peel-and-stick, so you can probably install it by yourself (or with a little help).
The company guarantees that this gorgeous blue wallpaper won't leave behind a sticky residue, so it's a good option for people who rent their homes. Note that this wallpaper won't do well on textured walls because it's smooth and has a matte finish.
The background of this blue damask pattern is a cool cream color that is more white than gray.
This 3-D wallpaper is created with a "hot stamped" production technique. The finish is satin semi-shine or pearl-like, and it looks very glamorous and rich.
This is non-pasted wallpaper, so you will need to use an adhesive that is applied to the walls before installation. Since it has a non-woven base with relief embossing, this is a great option for hiding defects on your walls.
Reviewers say that this wallpaper is easy to hang and looks positively stunning in their homes. Accent your room with silver or gold pieces for a dramatic effect.
Panoramic murals are huge right now in wallpaper trends. These giant wall murals make rooms look bigger and offer an interesting focus wall for any room.
Designs like this wallpaper look best if they're on one wall because if they're on all four walls in a room, it can be overwhelming.
This wallpaper comes pre-pasted, and once installed, it's also scrubbable, according to the manufacturer. If you need wallpaper that's moisture and stain-resistant, this one is a good choice.
This wallpaper looks beautiful with white furniture, or alternatively, with furniture made from any color of wood.
Sometimes a room just needs a pure bright color that opens up the space. When you remove this high-quality vinyl wallpaper, it won't leave a sticky residue on the wall.
This wallpaper comes with a tear-off adhesive liner and you can stick this gorgeous paper on any surface that's dry and flat, including shelving. Customers love that it's easy to install and remove when the time comes.
To decorate with this blue wallpaper, the sky is the limit. It offers a blank canvas that you can build onto by using colorful pillows and rugs.
This wallpaper has the look of exotic Moroccan blue tile and you can have this look in any room of your home. Made of heavy-duty vinyl, this wallpaper is waterproof and easy to clean.
When you remove this wallpaper, it won't leave a sticky residue. This look is gorgeous as an accent wall, on the wall underneath your cabinets, or to cover an entire small bathroom.
Moreover, this faux tile wallpaper is ideal for a kitchen or bathroom bath splash because it's moisture-proof. If you rent, this will help you dress up your living space without having to worry about messing up the walls.
Few colors brighten up a room more than yellow does, and this wallpaper that is designed to look like stenciled flowers gives your room a cheerful upgrade. The cerulean blue and yellow floral stencils tap into the floral trend while also giving your room a country vibe if that's what you're going for.
For bathrooms and offices, this wallpaper is an energizing look while being cheery and calming at the same time. Customers like that this wallpaper is flexible enough to work with unusual corners.
If you have leftovers of this blue wallpaper, it's ideal for lining shelves and drawers.
For a 3-D look, this gorgeous blue and silver wallpaper is an elegant look for a dining room or living room. The wallpaper is made of PVC resin, and it's textured, so this wallpaper is ideal for walls that aren't perfectly smooth.
This isn't a self-adhesive wallpaper, so you will need the regular tools and supplies for applying wallpaper. You can scrub this wallpaper with a damp cloth, and that's always a bonus.
Customers say that this is high-quality wallpaper and is super easy to install. Also, customers said that it's perfect for walls with texture.
For a dramatic look in your kitchen, entryway, or bathroom, this faux marble wallpaper offers a lot of options. The colors are black, gold, white, bronze, and gold, and this wallpaper is elegant with any type of furniture or decor.
Made of durable vinyl, this wallpaper is waterproof and oil-proof, so it's ideal for areas like bathrooms that see a little moisture. You can also use this wallpaper to cover furniture, shelves, and tables.
Customers love the versatility and say that it's an excellent quality product for the price. For decor, you can be as elegant as you like with this wallpaper.
With this Constellations wallpaper from Tempaper, you can achieve a space-age look that is elegant at the same time. Colored in a rich navy blue with gold stars and constellation lines, this wallpaper is peel-and-stick and easy to remove, making it ideal for renters.
This wallpaper is perfect for bedrooms or any room in the house that needs an added touch of elegance. You can paper an accent wall, an entire room, or even the ceiling to make a room look like it's part of the universe.
Customers recommend that this wallpaper be installed on smooth walls only.
Floral trends and botanicals are super hot right now, and if drama is what you're going for, you need to check out this wallpaper that features large-scale deep indigo blue roses.
You can only decorate with this wallpaper if you're a brave soul, but what a dramatic look it brings to a room. With a peel-and-stick backing, it's easy to install and remove.
Customers say that this wallpaper is extremely thick, so it would work on walls that aren't perfect. Consider this wallpaper for bedrooms and boudoirs. It would work great in a small space.
Abstract design is a hot trend in home decor, whether it's Art Deco style or trends born from the Impressionist movement. If you're looking for an artsy feel for your home, a dramatic accent wall with this graffiti art wallpaper will get you there.
This wallpaper is self-adhesive and can be used on any dry and flat surface. Also, it won't leave a residue on your walls when it's removed.
This is a great option if you want to create lots of color and drama in your home without doing something that's going to be permanent. It has just enough blue to qualify for this category.
To bring life to a room, there is nothing better than bringing the great outdoors. When you paste the sky and beautiful clouds to your walls or ceiling, it's like bringing a piece of heaven into your home.
This airy and light blue wallpaper is perfect for any room that needs to be opened up with some lighter colors. Also, this is ideal in a nursery or children's bedroom (or playroom).
You will need to use wallpaper supplies and products to install this wallpaper because it's not self-adhesive.
A great way to bring some exciting color into your home is via an abstract design that ties in traditional themes. This wallpaper from HaokHome is a forest painted in gorgeous shades of blue, green, teal, and gold. With black accents, it sets off a room beautifully.
This blue wallpaper design will work in any room and is particularly well-suited to rooms that would benefit from a light vibe. To install this wallpaper, it needs to be put up on a wall that's smooth. It won't work well for textured walls.
Do you want a little darkness with your wallpaper? This deep space and stars wallpaper will remind you every day that we are all part of the great big universe.
Customers note that if you have two people to install this wallpaper, it goes up effortlessly. It's also easy to remove.
To decorate around this theme, white or light-colored furniture is beautiful.
Conclusion
Are you ready to transform your home? Did any of these gorgeous blue hues inspire you? All of these blue wallpaper ideas are here to take your home's décor to the next level. Which one was your favorite? Or do you have a blue wallpaper idea we didn't share here? Tell us about it in the comments below.