When it comes to redecorating your living room (or decorating it for the first time!), there are near-innumerable options to choose from. So much relies on individual taste, whether you intend to sell your home in the near future, the limits of your budget, etcetera. But if you're looking to make a bold statement while keeping your space modern and sharp, there's a particular piece you can choose to focus your décor scheme around: a white sofa.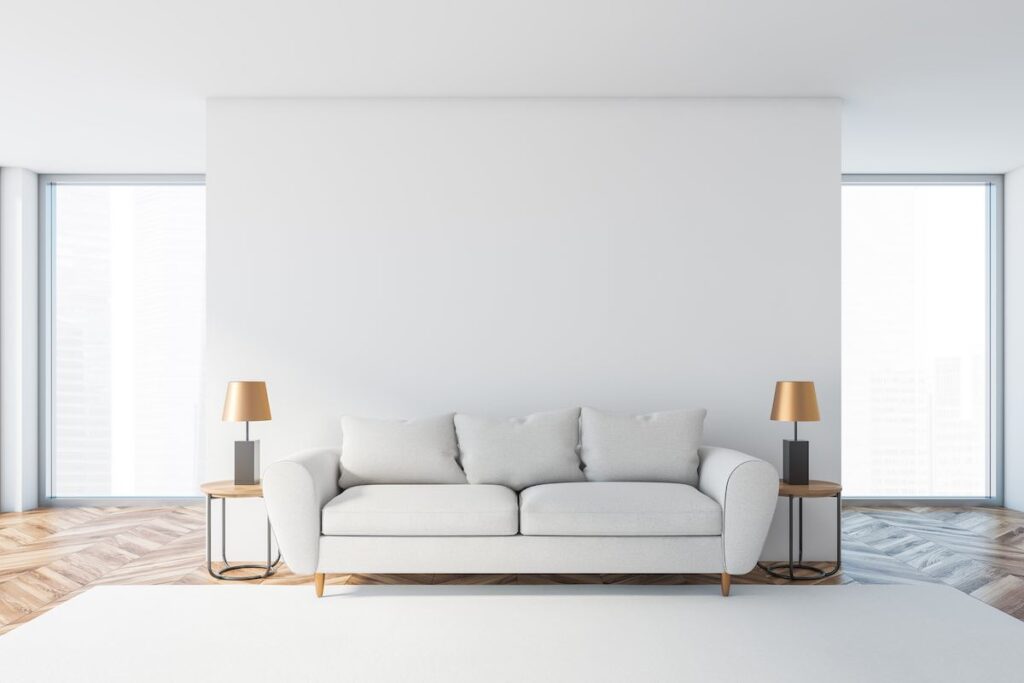 No matter what your taste in décor may be, there are plenty of white sofa living room decorating ideas to choose from. Read on to get inspired by these white sofa living room decorating ideas!
Choosing a Focal Point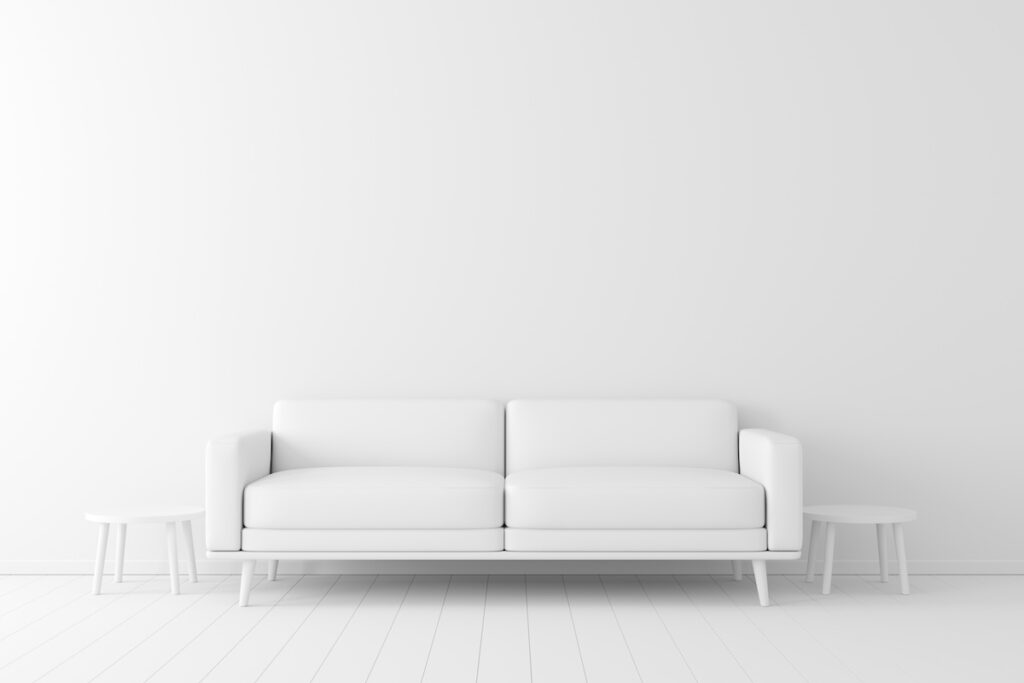 Before diving into white sofa living room decorating ideas, let's discuss the process of picking your focal point. A prevailing idea that continually crops up in the process of decorating just about any space is the idea of choosing a focal point for the room and making the rest of your décor choices from there. A focal point can be just about anything: an accent wall, a piece of furniture, even a painting or sculpture or another piece of art you'd like to showcase in your living space.
In this article about white sofa living room decorating ideas, you'll learn how best to show off a white sofa as your focal piece, and what sort of décor styles truly complement what some might consider a plain piece of furniture.
Pros/Cons of White Furniture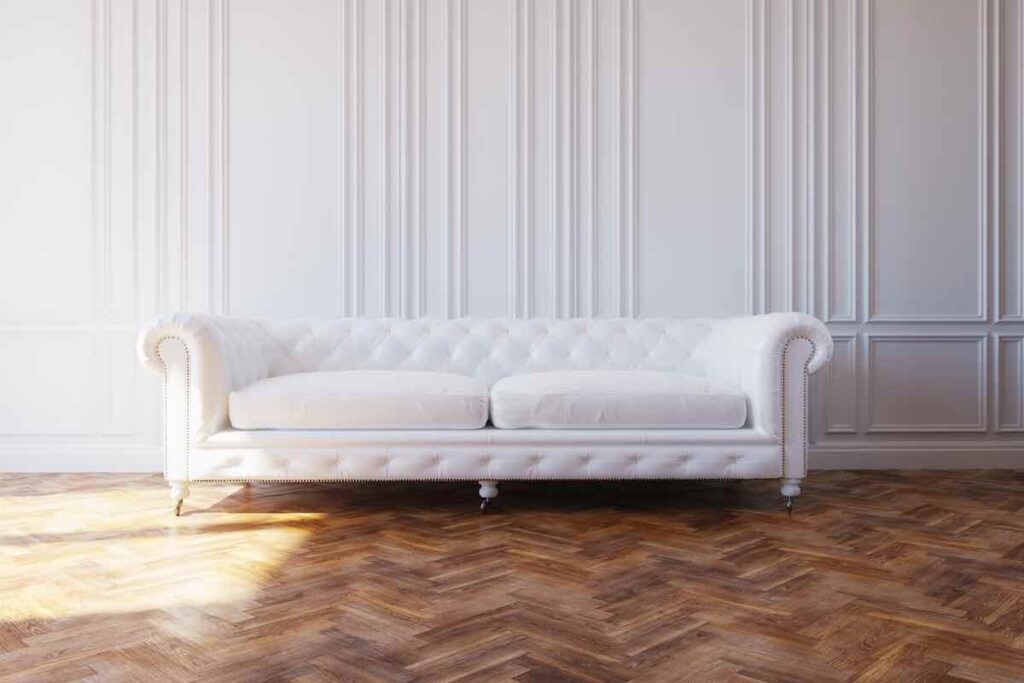 Of course, there are many reasons why someone might choose to avoid white furniture—for instance, if you have young children or pets who shed heavily, a white sofa likely isn't the best choice for you. Young children come bearing all manner of stain-creating activities, and unless your pet has purely white fur, your white sofa might end up looking a bit closer to polka-dotted or textured—and not in a cute way.
Even if you have older kids, if your living room tends to be a common space for play dates, arts and crafts sessions, movie nights involving messy snacks, or other such events, it may be more stress than it's worth to purchase something with an easily-stained surface, and these white sofa living room decorating ideas may not be for you. But if you're not concerned about stains (or own a failproof stain remover!), then there are many pros to building a room around a white sofa!
Firstly, white furniture immediately gives any space a crisp and clean feel, which makes it particularly appealing to guests—or to buyers, if your ultimate goal is to sell. When showing your house, the more polished and sharp everything looks, the better!
Secondly, using one of these white sofa living room decorating ideas will allow all other décor to pop around the white sofa. The absolute neutrality of the white sofa will allow you to truly expand the limits of your imagination when it comes to complementary décor, so this makes white sofa living room decorating ideas a great choice for those who don't want to feel boxed in when it comes to decorating their living space! If you're ready to commit, read on for my favorite white sofa living room decorating ideas!
Potential Décor Themes to Pair With White Sofas
Once you've decided to make a white sofa the foundation on which you plan to build out the rest of your living room, there are many directions you can choose to go in terms of theme with your white sofa living room decorating ideas. You can even mix and match some of these to make a truly unique space that shows off your personality and taste! Let's get started!
1. Pop of Color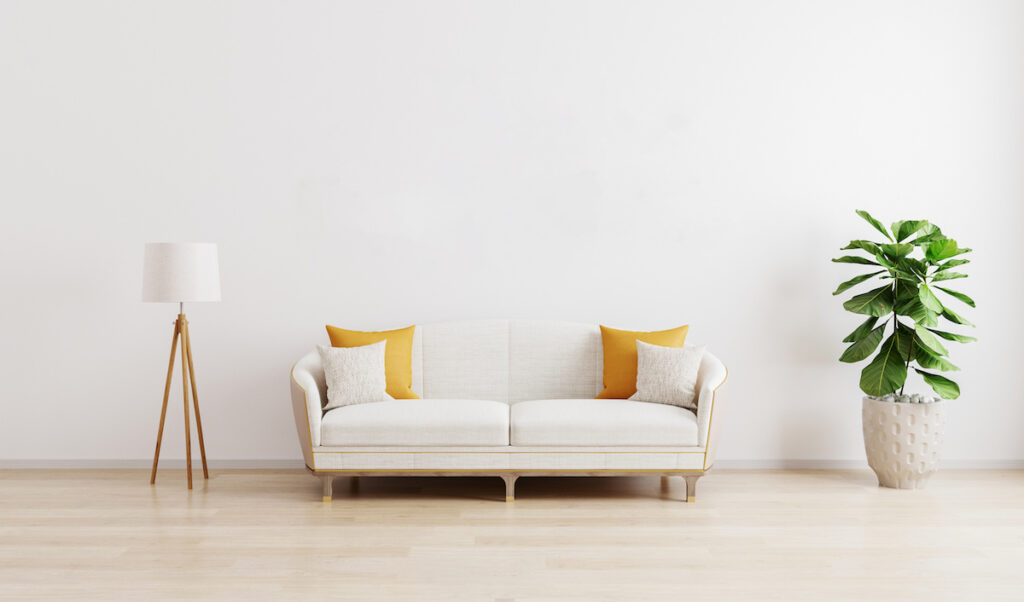 One of my favorite white sofa living room decorating ideas is the idea of having pops of color scattered throughout the room! Sprinkling brightly colored pieces in your living room will make your white sofa appear that much sharper and cleaner, and carefully-planned use of vivid color can be used to draw the eye throughout your whole room. Another benefit to using pops of color is that it will make your living room feel more cheerful and exciting to look at.
2. Monochrome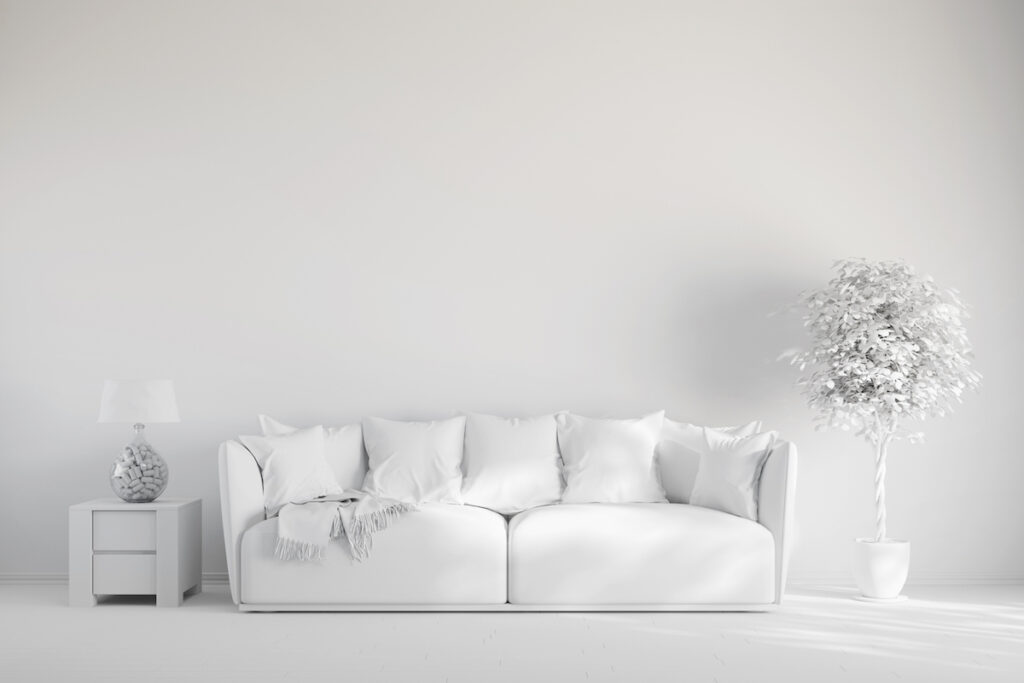 My next white sofa living room decorating idea focuses on monochrome décor. Monochrome is a word used to describe the use of different shades of only one color to decorate a room. When it comes to using this principle while coming up with white sofa living room decorating ideas, there are two routes you can take: either you can commit to decorating solely in varying shades of white, or you can pick another color and decorate in monochrome around the white sofa, which will make your focal point truly pop!
Some colors I recommend for a monochrome décor scheme for your white sofa living room decorating ideas would be green, purple, pink, or blue. While certainly brighter than neutrals would be, these colors offer a range of shades that allow for forays into pastel, muted, or vivid shades depending on your needs. They give you room to play while still offering boundaries to work within, which can be helpful to people who may struggle when it comes to making choices in décor.
For instance, take blue: you could choose to go big and bold, throwing in shades like Egyptian Blue, Azure Blue, or Turquoise Blue; or you could choose a more calming and soft arrangement, playing with Periwinkle Blue, Carolina Blue, or Powder Blue.
3. Neutrals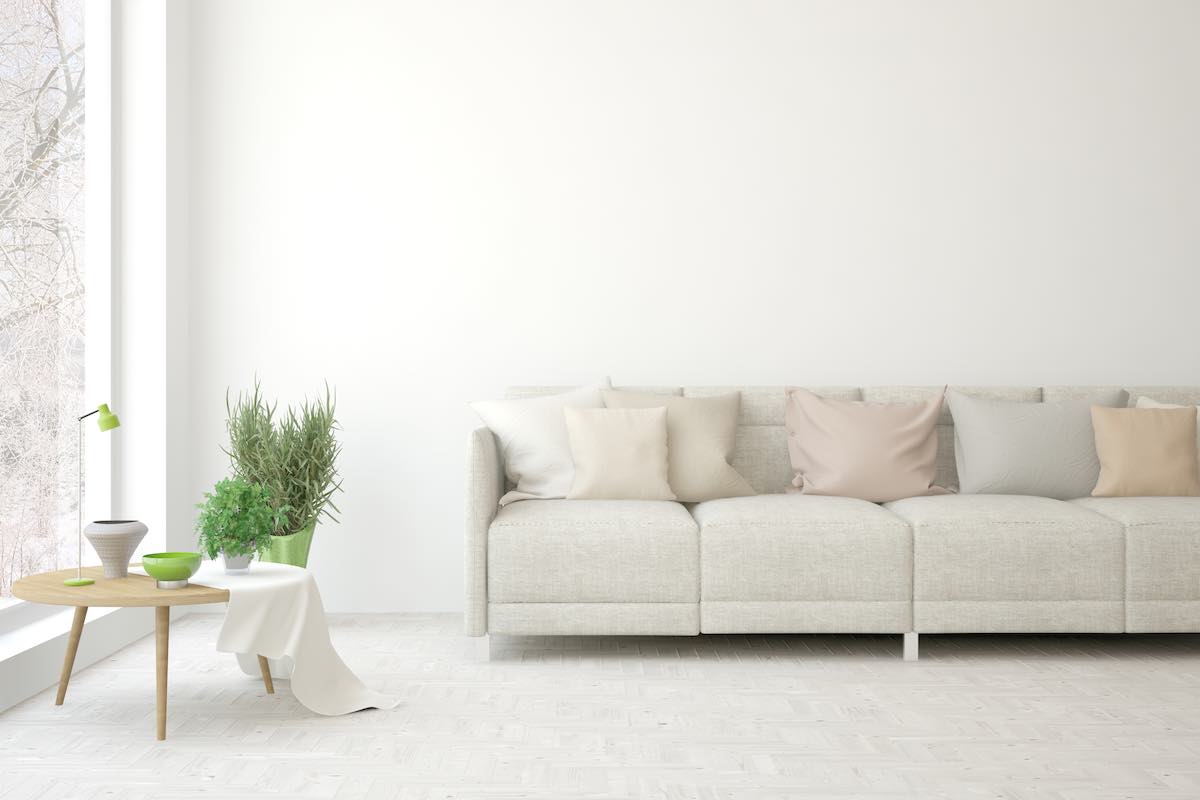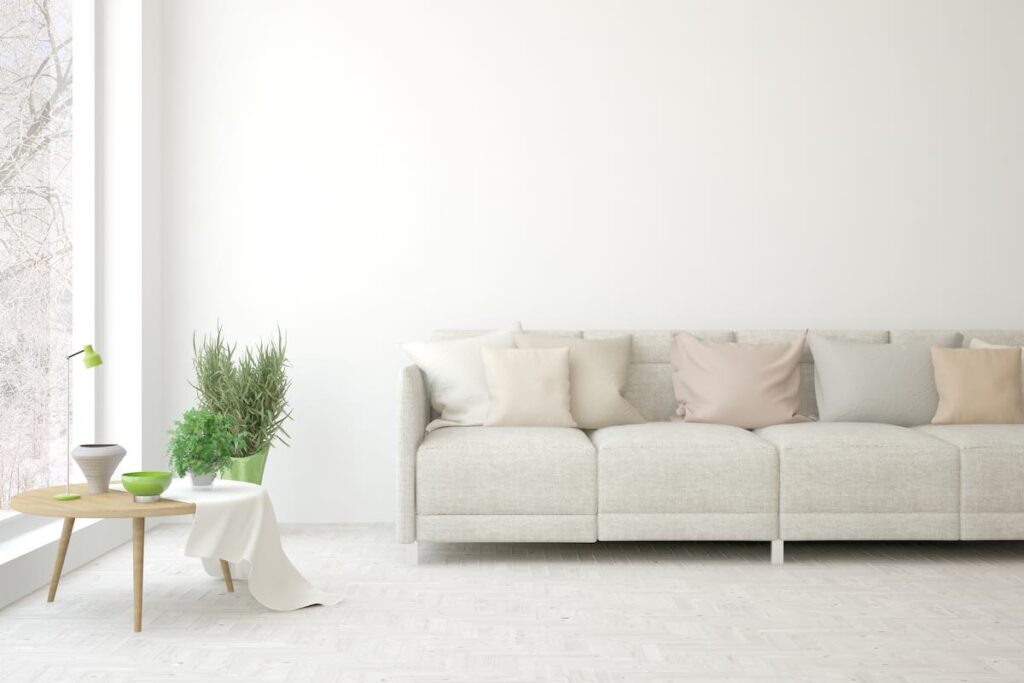 If you're leery of color, don't worry too much—neutrals work just as well to complete your white sofa living room decorating ideas. Neutral colors will blend gently with your white sofa and make for a cozy, calming atmosphere where you can settle in to read or relax, or a space where guests will be happy to settle in for a long evening of chatting over coffee.
Any neutrals can pair well with white, but be careful of the undertones of the décor you choose to mix. Cool-toned and warm-toned neutrals, despite being fairly subdued colors, might still manage to clash if you put them together without careful curation.
4. Unique Patterns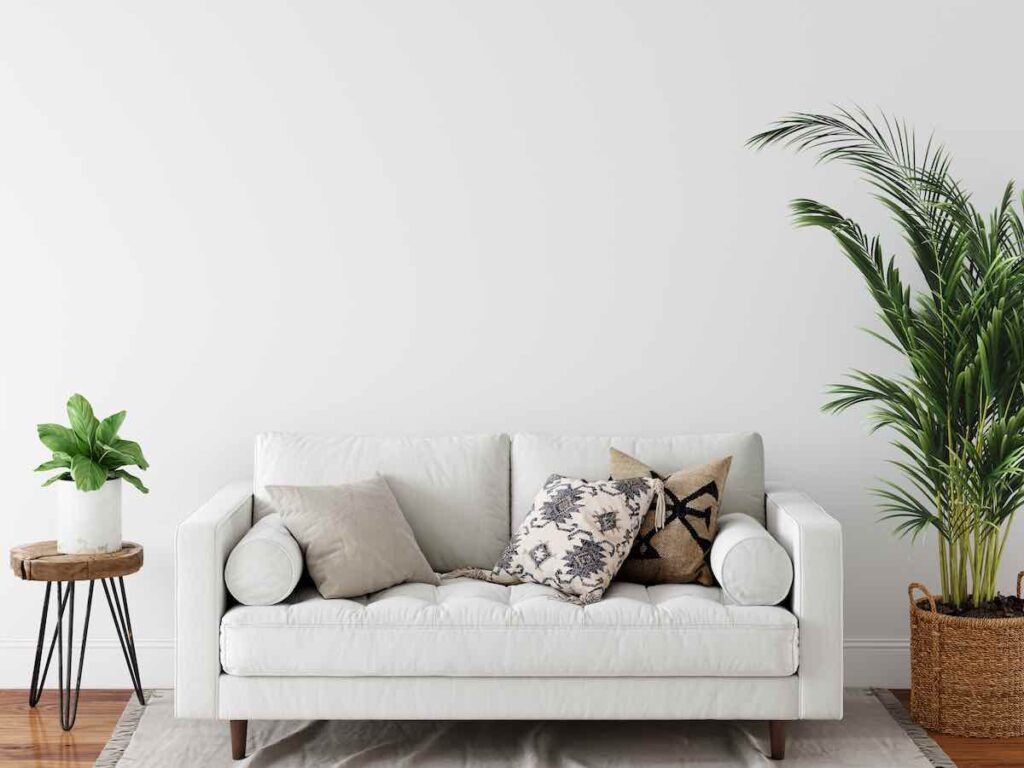 Next up for my favorite white sofa living room decorating ideas is the idea of patterns! Stripes, polka-dots, geometric, floral, abstract—there's so many ways to play with patterns. Patterned décor is a great choice if you want to add some playful flair to your living room.
Add some polka-dots for a hint of mischief and fun, some stripes for a more uniform look, geometric patterns to establish some interesting uniformity, floral for a more delicate touch, or some abstract patterns if you're hoping to hear people marvel at your artistic sense of style. If you're feeling truly ambitious, you could incorporate a mix of all of these options!
5. Black and White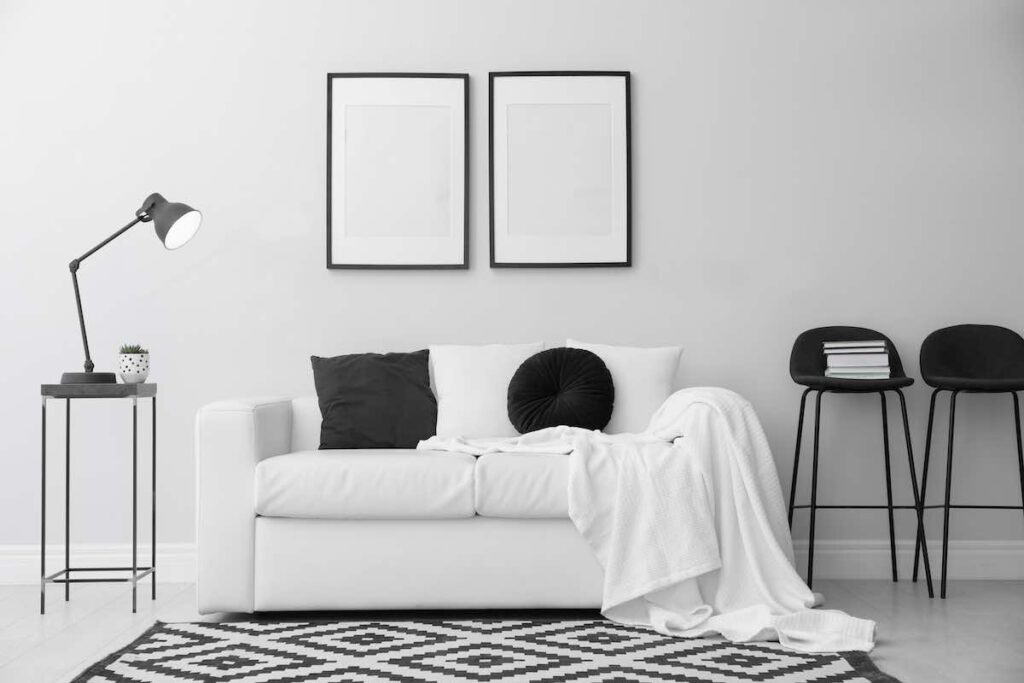 Last but not least on this list of white sofa living room decorating ideas, a classic example of how to decorate a white-sofa-centric room is to go full Cruella de Ville—that is, to decorate using a black and white color scheme! Black and white is one of the simplest themes to commit to, but it's hardly a cop-out; it may be easier to match pieces that follow the black and white theme, but ease doesn't always equal lesser quality.
Black and white is an option that's forever elegant and always appealing; not only that, but you can even combine the idea of patterns and pattern mixing with this theme! Many pieces of patterned décor come in black and white, and you're sure to be able to find plenty of classy touches to finish up your white sofa's surroundings.
Easy Décor Options to Pair With White Sofas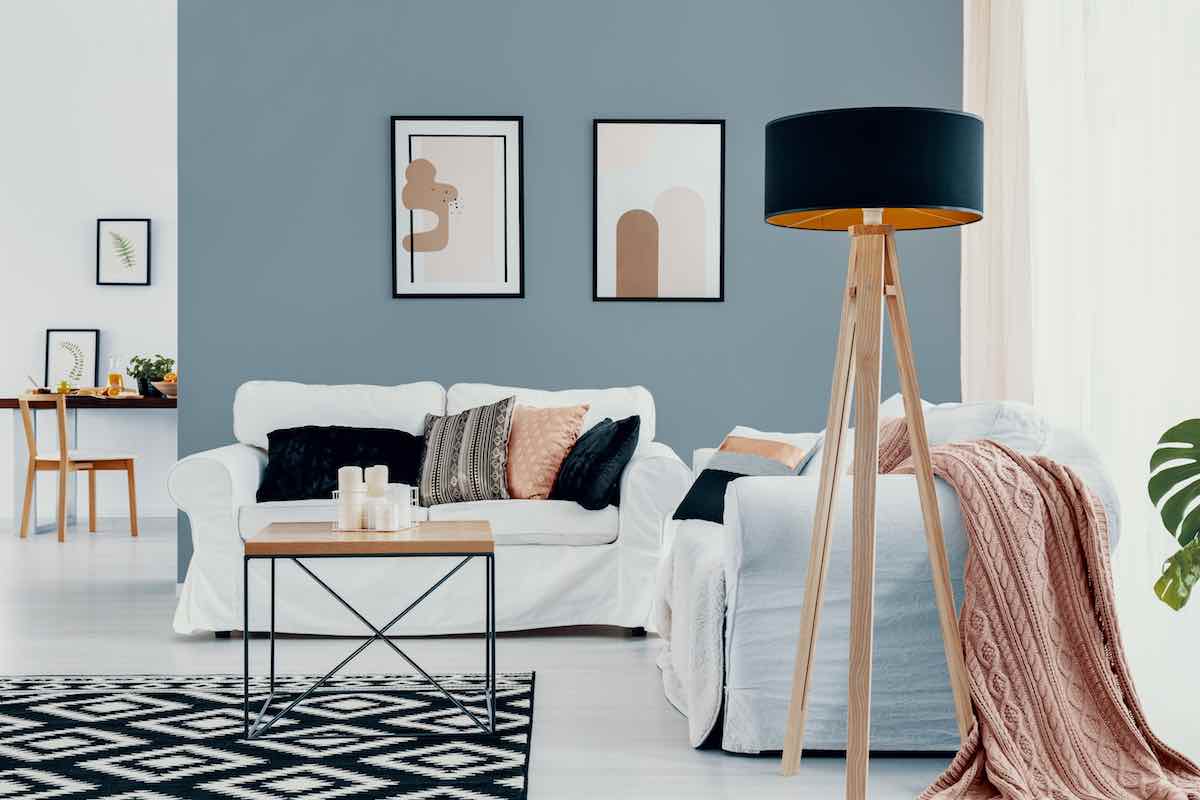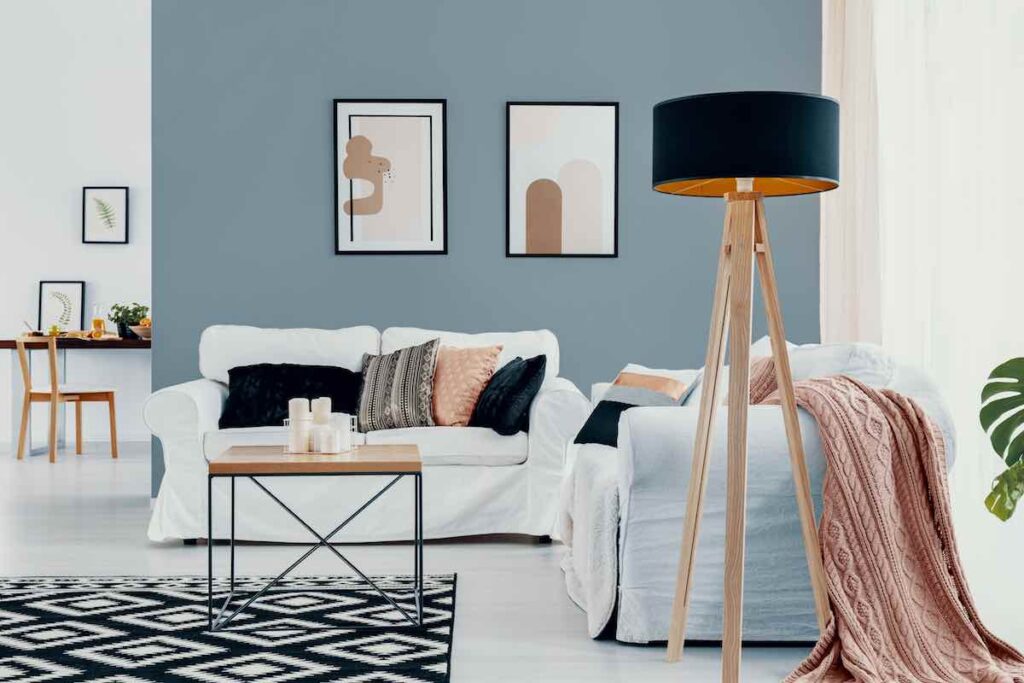 Now that I've gone over the themes you can choose, let's take a look at how you can apply those themes in your living room! Remember, just like with the themes, you don't have to limit yourself to only one of these décor items—you can mix and match to your heart's content until you've achieved a space that you're able to fall in love with. The living room is the heart of the house—you want to make sure yours brings you as much joy as possible!
1. Throw pillows/Blankets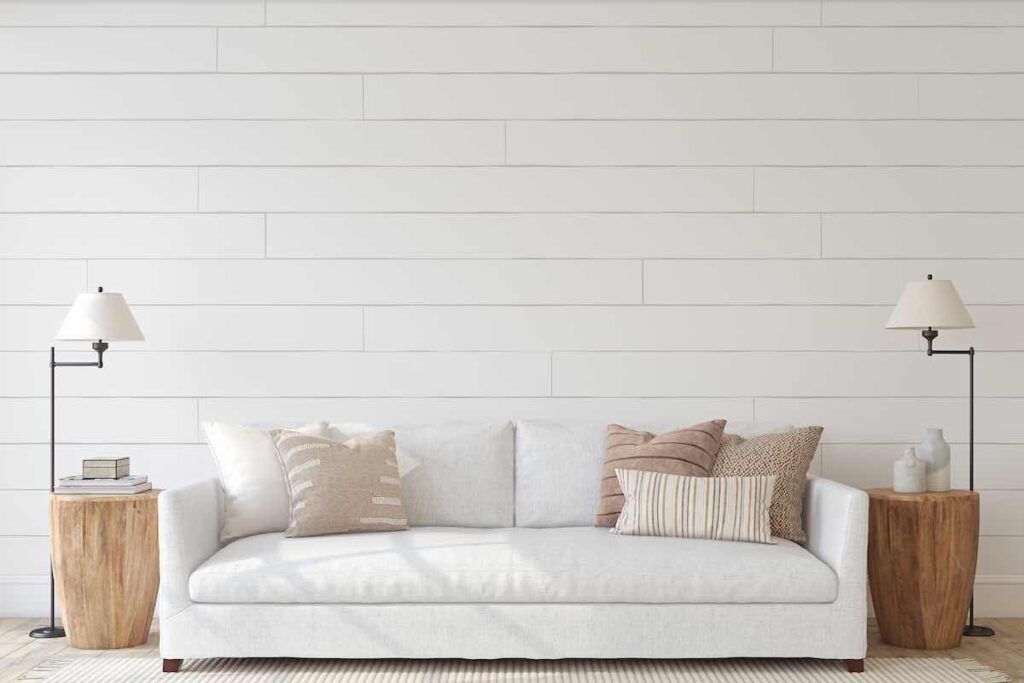 Throw pillows and throw blankets are some of the simplest (and coziest!) ways to accent a white sofa! Because these pieces go directly on the sofa, either placed against the cushions or draped over the side, it's important to make sure that they're hardy enough for common use; it's likely that guests or other members of the family will put these accents to work.
Snuggles are near-unavoidable, so make sure you don't pick pillows and blankets that will tear or wear down easily! Try to pick cozy but strong material that can hold up to Christmas parties and roughhousing kids—or pet cuddles if you have a furry member of the family!
2. Wall Art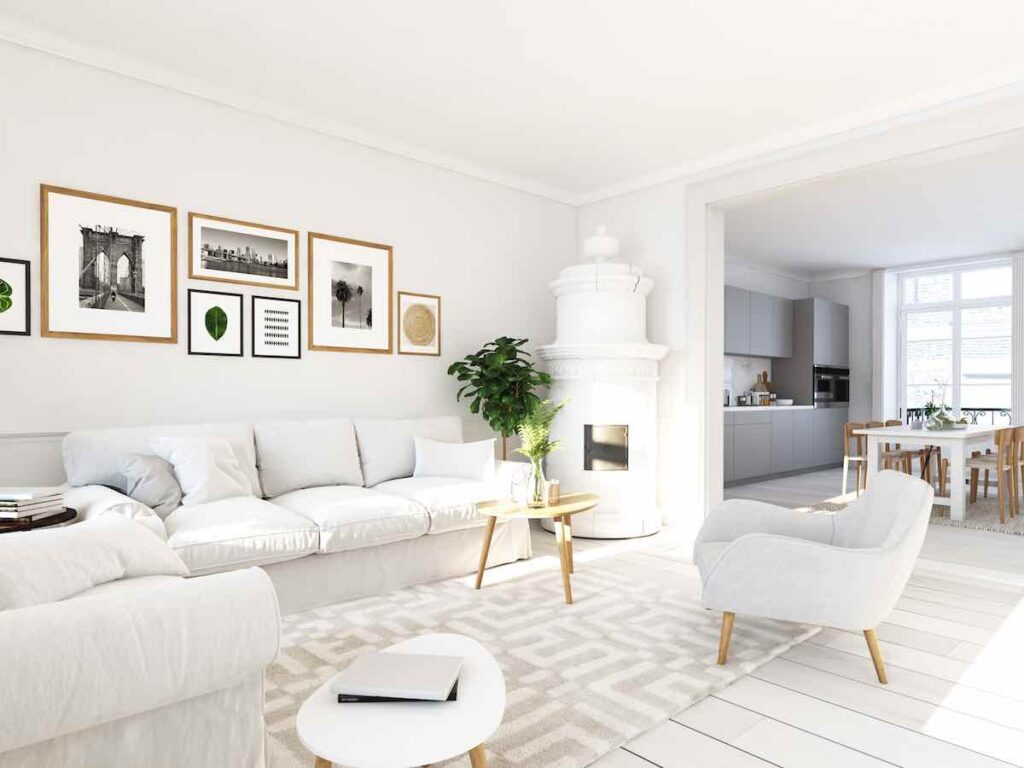 This is probably the most common method of decorating a room. Wall art is often a deeply personal choice, and tastes can vary far and wide between individuals. Art is subjective everywhere!
Still, no matter which theme you've chosen to work with in order to show off your white sofa focal piece, there's wall art out there that will go perfectly with your chosen theme. Whether you decide to use photos, mirrors, hanging sculptures, canvases, or framed paintings, adding a dynamic and interesting piece of art to your wall is not only a great conversation starter but a great way to show off another piece of your own distinctive personality!
You can find wall art in just about any home goods or craft store, but if you're looking for something truly unique, there are a few special places you can look!
Antique shops. Antique shops are a wonderful place to find well-loved and often unusual pieces of art to display in your home. I've often been pleasantly surprised by my own finds, and if you speak to the owners/managers of the establishments, they'll often be able to give you fascinating nuggets of insight into any of the pieces you choose!
If you want to support small businesses and often struggling artists, Etsy is a wonderful resource to mine. Quite a few of the art pieces and knick-knacks I display in my own home are from artists I discovered on Etsy, and it's wonderful to be able to find the perfect piece for your living space while also supporting small business owners and some incredibly talented artists!
DIY! If you want something that is absolutely unique to you, you can take the opportunity to paint or make your own wall art to display!
3. Accent Wall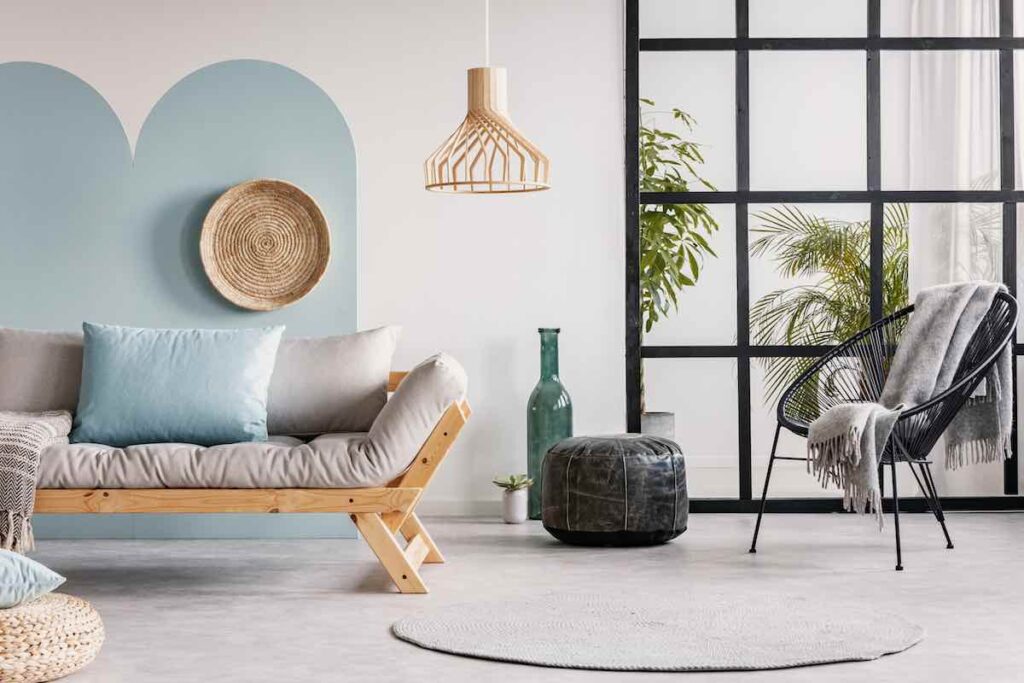 An accent wall is a trendy and fun way to backdrop your white sofa, and it's easy to apply whichever theme or themes you choose to its design. You can play around with patterns or geometric shapes, or you can simply do the entire wall in whatever color you choose to make your sofa stand out!
Depending on how much you enjoy DIY, you can either hire someone to paint your accent wall for you or do it yourself! There are plenty of tutorials available on how to paint unique and fascinating accent wall designs, and it's always nice to be able to tell your guests that you designed and executed the décor yourself.
4. Rugs/Curtains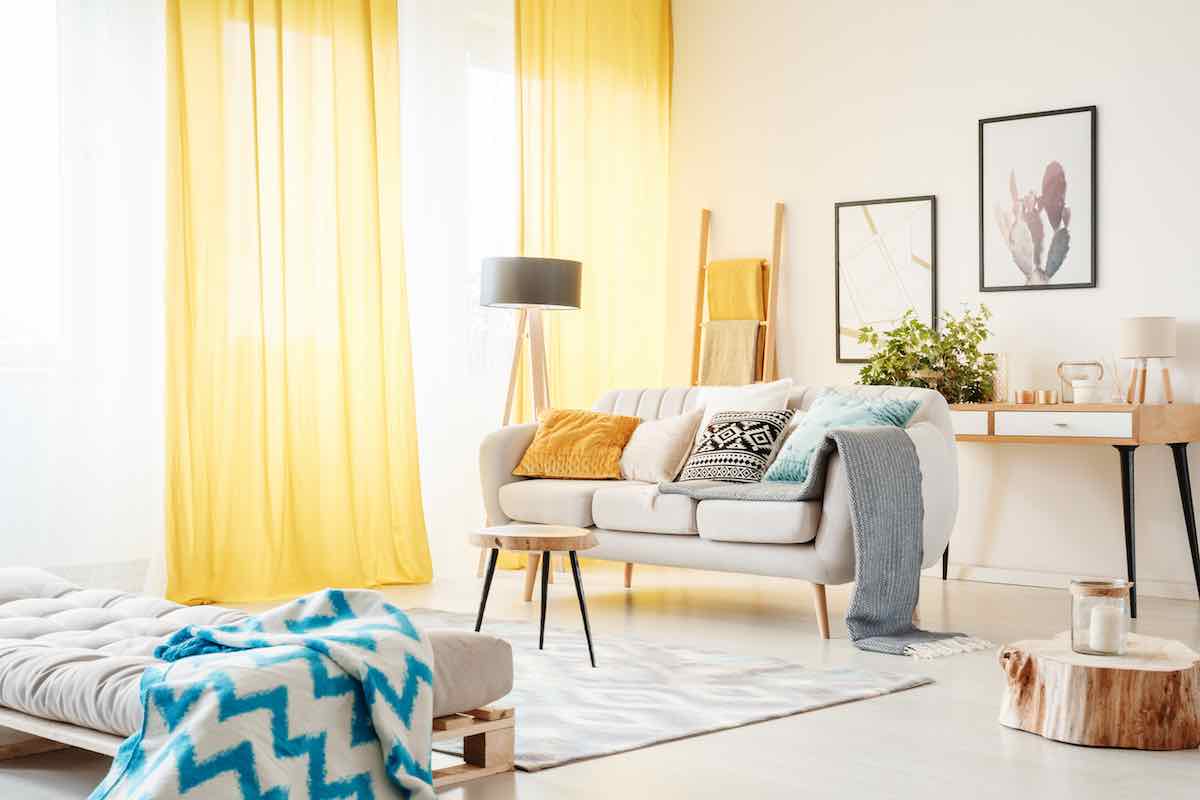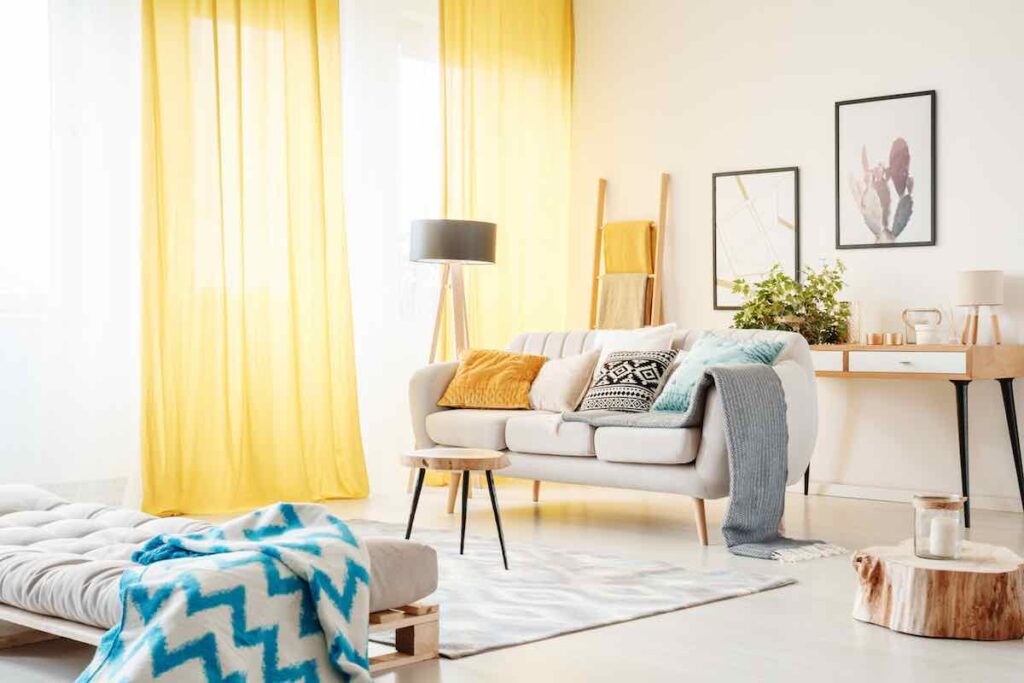 Rugs and curtains are similar to throw pillows and throw blankets inasmuch as they're also fairly easy to add to a room—at least, they're less labor-intensive than painting—but they can be harder to match to your room! With this white sofa living room decorating idea, choosing the right color of curtains can be difficult, as the sunlight from your window could change the way their color appears to the eye.
If you're planning on using very specific shades, make sure you test your curtains if possible before committing. for rugs, consider the same factors as you would with throw pillows and throw blankets! Make sure you purchase a sturdy rug that can handle a lot of foot traffic. The last thing you want is a patchy rug with tears or snags!
Wrapping Up White Sofa Living Room Decorating Ideas
And there you have it! When it comes to choosing a focal point to base your living room décor on, a white sofa is a choice that offers expansive opportunities for customization and exploration. Whichever white sofa living room decorating ideas you plan on applying, you're sure to end up with a beautiful, sparkling space to make up the core of your home!
Looking for more decorating tips for the rest of your house? Check out our list of 11 Stunning Black Furniture Pieces For A Weekend DIY or 24 Ideas For Your Kitchen Accent Wall!