When Halloween passes and the Thanksgiving holiday is just around the corner, it's time to start thinking about autumn décor. It's an exciting time when your home turns into a cozy, magical space. The warm vibes will have you wanting to enjoy a cup of coffee while watching Macy's Thanksgiving Day Parade.
If you're wanting to incorporate your modern style into your fall décor, I've got you covered. Keep reading to learn the best ways to display modern Thanksgiving décor in your home.
---
Stacked Pumpkins
Using pumpkins as modern Thanksgiving décor is a smart way to transition from Halloween to Thanksgiving. You can keep them out longer since they're just as festive for Thanksgiving.
Stacking a few pumpkins is a simple way to dress up your porch, hearth, or entryway. I suggest sticking with one color or varying hues of the same color for your pumpkins. This will prevent your home's color palette from being too busy.
The best way to make a pumpkin stack is by purchasing three foam pumpkins that are different sizes.
Stack them from largest to smallest, using a wood dowel in the center to hold them together. Don't run the dowel all the way through the top pumpkin, so it still has a stem.
If you're using this idea on your front porch, you can use real stacking pumpkins. Just be aware that the pumpkins may rot once you put holes in them. If the pumpkins are flat enough, you may be able to stack them without a dowel.
---
Modern Cornucopia
When you think of a cornucopia, you probably imagine a horn-shaped basket full of fruits and vegetables.
Modern Thanksgiving décor doesn't have to be as literal. Use an interpretation of the cornucopia instead with this slanted vase. The clean lines and simple structure will leave your guests in awe of your creativity.
You can still fill the vase full of treats and fall flowers as you normally would. Let grapes or amaranth cascade out of the vase.
Spread some fruit on the table around the cornucopia as well. This will complete your modern Thanksgiving décor look.
---
Wicker Turkey
Let's talk about the star of the show: the turkey! No modern Thanksgiving décor is complete without one. Associated with generosity and gratitude, the turkey is a reminder of why it's important to gather on Thanksgiving.
Using a turkey in your décor doesn't have to be cheesy. Despite what's commonly portrayed, there's no rule saying the tail fan has to be eight shades of bright colors!
The right turkey can actually look quite lovely in the center of your table.
By using a turkey made out of wicker or rattan, you're incorporating natural materials into your display. Style it with cream-colored candles or pumpkins to complete your fun, modern centerpiece.
---
A Neutral Autumn Entryway
If you're hosting guests for Thanksgiving this year, your entryway will be the first thing visitors see. The entryway is the introduction to your home, meaning it needs to fit the vibe of the whole house.
Style your entryway table according to modern style rules. First, leave negative space. Choose two or three items to style on the table, and let them do all the talking.
For example, entryways are a great place to have a large vase. A glass or ceramic vase both work well. Fill it with autumnal grasses, such as pampas grass or bunny tails.
On the other side of the table, you could place a large white or gray bowl. Fill it with small cream color pumpkins, and you're done! You have hints of modern Thanksgiving décor while staying true to your neutral home.
---
Dried Floral Wreath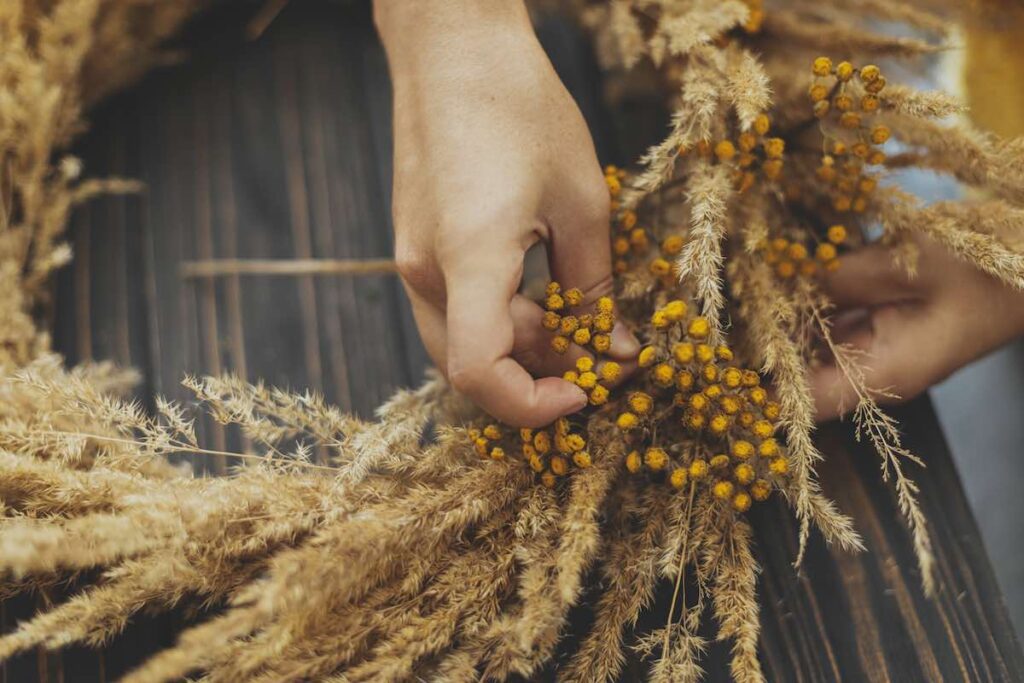 Wreaths can easily be changed out during the year, which is why I'm including them for modern Thanksgiving décor. Whether you dress up your front door or above your mantel, it's an effortless statement piece.
Look for wreaths that feature natural textures with earth tones. My favorite modern fall wreath is dried grasses over a grapevine wreath.
You can also incorporate dried fall-tone flowers into the wreath, such as yarrow and amaranth. For a creative twist, only cover half of the wreath with dried components.
Dried florals can be found on websites such as Amazon and Afloral. If you want to save some money, you could also try to grow and dry your own flowers during the summer. It's easier than you think!
---
Classy Glass Pumpkins
Modern Thanksgiving décor is all about thinking outside of the box. Most decorative pumpkins are ceramic or foam. These can sometimes cheapen the look of your home when used in excess.
A classy alternative is to use glass pumpkins. While they look elegant and pricey, they're actually quite affordable.
Another great thing about glass pumpkins is you can find them in so many colors. From clear or cream to amber and brown, you can find glass pumpkins that match any kind of color scheme.
Glass also pairs well with wood and industrial textures. Set them on a wood block along with metal accents, and you'll have a beautiful centerpiece!
---
Bundles of Wheat
What says sharing better than a bundle of wheat? Wheat is known to represent abundance and life. It's the perfect emblem of all there is to be thankful for at Thanksgiving.
Using a bundle of wheat in your modern Thanksgiving décor is an effortless way to celebrate the holiday. Depending on your preference, you can use a bundle of wheat by itself or place it in a vase.
A long bundle of wheat can stand by itself, so you wouldn't have to search for the perfect vase.
But, by using a loose bundle of wheat, you can take advantage of how well wheat looks with amber glass. It also pairs well with a white ceramic vase. This is also a more cost-friendly avenue!
---
Fresh Florals with Autumn Colors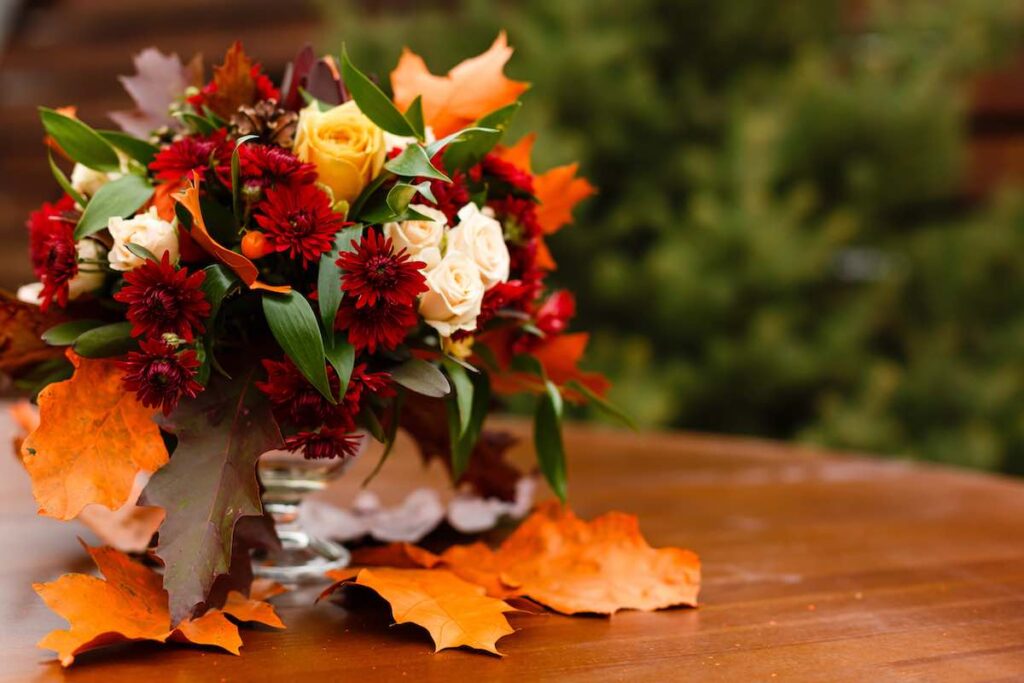 If you just want some fall tones in your home without buying new décor, look no further than fresh flowers. Between sunflowers, mums, and daisies, there are tons of flower options.
Large supermarkets and flower wholesalers will have several fall blooms for you to choose from the week of Thanksgiving. Unless you find a premade arrangement, you'll have to arrange the flowers yourself.
Choose a large focal bloom, such as sunflowers or dahlias. Complement the focal flower with smaller blooms, such as mums or daisies. Finish the arrangement with filler and greenery, such as eucalyptus and solidago.
Style the fresh flowers in your best vase to complete this modern Thanksgiving décor idea.
---
Throw in the Pinecones
Using pinecones in your centerpiece will add natural texture to your home. Fill a clear vase with pinecones, or use them as filler in your favorite bowl.
It seems too good to be true, but really, it's just a cheap, easy way to dress up your home. Pinecones also pair great with the Christmas holiday, so you may be saving yourself some work!
Want to kick it up a notch? Try this tutorial to create bleached pinecones. In combination with pine needles and natural pinecones, your modern Thanksgiving décor will be aesthetically pleasing.
---
Wrapping Up Modern Thanksgiving Décor
Are you ready to start decorating your home with these modern Thanksgiving décor ideas? Get creative, have fun, and wow your guests with your modern style!
We want you to stay inspired in your home year-round. Visit our Complete Guide to Modern Décor to see how to style your home every month of the year.
If you're ready to start thinking about Christmas, visit our post on modern Christmas décor!