Maybe you're not supposed to pick favorites, but I can't help it—Christmas is my very favorite holiday. The gifts, the music, the beautiful lights, all the incredible food…
Aure, Halloween has candy and costumes, and Thanksgiving has turkey and all the trimmings, but Christmas has it all. And when it comes to modern Christmas décor, people can get a bit huffy over tradition. I can't blame them!
However, even I can admit that it's easy to go overboard on the Christmas decorations. While they can be beautiful, they can also end up being…I'm just going to say it.
Sometimes, it can get gaudy and overdone. Not always, but with so many flashy and colorful options to choose from, you can quickly tumble from winter wonderland into sensory overload.
So now we know the problem, but how do we solve it? Modern Christmas décor is the solution!
What does that look like? Never fear—I've listed all my favorite ways to bring Christmas into the 21st century right here for you!
Glass Galore
There's an easy option for modern Christmas décor that illuminates your home without overwhelming your display—glass!
Glass can feel simple or boring, but when paired with the glitz and glamor of Christmas, it's easy to brighten it up. The reflective surface and clean look lend themselves perfectly to a modern Christmas display.
You can fill glass jars with Christmas lights to create a soothing lighting feature, arrange glass Christmas trees around your home as an elegant accent, or use colored glass décor to add some festive flair while still maintaining the modern, sleek vibes that glass décor offers you.
The transparency and natural reflective quality of the glass will only enhance your twinkling lights and colorful ornaments.
Complementary Colors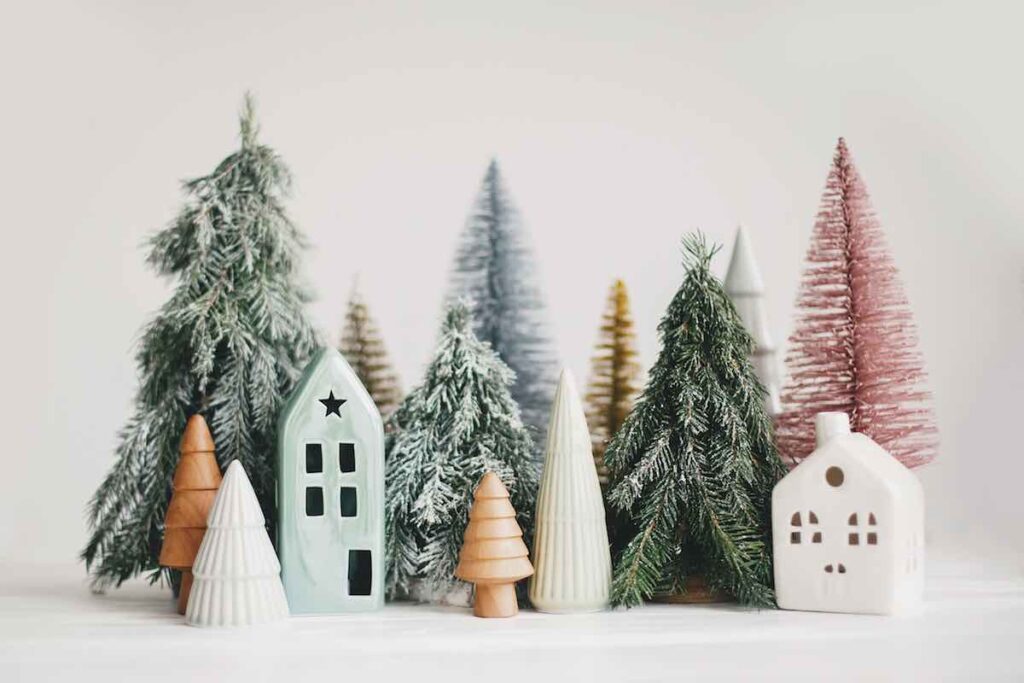 Green and red aren't the only colors you can use to decorate for Christmas; especially when considering leaning into modern Christmas décor! Other colors that are more modern that still can be associated with Christmas are white, silver, silver-toned blue, topaz, gold, black (sparingly,) and chocolate-brown.
You can choose any colors you like, of course, but these are classically modern and elegant winter-friendly color schemes to throw into your modern Christmas décor.
If "modern" means "fancy" to you, gold and silver are natural places to gravitate toward—after all, who hasn't heard the song lauding the advantages of "silver and gold decorations on every Christmas tree"—but winter is made up of more shades than just those, and jewel-tones are just as capable of carrying that Christmas magic.
Creative Christmas Tree
Christmas trees are the truest medium upon which many people foist their excessive Christmas enthusiasm…after all, a Christmas tree is the ultimate blank canvas meant specifically for Christmas décor.
Still, if you're hoping to set up a tree that shows off modern Christmas décor, resist the urge to load up the boughs with every ornament you can find.
Instead, consider going on the complete other end of the spectrum—try to simplify your tree as much as possible by choosing tall and narrow trees and leaving them plain or decorating with lights only, choosing "snowy" trees and doing the same, or even replacing the tree entirely and using a metal tree!
If you love your tree and want to focus on changing up your ornaments rather than your tree, you could go with crystal ornaments and shimmering white lights to lean more elegant and modern. This will still draw the eye without becoming an eyesore.
Understated Illumination
Colorful lights are all the rage in the Christmas season, but all the gaudy colors and big lightbulbs and thick, knotted strings can start to become more eyesore than elegance. In this case of modern Christmas décor, less very well may be more—but that doesn't mean you have to fully give up on your twinkle lights!
Fairy lights are all the rage these days, and the nice thing about them is that they're often sold in bulk spools, so you have multiple strings to put in multiple areas.
The downside? They're usually powered by battery packs, which can still be a bit of an eyesore…if you don't know how to cleverly hide them.
Luckily, in my own home decorating, I've never had too much of a problem finding ways to disguise or hide the battery packs from sight. Though you might have to put some brain power into it, these are a great solution to decorating with big, flashy lights all over your home. These are especially pretty to lace through your garlands.
Alternative Trees
You probably have a pretty specific image in mind when you think of Christmas trees, but here's the thing—in the modern Christmas décor world, Christmas trees don't even have to be pine trees.
Does that sound utterly preposterous? I know, I thought so too—but then I looked into the options, and actually, they look really beautiful.
My favorite option is the idea of decorating with birch trees strung with lights; though these aren't well-suited to ornaments thanks to their thin branches, you can still indulge in beautiful sparkling lights to keep your space illuminated and cozy this Christmas.
Graceful Garlands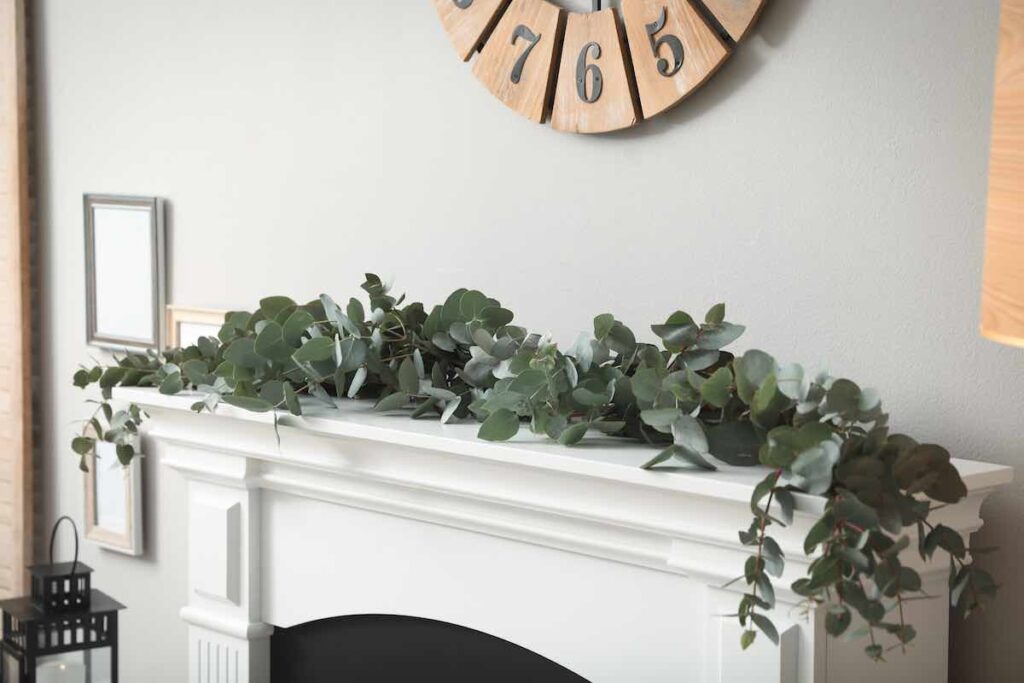 Garlands are classically made with similar material as most false Christmas trees; however, these aren't the only kinds of garlands available to you.
Modern Christmas decor has seen the rise of new types of garlands to be strung around the home for the holidays, including eucalyptus garlands and birch garlands.
These beautiful stretches of greenery (or white-striped material, depending on which you choose) are the perfect way to keep your display looking soft and modern without giving in to false needles falling everywhere and clogging up your carpet…and your socks.
(Trust me, I've been there—no vacuum is truly strong enough to battle the fake Christmas tree needles.)
Classy Christmas Bulbs
Though Christmas bulbs can get overly colorful and headache-inducing, that doesn't mean they need to be ousted from your modern Christmas décor.
While it's easy to fall into the trap of ornately patterned and brightly colored bulbs, this follows along the same line of thinking as alternative Christmas colors. By choosing something softer, more elegant, or more subtle, you can accent your tree with beautiful bulbs rather than cartoonish ones.
I personally lean toward silver or white ornaments when it comes to modern winter elegance—or maybe an icy-blue—but you can absolutely try any of the other colors I listed previously.
You can even mix gold and silver for an especially modern look—most people shy away from mixing the two, but it's actually a really classy method for sprucing up your Christmas displays.
Wrapping Up Modern Christmas Décor
Christmas might be a long-standing holiday—and not only that, but is classically a holiday of traditions—but that doesn't always have to extend to your entire Christmas display!
Modern Christmas décor is perfectly capable of capturing the spirit of the season while also matching up with 21st-century style, and you don't need to feel boxed in to your usual Christmas theme if you're feeling the itch to switch something up.
Modern Christmas décor is one thing you can do to bring your Christmas celebration into the future without sacrificing more longpstanding traditions—and it'll impress your guests, too!
Looking for more Christmas décor recommendations? Take a magical Internet sleigh ride straight into our Christmas section for more tips and tricks for all things Christmas.