If you've used chalk paint in the past, or explored your options for using chalk paint, you probably know that numerous companies offer chalk-style paint.
Because of the ever rising popularity of chalk paint, we have become inundated with so many different brands of chalky style paint to choose from. Its sometimes hard to know what the best brand for your project might be. And opinions are like . . . well, you know . . . everyone has one. From home improvement experts to DIY furniture flippers, everyone has their favorite brand.
We have worked hard to give you our review of the various brands out there, to help you make the best decision possibly. And here we are again, with another (hopefully insightful) chalk paint review of Sherwin-Williams' Krylon Chalky Finish Paint.
So, What makes Sherwin-Williams' Krylon Chalky Finish Paint brand unique? We will do a comprehensive review of what you get with this chalky paint, and explore the pros and cons of the the brand, to help you decide if this is the best paint for you and your next DIY project.
Let's dive in and learn more about what chalk paint is, the history of using chalk paint, and how the Sherwin-Williams brand can help you transform your furniture.
A Brief History of Chalk Paint
In 1990, a woman named Annie Sloan invented a revolutionary new type of paint, and thus Chalk Paint was born. Now, Annie Sloan is considered by most home improvement experts to be a leading authority in color, paint, and home style.
Sloan's dream was to create a paint that would be quick, easy to use, and reliable. In most cases, you don't have to do any prep work to paint something with chalk paint.
Annie Sloan trademarked the name "Chalk Paint," and other brands that market a chalky style paint have slightly different names. For example, Rustoleum has "Chalked," KILZ calls their chalk paint "Chalk Style Paint," FolkArt's paint is called "Home Decor Chalk," and Sherwin-Williams uses the name "Krylon Chalky Finish Paint."
All of these companies that make chalk-style paint offer various colors, and the paints are all similar but have some distinctive differences. This is why it is necessary to do your research before starting a project.
What is Chalk Paint, exactly? And Why is it so popular?
Chalk paints are a mixture of a fine powder, such as plaster of Paris, with water and a commercial acrylic paint for color. Chalk paint has a unique matte finish and texture somewhat similar to that of an old-fashioned chalkboard. However, this is not chalkboard paint and has more artistic and practical uses.
Chalk paint requires no preparation. Brands like Krylon Chalky Finish Paint can be applied directly to any surface without prep work. They are also water-based which means that cleanup is easy using only soap and water.
Chalk paint, from all brands, is incredibly versatile and easy to use. You can use chalk paint to cover almost any surface that paint will adhere to.
One reason chalk paint is so popular is that when using this unique paint, you don't have to do a lot of prep work like sanding and priming. This is appealing to people who want to get a project done quickly without a lot of fuss.
Another reason to love chalk paint is that it's excellent for camouflaging blemishes that are often found in older pieces of furniture.
About Sherwin Williams and Krylon Chalky Finish Paint
Based in Cleveland, Ohio, the Sherwin-Williams Company was founded in 1866 by a bookkeeper named Henry Sherwin, who later partnered with Edward Williams. The company operates in more than 120 companies as of the end of 2020.
While they do have other products, paint is the company's bread and butter and it's what they do best.
Sherwin Williams owns several brands, including Valspar and Krylon. Sherwin Williams markets its chalky paint under its Krylon brand.
Krylon Chalky Finish Paint has replaced another popular chalk paint brand that was also owned by Sherwin Williams, the Valspar Chalky Finish. So if you loved that brand, you will be happy to know that this paint is exactly the same, just rebranded.
Krylon Chalky Finish Paint Cost and Availability
When looking for the best chalk paint to use for your project, a few key details need to be considered when making your choice. One is availability, another is cost. While availability and cost are not the only things to consider, they are important. After all, if you run out of paint and need to get more, you don't want to be spending a fortune or waiting for some to be delivered. To quote the wise philosopher, Sweet Brown, ain't nobody got time for that. So, knowing you can find the paint you need locally and affordably are both important in this process.
First, lets talk price. A quart of Krylon Chalky Finish paint will typically cost you around $20-$25. It is also available in a spray form for around $6-$10.
Krylon Chalky Finish paint can be found at a number of retailers in store and online, including Lowes, Walmart, Michael's, Hobby Lobby, Amazon, or your local Sherwin-Williams retailer. You may also be able to find it at your local mom and pops hardware store. Suffice it to say, Krylon Chalky Finish paint is available in both canned and spray from from a number of retailers for a reasonable price.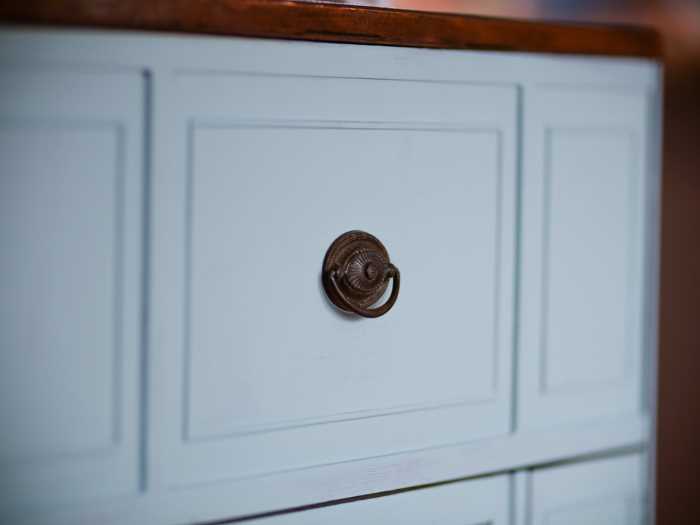 Sherwin-Williams Krylon Chalky Finish Paint Colors
One thing that makes Sherwin Williams chalk paint unique is that it's available in tons of colors. Essentially, any color of paint you need, you can get it in Krylon Chalky Finish at Sherwin Williams or at Lowes.
The paint is tintable, which means that it doesn't have color but can have color added to it to make it whatever color you want. Sherwin Williams is the king of paint colors, with more than 1,700 paint colors available at their retail stores or their partner, Lowes.
The company does offer three colors in their Chalky Finish Brush-On line:
Classic White
Misty Gray
Anvil Gray
If you're in a hurry and are happy with one of these colors, you won't have to wait for your paint to be tinted and mixed. However, with Sherwin Williams chalk paint, you can have nearly any color you can imagine. It only takes the people who work at the stores about 10 minutes to tint your Krylon Chalky Finish Paint the exact color you want.
Sherwin-Williams Chalky Finish Spray Paint Colors
One of the plus sides to Krylon Chalky Finish paint is that it is also available in a spray form in 14 colors.
Classic White
Misty Gray
Slate
Anvil Gray
Paver Gray
Mink
Antique Ivory
Ultramarine
Morning Sky
Tidal Blue
Waterfall
Wheat
Scarlett
Cotton Candy Pink
Krylon Chalky Finish Spray Paint also has a clear sealer in spray form available, as well as Paint Finishing Wax in a spray can.
Krylon also has a product called Wax Coating Chalky Finish that you can use to seal your finished paint job. After spraying this product on, use a rag to buff the finish.
Krylon Chalky Finish Paint Pros
Lets start with what we love about this paint.
Top on the list is probably pretty obvious – the variety of colors available. Like we mentioned before, this chalky paint has the ability to be tinted to just about any color imaginable, making it perfect for any project.
Also, the fact it can be found in both a brush on and spray form means it can be used for a variety of projects , from big to small.
As with most chalk paints, Krylon Chalky Finish requires no sanding or priming prior to use. And you may only have to sand if you need to remove painted that has begun to chip or crack away.
Krylon also seems to dry relatively quickly compared to some other brands available. In some instances I've had projects dry in 2-3 hours, versus some chalk paints that require you wait a whole 24 hours between coats.
I like to use the spray version for a lot of my crafting projects, especially if I am wanting to provide full coverage to a piece I plan to build upon. I've found that, when compared to other spray versions of chalk paint, Krylon Chalky Finish paint seems to spray more easily and evenly than some of its competitors.
Cons
Okay, lets talk about some of the pitfalls to this paint.
Most of my experience with this paint comes from using the spray version, so I am less familiar with the brush on version. So I am having to depend on the opinions of others for this version
First, the initial coat goes on thin and streaky. You can combat some of this with long, even brushstrokes, but depending on the coverage you are looking for, this paint will require two to three coats to reach your desired coverage.
Secondly, some have complained that the paint is as easy to clean after use as some other brands, requiring more than just soap and water to clean brushes.
Others have complained that the paint doesn't adhere properly to certain surfaces. However, my disclaimer here is that I am not aware of what prep they did or didn't do prior to using the paint, and how those choices may have affected the performance.
Some may find the number of coats necessary to finish a project a drawback. If you are working on a larger project, like a dresser or bookshelf, one quart of paint may not be enough and you will need to purchase additional cans. This will ultimately raise the cost and time of the project.
And I will say, this paint does have a strong smell, more so than other brands, so you will definitely not want to be indoors when using this paint for that reason.
Durability
Like all chalky paints, Krylon Chalky Finish paint is prone to chipping and flaking if not properly sealed. So, you will want to be sure to add protective coat of wax or poly to your finished project. Krylon does have its own versions of spray wax and finishes, but from my experience I personally prefer a brush on water-based polyacrylic to their spray wax or poly finish.
Distressing this paint
If you are going for the farmhouse or shabby chic look and want to distress this paint some before sealing, you'll be happy to know it responds nicely to sanding to create the distressed look you desire. All it takes
Final Thoughts
Krylon Chalky Finish paint is an affordable alternative to the Annie Sloan brand. Krylon chalk paint colors range from your classic white all the way to anything you can find at your local Lowe's paint swatch gallery, making it the most colorfully diverse chalk paint on the market.
So, if you are looking for a chalk paint for your next project, consider trying Sherwin-Williams' Krylon Chalky Finish Paint, in either brush on or spray version. Just make sure you do the (minimal) necessary prep work before hand to ensure you get the best results possible. And if you have tried this paint in the past, be sure to share what you used it for and how the project turned out.