How to Apply Furniture Appliques to Save an Old Dresser
Want to learn about applying
furniture
appliqués
to save an old dresser? There are so many pieces to the puzzle and it sometimes we really want to do more than just
chalk paint
it. This means research. Find some how to videos and once the
video has been rented
or bought, have a pen and paper
available when the video
is rolling to take your note! They may tell you to grab some wood glue and a little
Annie Sloan Chalk Paint
, (although you know Im going to say skip on over to
Wise Owl Chalk Synthesis Paint
) and get to work. How about we take it a few steps further and not only play with different paints but
apply some furniture appliques
?
Even better, lets MATCH them to the hardware? We are about to cover that and so much more!
Ingredients: (Links included for your convenience)
Oh but this canvas is far from clean,.. on the contrary it has been painted in a very thick yellow paint that was evidently applied while the drawers were shut,.. and so much so that some of them are now sealed shut.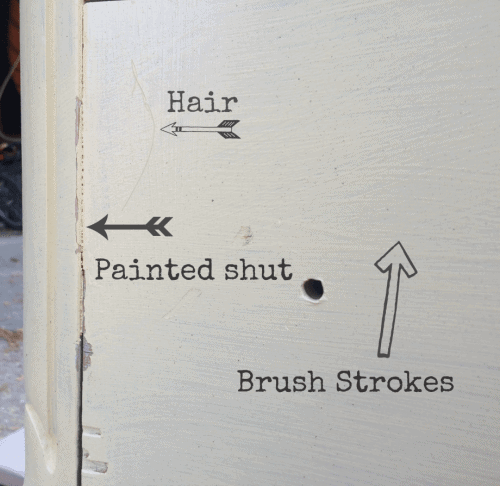 Oh man this ones gonna take some patience,… it would need to be completely stripped down,..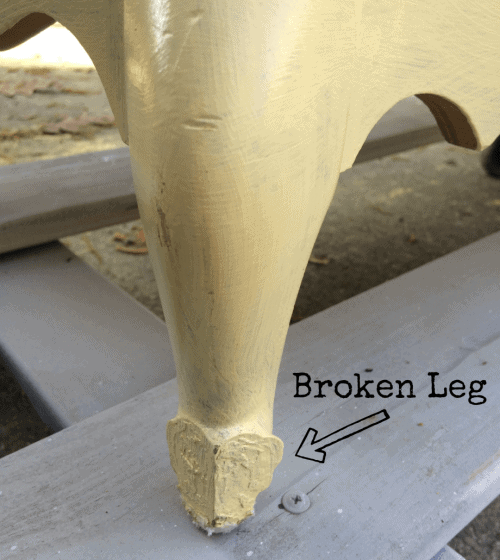 But the fun didnt end there,.. those lovely Cabriole Legs were no more,… and it appeared someone had once tried to repair them,.. with both of them being broken we had nothing to mold them after so we decided to take a different approach. I wanted to carve them into a slightly different shape… So I got to work. I felt like I could take the core of the leg and just continue the pre-existing lines to create a nice simple leg and keep the integrity and strength in tact.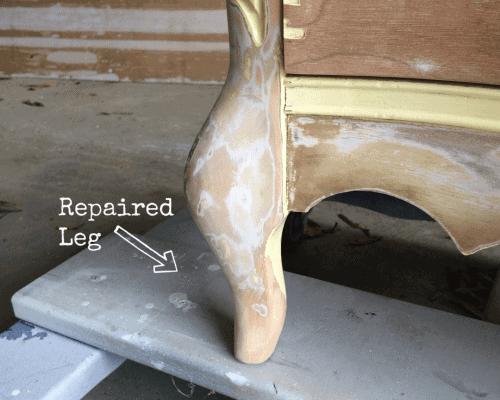 After cutting them down and sanding everything back to bare wood, I took to shellac to seal everything off. First, I removed all the drawers and applied two coats of clear shellac to everything. Next, I applied two coats of Sherwin Williams White Pigmented Shellac.
Something I enjoy about shellac is its ability to seal and DRY. It also leaves a nice smooth surface. I dont have to worry about globbing and caking… and now I have a blank canvas. Something I wanted to do was add a little more embellishments to accentuate the carved details on the sides. I wanted to bring more attention to the front of the chest.
We decided to use Furniture Appliques. They come in so many amazing shapes and sizes! Imagine what you could do with this!
or this!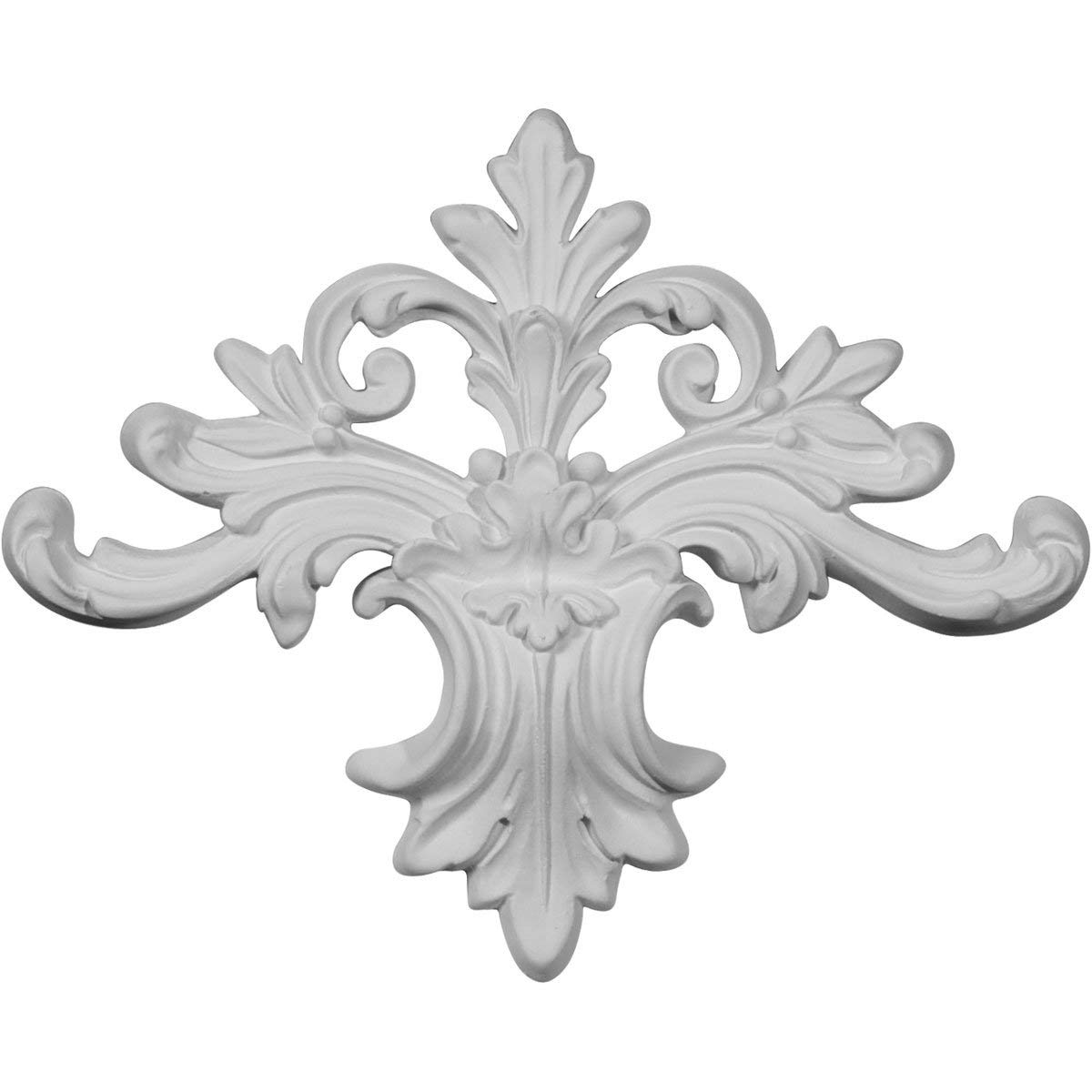 You can see how that one was used here…
If you would like to shop for your own appliques, you can find those and many many others HERE (affiliate)

For this project I teamed up with Efex to try out their bendable, flexible appliques that would be perfect for this curvy front!
We would decide to go with the Efex Appliques P8 (above) and E6 (below)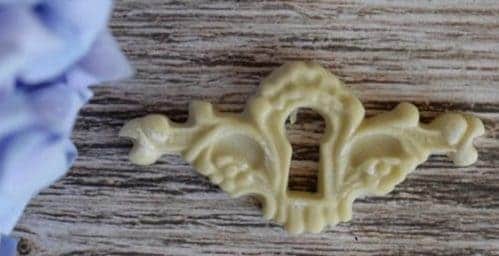 For these I would need to attempt to match the clients vision for the hardware shown below by The Decorated House. My client decided to go with Benjamin Moore's Leisure Green for the chest as well as the patina on the hardware.
I also added some antiquing glaze to the center of the escutcheon to create that dark "hole"
Ok, two obstacles conquered. Now to paint. We would decide to go with Benjamin Moore Advance paint. This is our go to when we want a perfect, classic finish. we recommend using it with your favorite sprayer (I used my
Homeright Finish Max
) to achieve a truly flawless finish. (affiliate) After going back and forth looking at different inspirations, we would decide on a clean, non antiqued look, with the hardware and appliques "Bronzed" and "Patina'ed" to match. After spraying 3-4 coats over the entire chest it was time to apply the appliques.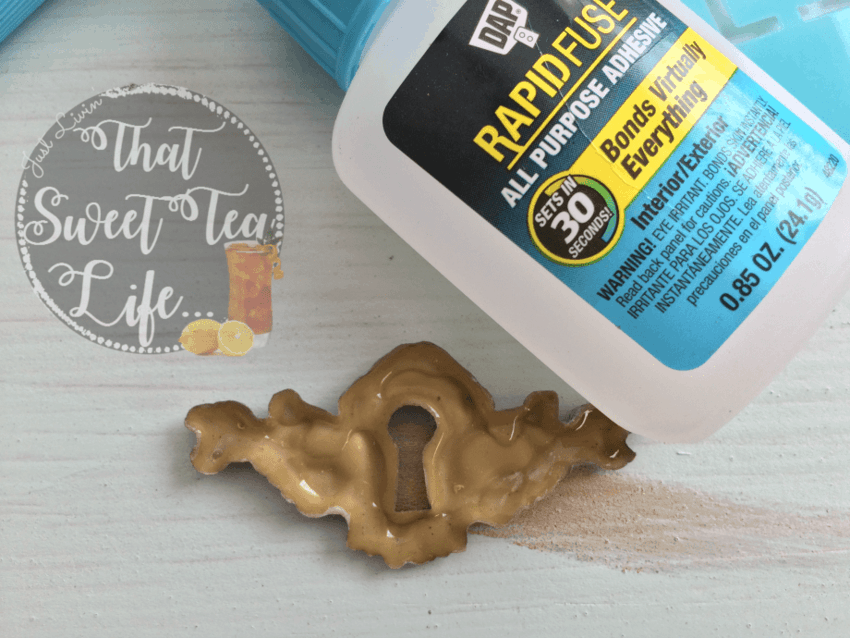 First dry fitting each applique and lightly outlining each of them with a pencil, I then used the Rapid Fuse, one of the adhesives recommended by Efex, and I placed the gel along the high points of the back side of the applique. Being sure to cover each spot I knew would be in contact with the surface of the chest. I then carefully flipped it over and laid it in place. The Rapid Fuse Gel does allow just a bit of play room, so its ok if you slightly miss your mark. Once in place just hold it there firmly for a few seconds and wahlah! I could NOT believe how easy they were to apply! With the larger one, I simply glued it just on one end, attached that then worked my way across gluing as I went. Easy Peasy! And these things are SOLID! I was worried they would be flimsy or want to cave in. Nope.
After that was all said and done I ended up deciding to play just a tad more and used
Modern Masters
to create a faded stencil design on the side of the drawers. I didnt want it to look "perfect" but I did want it slightly polished and not rustic. So I dry brushed a few different Modern Masters Gold tones over a stencil and gradually faded it back into the solid gold. The gold was perfectly muted since it somewhat matched the wood tone. Polished but not "perfect" which was
PERFECT!
And I think we have it. Truly the Efex Appliques made the look really come together! The Pediment at the bottom fit perfectly and the two escutcheons completed the look!
Imagine how it would look with no appliques! Pretty, but a little blah..
Here you can see how all the details, old and new, come together perfectly. The Benjaminn Moore Advance again proved to be the perfect style of paint for this project. I couldn't be much happier with this lovely chest. Hopefully it will serve its sweet little owner for many many years to come! So, how do you eat an elephant? One bite at a time. Looking at this thing initially, it would have been easy to throw in the towel! But once each task was broken up and achieved, gradually it all came together and I even had the energy to add a little more. I hope you enjoyed this makeover! And I hope it encourages you to tackle some creative obstacle that you have yet to overcome,.. sometimes we just need to take the sprayer out of the box, or sit down with the new fun doo dads and try them out! Just GET OUR HANDS DIRTY! …life will move on even if our first attempt is an embarrassing fail! We learn and move forward,.. Thank for coming and hanging out at That Sweet Tea Life,.. I appreciate you. If you enjoyed this you should subscribe for updates!

I bet you will also want to check out our super helpful Facebook group HERE!
And how about Wooden Appliques??