Are you looking for some DIY inspiration to transform your makeup vanity from drab to fab? Check out this list of painted makeup vanity ideas to get the wheels turning.
Below, you'll discover chic design ideas to add new life to your vanity. Whether you're seeking the natural wood look or want to go bold with color, you'll find all sorts of inspiration for tackling your next DIY project.
Before buying paint, read this list of painted makeup vanity ideas to help nail down your vision.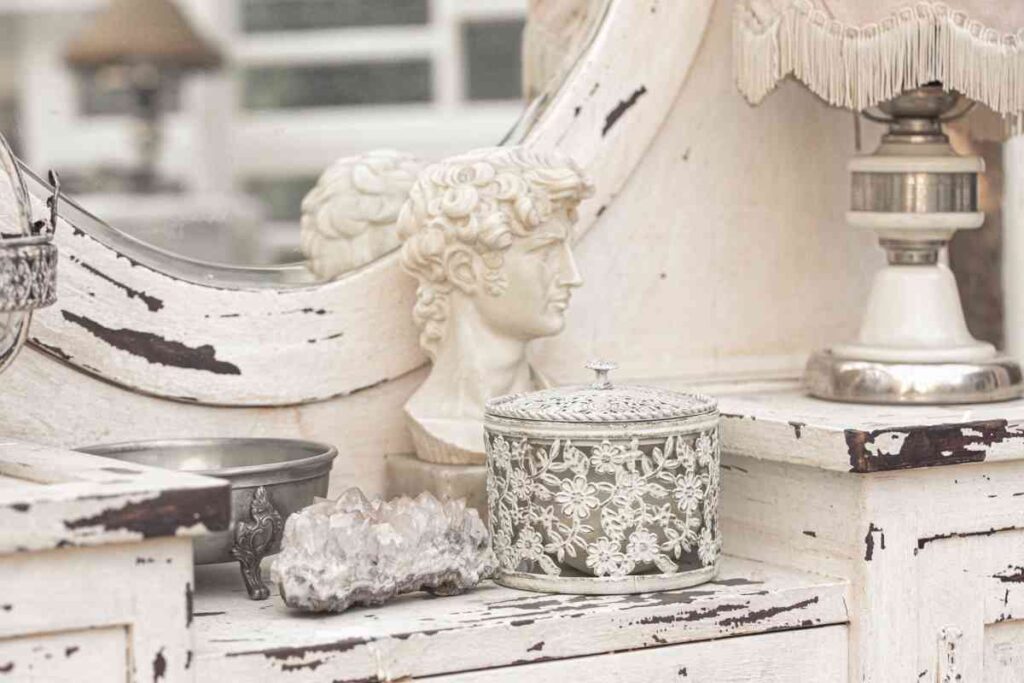 ---
1. Mix White with Pastels
You can't go wrong with the white and pastel color combination. You might be wondering why these two shades pair so perfectly together.
White brings out a crisp, clean feeling in the pastel color, so the two become complementary rather than conflictive.
Another good reason to choose the white and pastel combination is that it brings a hint of color while adding light to a space. You can imagine how this design concept will come in handy when applying makeup in the mirror.
This beautiful makeup vanity combines bright white with delicate pastel pink to evoke a romantic feeling in the room.
This option is one of the best makeup vanity ideas if you already have a preexisting wall painted a light pastel color. All you have to do is buy or paint a white vanity, and you're good to go.
It might become a bit boring on its own, but this painted makeup vanity idea takes it a step further by adding pops of color through accents. You can add visual interest in a small space by adding a gold vase, pink artificial flowers, and a pastel telephone.
---
2. Go for a Natural Wood Finish
Do you appreciate the look of natural wood? Then this might be one of the best painted makeup vanity ideas for you.
The lack of paint is what transforms this makeup vanity into a stunner. While no color is required, you'll still have to give your vanity a good sanding and stain to let the natural wood hue come through.
Including a natural wood makeup vanity accomplishes a few impressive feats. It adds a natural aesthetic and helps bring a touch of nature into any room. Adding plants to your setup will help further the woodsy vibe.
Another nice thing about natural wood is that it helps convey the sought-after mid-century modern look. With sleek lines and geometric shapes, this makeup vanity looks straight out of a Frank Lloyd Wright home.
---
3. Mix and Match Shades
Mixing different shades can help you create a sleek, minimalist space to do makeup. This color combination suits you well if you prefer to go without the frills.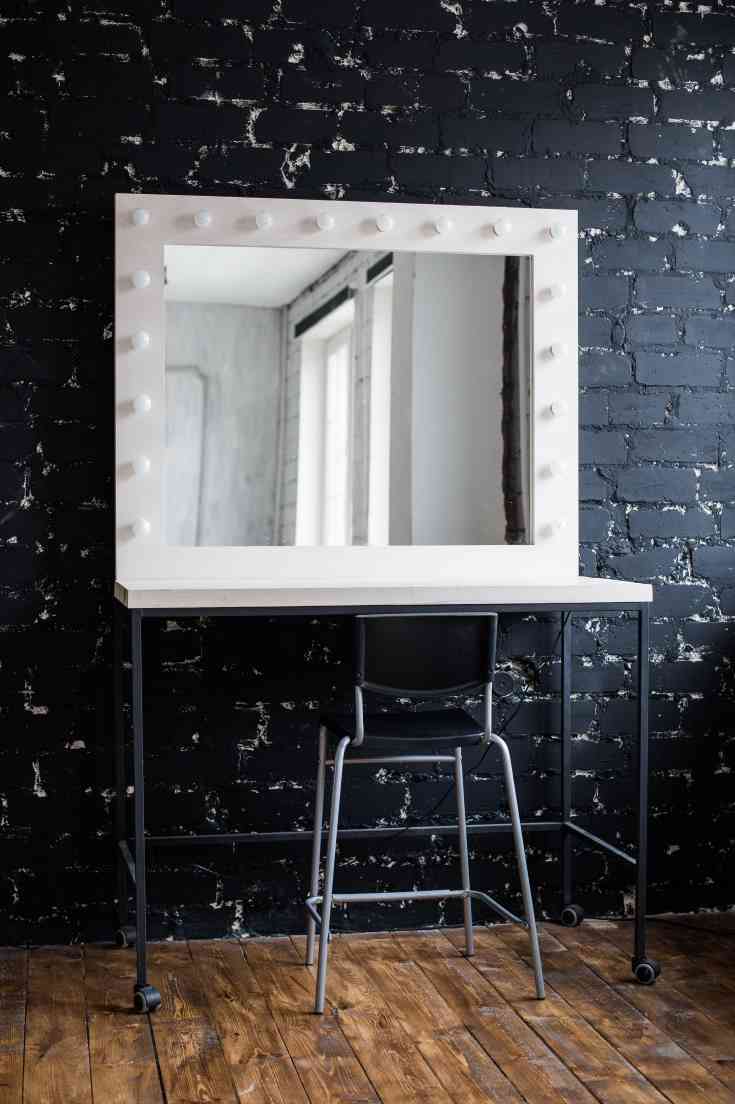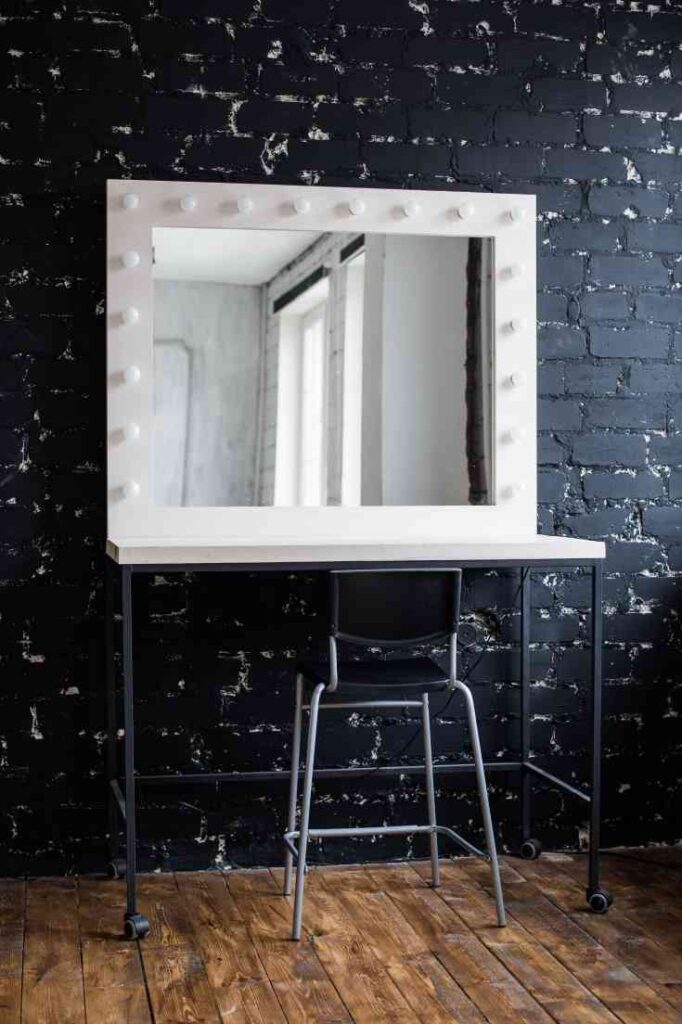 This makeup vanity has a simple setup consisting of a large white mirror frame lined with light bulbs. It's in front of a distressed black brick wall and includes a small black chair underneath.
This may be good enough on its own, or you can start with this straightforward design and use it as a base for decorating. Plants would help add some color to the space while maintaining the minimalist aesthetic.
---
4. Go Bold with Green
One of the best makeup vanity ideas is picking a bold color you wouldn't usually choose. You can transform the mood of an entire space without having to embark on a huge renovation project.
This makeup vanity would make a striking addition to your bedroom. The bright green color will help add visual interest to any space, regardless of the backdrop.
The unique part about this makeup vanity is the floral printed drawers, which help balance the generous green color. You can easily make this happen by using scraps of wallpaper or leftover paint from a different DIY project.
---
5. Go Pretty in Pink
There's no shame in indulging in the Barbie doll fantasy. If you want to bring some dollhouse elements to your makeup area, this is one of the best painted makeup vanity ideas for you.
The deep pink color feels regal and playful at the same time. If your room needs a pop of color, why not let your makeup vanity bring some much-needed brightness into a dull corner? This is one of those painted makeup vanity ideas that can transform a stale space into something elegant.
The stylish oval mirror is surrounded by a lovely pink frame, which contrasts the two materials nicely. The white fabric bench displays a soft texture to balance the abundance of wood.
Whether you want to reclaim your childhood desire to be a princess or just desire a pink accent piece for your bedroom, consider this painted makeup vanity idea.
---
6. Paint the Rainbow
Would you rather your makeup vanity be the focal point of your bedroom? Give it the attention it deserves by painting it with eye-catching colors.
This makeup vanity uses a combination of teal, yellow, and pastel pink with black accent knobs. It conveys a 60s pop art feeling that sets it apart from the crowd.
Choose bright colors you think will complement each other for your makeup vanity. Consider the room design and placement. If you already have a room bursting with color, you may want to tone down the hues in your makeup vanity.
But if your room lacks pizazz, let your imagination run wild when picking out paints. This is one of the best painted makeup vanity ideas if you don't shy away from color.
---
7. Try Darker Tones
Using darker paints can convey opulence in a space without extra cost. If you fantasize about powdering your face in front of a sleek black setup, this painted makeup vanity idea is perfect for you.
While darker shades take the lead here, it's not all black. This makeup vanity does a nice job of balancing grays, blues, and blacks with accents of color.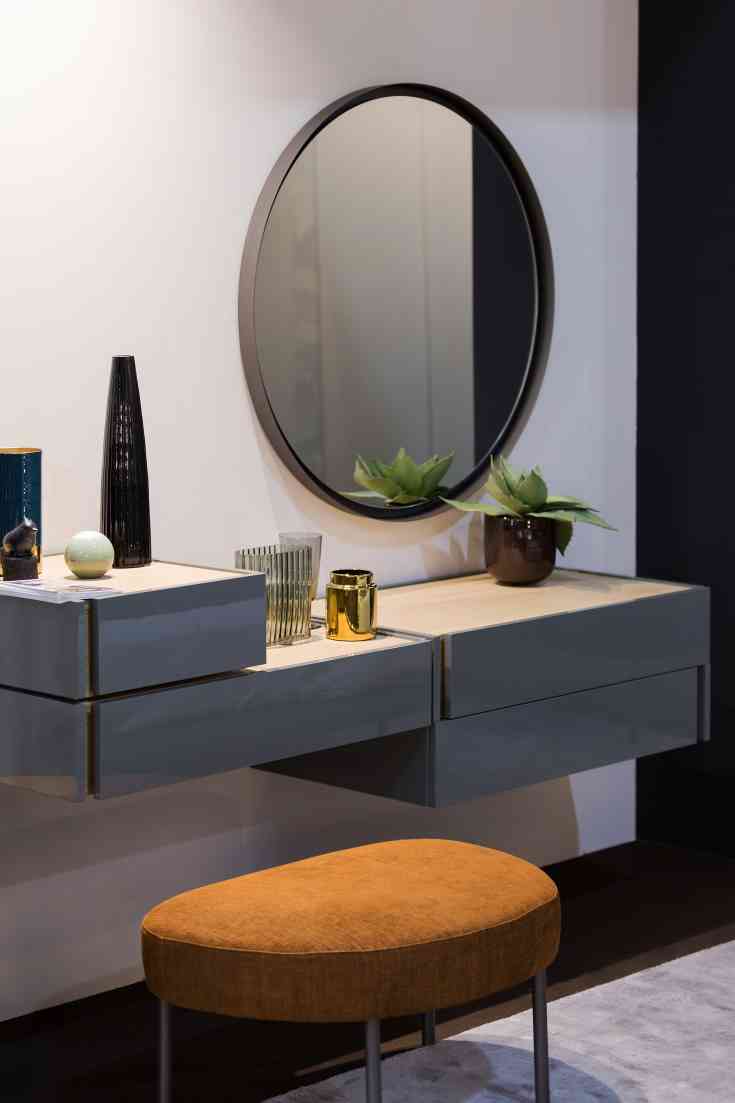 For instance, the burnt orange bench helps bring a subtle pop of color without looking unnatural to the setup. The small succulent helps bring more freshness to the space. These small details help create more visual interest in the scene.
You may also want to keep your walls white to avoid oversaturating the dark colors. The surface of this makeup vanity is natural wood which helps brighten the area up.
Also, consider adding a small gold accent to your vanity. Gold's fancy shine blends beautifully with dark colors, and the two design elements create an elegant scene.
---
8. Blend White and Wood for a Clean Look
Blending white and wood can help create a bright, minimalist space.
The combination of white and wood is neutral enough to enhance any design style. Choosing these two shades as a base provides a perfect blank slate for decorations.
This makeup vanity has a round wooden mirror frame and a sleek white desk supported by angular wooden legs. The small bench includes a gray woven seat to add more textural interest.
If you think less is more, you can keep the setup as is. Or you can add decorations galore to add nice pops of color to your makeup vanity space.
Consider painting an accent wall behind the makeup vanity. Sage green or pastel pink would transform this vanity into a showstopping scene.
---
Painted Makeup Vanity Ideas: Summed Up
We hope you found some inspiration in our guide to painted makeup vanity ideas.
Whether you want to go bold with color, mix and match shades, or paint the rainbow, there are color ideas for every design aesthetic.
Now that you've chosen the perfect idea for your makeup vanity check out our Painting Furniture section for how-to guides to help you start your DIY project.