Join me in painting a wood vanity
Painting a wood vanity may seem intimidating. It may be the ornate details. You may find it hard to paint a wooden antique. Sometimes we simply dont know where to begin in painting furniture at all. Find some of my best tutorials in my Ultimate guide to Furniture Painting!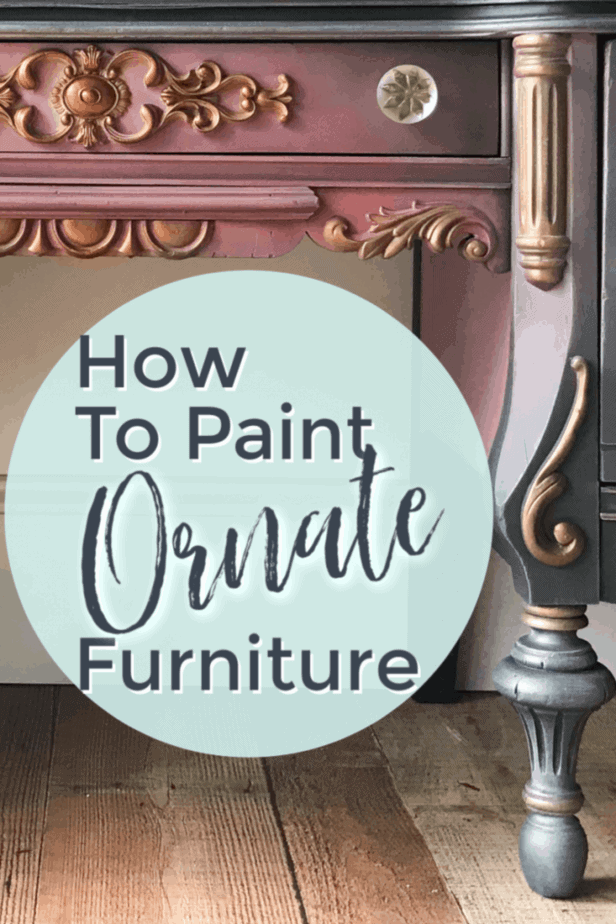 [mailerlite_form form_id=1]
First, one thing we should do when painting antiques is prime them with a clear primer or shellac. This offers a barrier that protects the wood grain and prevents paint from penetrating deep into the wood. Later, if someone wants to restore the antique, they are free too and the process is much easier than if you paint directly over the wood or prime with colored primer. (This is my Favorite Clear Primer)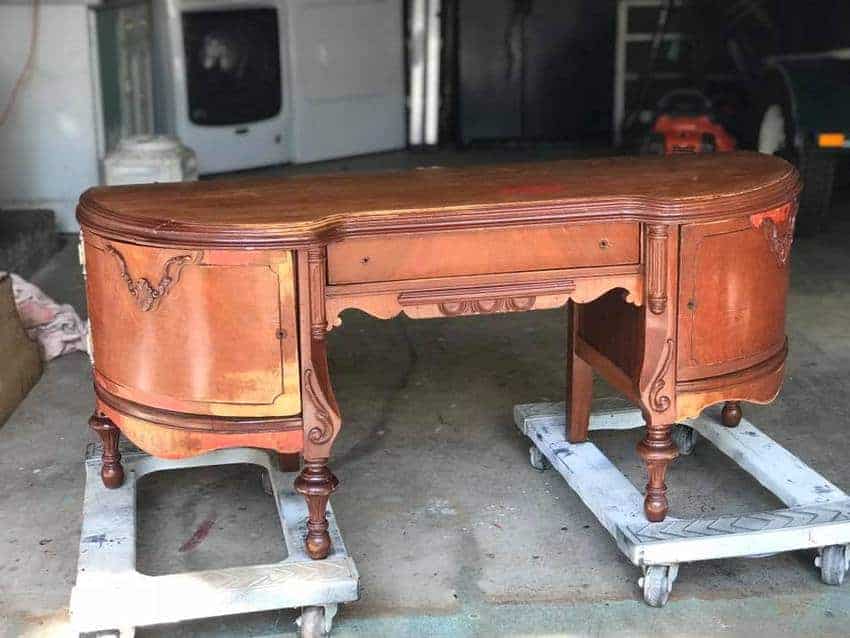 Now, this ornate wooden antique was in incredibly bad condition. There was a lot of broken down wood filler, missing veneer, and cracks. There was most definitely no "antiquity value" left in it. However, I knew I could give it a whole new life with paint! So, I removed the veneer I couldn't I repair, used Bondo to fill in and smooth out areas, and used clear primer over the everything! I added all new hinges as well and included the process in the video walk throughs below!
How I painted this purple striped vanity
Can you believe the wood vanity you see there would become this beauty?
If you look back at the before photo and compare you can see where I added some Wood U Bend moldings for added interest and details! You can find them in my Product Buying Guide! (and the colors and products I used can be found HERE) Those appliqués really perfected this look though! Without seeing the before photo, its nearly impossible to tell what is original and what is added! (I included this application in the video tutorials below)
On the top I added interest by painting in some faded stripes While I love the bold fun factor they add, fading them a tad mutes the concept making them more palatable. Paired with the stencil there is just so much going on here! You can find the stripes and stencils process in the video tutorials below.
On the sides as well as the top you may notice the flowers. Those are rub on image transfers that are pre-manufactured and sold online and in stores. One large transfer was cut up into many little pieces and I paired and layered them where I wanted. (The tutorial for this process can be found below)
The gold over those details really make them pop!! You can use so many different products to achieve the effect and I used several all together on this one. From Liquid leaf to metallic paints,.. you can find the process in the videos below!
And then there is the blending,.. using various colors of paint and moving them into one another that creates a seamless transition of color and shading that enhances the design.
Products I used in painting this vanity
You can get this look with Dixie Belle Paint Company products..
Muscadine Wine, Midnight Sky, Tea Rose, Champagne Pink and Cotton for the colors, blends and highlights..
Moonshine in Steel Magnolia and Midnight Sky,.. WoodUbend Mouldings &
Prima Marketing Inc. Stencil and Transfers to really make it come to life! I hope you enjoy it and feel free to ask questions or share for inspiration.
Want to get your own products? You can find everything in my Product Buying Guide! The specific color and products I used can be found HERE.
Painting a wood vanity video walk throughs
Here you can follow as I talk through a hopeless hinge scenario and how to work around the issues at hand! If you happen to have any issues pulling up the videos, I invite you to view them over Facebook. The app may work best! You can find all the videos here. Please forgive any audio issues and know that I am not a professional actor or videographer! What I am is an artist that is willing to share my process with you. XoXo (4 videos total below)
In this video you are able to watch as I begin working with the Wood U Bend moldings and begin painting in a blended effect! I also apply some stenciling and wrap it up with a Live Q&A Session!
Continuing along we are applying image transfers, painting faded stripes, painting for more blended effects and applying some metallic touches
Lastly we are very quickly talking top coats. I will show you what I used and share why I love it for CERTAIN painted furniture projects!
---
I truly hope you enjoyed the process! If you did be sure to sign up for DIYs and tutorials delivered right into your mailbox!
[mailerlite_form form_id=1]