I introduce to you what may be my favorite DIY Rustic Paint Finish yet. The Rusty Ol' Chevy Finish. Rustic Paint finishes are popping up everywhere now. The shabby chic look has taken a whole new turn and now its the more shabby the more chic! Im not sure if you can get any more shabby and rustic than genuine rust in your rustic paint look. Its the perfect way to DIY Rustic Furniture, and you know I love a rustic blue paint finish.
wood staining antiquing furniture wood furniture finished piece top coat distressed wood paint color paint technique distressing furniture decorative paint lightly sand paint finish latex paint piece of furniture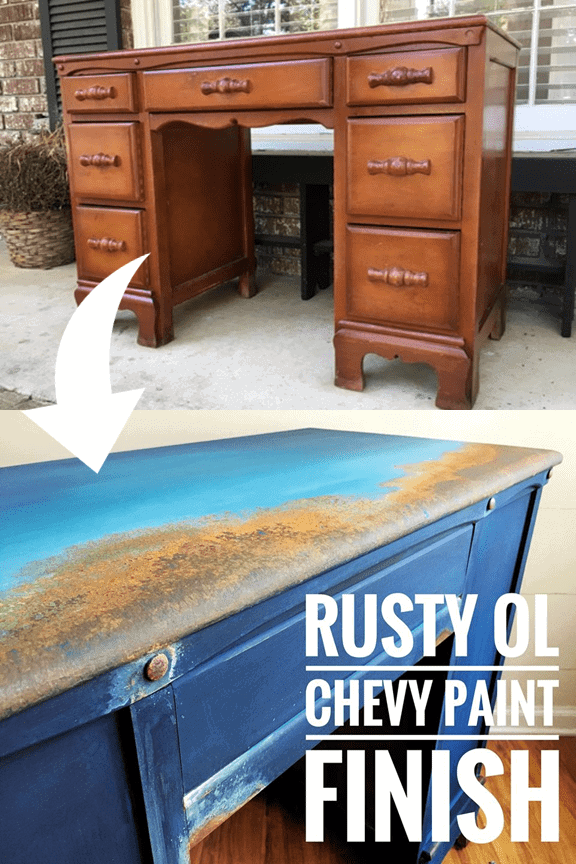 When I came across this rather primitive, craftsman style desk I knew I wanted to play it up and have a little fun with it. A rustic painted look would be up next! I know its not a whole lot to look at, but a solid wood desk, with handles I would almost ALWAYS recommend replacing! BUT… I was inspired by this…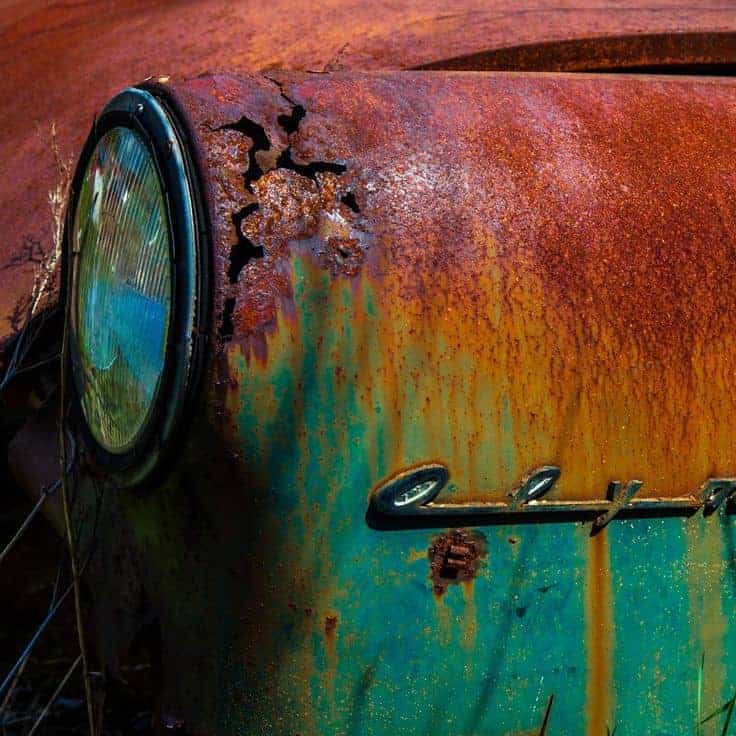 Can we just say,.. ahmazing… I just love the mix of colors,.. you can actually find that and much more inspiration on my Pinterest Boards. I love to find incredible photos to reference and pull my rustic paint looks from… So I decided to take a deep blue-slightly more,.. well a lot more on the navy side, (I just couldn't help it!) and I worked in some areas of oxidation and added in some rusty goodness… This series was first show in "Painting in the Raw". Its a wonderful group full of talent and techniques that are gorgeous and unique! Joni teaches how to use various products to get one of a kind looks! I was happy to teach this method there. You can Click Here to find out how to join Painting in the Raw.
The rest of the videos can be found below!
Whats so amazing for me personally is to see how the members are able to use the techniques to create their own custom beauties!! Just look at how Jenifer from Majestic Living Designs use the Rusty Blue Chevy Methods!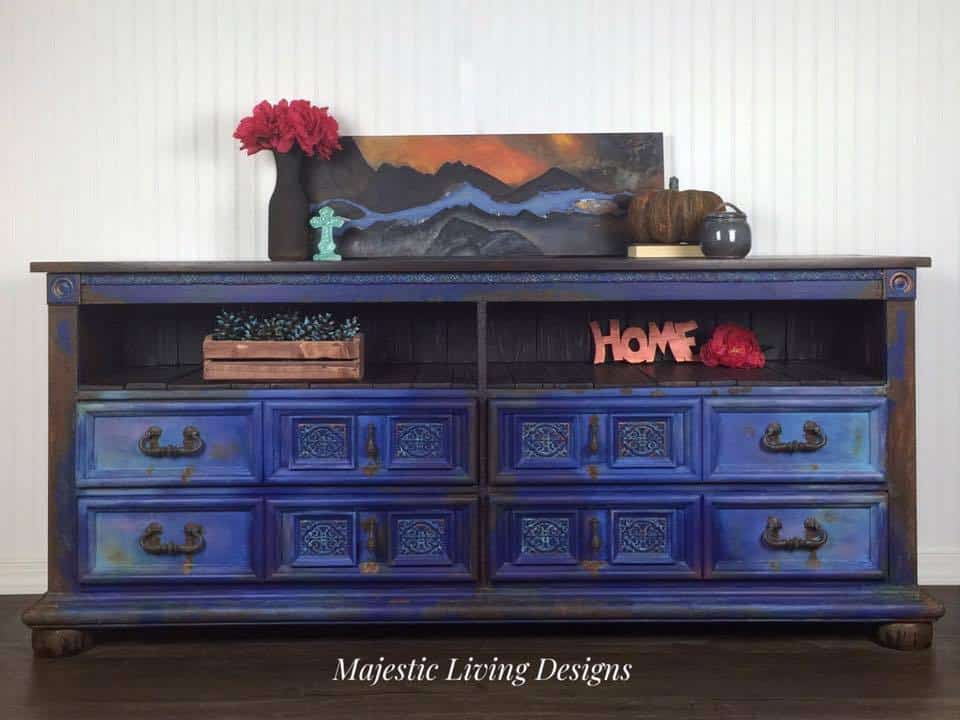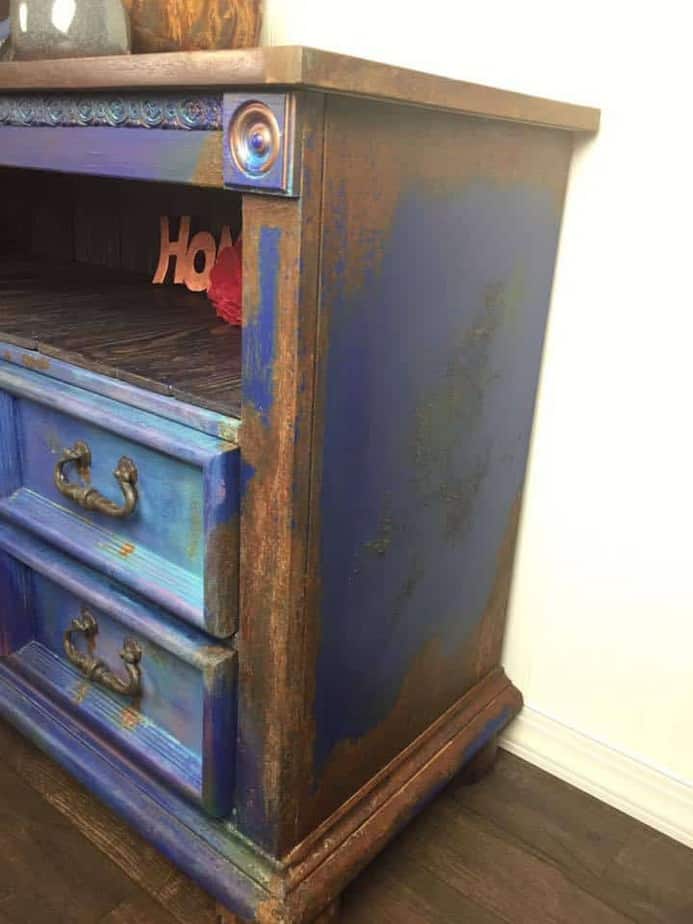 Isn't that just gorgeous!! Be sure to visit Jenifer at Majestic Living Designs to give her some love! Now to admire this handsome fellow! (remember the how-to videos are below!)
You can see how I layered in the colors,.. then the rusty effects and even some drippy old oxidation…
Those old wooden handles I normally would replace were perfect to take on the rustic paint and oxidation..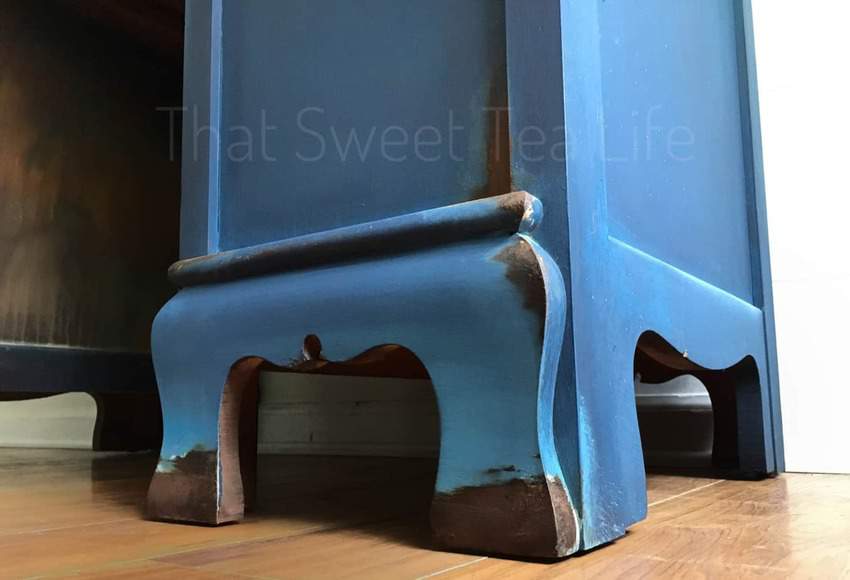 Then again at the feet… where the condensation would settle over time… the layers of blue fading back from the "sun"….
These photos honestly do it no justice!! So I guess that means you just have to create it for yourself! Just check out the entire series here!
Creating a Rusty Blue Paint Finish Part 1
Creating a Rusty Blue Paint Finish Part 2
Creating a Rusty Blue Paint Finish Part 3
Creating a Rusty Blue Paint Finish Part 4
Until next time at That Sweet Tea Life!
---
If you love this look pin it for later! I will be coming back with all the how to details soon!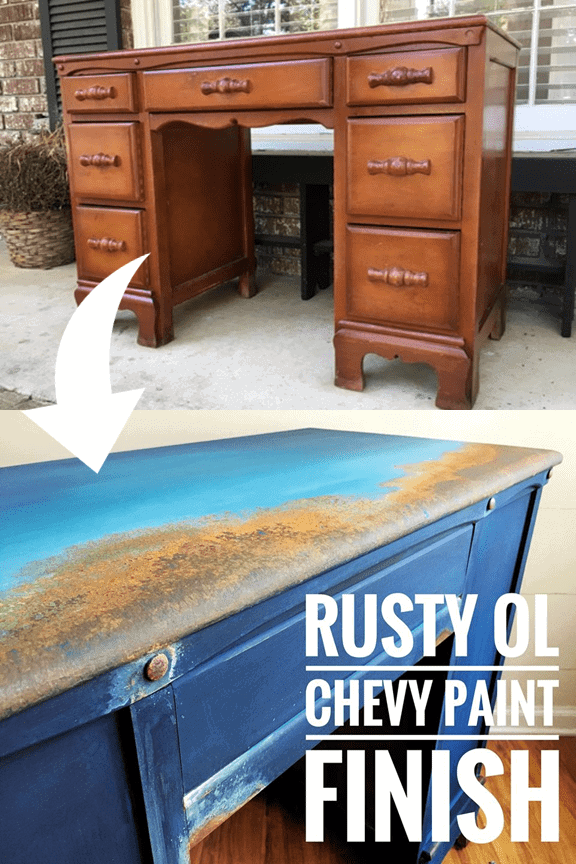 I bet you will also love these! Go check them out!
Pink and Gold Painted Furniture Makeovers Furniture Lover Must See!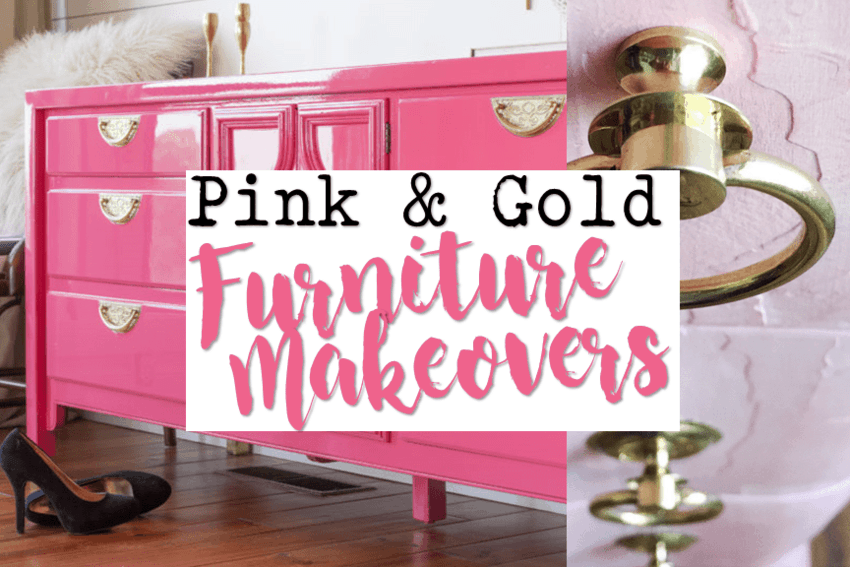 Learn How to Paint Furniture