If you've ever taken on a DIY project, you know how fulfilling it can be. But sometimes, they can seem daunting, even if you're experienced.
Whether you're a beginner or just looking for a quick and easy project, wood signs are the perfect DIY to build your confidence. There are infinite possibilities when it comes to crafting signs yourself, and you can get as creative as you want.
You don't need any special materials to make your own wood signs, and you can often use scrap wood or supplies you already have on hand. This is a great way to repurpose supplies you already have.
It's also a very budget-friendly way to elevate your decor or give a personalized and homemade gift. Check out this article for inspiration, tips, and instructions for DIY wood sign ideas you'll love!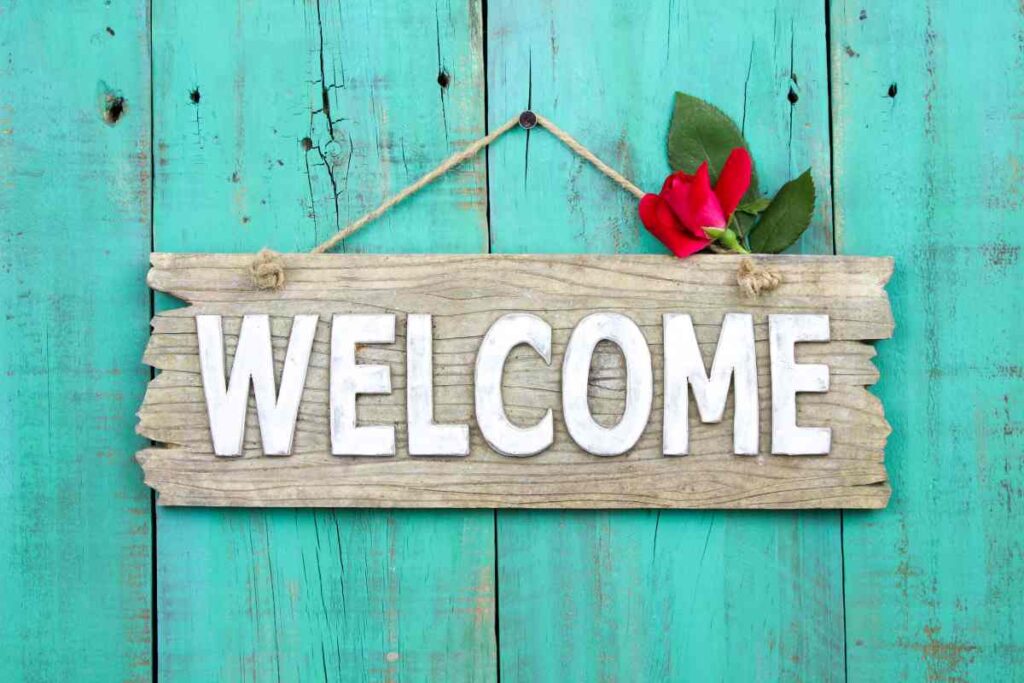 ---
Basic Materials
To make a wood sign, there are just a few items you need to get started.
No matter what design you go with, you'll need a piece of wood, sandpaper to prepare it, paint to decorate it, and a finishing spray for protection when you're done.
Here's a comprehensive list of supplies with options that you can use to customize your wood sign.
Wood
Once you decide what DIY wood sign idea you have in mind, choosing the perfect piece of wood can really take it to the next level.
While any piece of wood will work, think about the style you're going for and the foundation that will make it pop. A rustic sign would look best on an older or recycled piece of wood, whereas a colorful and crisp holiday sign would really pop on a brand new clean piece that you picked up from the lumber yard.
If you can get your hands on a bit of driftwood, you'll have the perfect base for a coastal-style sign. Maybe you have an already-made sign lying around that you don't love, and all it needs is a fresh coat of paint and your personal touch.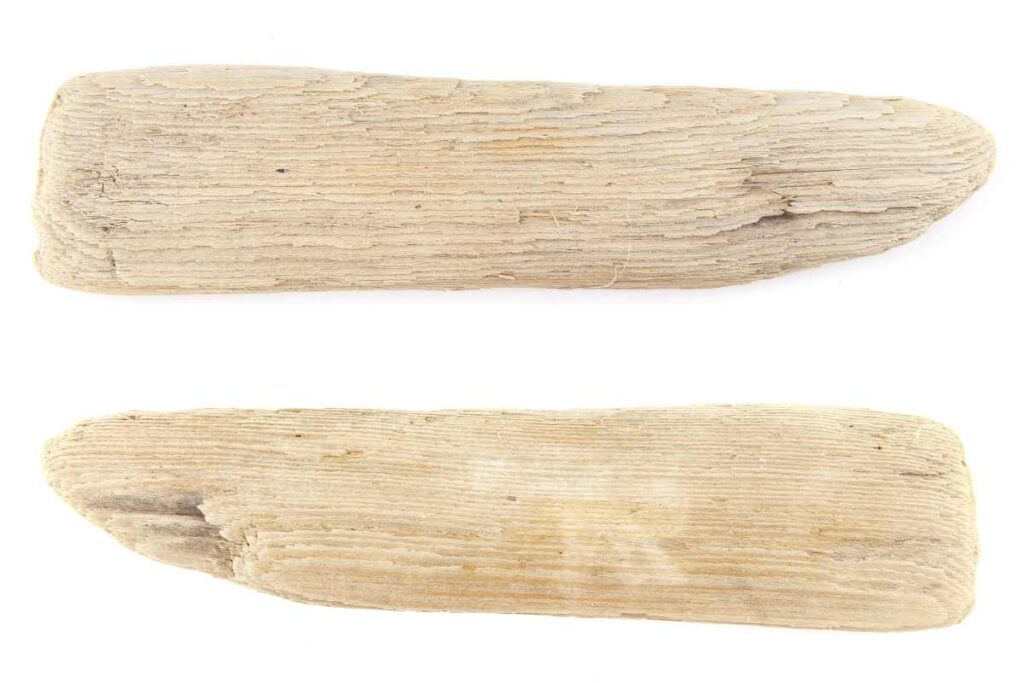 Maybe the wood you're using isn't anything special, and that's a perfect opportunity to break out the big paint brush for a bold background color. Alternatively, a beautiful piece of natural wood might make you want to show off the grain in your design instead of painting over it. Other options for wood to use are pallets or scrap pieces you have on hand.
Pencil
Draw right on your piece of wood with a pencil to test your idea and plan out your design.
This will help you space your lettering just right and give you a guide before you start painting. Don't worry about perfection; a quick pencil sketch is all you need to start on the right foot.
Paint
Here's where you can really get creative with your DIY wood sign ideas.
This craft paint will work for both indoor and outdoor projects.
This spray paint comes in mini cans with a few different color pack options. Spay paint can help you make fun designs or let you cover a piece of wood quickly and uniformly. Paint pens are also a great way to decorate your sign with smaller details.
Paint Palette
Use a paint palette to keep all your paint at your fingertips, or even mix unique colors to fit your style just right.
If you're trying to be extra thrifty, you can use a scrap piece of cardboard instead.
Brushes
A variety of brushes will help you achieve the perfect effect.
Smaller detail brushes are perfect for lettering and designs. Use a bigger brush for background color and larger spaces. If you prefer to sponge paint on, these little sponges will do the trick.
Keep a cup of water handy so you can rinse your brushes when you switch colors.
Stencils
For precise lettering, you might want to use stencils instead of freehand painting.
These stylish stencils will make letters and numbers come out perfectly every time. Try these stencils for a more straightforward look.
Sandpaper
Prep work is important for most DIY wood sign ideas!
Use sanding blocks to easily smooth out and prep your wood or create a weathered effect on paint.
Finish Coating
Protect your final design and make your DIY wood sign last with a finishing spray.
Wood Stain
This is optional, but if you want to dress up raw wood to match your decor, you can add a coat of wood stain with a sponge or rag.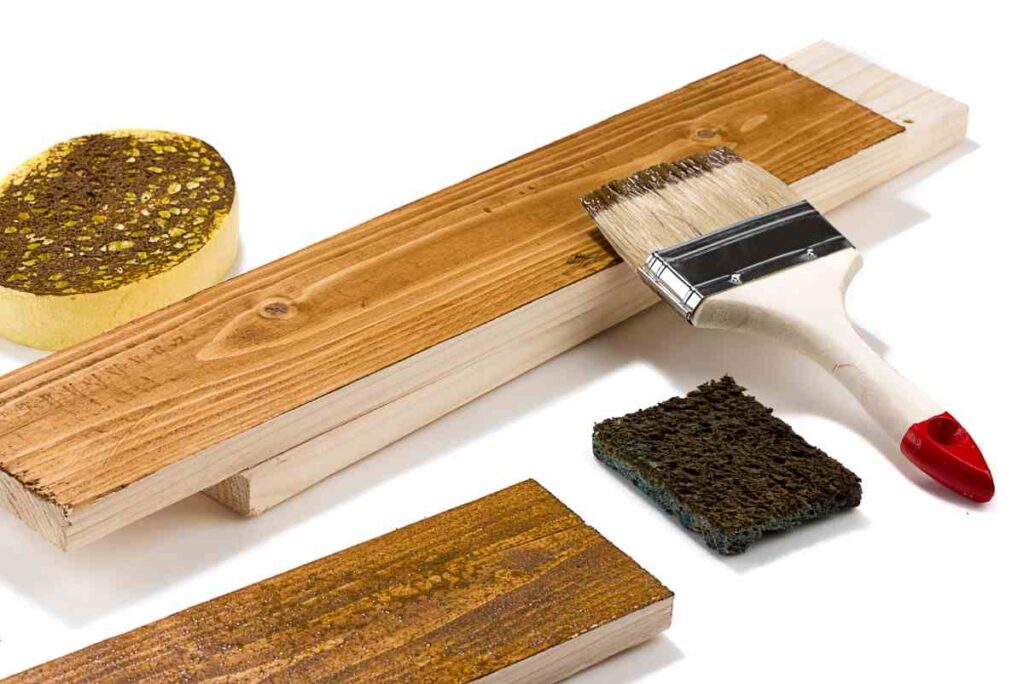 ---
DIY Wood Sign Tips to Get You Started
Don't get too hung up on the type of wood you're using for your DIY wood sign idea. You can tailor the wood to the style of the sign if you want, or just use what you have and let that guide you.
New lumber from the home improvement store works great, as does scrap wood, pallets, driftwood, or even old signs that need refreshing or that you just don't like anymore.
If you aren't confident in your ability to paint by hand, use a stencil. You can use regular paint with a brush, spray paint, or a sponge to fill in the stencil, or you can trace the design with your pencil and fill it in afterward.
No matter what your specific materials or design are, start by sanding the wood you want to use to prepare it before you start painting.
Once you're happy with your final design, add a coat of finishing spray so it's protected and will last a long time. Take a look at these DIY wood sign ideas and make them your own!
DIY Wood Sign Ideas to Try
1. Painted Simple Decor Wood Sign
This DIY wood sign idea can go in any direction you want. It looks great with a quote hanging on the wall, in your laundry room, or for a coffee bar.
Start by staining the wood in the color of your choice to let the wood grain show.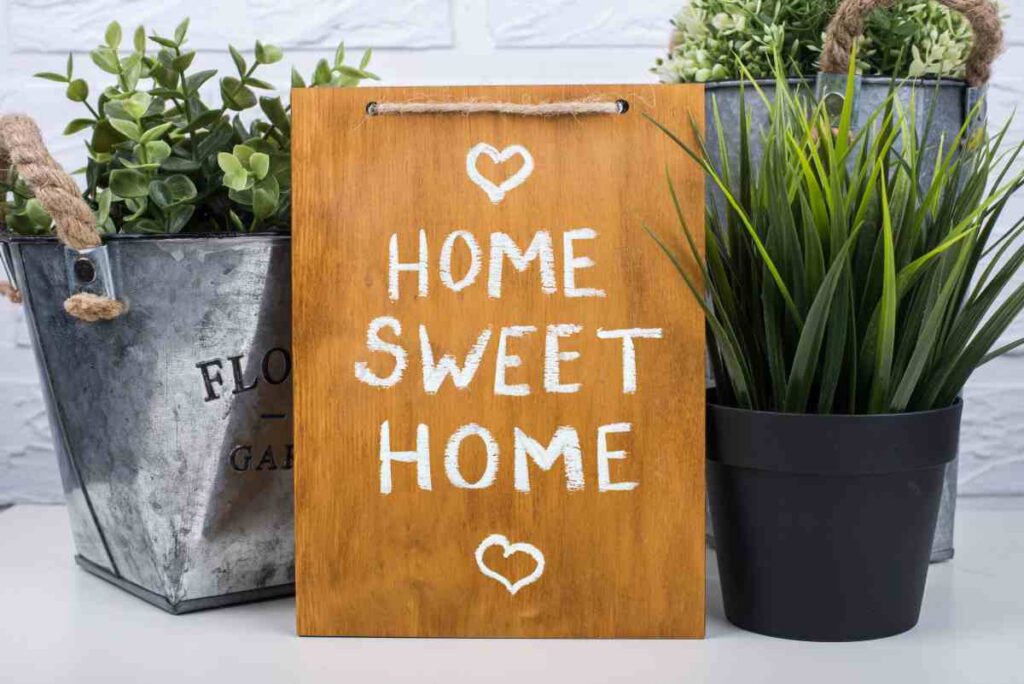 A dark stain with white lettering has great contrast and can match any style. Use your pencil to work out your design once the stain is dry, then go in with a paintbrush.
2. Wood Door Sign
Welcome visitors to your home with a DIY wood sign idea that matches your style.
After sanding, swipe on a solid layer of paint and let it dry. Give yourself some guidelines with the pencil, then paint or stencil in your name.
Paint markers are a fun and easy way to create effects on the lettering or add personalized designs. It can be as simple as little stars or colorful dots.
3. Seasonal Theme Wood Sign
If you're really ambitious, make a DIY wood sign idea to match every season and holiday throughout the year!
Look through these DIY wood sign ideas for some inspiration:
Fall/Autumn
Halloween
Thanksgiving
Spring Time
Summer sign
Holiday signs are a perfect opportunity to use stencils for different seasonal designs like trees, flowers, and pumpkins.
Add snowflakes, leaves, or grass freehand with paint markers to complete the look.
4. Nursery Sign
Make your new baby's room extra special with a personalized DIY wood sign. This one can be easily adapted to the style you want.
This DIY wood sign can feature your baby's name or a sweet message. Keep it simple and brush on a light color wash for the background, then sketch out your lettering before painting it on.
5. Address Sign
Your house will stand out in the neighborhood with a unique address sign. This is a great simple project that only needs your house numbers.
Use spray paint for a quick solid background, then spray paint over a stencil with your house number once the paint dries. That's all there is to it!
6. Beachy Vibes Wood Sign
Driftwood is the star of the show for this coastal-style sign. If you don't have any, you can recreate a similar effect with scrap wood, sandpaper, and paint.
Add a wash of color to your piece of wood, then sand it for a distressed and weathered look. Paint on your design, and sand again.
If you want, you can use a white stain on top of your final design to accentuate the coastal look.
7. Farmhouse Kitchen Sign
Bring a little country magic into your kitchen. The rustic look lets the wood show, so you can leave the wood as is or stain it before painting on your design.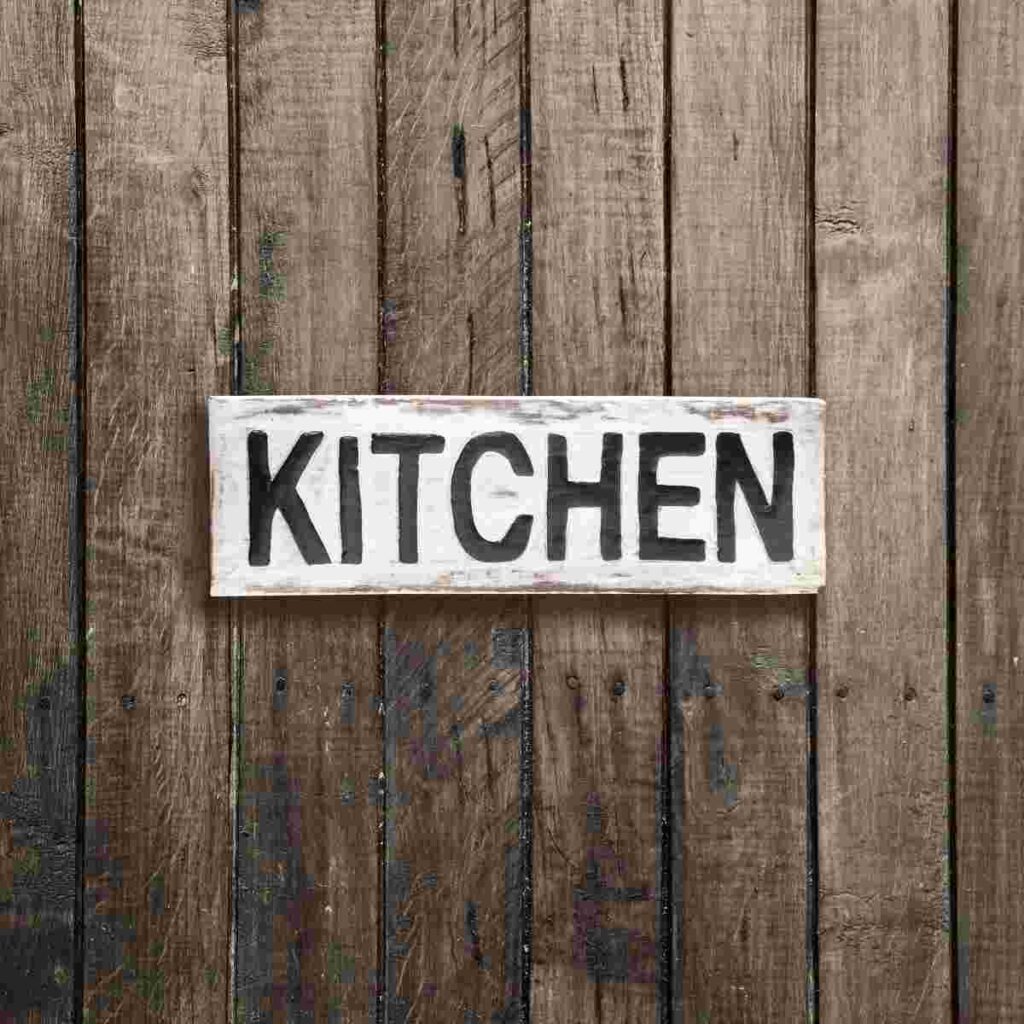 Sand your wood smooth, then stain it or paint it in a rustic-inspired shade if you prefer.
Sketch your design on when the stain is dry and go in with your paint. Paint markers are a great way to outline your lettering before painting.
---
Get Started on Your DIY Wood Sign Ideas
There are so many DIY wood sign ideas to adapt to your own style.
You can make any of these signs as suggested or use them as a starting point to get your creative juices flowing. The options are endless for any style and budget – you really can't go wrong.
Now that you're in the groove, check out all the other DIY projects you need to try!