I know what you're thinking. What on earth am I talking about? What did I just say? What kind of green is that? But trust me, you're going to love this. Phthalo green is one of the most stunning shades of green out there. Though it may be difficult to pronounce (tha-lÅ), it is such a rich color that is so easy to decorate with once you find the right shade of it!
The history of phthalo green is pretty interesting. Before receiving its unique name, it was called "Monastral Blue," and began being sold to the public in 1935. The only tricky thing about phthalo green is that it can range from blue-tinted green to a bright, spring green depending on the manufacturer.
However, the traditional phthalo green has a very deep blue undertone, a velvety finish, and is slightly more light absorbent than other colors because of these bluish undertones.
Are you in love with this color and seeking inspiration for decorating with it? We've compiled a list for you to browse through of all the ways you can use phthalo green in your home!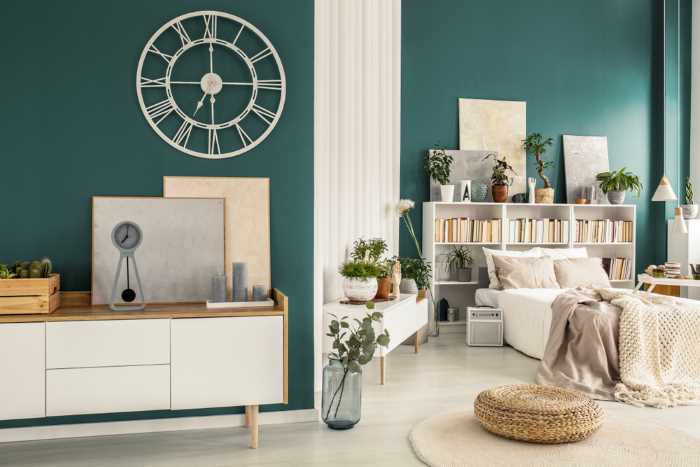 In the Bathroom
Because of this shade's cool undertones, it makes it the perfect shade for decorating your bathroom. Many people who use this color in their bathrooms believe it increases feelings of relaxation and cleanliness, which are super important qualities when decorating this area of the house!
While we absolutely love phthalo green, it may not be the best idea to paint all four walls of your bathroom this color, admittedly. The color blue absorbs light, and since traditional phthalo green uses blue as a base color, it will naturally darken your bathroom.
If you are looking to incorporate the color in a more long-lasting way, you could do an accent wall, a sink backsplash, or shower tiles with it to avoid overwhelming the space.
That being said, we feel the best way to incorporate this gorgeous green is to accessorize with it. You can utilize a phthalo green shower curtain that is combined with a few different colors to create depth and texture in your bathroom. In addition to this, try using this blue-green color as a statement piece with artwork or with bathroom accessories such as a toothbrush holder or soap dispenser.
In the Bedroom
If you have a spacious bedroom with lots of natural light, then phthalo green is the perfect paint color for your room. The natural light and spacious design will compliment the deep rich tones of this shade.
If your bedroom isn't so well lit, or a little smaller than you would prefer, that doesn't mean you can't use this gorgeous green in your room. Phthalo green creates the perfect accent wall, or really shines when used as part of your bedroom accersories.
A soothing way to incorporate this color is with throw blankets and pillows. They make a beautiful contrast when paired with stark whites or even a light gray comforter.
On the Patio
Phthalo green is a wonderful outdoor color. Since it's an open space with natural lighting, it's easy to use it in larger amounts than it is indoors.
There are excellent DIY projects for painting patio furniture, so if you want to use a more custom shade of phthalo green, you can more easily achieve the exact color you want. However, if you want to purchase pre-painted furniture, you may want to alter your search methods. Phthalo green is a difficult color to nail down as it isn't a very common color, so searching for similar colors is going to be a must.
If you're looking more toward the green end of the phthalo green spectrum, try searching for "spring green patio furniture", whereas if you're wanting a more traditional blue-tinted phthalo green, you may have to search for "turquoise green patio furniture". There are some really beautiful options for patio cushions and flower pots as well!
In the Kitchen
Phthalo green goes well in kitchens due to the natural lighting often accompanies this room. In the kitchen, you can use it as excessively or as minimally as you'd like and it will generally turn out well (depending on the size and lighting in the room, of course!).
If you want to use it throughout your kitchen, consider a phthalo green backsplash. This allows for a pop of color that can break up white walls or light countertops. It's a bold, statement color that really grabs the eye and can inspire creativity for those who love spending time in the kitchen.
However, if you want to incorporate this color in a more minimalistic way, using phthalo green accessories is a great option. Consider using this color in cooking utensils, utensil holders, or even pots, pans, and dish towels. It's hard to go wrong with this gorgeous shade of green in the kitchen, so have fun and be creative!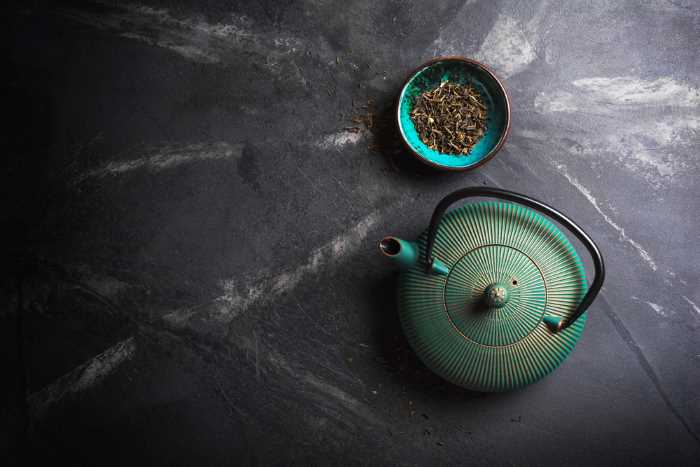 In the Living Room
Just as in the kitchen, living rooms tend to be a bit larger and have more natural lighting. This makes it easy to use this color throughout the living room, although it's important to still be careful not to go overboard if you have a smaller space!
Living rooms should feel open and free, and using this color in a smaller space might end up making it feel very claustrophobic and dark. But if you're like me, and like to throw caution to the wind, I say go for it if this is the color that moves you.
If you want to use phthalo green more heavily, you can paint your walls to create a beautiful pop of color in your living room. Since this is a darker hue with cool rich undertones, you will definitely want to try it out on a small piece of the wall that is preferably out of view first. This will prevent you from having to strip any color off the walls or put in more effort to cover it up if you don't like it.
But this color thrives in accents. Some of the best ways to use this amazing color is through your décor. Try a throw blanket, pillows, or a vase as simple and cost effective ways to add this color pop. This helps to incorporate a small pop of color without going too overboard and overwhelming the living area.
Phthalo Green Exteriors
This color is great for those who really want their home to stand out on the block. While it may be a bad idea to paint your entire house this color, it makes for a very creative and beautiful picket fence or window shutters.
Since the exterior of your house is exposed to the elements, it's important to choose high-quality paint for this project to avoid premature sun fading or weathering from rain or snow. Keep in mind that due to the nature of this color, it may require more frequent touch-ups or new coats of paint than other lighter colors!
A great color for a more blue-based phthalo green is the color Deep Teal by the paint company Kilz. This is a 2-in-1 interior/exterior paint that includes a primer which makes your job a little easier. Since it doubles as interior paint, you can also use it for any walls inside your home as well.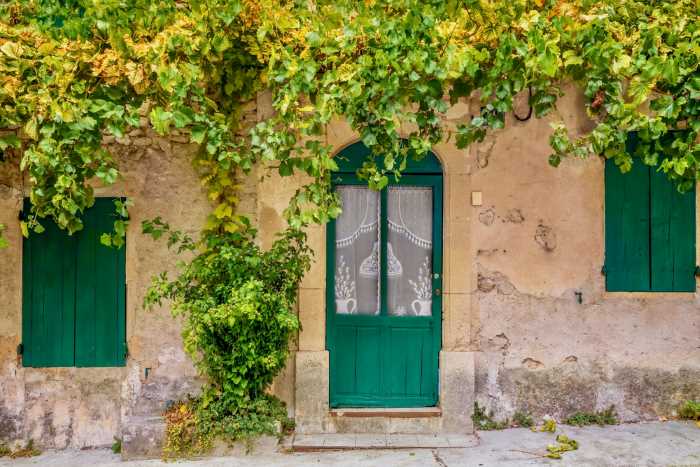 In the Office
Since phthalo green incorporates both blues and greens, it is a great color choice for the office. It can help to relax you on those stressful work conference calls or it can inspire you to create new ideas for your company or employer.
Similar to the rest of the home, it's important to be cautious about overusing phthalo green because of how dark it can be. For the office, try doing an accent wall, throw rug, or curtains for your windows. This is also a great room to create a color theme in, and some of the best colors that go with phthalo green in the office are whites, light teals, and bright greens.
No matter what color scheme you choose for your home office, be sure to have fun with it and create an environment that will create inspiration and relaxation.
Wrapping it Up: Phthalo Green
With so many variants of phthalo green, it's important to make sure that you select the right shade for you! It is a color with so much potential one ways to be incorporated throughout your home, both inside and out.
Finally, be sure to break this deep color up with other complimentary colors or accessories. This will not only create depth and texture, but it will also help you to create a complete color scheme throughout the room or home.
Are you loving this color as much as we are? We can't wait to hear your thoughts and ideas on how to incorporate it in your home. Be sure to share those ideas with us in the comments below. We love hearing your ideas.