---
How to Choose the Best Chalk Paint for Furniture
While any of the options on this list could be the best chalk paint for furniture, it's important to choose the right option depending on your needs. There are several factors to consider when making your choice.
Ingredients
While chalk-based paint is different from other water-based paints, it is, nonetheless, a water-based product. As such, you should avoid paints that claim to be chalk-based but don't have water listed as one of the ingredients.
You should also look for paint that is non-toxic and not odiferous so that it's environmentally friendly. This type of paint is also less harmful if you should happen to inhale some during application.
Durability
As with all types of paint, not all chalk-based paints are created equal. Some have better ingredients and formulas and adhere to furniture with more consistency.
The most important factor in durability is the wax topcoat typical of almost all chalk paints. This topcoat needs time to dry and seal properly, and you can help the process by choosing a paint where the top coat consists of oil-based polyurethane.
Choosing chalk paint with this topcoat will ensure a durable, stable finish.
Price
As with all things in life, the price will play a significant factor in choosing your chalk paint. These paints can range in price from just over $10 up to over $100.
Depending on the amount of paint you need and your budget, you'll have to sacrifice for cheaper paint. However, even with cheaper paint, you can still get the quality and durability of chalk paint by choosing one with the right ingredients.
Surface Application Specifications
While most types of chalk paint can get applied to any surface, there are exceptions to this rule. Therefore, you should be sure to read the label and directions on your chalk paint of choice to ensure it applies to your needs.
---
Benefits of Using Chalk Paint Over Other Paints
Whether you're upcycling old furniture, repainting new furniture, or doing any form of furniture painting, chalk paint is the paint of choice. Chalk paint offers many advantages over other types of paint.
Thicker
The first thing you'll notice about chalk paint is that it's thicker than latex, oil, or water-based paints. Because of how thick it is, chalk paint drips less and leaves fewer marks than other types of paint.
Thick paint typically also requires fewer coats than thinner types of paint. Fewer coats mean less working time, a quicker finish, and less money spent on additional cans or bottles of paint.
No Prep Required
The second advantage of chalk paint is that it requires little to no prep time. While you may still have to sand furniture to remove old coats of paint and repair dings and dents, the best chalk paint for furniture will cover up a multitude of imperfections.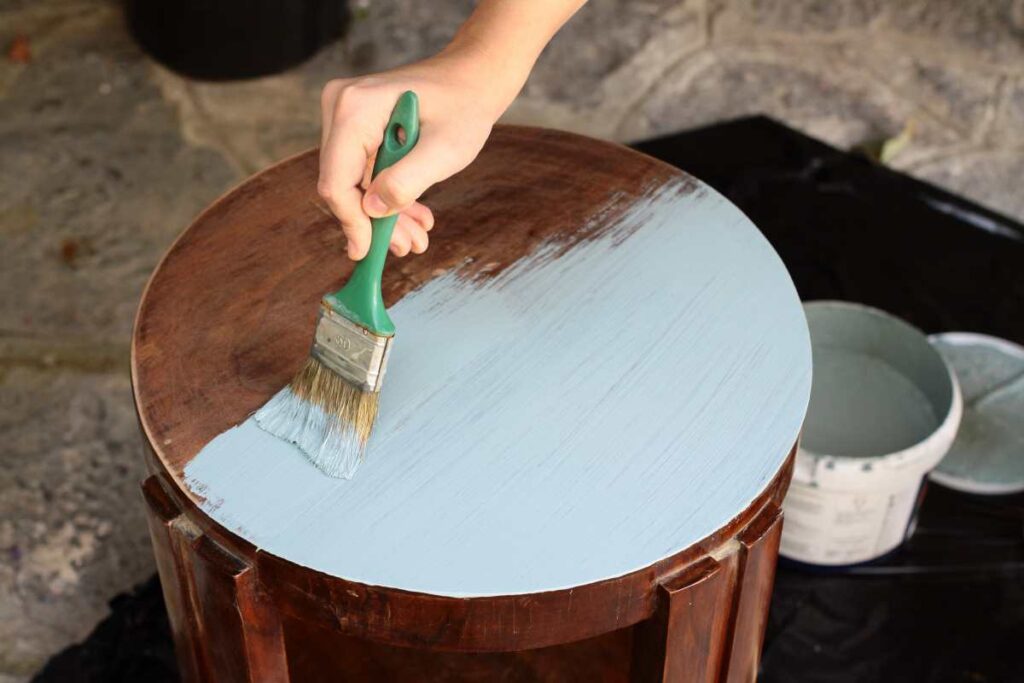 There's also less chance that you'll have to pre-stain or sand furniture when using chalk paint. No stain means less money spent on supplies and a quicker finish time.
Easy to Apply
The thick texture and ingredients of chalk-based paints help them easily apply to almost any surface. While some skill and precision are still necessary, chalk paint is much easier to apply than other types of paint, making it a great option for beginners.
---
Wrapping up the Best Chalk Paint for Furniture
As you can see, there are plenty of options when it comes to choosing the best chalk paint for furniture. However, by using our buying guide and choosing one of the options on our list, you're sure to choose the right one for your needs.
Now that you have your paint, all you need are the best chalk paintbrushes, and you'll be ready to start painting your furniture!