What is blending paint on furniture?
Blending paint on furniture is when we bring two different colors together while they are still wet. Blending chalk paint can offer a large array of interest and depth on an otherwise flat and uninteresting project! By using dark and light moments across the pieces we are able to achieve almost a trickery of the eye.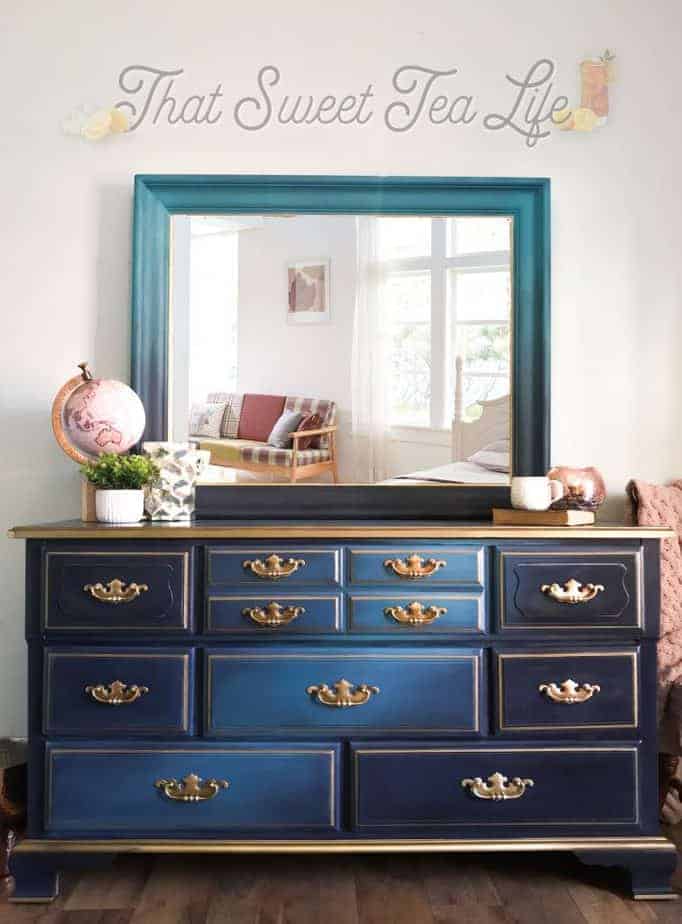 Here you can see that it almost looks as if rays on sunlight are streaming across the dresser. Now this dresser would have been gorgeous with just the navy blue or the royal teal blue paint. However by blending paint on the dresser we were able to create movement and interest.
The shading offered can lend an antiqued look as well depending on how you blend the paint and the colors you use. This buffet took on a more coastal feel versus the glam dresser above. You can play with the curves as you see on this piece or go completely against the design as shown above.
Chalk paint blending techniques
In the furniture painting industry you will find infinite answers on how to paint and the same is true for how to blend chalk paint on furniture. Water bottle, misting bottle, brush dipping, watered paint.. you name it. Really it comes down to you and your paint and your brush and what gets you the results YOU WANT!
From sleek and "new" looking to rustic, layered, and antiqued, you can achieve so many more looks by blending chalk paint on furniture. Additionally you can layer and add washed to create even MORE interest such as the black wash you see here. My goal was to take a piece that looked like it was originally blue and gold glam from maybe the early 1900s and had survived a house fire. Smoky feel over lovely details.
How to blend chalk paint on furniture
Now, quite some time back, I had been asked to take a piece from start to finish. From the basics of prep to my favorite products. I really had no idea what I wanted to do with this buffet until we got started and it began to unfold on the spot… At the time I had begun using Wise Owl paint which I had become QUITE smitten with and began using Cling On brushes,.. you will notice it through out the video demonstration! HOWEVER, I had no idea what the video series would turn into and you should know, this can be achieved with any paint and brush you prefer.
A paint with a higher mineral content will help. And a high quality super soft brush will also help, however you can find just about any product or tool you may need in my furniture painting products buying guide. Currently Autentico and Jolie are my favorites as I am sure you have yours as well! As long as you follow the proper prep (found in my Ultimate Guide to Prepping Furniture for Paint and get to your base coat which can be applied following my 5 Tips to a Solid Paint Finish then you will be good to go! Blend away over that base coat! I hope you enjoy the video tutorials below and as always leave any questions you have!
[mailerlite_form form_id=1]
Wet blending chalk paint, video series
Please note, these are live recordings. You may notice me having side conversations. Viewers ask a lot of the same questions you will want to have the answers to! I hope you are able to enjoy the lesson in it. If you want to get to the nuts and bolts of blending-skip to video 4!
[embedyt] https://www.youtube.com/embed?listType=playlist&list=PLr47ZaK7y6wFOy5VdAzaVhOcGwrnOLdq4&v=wsxMtw2X2m8&layout=gallery[/embedyt]
I hope you enjoyed the video series!! Please feel free as always to ask anything! Till next time happy creating!
About the Author
Latest Posts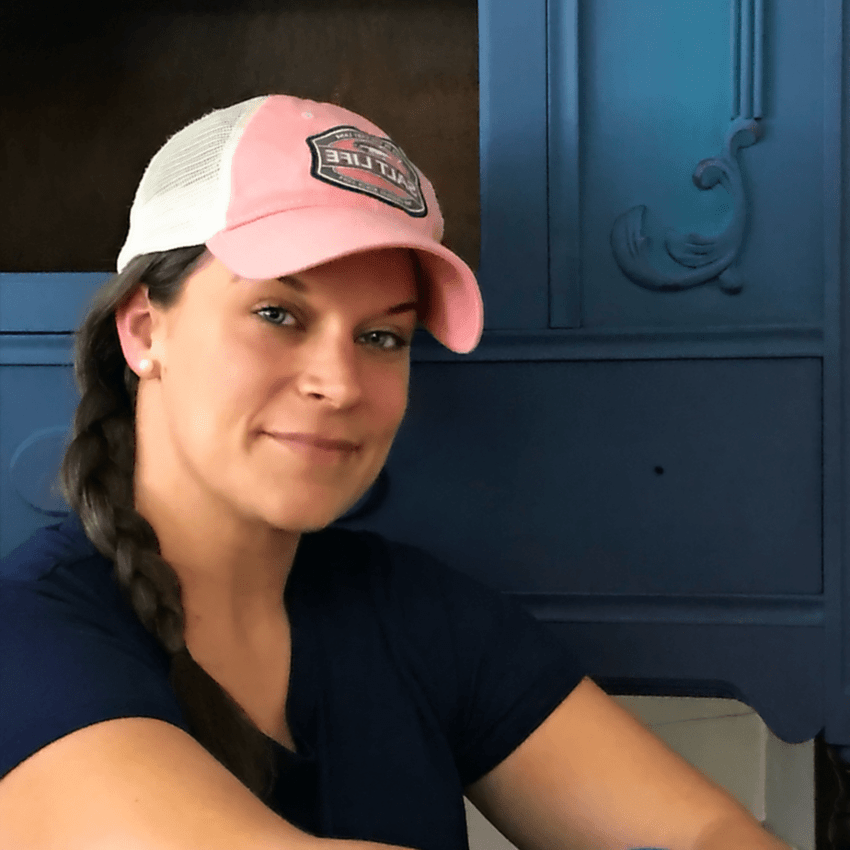 Thea Osborne is a celebrated blogger renowned for her expertise in DIY and paint techniques. With a keen understanding of Southern culture, Thea's commitment to producing engaging and informative content, coupled with her detailed tutorials, inspire her readers to embrace their own creative pursuits.
Thea's passion and creativity have left a lasting impact in the DIY community, transforming "That Sweet Tea Life" into a thriving and cherished resource.