Oh, the joy of waking up in a bright and cheerful yellow bedroom! If you're looking for a way to instantly uplift your mood and start your day with a smile, then these yellow bedroom decorating ideas are just what you need.
Imagine surrounding yourself with the warmth of deep gold or the zesty freshness of neon yellow. These vibrant hues are sure to leave your living space feeling positively radiant.
So, let's dive into the world of yellow bedroom decorating ideas so you can transform your sleeping space into a sunny, dreamy paradise.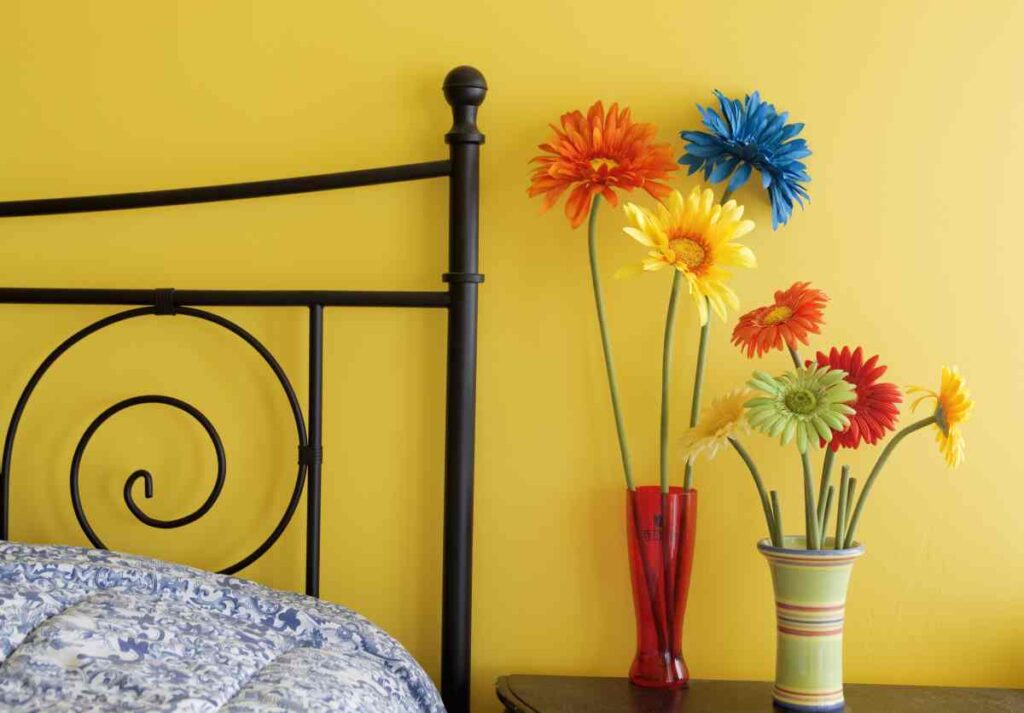 ---
1. Uplift with Wallpaper
One of the best ways to transform your bedroom into a bright and beaming oasis is through wallpaper.
That's right, wallpaper is making a comeback, and luckily, these days, you can find more options than the vintage print your grandparents had in their bedroom.
Not only does wallpaper create a stunning statement wall without hiring a skilled painter, but it's also incredibly easy to set up.
There are endless peel-and-stick options that allow you to completely alter the personality of your bedroom without much effort or cost.
Whether you're looking for a subtle hint of warmth or a bold, bright color that hogs the spotlight, choosing yellow wallpaper is the ultimate yellow bedroom decorating idea to infuse your bedroom with an energizing and lively atmosphere.
Different Wallpaper Designs
Not feeling the plain yellow wallpaper? This versatile color comes in many designs, from sunny florals to modern geometric, allowing you to create the perfect mood for your personal haven.
If you dream about waking up in a rustic, country-chic bedroom, why not choose this delicate floral wallpaper? The pastel colors and green undertones would look exquisite in the sunlight.
Or, if you want to add a touch of fun to your space, why not try this polka-dot option? It adds some nice texture to the wall while making you feel like a kid at heart.
Lastly, opt for a geometric design like this herringbone print if you'd rather give your bedroom a modern twist. The sleek lines will add visual interest to any nook or cranny.
---
2. Include Accent Furniture
Don't feel like committing to a whole wall of yellow? Try adding hints of bright, sunny accent furniture.
This yellow bedroom decorating idea is like the finishing touch that brings everything together. Plus, you'll have an extra pop of color that instantly brightens up the room.
From a yellow accent chair to a set of cheerful nightstands, there are many ways to let your creativity run wild.
You can also experiment with adding a bright yellow rug to liven up your space while adding soft comfort to your hardwood or linoleum floors.
Adding yellow accents doesn't have to be a big investment, either. A simple vase or dripless candle will work wonders to revitalize a color-dead zone.
---
3. Incorporate Texture and Patterns
Incorporating texture and patterns in your decor will make your bedroom feel more vibrant and inviting.
Without these two features, your space can feel static and lackluster. A room full of complementary and contrasting textures and patterns will pull you in.
And if yellow is your color of choice, there are a world of yellow bedroom decorating ideas to create texture and patterns.
Imagine the stunning visual appeal of combining plush textures like this velvet throw pillow with bold geometric patterns on a side table.
Or consider how well the shine of this gold end table would look sitting on top of this sweeping floral rug.
Don't be afraid to mix it up; think about floral prints, stripes, and even polka dots to help stir up your space. These creative and unique yellow bedroom decorating ideas will undoubtedly make you fall in love with your bedroom all over again.
---
4. Accent with Flowers
One fantastic way to accentuate the beauty and brightness of your yellow bedroom is by incorporating flowers.
Imagine waking up every morning to the stunning combination of vibrant yellow hues and the fresh, calming presence of bright blooms.
This is one of the most affordable yellow bedroom decorating ideas because you can make this dream a reality for mere pocket change. Or, if you have an excess of flowers blooming in your backyard, for free!
Fresh fragrant flowers like daffodils, sunflowers, or tulips add a touch of nature to your personal sanctuary while elevating the overall ambiance and energy of the space.
It can be as simple as placing a vase of fresh blooms on your nightstand or even incorporating floral artwork and patterns into your linens and curtains.
Or, you can fake it and buy realistic-looking artificial flowers that don't require any upkeep (nobody has to know!)
---
5. Paint a Statement Wall
Painting a yellow statement wall is a great way to help open up a space while creating elegant visual interest.
After a long and stressful day, imagine walking into your bedroom and being met with the warm, cheerful glow of a bright yellow wall. Not only will it instantly lift your mood, but it'll also serve as a stunning focal point in your room.
You can choose from many types of yellow depending on your aesthetic. For a bold, glossy color, try Rust-Oleum's Sun Yellow, or if you're looking for something with a deeper warmth, check out Jolie Paint's Marigold.
Or a Statement Ceiling
If you really want to shake things up, ditch the statement wall idea and turn your attention to the ceiling. It may seem more taxing at first, but it's not much harder than painting your walls. Plus, imagine how beautiful your room will be with a bold, yellow hue above your eye line.
---
6. Match Warm Tones
If you're looking to create a cozy and inviting sanctuary, matching warm tones is the perfect yellow bedroom decorating idea for you.
You'll love waking up to a beautiful blend of sun-kissed yellows, rich oranges, and deep reds. It's practically like having a perpetual sunrise right in your own bedroom!
The possibilities are endless with yellow bedroom decorating ideas, as you can play with various hues and textures to create the perfect balance between vibrant and soothing.
Yellow and Orange
The combination of these two warm and energetic colors can create a striking and cheerful atmosphere in your bedroom that's incredibly cozy. You could opt for a bold feature wall or incorporate fun patterned textiles to add an extra layer of visual interest.
Yellow and Beige
Combining the warmth of yellow and the softness of beige creates a peaceful, inviting atmosphere that you'll adore.
Imagine starting the day surrounded by the cheerful glow of yellow walls, with beige accents in your curtains, bedding, and furniture. The harmonious blend of these two colors creates a cozy retreat that you'll never want to leave
---
7. Use Contrasting Colors
If warm tones aren't your jam, we've got loads more yellow bedroom decorating ideas to suit your fancy, like using contrasting colors.
You can create a striking visual impact in your space by introducing shades like deep greens, rich purples, or even bold blacks.
Not only do these contrasting colors make the yellow stand out more, but they also add depth and personality to the overall design.
Yellow and Blue
This color duo has to be one of the most unlikely couples, but it works! These two colors create a harmonious and vibrant atmosphere that will instantly uplift your mood.
The beauty of this color scheme lies in its versatility. From soft pastel yellows and blues to bold and striking tones, there's something for everyone's taste.
---
8. Bring Neon Back
Wanna inject some vibrant energy into your sleeping quarters? Why not incorporate some neon yellow accents?
This is definitely one of the most entertaining yellow bedroom decorating ideas out there, so have fun with this one.
From neon yellow throw pillows (bonus points if they come with fringe) to funky wall art and statement side tables, there are endless ways to brighten up your bedroom. You can also add actual neon in your bedroom for a bold, playful accent.
Don't be afraid to mix and match patterns and textures for an eclectic look that makes it seem like the eighties never left!
Trust me, these yellow bedroom decorating ideas will make you never want to leave your neon wonderland.
---
9. Buy a Bright Duvet & Pillow Set
Investing in a bright duvet and pillow set is one of the easiest yellow decorating ideas that transforms your bedroom into a cheerful and vibrant sanctuary.
Snuggling up in a warm, yellow comforter might just be the most relaxing way to recuperate after a long day.
The best part about this approach is that it's so simple- no skills or tools here! A little online retail therapy is all you have to do for this yellow bedroom decorating idea.
Just browse through various shades and patterns of yellow bedding sets, and choose the one that resonates with your personal style and preference.
Choose a bold mustard duvet cover for a pop of color, or opt for a more subtle yellow cover that creates a blissed-out oasis.
---
10. Use Muted Tones
If you want to create a soothing yet stylish space, try mixing and matching muted tones of yellow for a yellow bedroom decorating idea. This approach adds depth and interest while maintaining a calm, serene atmosphere in your sleeping sanctuary.
Picture it: soft buttery yellow walls paired with pale ochre bedding and subtle pops of mustard decor. The result is an absolutely dreamy bedroom that you'll never want to leave!
Don't be afraid to experiment with different shades and patterns; the key is to find the perfect balance for your personal taste.
---
11. Accentuate with Gold
Pairing yellow and gold is one of those yellow bedroom decorating ideas that shouldn't go together, but it does.
The two hues might seem too similar to complement each other, but shimmering gold accents bring out the warmth and elegance in yellow.
The combination of these two colors creates an atmosphere that is both cheerful and sophisticated, making your bedroom feel like a place of luxury.
---
12. Buy a Statement Headboard
Investing in a statement headboard is a yellow bedroom decorating idea not to be missed! Just imagine walking into your bedroom and being greeted by this stunning, eye-catching headboard that radiates warmth and light.
You want your bed to draw you in at the end of the day, so what better way than to make it the focal point in your room?
---
Yellow Bedroom Decorating Ideas: Summed Up
No matter your design aesthetic, you simply can't go wrong with the color yellow.
Whether you decide to paint a statement wall or just incorporate some gold accents, one of these yellow bedroom decorating ideas will revamp your space into a bright, inviting sanctuary.
Now that you know all about the best yellow bedroom decorating ideas, why not try your hand at repainting your old nightstand yellow to match? Check out our yellow painted furniture ideas to get inspired along your DIY journey.