Adding personal touches through art and decor can really make a house feel like a home. With these wall art ideas that you can make yourself, adding a touch of personalized style is quick and easy to do.
DIY wall art comes in all different shapes, sizes, and styles. Whether you're looking for ideas that are bold and colorful, neutral and earthy, or something else, this list will surely have a project that's just right for your home.
To make things easy for you, many of the projects on this list use simple materials and techniques so you can get started today. Let's jump right in!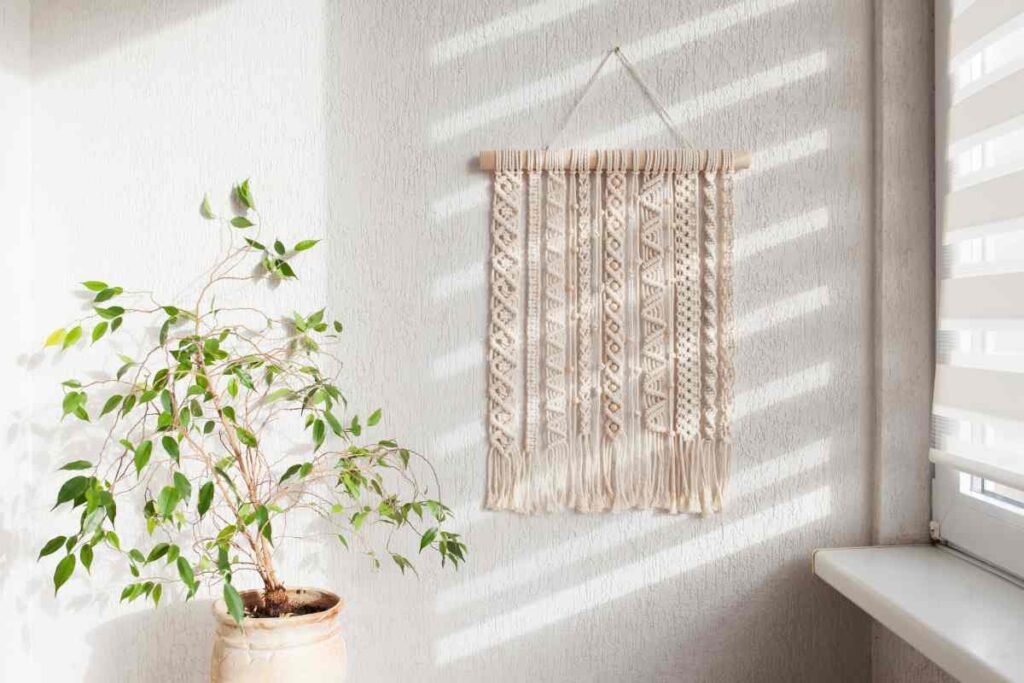 ---
Colorful Wall Art Ideas
Color is a powerful tool that can change the whole look and feel of a room. When looking at wall art inspiration, think about how you want to use color in your space. Vibrant colors make these pieces pop, while muted colors create a more subdued look.
1. Color-Blocked Paintings

Abstract paintings like these are easy to recreate with paint on a canvas or watercolor paper.
Choose a few favorite colors and layer them carefully to create a simple color block design. Acrylic, watercolor, or oil paint would all work well for this project. You can use what you already have or pick up a few new paint colors.
Put the finished paintings in a simple frame, or hang them without a frame for a more rustic look.
2. Scrap Fabric Wall Hanging
A fabric scrap garland is easy to DIY and is perfect for using up leftover fabric scraps.
Choose a few complementary colors and cut strips about 10-14 inches long and 2-3 inches wide. They can be bigger or smaller depending on what kind of look you're going for. Tie the fabric strips on a piece of yarn, twine, or rope, and it's ready to hang!
Here's a helpful tip: If you don't have a stash of leftover fabric to use up, check the remnants section of your favorite craft or fabric store. They often sell the last piece on a bolt of fabric at a discount.
3. Paper Garland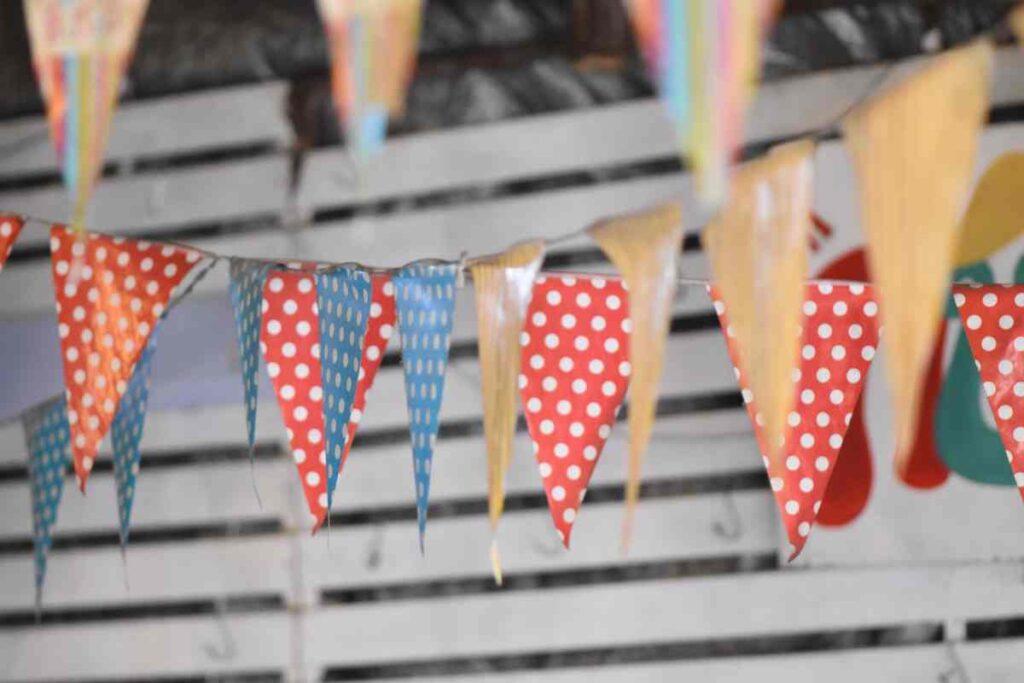 Inexpensive wall art ideas are some of the best! A paper garland is simple to make from your existing tools and supplies. Use stars, circles, hearts, flowers, or whatever shape you like.
Keep it simple by using one shape in the same size, or mix it up with different shapes and/or different sizes. You can use cardstock in different colors or scrapbook paper with fun designs.
If you have a Cricut or Silhouette machine, those work well to cut out many shapes quickly. A large craft punch is another good option.
Once you have your shapes cut out, sew them together in a long strip or attach them to a piece of ribbon or string using glue.
---
Wall Art Inspiration from Nature
Wall art ideas that use nature are a great way to bring a sense of calm to any space. Check out these ideas that bring a little bit of the outside in.
4. Botanical Canvas
To create this botanical art piece, choose a simple leaf design to copy onto canvas using watercolor paint in soothing green, gray, and brown tones.
If you have some artistic skills, you could get creative and design something really unique and beautiful! If not, choose a simple design and sketch it in pencil before painting. That way, you can ensure you're happy with it before finalizing the design with paint.
5. Simple Mountain Scenes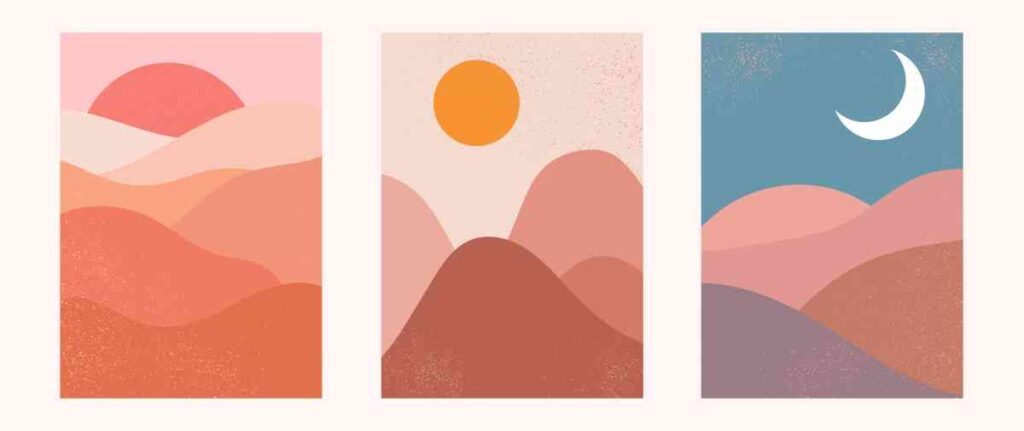 These on-trend mountain scenes look professional but are easy to recreate using simple techniques.
Take a canvas, watercolor paper, or just a piece of cardstock and sketch your design with a pencil. The flowing lines for the mountains don't have to be exact. Let your pencil move to make a few overlapping lines, then add a circle or crescent shape at the top for the sun or moon.
Use paint or watercolor markers to fill in the spaces with color. To give the pieces more texture, use oil pastels.
6. Floral Backdrop
It's easy to customize this project to whatever size you want. Use multiple panels connected together to make a large wall hanging or even an entire accent wall. Or use just one panel with a few flowers to create a delicate floral display.
7. Sun Prints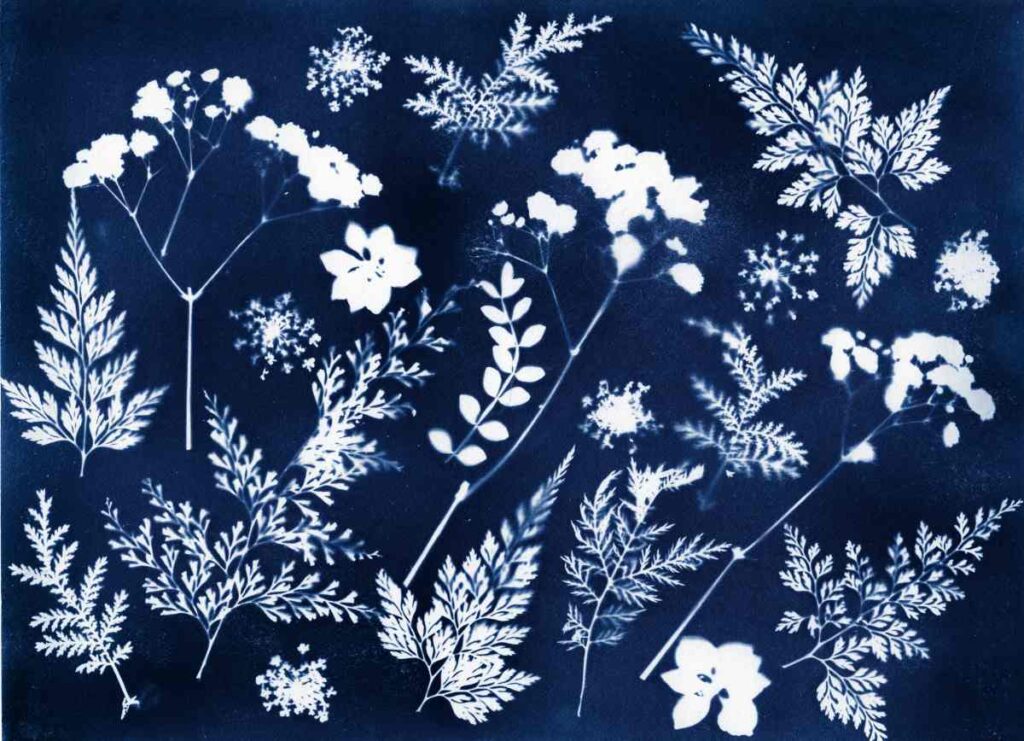 Sun prints are a fun project that anyone can do. All you need is sun art paper and whatever objects you want to make your prints.
Leaves, flowers, rocks, or other natural objects all work well. Once you've chosen your objects, just peel off the plastic backing, arrange your objects on the paper, and leave them in the sun for a few hours. Once the prints are set, rinse off the paper and let it dry.
---
Wall Art Ideas Using Photos
Is there anything that adds a personal touch more than photos? Whether you use family, vacation, or beautiful artistic photos, adding photos instantly brings some personality to your space.
8. Gallery Wall
Gallery walls are an easy way to showcase your favorite photos all in one place. Choose a collection of frames in the same shape and color for a cohesive look, or choose different shapes and styles for a more eclectic vibe.
Thrift stores and garage sales are great places to look for gently used, unique frames. You can spray-paint the frames any color, add your favorite photos, and hang them up!
9. Extra Large Prints
A simple DIY wall art idea is to take a favorite photo and blow it up to poster size. You could use a vacation photo, nature scene, family photo, or really anything you like.
It's easy to customize this project to suit your personal style. Black and white photos look dramatic, elegant, and artsy, while colorful photos add vibrancy to your space.
10. Macrame Photo Hanger
Macrame is having a moment, and this unique style is the perfect place to look for some wall art inspiration.
Something like this photo wall hanging is easy to recreate using the techniques from this DIY macrame project.
All you need is a dowel, some macrame yarn, mini clothespins, and a few other basic craft supplies like scissors and a ruler.
11. Photo Printed on Wood
Transferring a photo onto wood using a basic inkjet printer and waxed paper is surprisingly easy.
Choose an image and reverse it using an online photo editor. Cut a piece of wax paper to regular printer paper size and print the image on the wax paper. Be careful when the wax paper comes out of the printer; you don't want it to roll up onto itself.
Lay the image ink side down onto your piece of wood and use a credit card to rub the ink onto the wood. Work quickly before the ink dries. Press firmly, and make sure to go over all areas of the photo. That's it! Peel the waxed paper off and enjoy your finished product.
---
Time to Start Making These DIY Wall Art Ideas
Are you ready to get started on some of these DIY wall art ideas? With a few supplies and a little bit of elbow grease, you'll be enjoying your own handmade piece of wall art in no time.
For more home decor ideas, check out How to Decorate Your Home on a Budget. If you love creating projects yourself, don't miss the DIY page on the blog. There you'll find inspiration, tips, tricks, and how-to's for all kinds of projects.