Halloween has come and gone. The costumes have been put away, the pumpkins have been tossed out, and the decorations have come down. Once all the candy has been eaten and sweet tooths have been sated, it will leave you wanting something a bit more savory…luckily, Thanksgiving is next in line!
But with the next holiday comes the next round of decorating, and that can always be a challenge. Especially because Thanksgiving just…isn't quite as boldly themed as the other end-of-year holidays.
Don't worry, though—I'm here with seven Thanksgiving outdoor decorating ideas to help you get started!
Turkey Time
I mean, come on—there's nothing more classically Thanksgiving than a turkey, and there is turkey décor available in abundance for your Thanksgiving outdoor decorating ideas!
You can order a few turkey figurines to scatter around your yard, a couple stuffed turkeys (plush stuffed turkeys, not actual stuffed turkeys! Save that for Thanksgiving dinner unless you want all the stray cats to come flocking to your yard!), or some turkey-themed decorative signs.
While turkeys come with the Thanksgiving territory and utilizing a couple is a good way to tie in some Thanksgiving fun, you might not want to go full-on turkey with your Thanksgiving outdoor decorating ideas.
It's one of those things that can get a bit garish if it's overdone—think of a yard filled to the brim with fake flamingos. Too many avian additions can overwhelm the balance of your yard, so try to keep it to a minimum, even for this turkey-heavy holiday.
Pumpkin Palooza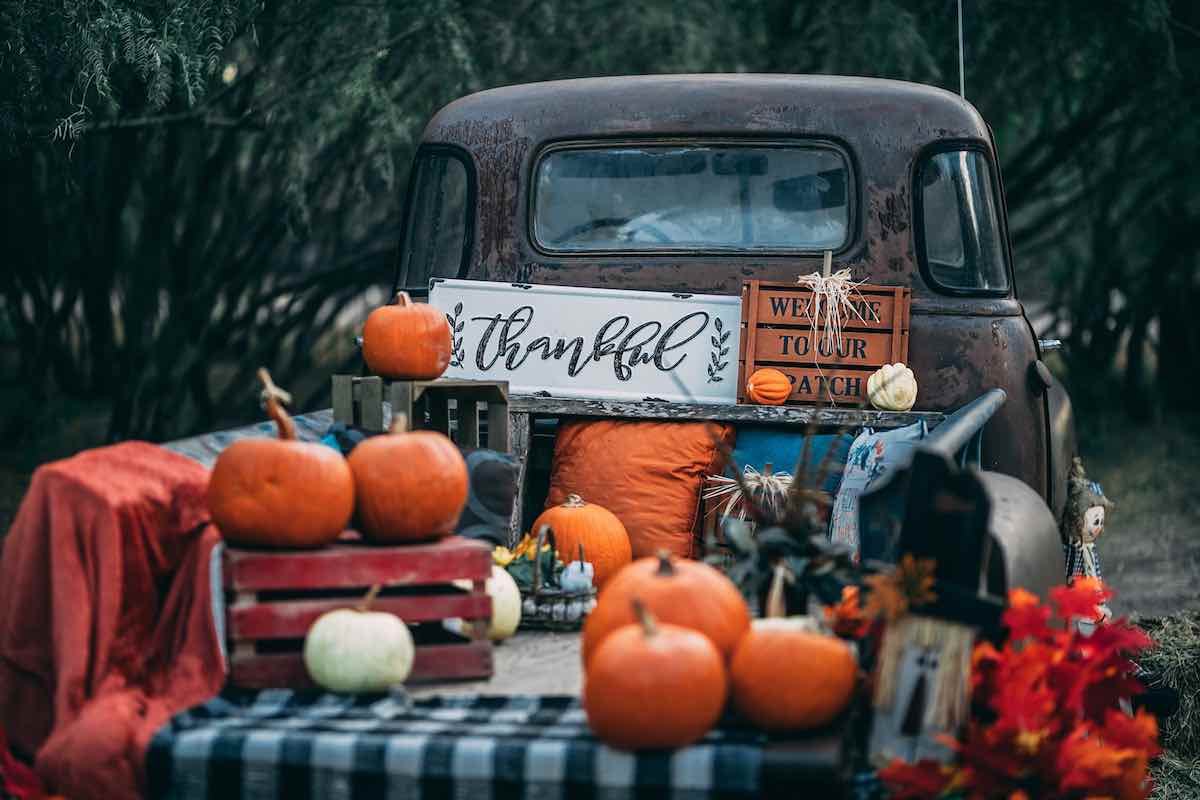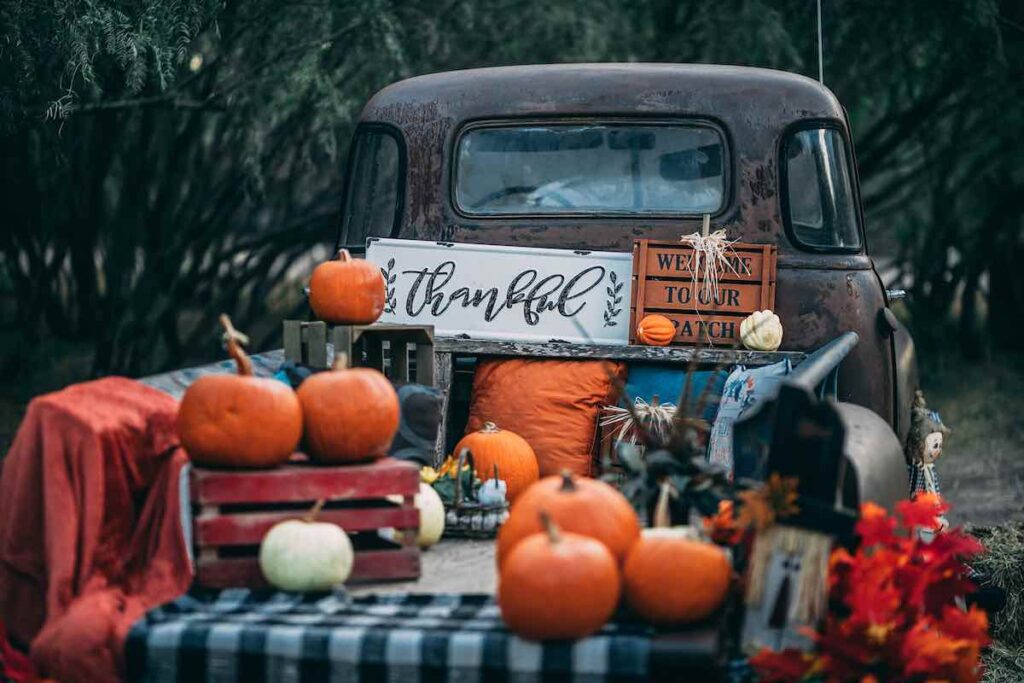 While you might be "pumpkined" out after all your Halloween antics, pumpkins are just as much a Thanksgiving outdoor decorating staple as anything else, and while they might not last from Halloween to Thanksgiving, pumpkins do tend to keep for a while!
If you want to save a bit of money and don't mind if the pumpkins don't last for the entire month, you could potentially just…turn your jack-o-lanterns around and let the uncarved side face frontward. It might seem a little low-effort, but it's really a convenient way to switch your porch around for Thanksgiving!
If you want your pumpkins to stay fresh and new for the month, you'll want to go out and buy new ones. You can leave them as-is, or you can gather some paints and dust off your arts-and-crafts skills to brighten them up!
If you get lucky, you might even be able to get non-pie pumpkins on sale, since the Halloween season will have passed by. You can get any assortment you like, and it will have your exterior set-up looking perfectly harvest-ready in two seconds flat!
Warm-toned Wreaths
Christmas is still a ways away, but that doesn't mean you can't play around with some wreaths for your Thanksgiving outdoor decorating ideas!
You can retrieve some plain green wreaths easily enough, and it can be both easy and fun to embellish them with Thanksgiving-themed décor—different ornaments, florals or other plant-like elements in Thanksgiving outdoor decorating color schemes, etcetera.
If you want to go fully fall-themed, instead of a basic green wreath, you can find a wreath made out of autumn leaves instead! You can still add your Thanksgiving details to the wreath, but an autumnal base will add an extra element of harvest-themed effect.
Tips for your wreaths: add lots of eye-catching details and colorful elements to capture the eye while your neighbors drive past!
Some golden additions can add some elegance, as can some jeweled broaches (you can usually find these fairly cheap at thrift stores or some antique stores), buttons, and all kinds of other baubles. You can completely customize this circle of Thanksgiving splendor to your liking and your personal outdoor aesthetic.
Arboreal Elements
Wreaths aren't the only way to take advantage of the beauty of fall leaves this season. Of course, if you have trees in your yard, you'll get free Thanksgiving outdoor decorating ideas scattered around your grass without any effort on your part!
But you can also go out and gather some leaves of the false variety from the craft store and string together some decorations—some literally! You can create "garlands" of autumn leaves to hang from your porch awning, wrap around your porch posts, or drape them along your windows.
Garlands aren't the only Thanksgiving outdoor decorating idea you can use to play with leaves this fall.
Like I said, you can turn them into wreaths, but if you feel like that's treading too far into Christmas territory, try grabbing a scarecrow (or some pumpkins!) left over from Halloween and create some leaf crowns for them!
Or, if you want the most natural Thanksgiving outdoor decoration ideas this year…hand your kids a rake, bribe them with a crisp $5 bill, and you'll have 100% authentic leaf piles strewn throughout your yard in no time flat!
Hay Bale Harvest
Hay bales are a dynamic Thanksgiving outdoor decorating idea that offer quite a bit of potential. You can use them as a base for your other décor elements (pumpkin clusters, leaf garlands, and turkey friends!), or as a decoration of their own.
You can arrange hay bales in various arrangements in your yard, on your porch, or even in the back of your truck if you want to get really committed to it!
This round of Thanksgiving outdoor decorating ideas isn't just there to look at, though it serves that purpose well—hay bales make for great props for holiday-themed photos!
Stack a few up, get your kids to pick a bale to sit on, and if you can miraculously get them to hold still long enough to snap a pic or two, you'll be all set for when relatives inevitably want to see pictures over Thanksgiving dinner.
Creative Cornucopias
Cornucopias are a symbol of abundance, and they'll give exactly that to your Thanksgiving outdoor decorating ideas. The fun thing about cornucopias is that you can fill them with anything you like, anything at all!
You can gather foam pieces of fruit and vegetables from your local craft store (including pumpkins!), other pretty fall décor, or even some more unique fillers: leftover Halloween candy? Greenery and hardy plants? The possibilities are endless here!
Pro tip: a cornucopia isn't often pictured on the ground. This would be one of those Thanksgiving outdoor decorating ideas you want to combine with hay bales, an outdoor table arrangement, or some other "display" item that will properly center your cornucopia the way it deserves.
Another option that's a bit more subversive: you don't actually have to fill your cornucopia with anything if you don't want to.
You may be risking it becoming a nest for some critters taking shelter from the cold weather, but there's no requirement to have a full cornucopia. It can be a pretty statement piece all on its own!
Thankful Thoughts
This Thanksgiving outdoor decorating idea is a bit more unusual, and it's probably not for the private among you, but I think it's a really sweet idea that might inspire your neighbors to be more thankful during this season as well!
You can get a stand-up chalkboard (usually used at open houses or weddings) and set it at the end of your driveway or on your porch. Decorate it with some fall-themed drawings at the corners, add a big "TODAY, I'M THANKFUL FOR…" at the top, then add something new every day on your way out the door!
Not only will it get you in a thankful state of mind first thing in your day, it will inspire your neighbors to think in that direction too. You can list one thing a day, as many things as you can think of and leave the list, or you could even leave a piece of chalk out some days and let your neighbors write their own "thankful for" list!
If you want to get your kids involved, you can also let them add something to the board every day. You can do this by giving them each their own color of chalk if you like.
Wrapping Up Thanksgiving Outdoor Decorating Ideas
So there you have it, friends: all my best Thanksgiving outdoor decorating ideas! While this holiday can feel a bit harder to decorate for, especially sandwiched between such strongly themed holidays as Halloween and Christmas, there's still an abundance of possibilities you can take advantage of to spice up your outdoor space this holiday.
Go forth, grab your pumpkins and leaves and hay bales, and get to decorating your beautiful yard!
Need more decorating ideas for the fall holidays? Take a peek at our Halloween section if you need to get through spooky season before you get to the feast after!