Whether you're new to the scrapbooking scene or have an entire room dedicated to it in your house, there's one thing every scrapbooker needs: a way to transport and/or store their supplies.
Between craft shows and classes, meeting up with friends, and simply needing a place to keep your things, there's one tool that can cover it all: a scrapbooking rolling tote.
Here are our favorite rolling totes for ensuring your scrapbooking supplies always stay safe!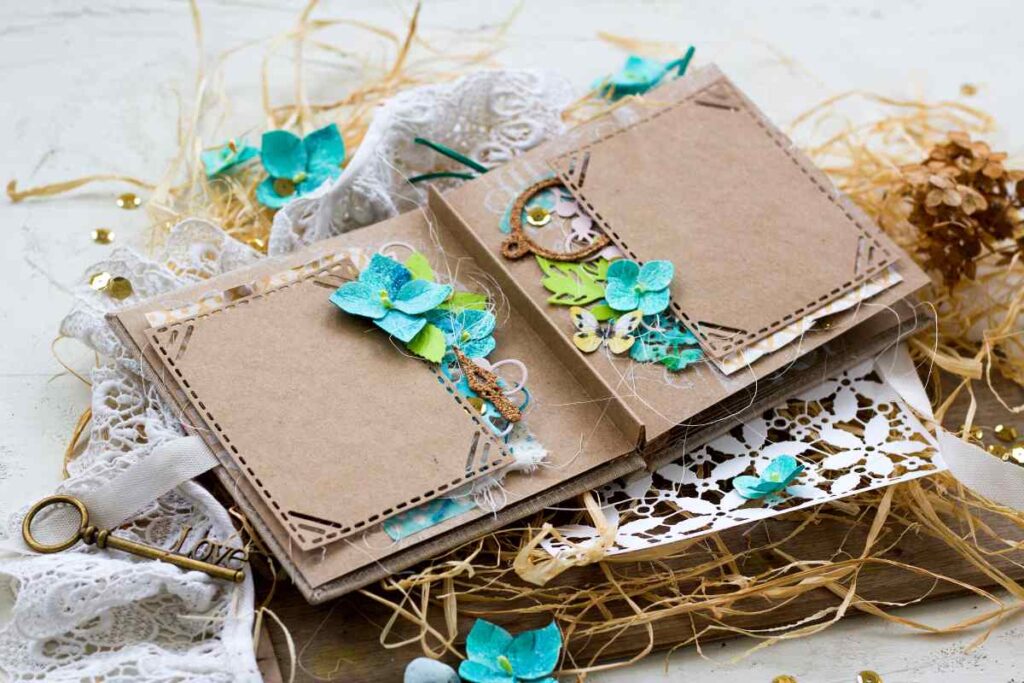 ---
Our Top Picks
Best Overall
Everything Mary Scrapbooking Storage Tote
Budget Option
Inspired Living Rolling Storage Cart
Best for On-The-Go Crafting
MemoryStor Universal Rolling Organizer
---
Best Overall
First up on our list is the Everything Mary Scrapbooking Storage Tote!
The Everything Mary tote is first on our list for a reason: it's the ideal scrapbooking tote for just about anyone!
Whether you're an avid scrapbooker or just beginning, this bag will give you plenty of space to pack in your collection…or give you lots of room to grow!
You can choose from four different designs, allowing you to find one that best matches your crafting aesthetic.
The telescoping handle is easy to extend and retract; it even has a locking feature! This means you don't have to worry about the handle shifting and sliding downward while you're trying to pull your rolling tote along.
The Everything Mary scrapbooking rolling tote offers multiple pockets for storing both large and small supplies, such as craft scissors, glue, paper, stickers, and more.
It even zips apart to unfold the front, allowing full access to its interior. No more trying to jimmy the corners of your scrapbooks around the edges of your bag to get them inside!
The only con to this bag is that it's not that large. While it's perfect for storing small collections or transporting portions of supplies, you won't be able to store everything inside if you have a middling or large collection.
Pros
Multiple colors
Good for new scrapbookers to grow their supply collection
Multiple pockets
Easy access
Telescoping/locking handle
Cons
Not large enough to store medium or large collections fully
---
Budget Option
If you're just getting into the hobby and don't want to invest in a heavy-duty scrapbooking rolling tote just yet, that's all right! You don't need to jump in feet-first to be able to transport your supplies.
If you're looking for a budget-friendly option to start out, the Inspired Living Rolling Storage Cart is a great starter pick.
It would also make a great additional tote for scrapbooking addicts who need more ways to transport their collections!
While it's more of a tote crate than a traditional tote, it will carry your scrapbooking supplies just as well.
While it doesn't have a top, which can be risky if you have to roll your tote out in bad weather, you can always secure a plastic covering over the top to protect your items.
While not as "cute" as the Everything Mary bag, you can still choose between four colors: black, gray, pink, and yellow.
Another downside is the lack of pockets and additional flaps for storage space. When you set up this rolling tote, what you see is what you get.
However, it can definitely hold its own–it can carry up to 50 pounds worth of scrapbooking supplies with no issue!
It also has a telescoping handle.
Pros
Sturdy and steady
Budget-friendly
Good for beginners or as an extra for scrapbooking enthusiasts
Can carry up to 50 pounds
Telescoping handle
Multiple colors
Cons
No top
No pockets or additional flaps
No patterned options for more "style"
---
Best for On-The-Go Crafting
The MemoryStor Universal Rolling Organizer is the best choice for the on-the-go scrapbooker.
From perfectly paved parking lots to pockmarked driveways, from gravel paths to off-roading over grass, the MemoryStor can tackle it all!
Thanks to its unique melding of tote bag and tote crate, this rolling tote has all the sturdiness of the crate without losing the protection of the top cover. You can drag this rolling tote over just about any surface or obstacle, and its hardy foundation and cloth "lid" will keep everything safely contained.
This rolling tote crate/bag hybrid comes with another plus: plenty of pockets to store smaller supplies, such as markers, scissors, and pens!
However, there is a downside: the pockets either don't close, or they only have a flimsy flap to cover them up. Not the most secure arrangement for supplies that already have a better chance of getting lost due to their size.
Currently, this model only comes in three colors: black, blue, and green.
It also has two different kinds of handles–one telescoping handle for dragging, and two regular handles on the unit itself to allow you to pick it up and carry it!
Pros
Unique design
Multiple handles
Good for on-the-go scrapbookers
Includes a top cover
Multiple pockets
Two kinds of handles for easy transport
Cons
Not as much color/design variety
Pockets aren't very secure
---
Now, this absolute unit is not for the faint of heart…or the brand-new scrapbooker. No, this monstrosity is for the serious hobbyist who needs plenty of space for their myriad supplies…maybe even a craft-related machine or two.
This rolling tote is so big and heavy-duty, that it can carry anything from scrapbooking supplies to a sewing machine. Those who enjoy adding mixed media elements to their scrapbooking projects couldn't ask for a better bag!
This bag comes with little "sleeves" to hold narrow tools, such as paintbrushes, Exacto knives, or writing utensils.
It also comes with a pouch-like pocket, as well as two sizable main storage compartments.
Unfortunately, it only comes with the one pocket, as well as the sleeves. However, the sheer amount of space you get in the main compartments balances that con out well!
Another amazing feature: you can unstack the two halves of the bag, resulting in a rolling tote and a scrapbooking tote you can carry over your shoulder. This way, you don't always have to carry your whole collection with you for a single project if you don't want to!
Pros
Extremely roomy
Sturdy
Detachable halves
Perfect for mixed media scrapbookers and those who dabble in other types of crafting
Has "sleeves" for thinner tools
Can fit larger craft machines like sewing machines or certain Cricut printers
Cons
Only one pocket
Not best for beginners
---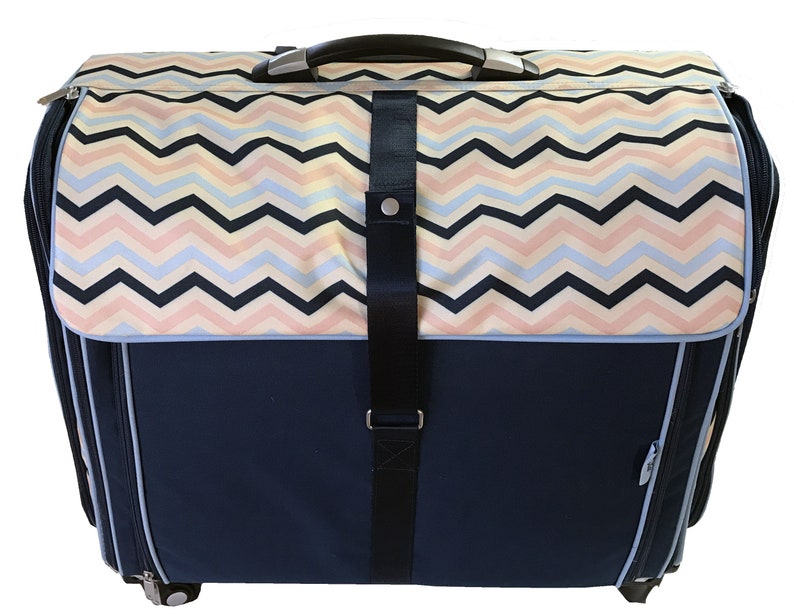 Last but not least is the BestScrapbookSupply Ultimate Machine and Scrapbooking Tote!
This is the best tote choice for those who use their Cricut machines frequently for their scrapbooking, particularly the Cricut Explore Air or smaller models.
This scrapbooking tote was designed specifically to allow you to carry your Cricut and other supplies all in one rolling tote!
It comes outfitted with multiple pockets, a fun pattern, and a telescoping handle.
It even has pockets designed specifically to fit your sheets of scrapbooking paper!
The one con to this bag is that it only comes in one pattern; no extra colors to be found.
Pros
Designed to carry a Cricut machine
Multiple pockets, including one for paper
Telescoping handle
Cute pattern design
---
Rolling Scrapbooking Tote Buyer's Guide
One important thing to keep in mind while shopping for your ideal scrapbooking tote is where you'll be taking it.
If you mostly use it around the house, just about any rolling tote will do.
However, if you live in an area that sees a lot of bad weather, and you regularly have to transport your scrapbooking tote to the car, that's another story.
You should avoid rolling scrapbooking totes with very thin fabric or no cover at all if you expect to take your supplies outdoors often.
Another thing to consider is how much scrapbooking stuff you own–and how much will need to be transported at any given time.
If you have a large collection, but only take a small portion of it with you at a time, a smaller rolling tote will suit you just fine.
A smaller tote is also fine if you have a smaller collection, of course.
However, if you have a collection that's somewhere in the middle, you may want to choose a larger tote and let it double as your scrapbook supply storage!
This means you'll be taking everything along with you when you go to scrapbook with friends or at a crafting event, but that's all right! Even if it's a bit heavier of a load, it means you'll never have to be disappointed by finding that you left something you needed at home.
Another thing to consider is what type of scrapbooking supplies you use most often.
If you carry a lot of paper with you, an open-top rolling tote may not be the best choice. You could end up with papers flying in all directions!
However, if you pack your supplies in binders, an open-top may be perfect for the job, as you won't have to cram them in to close the top of your tote.
---
Scrapbooking Tote FAQ
Can I convert my current scrapbooking tote into a rolling tote?
The best way to "convert" a scrapbooking tote into a rolling tote is to purchase a hand dolly and use it to wheel your tote around.
However, this doesn't really turn it into a "rolling tote." While it does allow you to wheel your tote around instead of carrying it, it's not nearly as convenient, nor is it as likely to help your bag arrive safely.
The bag could easily fall off, potentially resulting in lost or broken scrapbooking supplies.
It could also cause damage to the tote itself.
Overall, it's safer, more cost-effective, and more convenient to buy a rolling tote outright.
My rolling tote keeps unzipping itself while I'm lugging it–what can I do?
One thing you can try is unpacking your bag a smidge. Oftentimes, zippers undo themselves because the bag is too full, putting strain on the zipper.
If your rolling tote has double zippers that meet together when zipped up, you can also use a zipper lock to hold them shut.
Is there anything I should avoid storing in my rolling tote?
It's not recommended that you store glass or liquids inside your tote.
If you drop the tote, go over an obstacle, or its contents shift around during transit, glass receptacles can easily break within.
It's also easy for containers of liquid to get damaged and leak into the bag.
---
Let's Get Rolling!
Once you've determined which scrapbooking rolling tote is best for you, you're all set to roll out to your next crafting class!
If you're a scrapbooker who's curious about what you can do with a Cricut, check out our Cricut crafts section now!
About the Author
Latest Posts
Cassidy Eubanks is a proud Michigander, an avid reader, and a writer for That Sweet Tea Life.
Her bachelor's in Creative Writing isn't where her passion for creative pursuits stops – she grew up crafting, scrapbooking, and finding ways to make the most out of every space in her home. She loves sharing her favorite ideas for decorating and DIYing on That Sweet Tea Life to help you create the living space of your dreams!